To say European destinations are eagerly awaiting summer 2022 is an understatement. After two years of pandemic uncertainty and travel restrictions, borders are open and bookings are up.
Whether it's Europeans who are looking for a sun and sea holiday or North Americans planning their dream vacation they've been saving up for, one thing we know for sure is that many travelers are ready to start exploring again.
Demand will be higher than what many destinations have seen in years, and we know that's music to the ears of destination marketers!
But there's even more to look forward to than a stellar summer travel outlook. The European Commission recently announced that tourism is now officially one of the 14 industrial ecosystems that will help the European Union transition to a green and digital economy. As part of this industrial strategy, tourism businesses and organizations across Europe will commit to making progress in 27 areas, including:
To invest in reducing energy, waste, water and pollution, and at the same time to better meet the increasing demand for sustainable tourism

To enhance data sharing practices to allow for new innovative tourism services and improve the sustainable management of destinations

To invest in skills to ensure the availability of qualified workforce and attractive careers in tourism
This is amazing news heading into the summer to see how governments across Europe view tourism and the role it has to play in saving the planet. European destination marketing organizations (DMOs) can use this announcement as motivation to rev up sustainable tourism strategies many already have in the works.
And since it's shaping up to be a busy season, destinations will want to make sure they're responsibly managing tourism and make all the growth they'll see really counts where it's needed most.
Unfortunately, the war in Ukraine has forced Europe to confront another crisis just as the pandemic was improving. CrowdRiff stands in solidarity with Ukraine and has been inspired by the bravery Ukraine and other destinations have shown. While the situation continues to evolve, it's also important to remember that a war in one country doesn't mean travelers shouldn't visit the dozens of other countries in Europe, especially when many are desperately relying on a tourism rebound this summer.
The good news is that so far bookings have generally remained steady, particularly for Western European destinations that are located further away from the crisis. And traveler sentiment for Europe is still doing well (see chart below), according to Olivier Henry-Biabaud, founder and CEO of TCI Research.
"We saw that 50% of European travel-related conversations on social media were about Covid two years ago, compared to one-third for the Ukraine war," said Henry-Biabaud, during a webinar hosted by the European Travel Commission that also included TCI Research and ForwardKeys.
"In terms of travel behaviors, people are adapting but the geopolitical factor typically has a very bad impact when demand is more fragile," he said.
"Also, there are a lot of inherent positive images associated with this current crisis as Europe has been portrayed as a very unified, friendly community around the world. There's been a lot of solidarity in the travel sector."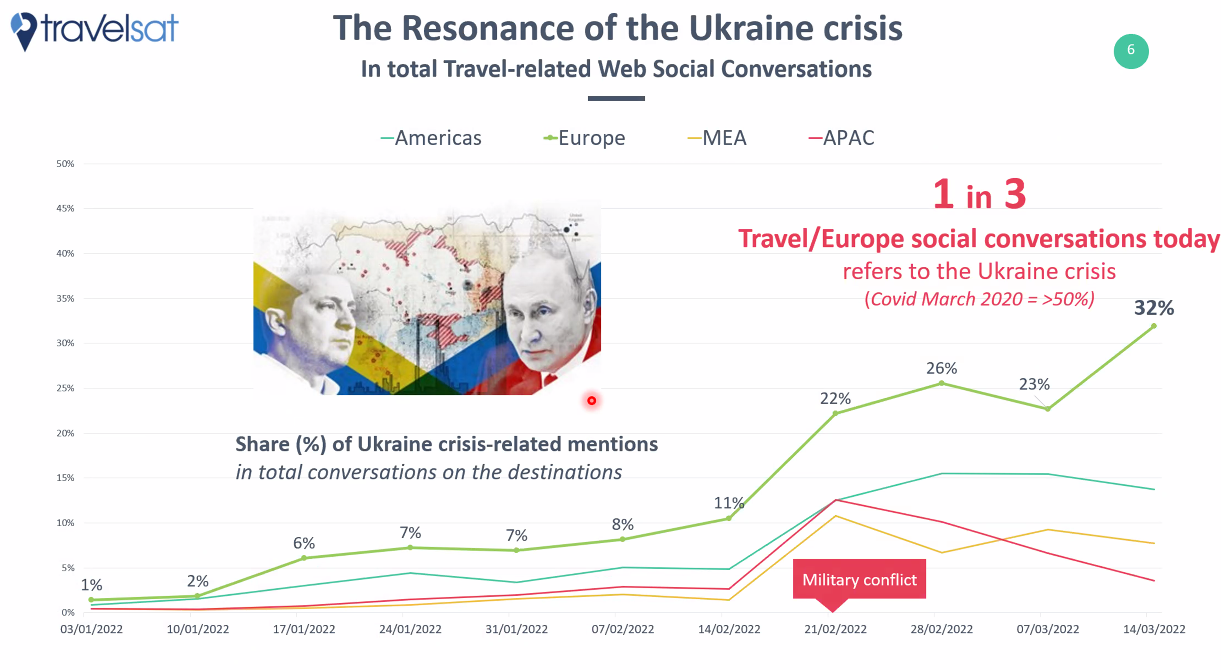 *Source: TCI Research
We know there's a lot of news and information to stay on top of but there's also so many good milestones to celebrate. Plus, the power of travel is one of the strongest ways to show support and we know DMOs get that!
With that in mind, we've put together six tips to help you plan for a great summer and ideas for how to market your destinations to all your excited visitors.
1. Educate travelers about geography
Even though we need to give most travelers credit for understanding geography, some will still be unsure of how the Ukraine crisis may impact their trip to France, for example.
During the 2014 ebola outbreak in West Africa, for example, Kenya and South Africa saw cancellations for safaris despite the fact that both countries are more than 4,000 miles from West Africa and hadn't seen any ebola cases.
DMOs need to make it really clear that their destinations are open, safe, and thrilled to welcome travelers back.
Henry-Biabaud said that so far there's no evidence that German tourists, for instance, are canceling their sun and sea trips in Southern Europe.
"It's not about promoting, more about informing," he said. "In times of crisis, be sure that people don't think that travel isn't ethical. Travel is ethical today and it's a peacemaker. And stick to promoting the passions you always do. Maybe you'll have the opportunity to promote a local concert with a Ukrainian refugee. It may be tempting for some destinations to slow down marketing, but they need to show that they're proud to be in Europe."
2. Stay nimble – things could change at any moment
With inflation sending costs up around the world, including airfares, destinations should also focus on marketing affordable experiences and itineraries so that travelers don't get deterred by pricing. Keep an eye on currency exchange rates and adjust your marketing accordingly to help reassure cost-conscious travelers that they can still have a wonderful trip within their budget.
Of course, pandemic restrictions may also change at any time. Ensuring you have real-time updates on your website and social channels on entry requirements will be key to keeping travelers confident that their trips will go off without a glitch.
3. Think about sustainable tourism
Show travelers that their trips are having a positive impact and help them understand some easy steps they can take to be more responsible tourists. Travelers have spent a lot of time in nature during the past two years and have seen news reports of how decreased air travel has led to better air quality in some areas, for instance. Let them know that this time around, your destination has taken steps to make sure the environment and community are respected.
Sustainable tourism has been gaining momentum across Europe and it's only accelerating after the COP26 conference in Scotland in 2021. Take Amsterdam's Public Eye project which uses AI to monitor crowds and shows travelers and residents how to navigate around or avoid congested areas. Tools like this could also help disperse tourists to multiple areas in your destination (think beyond city centers) that could really use tourism dollars.
We also love how Visit Netherlands is using its social channels to educate travelers how the destination is taking steps to be more sustainable, like this Instagram post showing how the Netherlands is working to protect soil from the climate crisis. Posts like this are even more authentic because they show travelers what's actually being done and how they can be part of the solution.
4. Rely on user-generated content (UGC)
No one can deny that DMOs are a major source of travel inspiration and information. But UGC is also a key source of truth that only enhances a DMO's marketing efforts. With ongoing uncertainty, UGC will be even more important this year as travelers verify what an experience is actually like and whether an attraction is worth going to after seeing real photos (not stock imagery) from travelers like them.
Make a plan to regularly share UGC each day and week and elevate a diverse array of local voices who will lend their credibility to your brand and share authentic stories that only they can tell.
5. Create Instagram Guides for alternative destinations
Consider creating Instagram Guides for alternative spots and points of interest beyond your main drags. These are probably the places where local economies were hit the hardest and could use visitors to help with the rebound.
Most importantly, have fun with these! And give travelers something unexpected. We love this Instagram Guide from the German National Tourist Board on different German islands to visit. Most people probably wouldn't think of Germany as an island destination or have these places on their list of must-gos, but this guide beautifully lays out all the logistics and why they're so special.
6. Consider targeting North American travelers
The U.S. was the largest non-European visitor source market for Europe before the pandemic and Canada is also a large source market. Luckily, both markets are ready to walk back through the doors!
For the U.S., flight bookings to Europe were at about 80% of 2019 levels in early March 2022 and demand for transatlantic travel remains strong, according to data from ForwardKeys (see chart below).
Previous adverse events in Europe, like terrorist attacks, have only had a "moderate impact" on U.S. travel to Western Europe and was quickly followed by a rebound, something we've already seen that happen with the war in Ukraine, said David Goodger, Managing Director, EMEA for Tourism Economics, during the European Travel Commission webinar. That means the U.S. market is resilient!
Now is the time to double down on your messaging to North American markets to tell them why this is the perfect time to plan their trips if they haven't already started.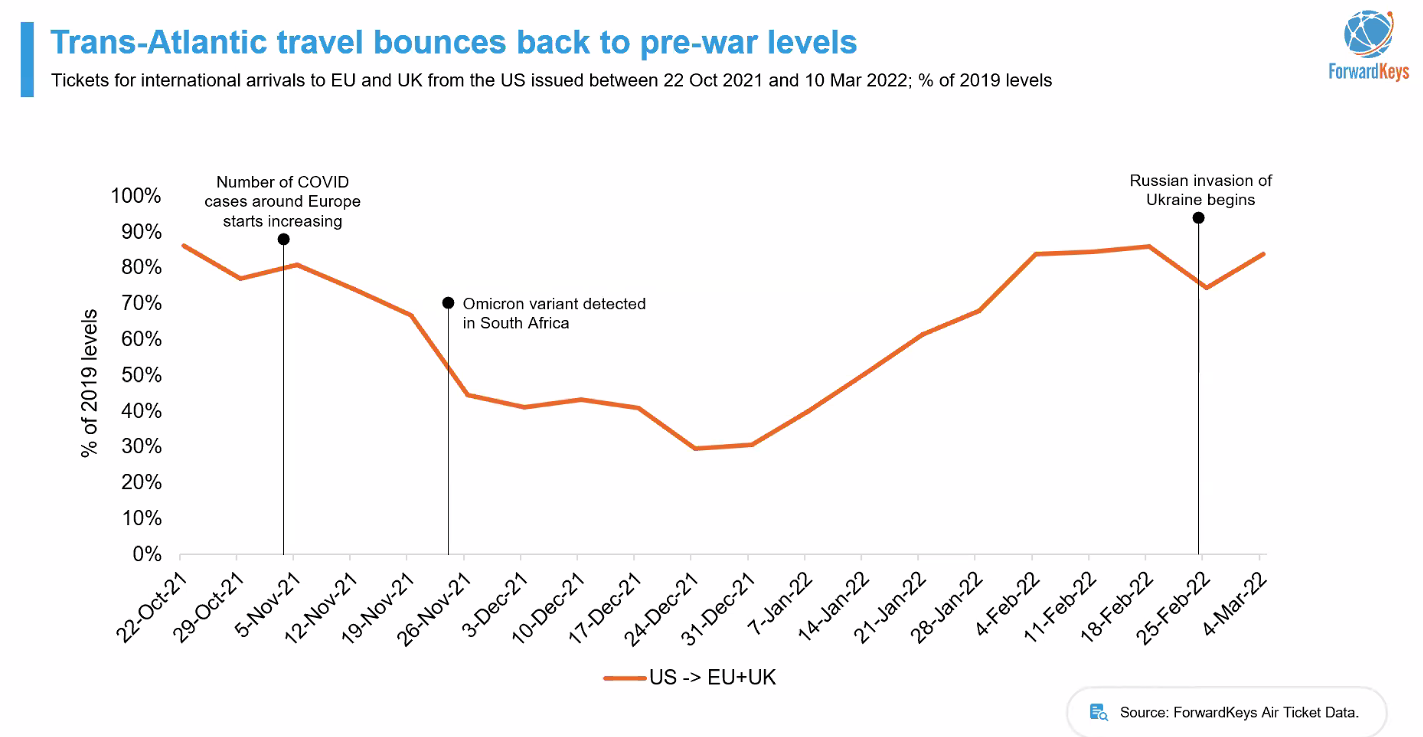 Source: ForwardKeys
Wrapping up: think long-term
This summer is definitely looking bright and while some places may not see pre-Covid level demand, they're on the right path and that's thanks in large part to the hard work of DMOs.
The European spirit of unity, progress, and respect of people and the environment is a strong brand proposition that makes millions of travelers book trips across the continent. We'd argue that this spirit is stronger this year than it's ever been! Europe will always be top of mind for travelers around the world and taking these steps to plan for the future only makes travelers click "book" faster.
For more help on planning ahead, download our eBook on innovative European DMO campaigns to see how destinations are reimagining their marketing for this new era of travel.