In an environment where destination marketers have less time and budget to run extensive campaigns, finding ways to do more with less is critical right now.
But it's not easy. You're juggling the needs of different audiences and goals: your locals, your visitors, and your partners and stakeholders.
There's also uncertainty for many about what the tightening or loosening of restrictions could mean for your messaging and marketing strategy.
You need low-cost, high-impact ways to cut through the noise.
Here, we'll cover how to use CrowdRiff and user-generated content to create meaningful (and flexible!) campaigns on a budget.
Create visual blog posts with UGC
When you land on a blog post, what's more likely to grab your attention: a wall of text, or a neatly curated gallery of images and videos?
It's no wonder visitors to blog posts that include UGC galleries spend 90% more time on site than those without them.
Just take a look at these two highly visual blog posts by Stevens Point Area CVB.

The team created one just after the stay-at-home orders were issued. It covers the top secluded spots in the area by displaying UGC galleries for each one. Notice the minimal amount of text and emphasis on open spaces.
The other shows what a perfect weekend looks like in Stevens Point, as voted by the DMO's Facebook and Instagram audiences. The post is also highly visual and easy to read.
Visual blog posts like these are ideal for showing how your DMO is reopening, says Melissa Sabel, the Communications Manager at Stevens Point Area CVB.
"Now the content will be useful as we move from local audiences to travelers looking for nearby adventures and road trip suggestions."
Why they work:
1 | The images do the talking. Instead of taking hours to write lengthy descriptions of each spot, the team put together UGC galleries in a few clicks. The visuals also build trust with travelers, as they show people what to expect at each location, and reassure them there is enough wide-open space to accommodate them.
2 | They're topical, which is an SEO win. When locals or visitors are searching for activities to do during COVID-19 in Stevens Point, they're much more likely to click on this post versus a more general article on things to do in the area.
3 | You can easily replace the images. The team can easily swap out the images when restrictions change. For example, if larger gatherings are permitted, it's not difficult to find imagery with small groups of people in them and update the CrowdRiff galleries.
If you have an advanced digital package, add CTAs
Calls-to-action (CTAs) on visuals are an effective way to drive traffic to your partners or guide visitors deeper into your site.
As your messaging around reopening changes, your CTAs can change too. For example, instead of helping your partners promote curbside pickup, change the language in your CTAs to showcase online ordering. When restaurants reopen, adjust the CTA language to reflect that, just like the image below.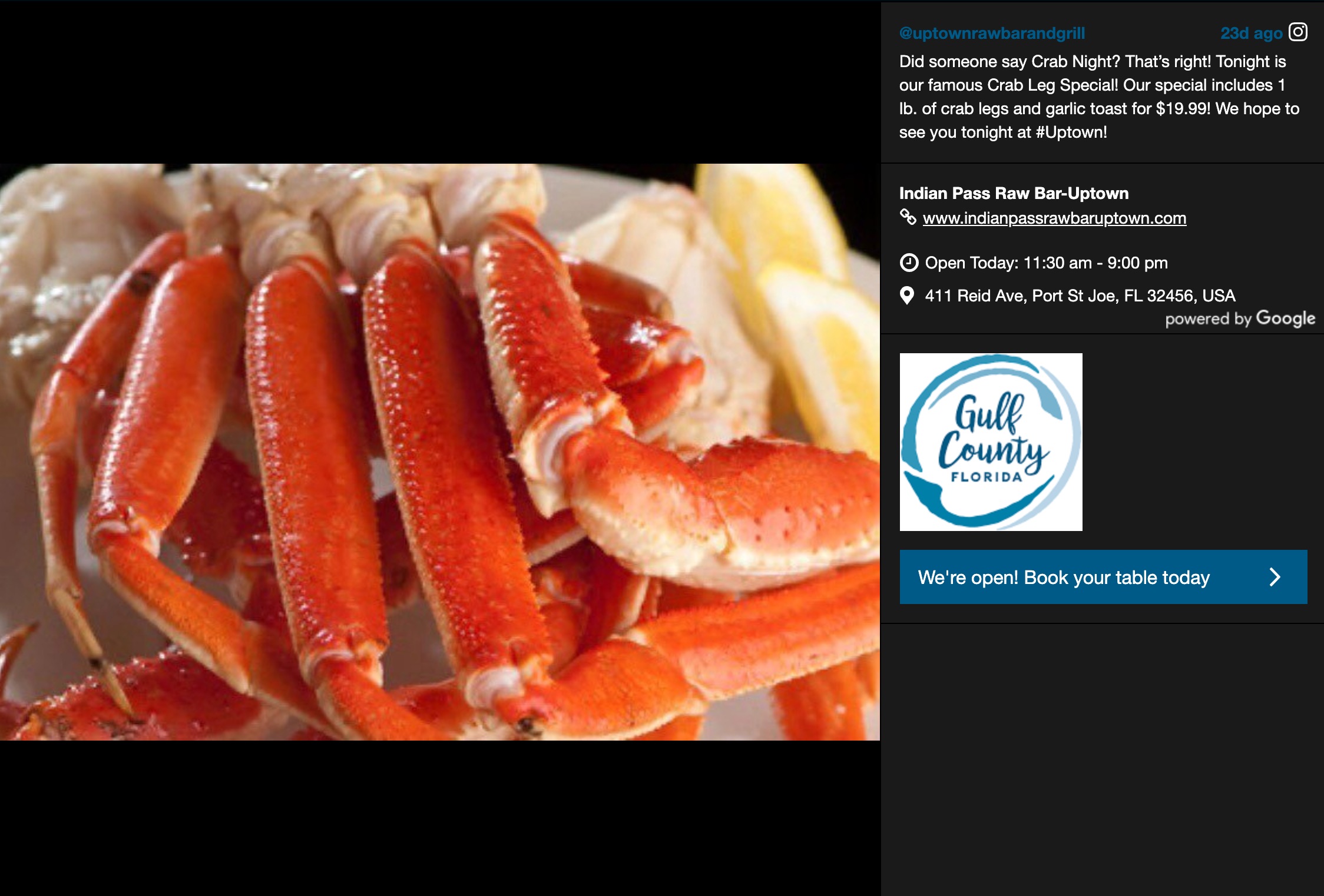 Repurpose social media posts into Instagram Highlights
If you're putting time and energy into creating an Instagram Story or social media post, why not take this content further by making it evergreen?
Unlike Instagram Stories, which disappear after 24 hours, Highlights stay on your profile forever.
Destination Campbell River in BC uses Story Highlights to amplify news about how their partners are reopening. And by pulling their partners' content directly into their CrowdRiff library with Connect, they never miss a post.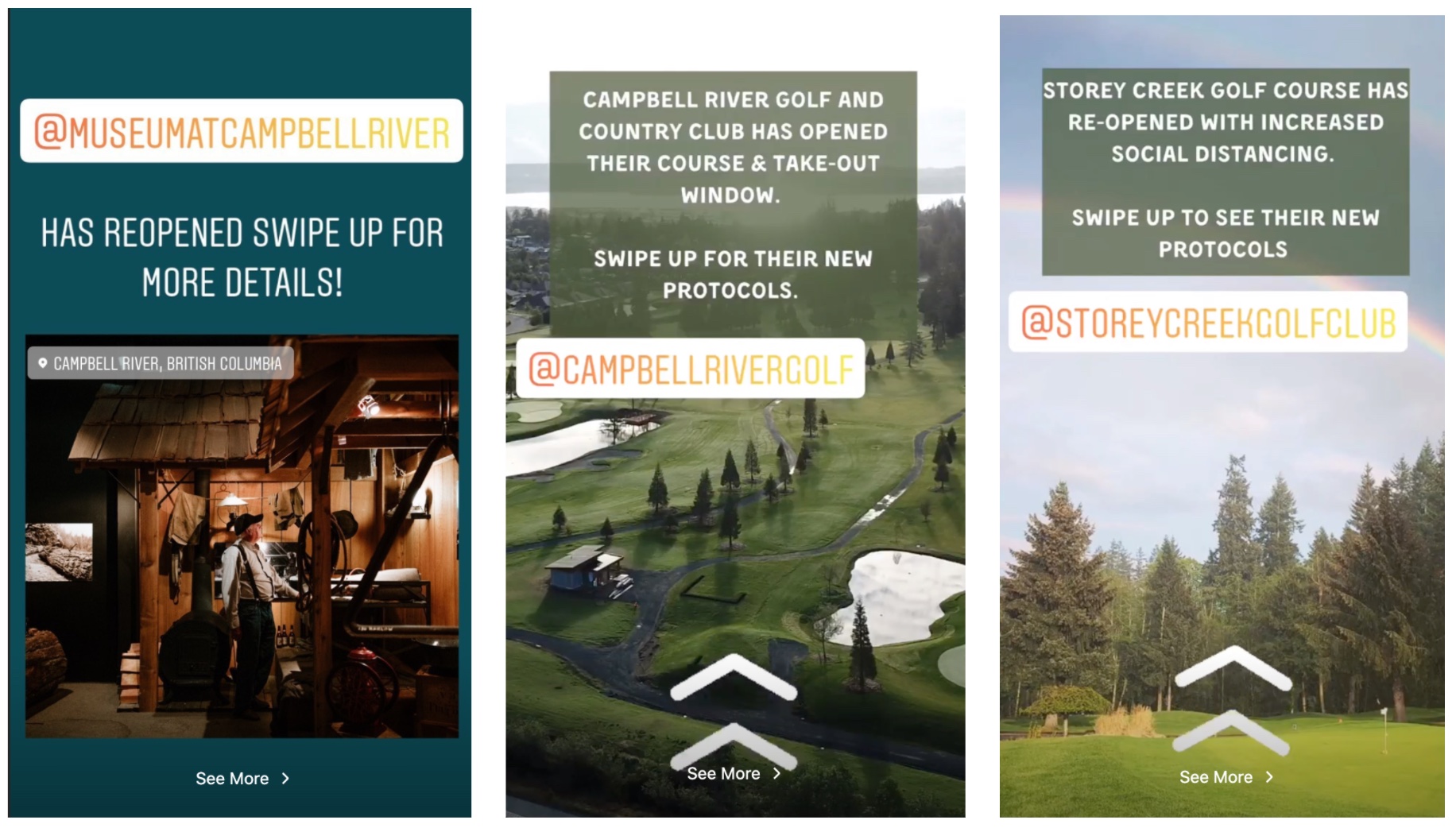 Try repurposing the following kinds of content into Story Highlights:
Posts, @mentions, or tags you're mentioned in from partners or your community.
Rights-approved assets in your library of a particular theme like local businesses, outdoor spaces, and hidden gems.
Photos and videos you've sourced through Collector in the past. These can serve as trip inspiration for future travelers.
If you have over 10,000 followers, don't forget to add a swipe-up CTA (or add a link in your bio if you don't). You can even direct people to the visual blog post you've written!
Why it works:
1 | You get more out of your user-generated content. Rather than using a photo or video once, you can repurpose it to drive more traffic to your website or partner's pages.
2 | You can be proactive. Rather than waiting for people to tag you in their Stories, you can have content about how your destination is reopening ready to go. For example, If you know restaurants are slated to increase capacities in the coming weeks, you can prepare your content in advance.
3 | You get to amplify your partners and stakeholders. Get as granular as you want. Coffee shops, bakeries, museums, movie theatres—you're limited only by the influx of rights-approved images you have coming in.
Reuse your best photos & videos in your emails
Even if you don't have a budget for digital ads right now, you can use email to keep your locals and partners informed and your visitors inspired.
In fact, email marketing is one of the most cost-effective channels you have as a marketer right now.
Visit Rochester stitched together UGC into a video promoting a message of hope and resilience in their community after the stay-at-home order was issued. They sent out the video with an uplifting message in their email newsletter.
Why it works:
1 | If you already have the rights to the content you want to use, simply repurpose it. You don't need to pay photographers or influencers to create new content. Use a tool like iMovie, TimeLapse, or Magisto to quickly combine a series of images into an edited video.
2 | You don't need to wait for the perfect video to show up. You can search for photos and/or videos that have received good engagement in your galleries and request the rights to this content.
3 | You can repurpose the video on your social channels and even on your blog! Keeping your videos only lightly edited gives your brand a dose of authenticity—which can go far when building trust with your target audience.
With a visual blog post, a set of visual media images, and creative for your next email newsletter, your campaign is ready to go! 
We'd love to see what you've come up with. Share your campaign with us in our Community Stories Hub.
Image credit: @vincetierra