How Travelers Use Social Media for Travel (& 5 Ways Tourism Brands Can Respond)

Your future visitors are visual decision-makers.
They love to plan trips based on the places they see in photos — especially the ones their friends post about on social media.
From getting inspired by an Instagram post to asking for Facebook recommendations for an upcoming trip to sharing vacation photos on-the-go, social media influences traveler behavior at every step of the process. Here's a great infographic from the folks at MDG Advertising:

Infographic by MDG Advertising
So, what does this mean for DMOs and travel marketers?
We've interpreted the great research MDG Advertising has done, to show you how you can act on these insights, and draw even more visitors to your destination.
How travelers use social media at every step of a trip (and how DMOs can leverage these trends)
Let's take a look at five trends that show how social media influences traveler behavior before, during, and after a trip – and how DMOs should respond!
Trend 1 | Travelers find trip inspiration on social media
The infographic shows that 30% of American travelers refer to social media when planning trip and more than half (52%) of all Facebook users draw travel inspiration directly from their friends' photos.
People are looking to social media for vacation ideas because it's where their friends and influencers share their own travel stories. Travelers appreciate UGC because it's unfiltered and unbranded — and this is the content they're gravitating towards more and more.
How should travel brands respond?
Since you know this imagery resonates so strongly with travelers, why not look for more ways to take the content they love and use it your marketing?
Many DMOs are already pulling in social images for galleries on their websites, reposting visitor photos on social media, and some are beginning to include social imagery in their visitor guides.
And then there are the brands fully embracing the power of UGC visuals, and creating entire experiences focussed on authentic imagery.
For example, Explore St. Louis launched a dedicated microsite where web visitors can explore UGC photos and videos to get a sense of what St. Louis has to offer. Instead of letting travelers go their own way, passively scrolling through different hashtags to find out what the city is like, they've curated over a thousand UGC visuals (with the help of CrowdRiff) to create one place travelers can go to, to learn about St. Louis culture, food, and music – all through the eyes of other travelers and locals.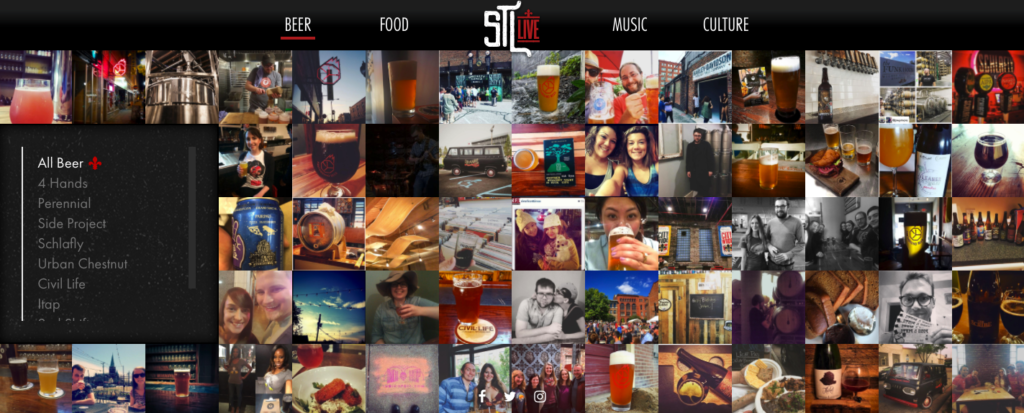 Enjoying this blog? Subscribe to get more like this, straight to your inbox
Trend 2 | Travelers are booking directly with their mobile phones
As shown in the infographic above, 40% of all vacations booked online are done on mobile devices. This isn't a small chunk of the market. In 2018 alone, Americans will spend a whopping $86.2 billion on travel bookings made exclusively on mobile devices.
Today's travelers are using their mobile phones to book travel plans across the globe.
How should travel brands respond?
Make sure every single element of your website and online marketing materials are 100% mobile-friendly. Otherwise, you risk losing out on the 42% of consumers who use their phones to look for travel inspiration.
Most DMOs have a mobile-friendly website template, but many forget to consider different elements on their website, plus the other channels visitors go to. For example, your digital travel guides, video content, and even the UGC image galleries need to look and work beautifully on mobile too.
As an example, every piece of Newfoundland and Labrador's website is designed to not only function on mobile, but to look fantastic on any screen size.
Here's a quick comparison of what the same UGC gallery looks like on desktop: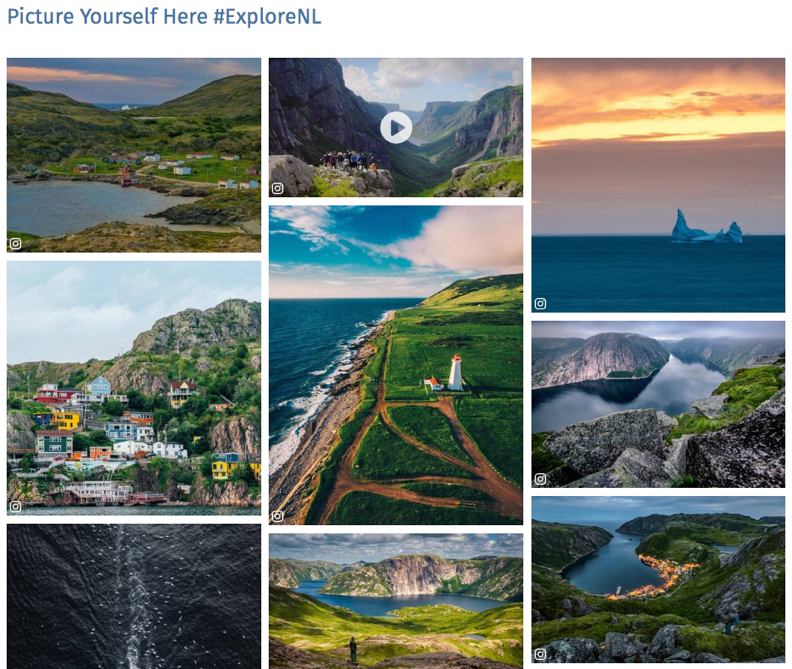 And on mobile: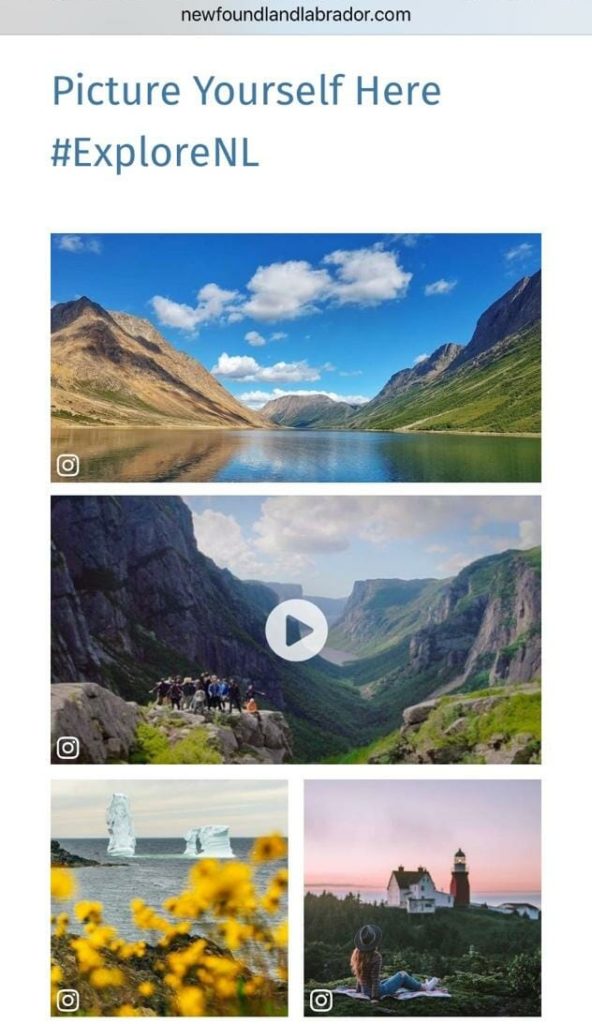 Trend 3 | Travelers actively use their smartphones during their trips
Once they arrive, visitors are turning back to social media for insight on what to do now that they're here. 52% of travelers 'like' Facebook pages related to their destination, and 74% of US travelers remain active on social media throughout their trip.
How should travel brands respond?
Make sure information is easy to find and discoverable through the places people usually visit on mobile, including your main social accounts: Instagram, Twitter, and Facebook.
A relevant example is Airbnb's "Hosted Walks", which uses location data from a traveler's mobile device to offer real-time, hyper-relevant content. As visitors walk around a new city, they're prompted to watch videos of Airbnb Hosts talking about their favorite local businesses and activities in the area.
Another option for DMOs is to use Instagram Stories give travelers a window into the events and activities taking place right now in their destination. Plus, if your account is verified, you can also link right to your website or direct viewers to more content when they swipe up on your story.
Trend 4 | Travelers love posting photos to share their experiences!
By and large, the most popular social media activity for travelers is sharing visual content. 60% of travelers share photos to social media and 90% of millennials share photos while on vacation!
Your visitors can't wait to share their photos online and they're always on the lookout for an Instagrammable shot.
How should travel brands respond?
They're already on their phones, and they're already looking for things to photograph. Make it easier for travelers: create irresistible photo-ops.
One awesome example is Visit Indy's fun "NDY" signs, which invite visitors to step up and become the "I" in Indy.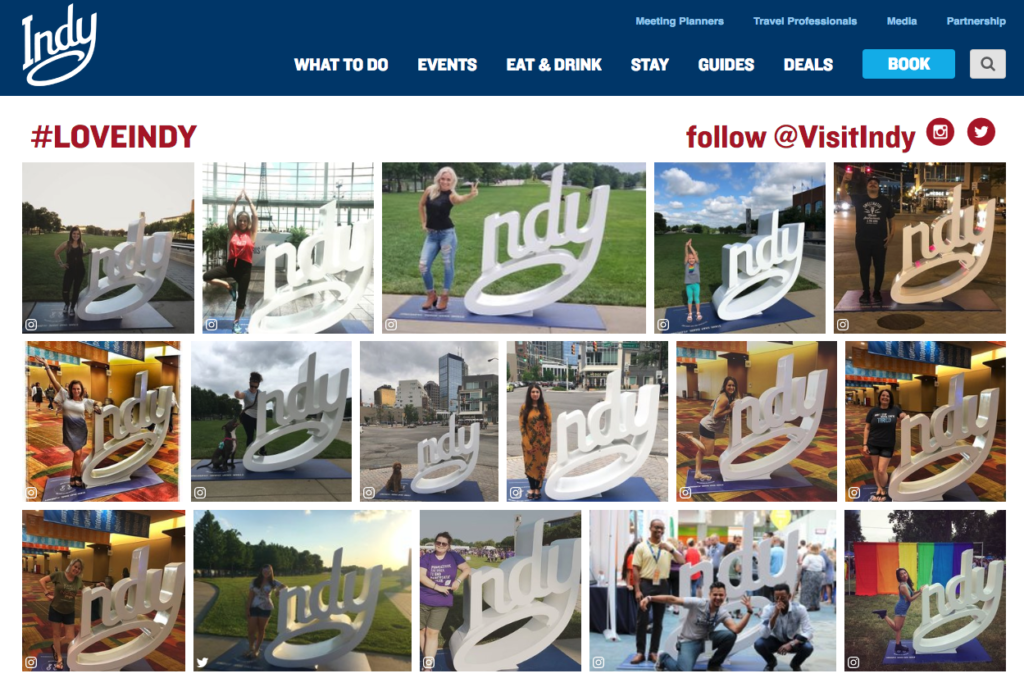 Because Visit Indy promotes these signs all over their website and social channels too, taking a picture with the signs has become an iconic thing to do when coming to Indianapolis.
Whether you publish a map of the most Instagrammable spots in your city or host frequent photo contests, look for creative ways to reveal photo-worthy places around your destination.
And whatever you do, make sure you have a system in place for tracking all the photos being shared! Visit Indy, for example, uses CrowdRiff to track all of the photos and videos being shared across different hashtags related to their destination — so nothing slips through their fingers.
Trend 5 | By the time travelers arrive home, they have tons of travel photos that they'd love to share.
Those first days back home are primetime for travelers to post reviews of the places and businesses they visited during their trip. 46% of visitors post hotel reviews, 40% review restaurants, and another 40% write reviews of attractions and activities.
How should travel brands respond?
Make sure you're actively encouraging and incentivizing visitors to actively post their trip photos — as opposed to just keeping it in on their phones.
For example, Conner Prairie (a unique self-styled "interactive history park") invites guests to share photos of their visit to their various exhibits, such as the 1859 Balloon Voyage (shown below), with the hashtag #discoverCP.
Then, using CrowdRiff, they curate and feature those visuals in gorgeous galleries throughout their website.

When you engage with travelers online, feature UGC on your website, and share visitor photos on your social channels, your guests are encouraged to post more photos so they can participate in the conversation around your brand and perhaps even get featured themselves.
Connect with, inspire, and draw in more visitors using social media
Visual stories from social media are often at the heart of the modern traveler's journey.
Not only do people get inspired to travel by social UGC, they also refer to social media when choosing activities, arranging accommodations, and sharing their own vacation experiences.
Want to use social media to inspire, engage, and attract more visitors? Download our latest eBook in collaboration with Skift - we've included tips on how to use visuals from travelers to make your social feeds and community come alive!