How Museums Can Use Instagram Stories
Actively maintaining an Instagram account is a first step in the right direction for museums who are looking to connect with their modern visitors. Instagram is the social network that guests are most likely to interact with a museum before, after, and during their visit. Most museums have mastered the classic Instagram photo post, but there are other features that they aren't taking advantage of.
Over the last few years, Instagram stories have become a popular way for users and brands to more regularly post content. User-ship of the feature grew from 100 million in 2016 to over 400 million daily active users in 2018, and that's only expected to keep growing. Instagram stories are a great way for museums to connect with their social followers in a more candid fashion.
The story structure typically features less produced and more in-the-moment content, and allows marketers to tell a story over multiple still images or 15-second snippets. There are also a lot of interactive elements that can't be used with regular Instagram posts, that museums like The Children's Museum of Indianapolis have mastered to engage with their followers.
Here are six ways that museums can use Instagram stories to promote their exhibits, connect with their audience, and increase social engagement.
1 | Give behind the scenes access to new exhibits or collections
As your museum is getting its newest exhibit installed and ready to unveil, take photos and videos of the behind the scenes action to get your followers excited about the exhibit. Film your crew unloading the trucks, cleaning or preparing artifacts, and hanging up instalments to show off how much work goes into the presentation of a new exhibit. People like the idea of exclusive access, and going behind the scenes will help you connect with your eager-to-learn audience.
2| Promote everything your museum has to offer
At your museum, you might have alternative programming and revenue streams outside of exhibits and admission fees. Do you rent your space for events, or offer children's camps and workshops? These offerings are interactive, visually exciting, and create great content to be promoted on your Instagram story.
When there is an event happening at your venue, share it with your audience. If it's not your event to broadcast, sharing snaps of the setup is a good way to remind people that they can rent the space. Sometimes until someone sees your museum set up for a wedding or conference, they could never have visualized it. Use a 'swipe up' CTA to link them directly to your website's information page to help them learn more.
3| Embed CTAs that link to your website
As discussed in the example above, Instagram stories allow museums to link stories to their webpage with a swipe up CTA. This is a great opportunity to create measurable engagements that can be attributed back to your social media efforts. After you've featured some interesting content in your story, create a 'swipe up' page that brings the user to your website. Whether you're taking them there to enter a contest, learn more, or buy tickets to an exhibit, you can encourage visitors to take action right from Instagram while you have their attention.
4| Repost UGC stories from your visitors
If your visitors tag you in their Instagram stories, then you have the ability (and more importantly, the rights) to repost the story to share with your followers. Sharing UGC will help you authentically show off what people are loving at your museum. It truly is the most powerful type of word of mouth marketing.

5| Use the poll and question features to increase audience engagement
By including polls in your Instagram stories, you encourage audience participation and learn more about what your followers are most interested in. This will ultimately help inform not only your social media content, but potentially museum content strategy as well. The Mercedes-Benz Museum in Stuttgart, Germany does a great job of engaging their followers through polls. Using the voting feature, the museum asks their audience for input when they are about to restore a car.
One time, 15,000 people voted on a poll asking which tires the museum should use for a car restoration, which proves that the technique was successful in engaging their audience members. After the results were in, the museum continued to post about the progress of the car, which held the voters' interest as they felt more invested in the restoration after contributing to its early stages.
The Children's Museum of Indianapolis used Instagram stories and polls to increase engagement on its Instagram stories during their Jolly Days exhibit.
The museum's social media team has created a tradition that gives the Jolly Days characters some extra attention each year with a "takeover" campaign. This year, they took it up a notch by having each character take over the Instagram Story as well. Their larger-than-life stand-up comic elf Zazzelz was further animated with these engaging Instagram story features.
6 | Use Highlights to keep your most important content at the top of your feed
Instagram introduced its Highlights feature just over a year ago, and it's proving to be a powerful update for businesses. Instead of having your story content disappear entirely after 24 hours, you can save select stories to the top of your profile in a 'highlight'. Many museums choose to group saved highlight stories by theme topic, or even exhibit. Pick the stories that were viewed and interacted with the most, since you know it's great content that will continue to perform well.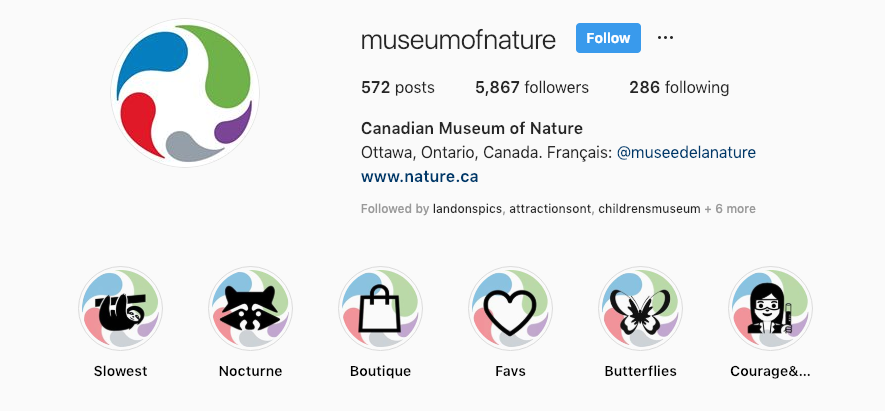 The Canadian Museum of Nature created branded covers for their highlight reel to enhance the appearance of their profile.
Use Instagram Stories to Connect with your Visitors
Instagram stories are an opportunity to connect with your followers in a more interactive, in-the-moment fashion than regular posts. If you haven't tried posting stories yet, give them a go to enhance your museum's Instagram engagement, and attract more visitors.
If you're looking for more inspiration on how you can get creative with visuals in your marketing campaigns, read our Guide to UGC for Travel and Tourism Brands, an eBook created in partnership with Skift. It's full of actionable ideas, tips on getting rights to photos, and examples from global museum, airline, resort, and destination brands.