Top Tourism Marketing Posts of 2018

The beginning of a new year signals that it's time for reflection. At CrowdRiff, we're proud of the wealth of tourism marketing knowledge that we shared on our blog and in our resource centre in 2018, but are keen to reflect on what our readers enjoyed the most.
2018 was a big year for me too. I hiked the Grand Canyon, discovered my love for Korean BBQ, and hopped on the CrowdRiff rocket ship as the new content marketing manager. I'm excited to leap into 2019, but first want to summarize 2018, and understand what was on the minds of digital marketers in the travel and tourism industry.
In this article, we'll review our top posts of 2018 to surface trends, and some valuable tourism marketing knowledge that our readers may have missed along the way.
So without further ado, here are the top ten blog posts of 2018, in order of popularity:
Visit Indy has gone 100% digital with their marketing, and they're continually finding creative ways to engage travellers on social media. This post explores how the DMO has used UGC to help increase their click-through rate by 3x on Facebook ads.
Rather than broadcasting to a general audience, Visit Indy now creates digital content that speaks directly to each of their specific visitor types; history buffs, nature lovers, and romantics, to name a few.
"Visitors want to see other visitors interacting in the space, so 2018 is the first year that in our social ad buy, we decided and pledged that we're only going to use UGC images within the ad buy." says Christine Zetzl, the Digital Marketing Manager at Visit Indy.
"We're seeing a three times stronger click-through rate within Facebook and Instagram," says Christina. "Over the last year we've been able to shift our funds, and we've been really optimizing more and more towards our Facebook ad buy with these UGC videos feeding that content."
Hornblower Niagara was spending thousands of dollars producing visual content for their marketing, yet couldn't quite capture the authentic reaction of visitors seeing the world's largest waterfall up close for the first time.
Here, Chelsey Harasym, the social media coordinator of Hornblower Niagara Cruises, shares how CrowdRiff was a game changer for them.
"Searching instagram doesn't work very well – I was tracking everything in a spreadsheet, and I had to take screen captures of the rights request approvals, and then link that through Google Drive to the spreadsheet, and it was just a mess."
Within the first two weeks as a CrowdRiff customer, Chelsea had requested the rights to over 20,000 images and videos, and received the rights to about seven or eight thousand. While it's hard to put a price tag on a photo library like this, she predicts that Hornblower Niagara Cruises would've had to spend about $20,000 to $30,000 over a couple of months to match the sheer magnitude of visual content they've acquired through CrowdRiff.
Paid social advertising and user-generated content are a match made in heaven. Our readers thought so too! In this article, we rounded up nine of the most creative Facebook ads in tourism, and shared what makes them unique. These brands thought beyond the scope of typical travel ads by playing with unique content sources and formatting.
Some of these top stand-out strategies include:
1. Taking advantage of 360 degree videos, or Facebook canvas ads.
This was a huge hit for Travel Alberta's Dinosaur badlands campaign, as well as The Montana Office of Tourism's ski hill promotion efforts.
Video: Facebook
2. Targeting ads to locals to encourage them to act as tour guides, and promote local tourism conversation.
3. Getting creative with carousel ad formatting.
Looking for inspiration to help you get more creative with your Facebook ads? Download our tourism marketing Ebook: 500+ Tourism Facebook Ad Examples From America's State DMOs
Sharing visuals with the journalists, meeting planners and content creators that help you attract travelers is a big part of daily life for today's destination marketing organization, so you need a solution that's going to streamline that process and work the way you do.
In 2018, we introduced CrowdRiff's Media Hub to help our customers streamline that process. Our Digital Asset Manager(DAM) makes it easy to share images with journalists and meeting planners, and allows you to control what they see and have access to.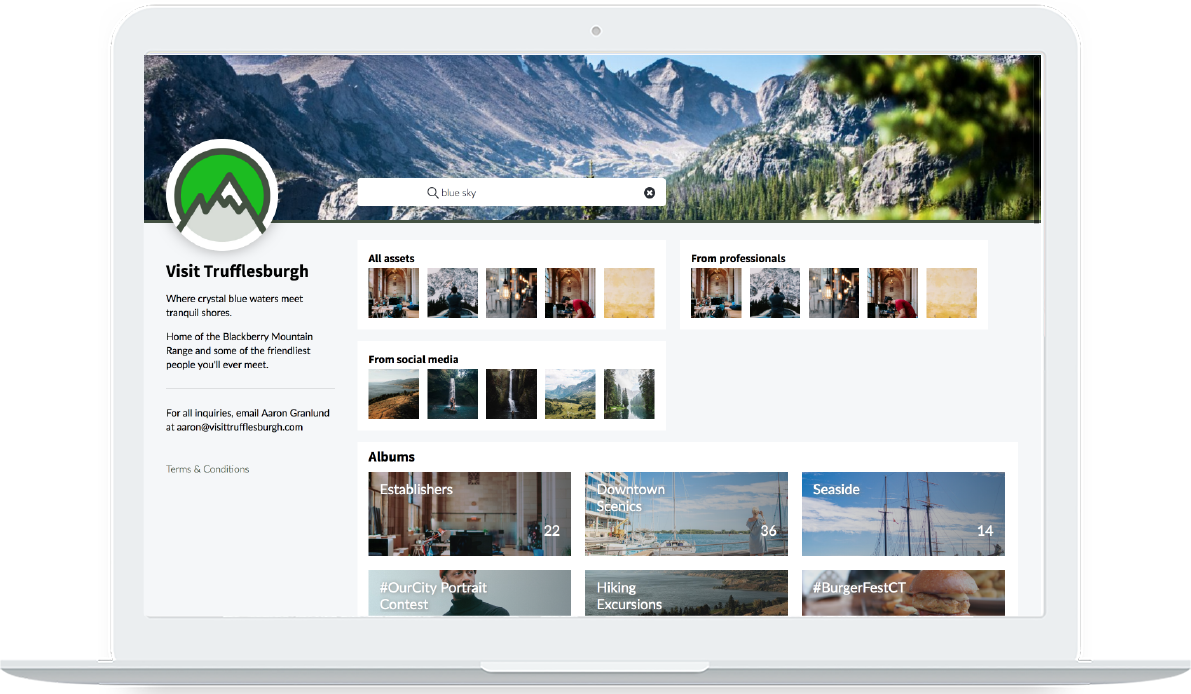 In working with over 500 destinations, we've learned that DAMs can be challenging to work with.They're hard to use, they have a lot of features, but aren't tailored to tourism- specific needs, and they don't allow you to customize your experience.
Media Hub addresses these issues head-on with approvals, license management, and custom branding that supports the uniqueness of the travel industry.
Each museum visitor sees exhibits and collections through a unique lens, and experiences the space in their own special way. If visitors share this experience on social media, repurposing or sharing these posts is a great way for Museums to promote their exhibits.
UGC is an effective way to not just showcase current exhibits and galleries, but also to reveal how visitors are authentically interacting with and enjoying their experience.
In this article, we explore five creative ways that museums can promote their exhibits with the help of UGC. Hop over to read all about them, and gather some inspiration!
It can take hours to find one photo that perfectly captures a mood or a moment, so what happens if you have to come up with a whole bunch of them? That's why we created our similar photo finder, which takes the visuals you love and scours your library for others like them.
In 2018, we released CrowdRiff's similar photo finder to help digital marketers achieve these three goals:
1. Get all the visuals you need for a post or campaign in seconds
As soon as you find one photo that portrays your story, you can instantly find dozens of others that you can use to create a gallery, or keep as ammo for social posts and ads to support your campaign.
2. Fill urgent content requests
Whether you're scrambling to produces visuals for social media, a collaborator request, or an internal project, we've got you covered.
3. Refresh your visuals seamlessly
Update your website imagery without disrupting the theme or visual tone to keep your page fresh and up to date. This will help engage repeat site visitors, and show off more of what you have to offer.
At CrowdRiff, we know that ad fatigue is a real fear for tourism marketers. You spend so much money on digital ads, but if you don't keep them fresh, you risk paying more to reach your audiences, or even worse, having audiences tune out completely.
That's why we added new capabilities to the CrowdRiff platform in 2018 to help you keep ad creative fresh. Here's what's new:
1. Find photos related to the primary photo you've chosen for an ad
2. Easily crop photos for Facebook and Instagram formats
3. Add relevant text to photos to inspire action
4. Easily drag and drop photo and video creative into your Facebook Ads Manager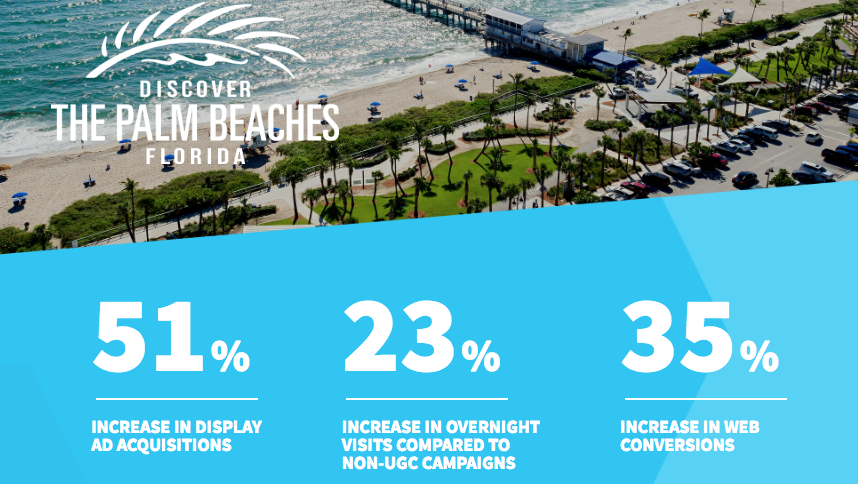 Not only did our readers love this article, but our customers loved this new functionality. By changing their ad creative to one that used user-generated content sourced through CrowdRiff, Discover the Palm Beaches achieved a 51% increase in display ad acquisitions and a 23% increase in overnight visits.
"There's definitely a misconception that Saint Paul is very sleepy," explained
Visit Saint Paul's
Social Media Coordinator, Caroline Ponessa. "There's a phrase I've heard a lot, which is 'date Minneapolis, marry Saint Paul,' the idea being that when you're young you want to be in Minneapolis and Saint Paul is where you settle down – but we see that changing."
In an effort to establish an emotional connection to the city, the organization has recently looked to its local population to help showcase the best of what it has to offer.
Visit Saint Paul created an "Insider's Guide" that features real recommendations from locals. They selected a hand full of insiders who are featured in the guide, speaking to subjects they compliment best . Each insider feature is shown with a photo of the local expert(s), with a description of who they are as well as four recommendations to make the most of the city.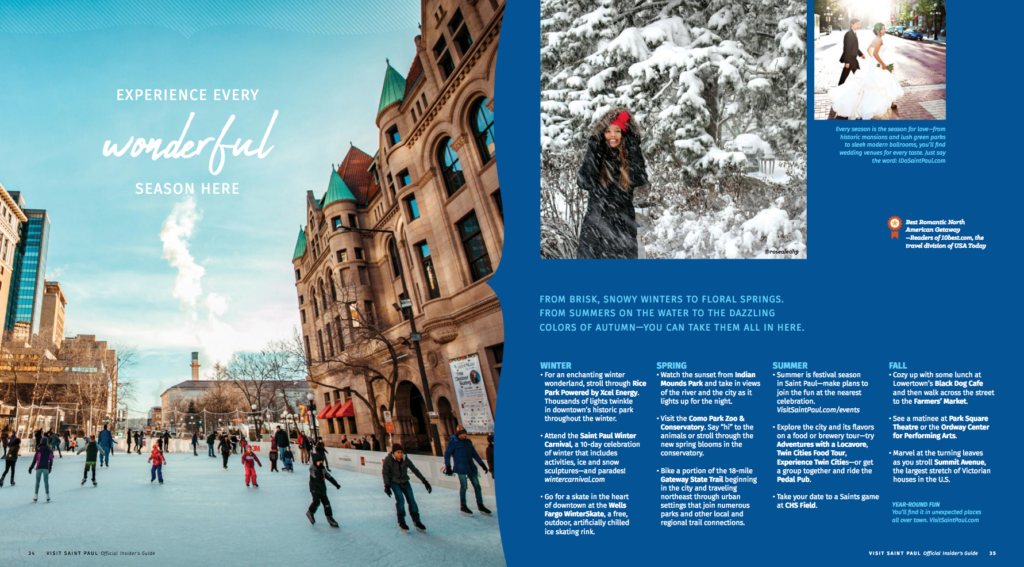 The guides were a smashing success – Last year Visit Saint Paul distributed over 120,000 guides, 19,000 of which were requested directly from their website. Read the article to learn more about Visit Saint Paul's winning strategy.
JoAnne Zeterberg, Director of Creative Services from Experience Scottsdale, wanted to be able to manage UGC, photos, and rights in one place, at the click of a button.
"To be able to reach out to social media users and pull in some of those assets to showcase on our website, and reach out to them directly for permission to use their photos and other materials, that was one of the main attractions to switching over to CrowdRiff," she said. "That was very enticing, being able to house everything in one place." – JoAnne Zeterberg, Director of Creative Services, Experience Scottsdale
Experience Scottsdale, and many DMOs alike, love that CrowdRiff allows them to:
1. Search multiple keywords, and search within saved searches. This makes it easy to help external parties get the assets they need to help DMOs tell their story
2. Host both user-generated and owned assets in one application. This streamlines the process for organizing, maintaining and utilizing visual assets
3. Get access to UGC. Using visuals from visitors on websites, social media, print marketing materials to help prospective travellers visualize themselves in the destination.
Your future visitors are visual decision-makers. They love to plan trips based on the places they see in photos — especially the ones their friends post about on social media.
Travelers have become increasingly mobile-first, using their smartphones for everything from booking travel and accommodations, through to finding the best local eats and cafes while on their trip.
This post covers these trends and more, and offers tips to help tourism brands make the most of these behaviors.
What does 2019 have in store for tourism marketing?
Stay tuned to the CrowdRiff blog to find out! In the meantime, check out our Keeping Tourism Websites Relevant in 2019 eBook to help make sure your tourism website is refreshed and ready for the new year.