Taking Advantage of User-Generated Content to Promote Your Attraction

User-generated content (or UGC) is any form of content created by consumers, and publicly available to consumers. Today, UGC takes the form of videos, blogs, discussion forum posts, digital images, audio, or any other form of consumer-generated media.
Working within a company that has made visual UGC more accessible to brands, I've had the opportunity to watch its popularity grow from fringe use cases, to being front and center in many marketing efforts across the tourism industry.
Earlier this month I spoke to a room full of digital marketers and operators of amusement parks, resorts, and museums at the IAAPA Attractions Expo in Orlando. Alongside two forward-thinking attractions marketers, Pete Owens from Dollywood, and Jillian Enterline from TBWA Bright Red, we outlined the value of UGC and some simple tips and tricks to make the most of user-generated content.
Here's a summary of the key points.
Why use UGC as an attraction?
Build an authentic brand image
User-generated content offers consumers an unfiltered perspective to experience your attraction first hand.
Your visitors are already taking photos and sharing their experiences in real-time. It's up to you to surface the best of that content, and share it across your channels to showcase the most authentic (and trusted) visitor experience. At the same time, you develop great ambassadors in the form of the fans and followers producing that content.
Showcase real-time content
With traditional owned videos and photos, it's hard to offer fresh content regularly. You're restricted to content from your latest photo shoot, and often those visuals get stale quickly. UGC, on the other hand, is continually being created every day, as your visitors share their experiences online. You'll have enough content to support your marketing efforts across channels while keeping your branding fresh and original.
Connect with millennials
Millennials make up a massive chunk of your visitors, and as an audience segment, they trust UGC 50% more than any other media. More so than branded imagery alone, millennials respond to content created by individuals.
Drive higher ticket sales
In addition to the benefits above, UGC has also been proven to boost conversion rates in digital ads and drive ticket sales. The customers we work with typically see a 3x increased click-through rate when using user-generated content in their ad creative.
What's more, with CrowdRiff, you can integrate UGC into website galleries and embed ticket sale CTAs directly in the image caption. Dollywood, as an example, has generated more than $90,000 in ticket sales on their website from using authentic UGC imagery to first inspire a visitor, and then using CrowdRiff to lead them to buy their tickets right in the moment.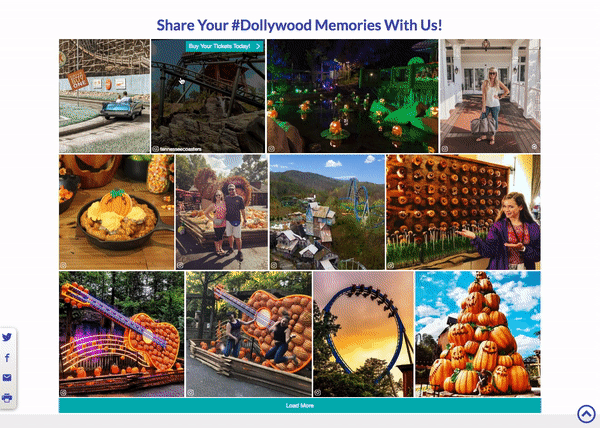 Tips & tricks: how to generate more positive UGC
1 | Host content days
While your visitors organically will share photos and videos, you can also consider giving them that extra nudge to create an influx of new content – perfect for launching themed exhibits or events. Bring out visitors to your attraction with the express purpose of generating content.
By hosting content days like a "vision walk" or an "Instameet", you can invite aspiring photographers to your attraction and have them take part in an active course led by a professional photography teacher.
2 | Engage influencers
We all understand the power of influencers. They have exceptional reach and typically take more time to take beautiful shots, edit them to perfection, and post them to reach more people.
Your brand can drive more effective UGC with targeted giveaways and social media takeovers uniquely geared towards influencers.
3 | Create on-site photo ops
If you have elements of your attraction that you want to highlight, create physical markers on-site to drive increased interaction. A photo op marker will encourage visitors to snap the perfect selfie or family photo.
Also – keep hashtags top-of-mind with signage throughout your attraction. UGC is only as good to you as its discoverability.
4 | Incentivize reviews & repeat visits
Discounts and loyalty programs can create lifetime brand ambassadors. Consider creating programs that reward people who regularly share UGC from your attraction with special access passes and privileges that would make the average visitor die with envy.
Let your happy guests be your strongest ambassadors
Happy guests are the best form of marketing. So allow them to take an active role in telling your brand story by putting the imagery they create at the forefront of your marketing.
By leveraging user-generated content you can amplify these positive experiences and promote your attraction in an authentic, engaging way.
To take a deeper dive into UGC marketing, we created a full guide of how-tos, tips, stats, and success stories –specifically to help marketers like you learn more about using UGC to promote your attraction.