User-Generated Content Rights: Top FAQs From Marketers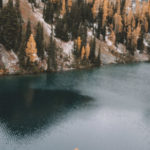 "How do user-generated content rights work?"
It's a question we've heard a lot.
When it comes to using social photos and videos in marketing, it can be tricky trying to figure out what's "ok" to do and what's not. After all, different regions have different laws, and different social networks have different terms.
While this post is definitely not a substitute for professional legal advice, we'll try our best here to help demystify the questions you might have around user-generated content rights.
Q: Do I need to ask permission to post user-generated photos on my website?
A: It depends.
Because of copyright, a user retains the rights to whatever they post on social media. That means if you want to take a photo from social media and use it on your website just as a regular visual, you have to ask permission.
However, every social network has specific Terms & Conditions about the content shared by its users. For example on Twitter and Instagram, users agree that by posting, they give permission to these social networks to use, publish, reproduce, display and distribute their content.
So if you're displaying a user-generated photo through that social network or through an API partner, you don't need rights.
This includes:
Embedding a Tweet or Instagram photo onto your blog (by copy and pasting the direct link), like below:
Displaying content through an API partner, like with CrowdRiff galleries. Here, since CrowdRiff uses Instagram, Twitter, and Facebook's API to display photos, and abides by all their separate terms & conditions, you do not require explicit permission to display photos. Example below!
In the above use cases, the photo you're using remains in its original context and remains under protection of the social network's Terms & Conditions.
Q: When do I need to get rights to a user-generated photo?

A: First ask yourself this question: Am I taking the photo off of its social network?
If so, then the short answer is yes, you need rights.
This includes:
Reposting a photo to your own Instagram account. (This requires downloading the photo and uploading it again)

Using the photo in digital or print ads

Displaying the photo on your website without a link back to the original photo

Displaying a modified version of a photo
For example, many DMOs curate their Instagram feeds by posting user-generated content, like here:
In these situations, you need to ask permission to repost, which Travel Manitoba has done:
View this post on Instagram

Missing polar bear season in Churchill. This amazing photo is by @joedesjardins.ca #exploremb #explorecanada
When you take a photo off its native social network, it isn't always clear to someone viewing the photo if that photo is owned by you, or if it is in fact user-generated — and that conflicts with copyright law, if you don't have rights to the photo.
Again, if you're displaying content through the network itself or through an API partner, then you do not need explicit rights, which is a big reason why destination marketers use CrowdRiff.
Q: How do I get rights to user-generated content?
So it turns out the photo you want to use falls into the "need to get rights" category. Now what do you do?
Here are 2 ways DMOs are getting rights to user-generated photos.
Ask for permission explicitly in a comment
When you ask nicely, people are generally very happy to let you feature their photo.
Here's a fantastic example from Tourism Toronto:
If you ever need a script, follow theirs:
Show that you appreciate their work with a compliment

Tell them how you'd like to use their photo

Give them a way to explicitly say "yes"
Invite users to agree to specific Terms & Conditions
For DMOs that have more rigorous requirements and want to be extra clear when it comes to user-generated content rights, you can invite users agree to legal Terms & Conditions before they grant you permission to use their content.
You can choose to link your Terms & Conditions in your profile, and direct people to that link when ask for rights, before they agree.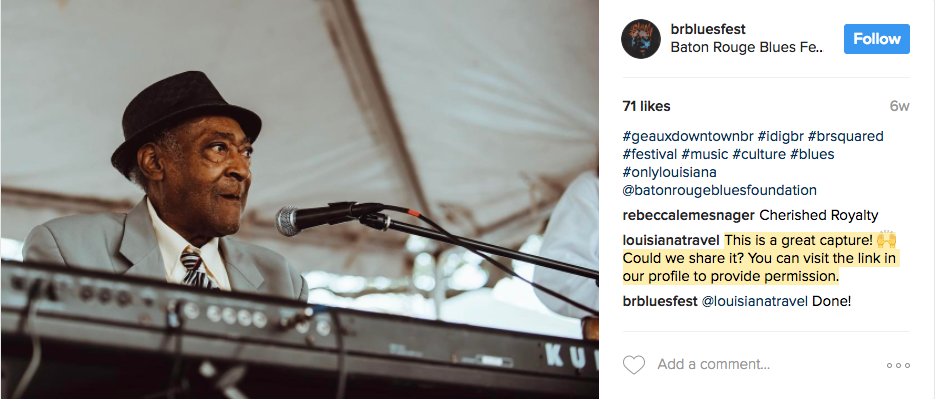 Here, Louisiana Travel uses CrowdRiff's Advanced Rights Management feature to show people (from whom they've requested photos) a seamless experience from agreeing to terms to granting permission for Louisiana Travel to use their content.
Q: How does CrowdRiff manage user-generated content rights?
DMOs use CrowdRiff to automate the entire rights request process, shaving hours of manual searching off the work week.
We keep track of your requests.

When you're manually requesting rights to UGC, it's extraordinarily hard to keep a record of which photos you've requested and who's responded. CrowdRiff automates all of that.

We retrieve the high-resolution version of any photo immediately after someone gives you rights

. No more emailing back and forth — when they approve, you get the photo instantly.

We take a screenshot each time someone responds with "yes"

, and archive it so that you can have a record of that interaction.
Quick Links
Every social network has explicit Terms & Conditions about the user-generated content rights. Here are some quick links:
See how CrowdRiff manages Rights