Big Impact, Small Budget: How Visit Harrogate Uses UGC To Capture Tourism Interest from Events

Harrogate – a town in Northern England with a population of just under 160,000 – has recently become recognized as a key destination for cycling competitions.
Playing host to the Union Cycliste Internationale (UCI) Road World Championships in September 2019, the town has been lifted into the world spotlight.
John Light, who manages web and eTourism for Visit Harrogate, explains that the regional marketing entity, Welcome to Yorkshire, won the official bid to host the race (Harrogate is a town within Yorkshire). "Our role is to represent Harrogate as best as possible, and to capitalize on it on Harrogate's behalf as the official destination marketing organization for the town and the broader area.
Here's how Visit Harrogate has made the most of the event.
International cycling competitions bring all eyes to Harrogate
Light says that Harrogate's relationship to the international cycling world began in 2014, when it became the site of the finish line during the first day of the Tour de France.
"The crowds were enormous, the likes of which we'd never seen before," says Light. "Harrogate filled with 200 to 300 thousand people from around the world, and as a result of that, Yorkshire has held a cycling race, the Tour de Yorkshire, every year since."
Since 2014 Yorkshire has cemented itself as the home of British Cycling, with Harrogate playing a supporting role as a popular cycling event destination within the region.
Showcasing Harrogate's cycling celebrations through a new interactive UGC gallery
Without an official affiliation between the DMO and the UCI Road World Championships, Light says that Visit Harrogate has had to reorient its marketing efforts, shifting its primary focus from the actual race and towards the spectators themselves.
"Our place is to really take advantage of the spotlight that the race will shine on us, and make sure the world sees more than just the race." He adds, "That's where UGC [user-generated content] comes in, because it's a great way to show experiences, and a more engaging version of the story of Harrogate than we could show with traditional, static images."
In early May of 2018 Visit Harrogate experimented with its first UGC website gallery in celebration of the Tour de Yorkshire, using CrowdRiff. The gallery, called the Visit Harrogate Tour Wall, showcases a variety of photos that demonstrate the city's connection with cycling, as well as the events and crowds that surround it – all from social media.
"We use it almost as a public album that everyone can see," says Light. "That collection of photos gives me a very quick way of showcasing the cycling celebrations that the Harrogate district is capable of."
Using CrowdRiff to capture an abundance of UGC as a small team
Light explains that Visit Harrogate is a relatively small DMO with limited resources compared with others in the surrounding area.
"We're a very small team, which is one of the reasons why I love CrowdRiff, because it allows us to do a lot more," he says.
"Rather than looking through an image library to figure out which image I can get away with, it's now which image is best, which one serves me. I really feel spoiled for choice when I'm looking to put together visual narratives to support pages."
The success of their initial Tour Wall gallery opens new doors to UGC marketing
The Tour Wall gallery has since been moved to a microsite, which is being promoted via social media. In spite of only offering visitors a single page with minimal text above the gallery, Light says they spend an average of about three minutes per visit.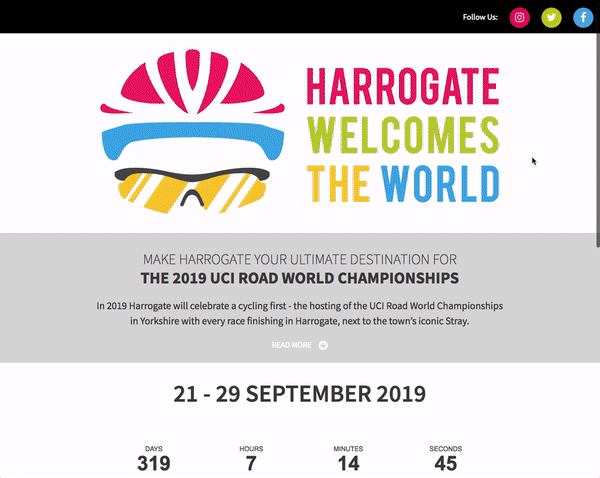 "It's doing really well," he says. "Something is keeping people on the page, and while I like to think I have a superb writing style I doubt it's my 200 characters of text."
The success of this first experiment in UGC led Light to find other uses for it within the DMO's wider marketing efforts. He explains that he has since used CrowdRiff to develop website galleries featuring social media imagery for a range of pages on the Visit Harrogate website, and intends to help his colleagues utilize the platform to develop more print marketing materials with rights-approved social media images.
"We've seen its power just based on the number of compliments we get on the imagery in our Harrogate Welcomes the World page," he says. "It's quickly gone from experimental to the point where we're actually using it in practical ways wherever we can."
Light says the visual content marketing platform has helped Visit Harrogate establish itself as a key destination for cycling spectators, even without official UCI affiliation and while avoiding any overlap with Welcome to Yorkshire's marketing of the event.
A solution built for travel brands like Visit Harrogate
Though he gets many calls from vendors offering "a solution to a problem that nobody has," Light says CrowdRiff was clearly different.
"Very quickly I recognized that it was developed by actually listening to the problems that DMOs have," he said, "like finding good images, having people in those images, and combining that with ways to engage people."
"Any new development CrowdRiff comes out with I immediately recognize why they've done it: it's a solution to a problem I've been having."
Light says that the rights request feature will be invaluable in the months leading up to the UCI Road World Championships, and that he's excited to start using the AI smart filter to help save time finding great imagery. He adds that the CrowdRiff Media Hub is currently sitting on his wish list, waiting for budgetary approval.
"There's so many ways to use it in terms of demonstration, outreach and relationship building," he says. "I think we're just at the tip of the iceberg at the moment."