Traditionally, people who visited your destination or travel experience shared photos and videos they'd taken there. You used their content in your marketing to gain social proof, engagement with your brand, and provide more sources of inspiration to entice new visitors.
Due to COVID-19, fewer travelers are coming to your destination. You might not be getting the same influx of fresh UGC from the sources you once relied on.
But you still need user-generated content. Actually, you need it more than ever to build trust with future visitors, support your partners, and keep your marketing channels active.
If you want to engage with your community and prepare for when travel does pick up again, you need your locals to share more photos and videos with you.
1 | Host local or regional photo and video contests
Photo and video contests are a highly effective way to source UGC around a particular theme or topic while putting your community front and center.
All the content you source with CrowdRiff's Collector is high-resolution and rights-approved. This means you can repurpose the content over and over again: in a visual blog post, on your social channels, and on your website.
Be sure to offer people a reward for sharing their photos and videos with you (it doesn't need to be a big-ticket item either!).
Monetary rewards
This could be anything from a cash prize, a gift card bundle to local businesses, or a travel incentive that can be cashed in later.
In an effort to get more people to support the local economy, Travel Alaska is running a photo contest promoting state-wide travel (only residents are allowed to enter).
Every week, the DMO is highlighting a different region of Alaska and selecting photos from that region to win. The winners two roundtrip Alaska Airlines tickets for their next local adventure.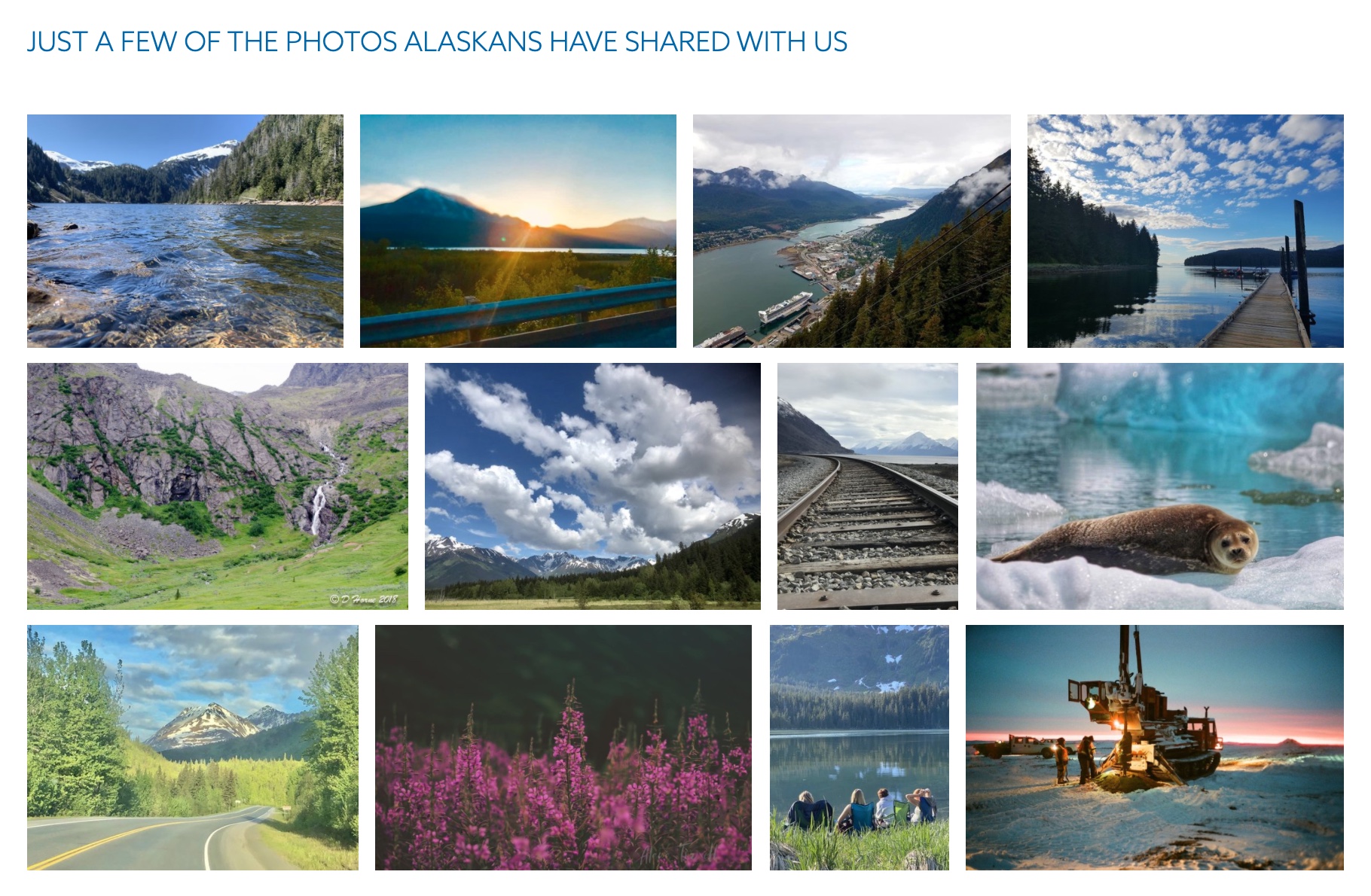 The chance to be featured
If rewarding people with a monetary prize isn't in the cards, offering up the chance to be featured can be all the motivation locals need to share their content with you.
Visit Mesa ran a photo contest to capture UGC for a music video called "For the Love of Mesa." In the past, they created this video with professional photographers and videographers, but this year they wanted the content to come from locals.
Their goal was to capture 200 photos from the community, however, after just two weeks, they blew through their goal collecting over 450 photos.
Pre-pandemic, Visit Grand Junction ran their biggest photo contest with CrowdRIff's Collector. The best photos had the opportunity to be featured in the City of Grand Junction's annual calendar, which is mailed to all city residents.
Instead of a manual process to collect submissions, the team used CrowdRiff, helping get 550 more entries than previous years, says Leslie Dysart, the Social Media Specialist at Visit Grand Junction.
"Not only did the online contest garner more submissions that were diverse and appealing to potential visitors, but the entire process was much easier to manage on the backend."
Celebrate community
Many DMOs are using UGC contests to celebrate and connect with local heroes, businesses, and their communities.
Visit Indy created a contest where they encouraged people to post videos about the first thing they were going to do when the city reopened. Everyone from people to families and business owners uploaded original video content for the DMO.
Tips for running a contest with locals:
Create a list of partners or local businesses who can collaborate with you on prizes.
If you have an upcoming campaign or digital/print publication coming out, consider sourcing UGC from your community to be featured.
When running a contest, give people as many ways to enter as possible—create a unique hashtag that you can track and pull content from, and have a way for people to upload their photos or videos with you directly.
You can add CrowdRiff Collector links anywhere you want to gather content: a link in your Instagram bio, in your email newsletter, on your website, etc.
2 | Run a challenge
Challenges are another great way to foster community spirit, get people moving, and support local businesses that have been hit hard by COVID-19.
Visit Bloomington, Indiana is running the B-Town Summer Challenge, where they ask locals to upload and post photos around town doing a set of activities.
How it works:
Print the B-Town Summer Challenge or pick up the checklist at a local business.
Check off one activity per category (in total, there are 10 categories with 10 activities each).
Post a photo participating in or completing each activity on social media with #btownchallenge or upload your photos using the CrowdRiff Collector.
Once someone has completed one activity per category, they're entered to win exciting prizes. There are over 40 prizes given out throughout the summer along with two grand prizes: $500 cash and a weekend at a local resort.
Some categories include eating, shopping locally, and civic engagement like volunteering around the community.
Erin White, Director of Leisure Marketing and Media, Visit Bloomington, says even though COVID-19 cases in Indiana are under control, everyone in the community has to be vigilant. A big part of that is focusing on the local community.
"If we don't do our part in assisting local businesses to stay open and thrive throughout this pandemic, then they won't be here for a visitor to enjoy and experience once we get out of this."
After nine days of running the 10-week Challenge already has almost 2000 visits, 4 minutes average time on page, and over 800 downloads.
Tips for running a local challenge:
Include activities that meet varying degrees of social distancing to accommodate people's different comfort levels.
Mix up paid and free activities to make the Challenge as low-barrier as possible.
Highlight activities from far-reaching areas or neighborhoods of your DMO to make it inclusive to the entire community.
3 | Leverage your partners
Your partners are one of the best untapped resources when it comes to real-time UGC.
Visit Issaquah hosts local partner content on their Instagram Story Highlights. They have a dedicated section for #EatLocal and Shop Local, where they share UGC promoting offers from local businesses.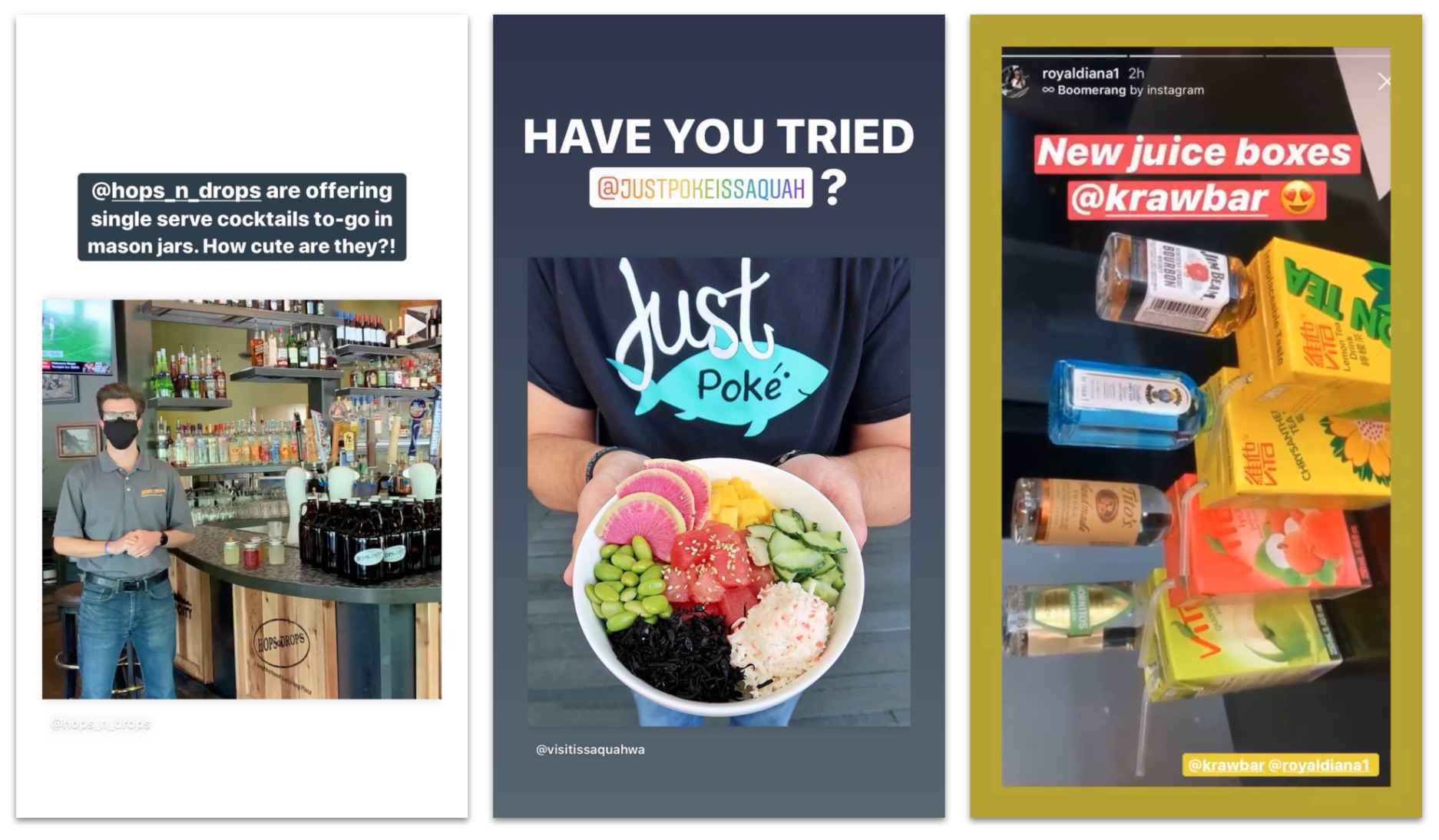 Even if your partners aren't social media savvy, there are a few tips you can give them so you can access more timely and relevant UGC to support them, and they can boost their bottom line.
Ask them to choose one platform they can keep up with. They'll want to choose the platform where the majority of their customer base is most active.
Get personal. Let them know that everyone wants to help their local businesses right now, they just need a why. Share origin stories, staff takeovers, and "day in the life" style content.
Use hashtags wisely. Impart some hashtag wisdom on them — speak to them about the importance of hashtag discovery and which ones you're tracking.
Showcase your customers. Create highlights featuring happy customers, repost Story tags, and @mentions—even posting a few times a week can go a long way.
Make it easy to buy. Add details on how to purchase, Shop Now buttons, and Story Highlights of new products and stock.
Tips for leveraging your partners for local UGC:
Give your partners a reason to share content with you—let them know how you'll be using the content and how it affects their bottom line.
Make it easy for them to share content with you. Track their social accounts in CrowdRiff or ask them to authorize Connect to make sure you see their Stories, @mentions, and tags.
Direct your partners to resources around how to best use social media.
4 | Create a VIP or local ambassador program
Even if you don't have the capacity to work with influencers like you used to, there are still ways to spur high-quality UGC around your community with the resources you have available.
Melea Hames, the Social Media Manager at Alabama Mountain Lakes Tourist Association explains as well as pulling content from popular hashtags, and through Connect, their local ambassador program helps fuel their CrowdRiff library.
"They're like artists with their work. They create those artsy shots."
Unlike well-known influencers who create content often for monetary compensation, North Alabama local ambassadors generate blogs, videos, and photo in exchange for:
North Alabama swag (t-shirt, cap, etc.)
Featured on the website landing page for North Alabama Ambassadors
Featured on social media platforms
Featured on our blog (if they're a blogger)
Permission to use the title North Alabama Ambassador on your social accounts and website
The team currently works with 20 ambassadors.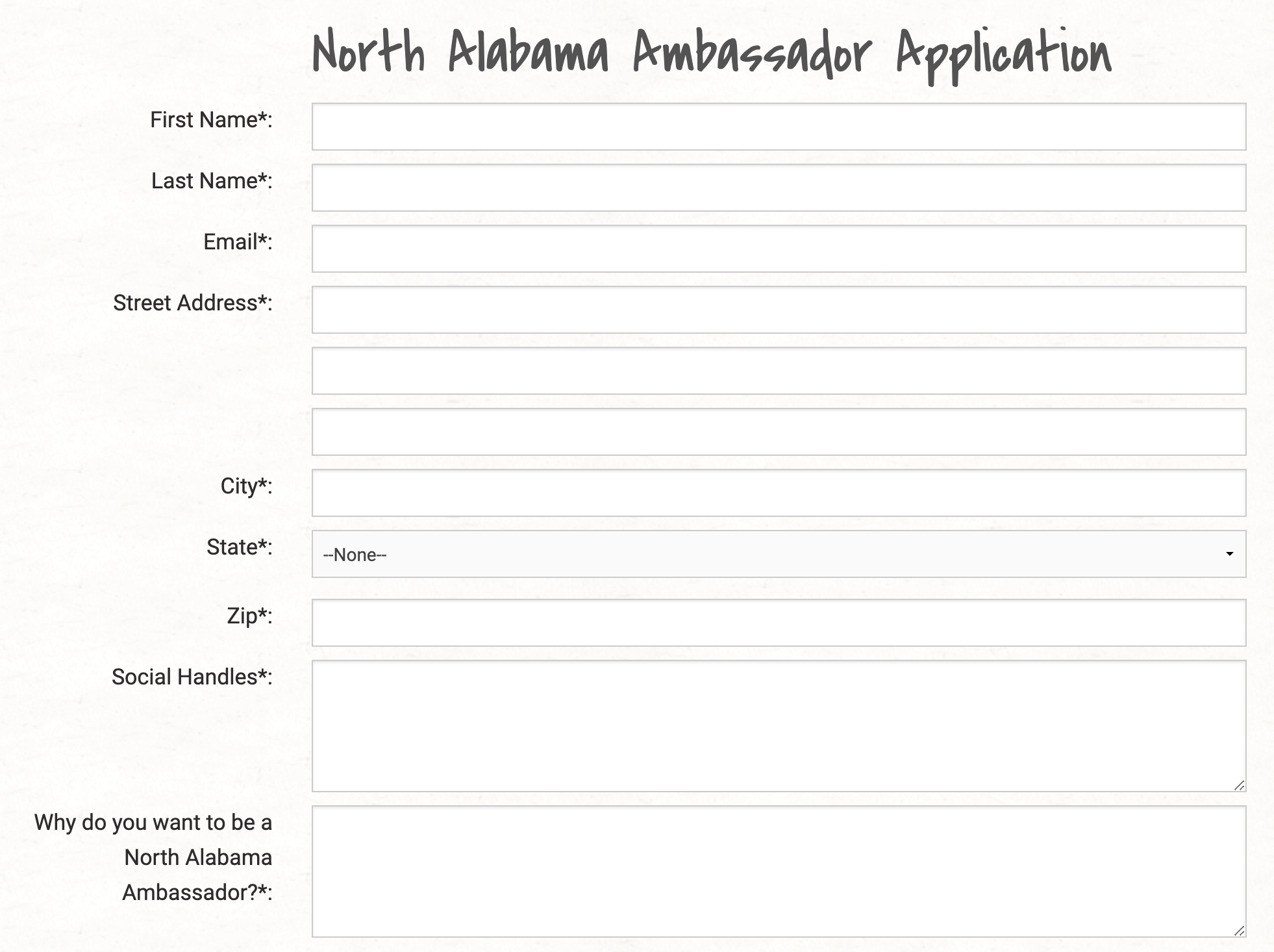 Tips for creating a VIP or local ambassador program:
Create an application on your website (like the one above!). Specify you're looking for people who are passionate about your region and are posting their adventures on social media or on a blog.
Make it easy to collect visual assets and ensure upfront that the usage terms are clear.
Create a highlight reel of your best ambassador shots to encourage others to join.
Do a call for submissions on your website, on social media, or in your newsletter.
5 | Promote your local hashtag
Visitors know you have a hashtag for travel content, like #TravelIllinos, but do locals know they have a hashtag they can use when posting photos and videos to support the community?
If you don't already, initiate or start tracking hashtags that have surfaced in your community. Then, promote them on your social media channels, your website, your email newsletters, and anywhere else you can think of!
Or you can repurpose an existing hashtag, like Visit Albuquerque. They've repurposed their #TrueABQ hashtag to share True ABQ Acts of Kindness around the community.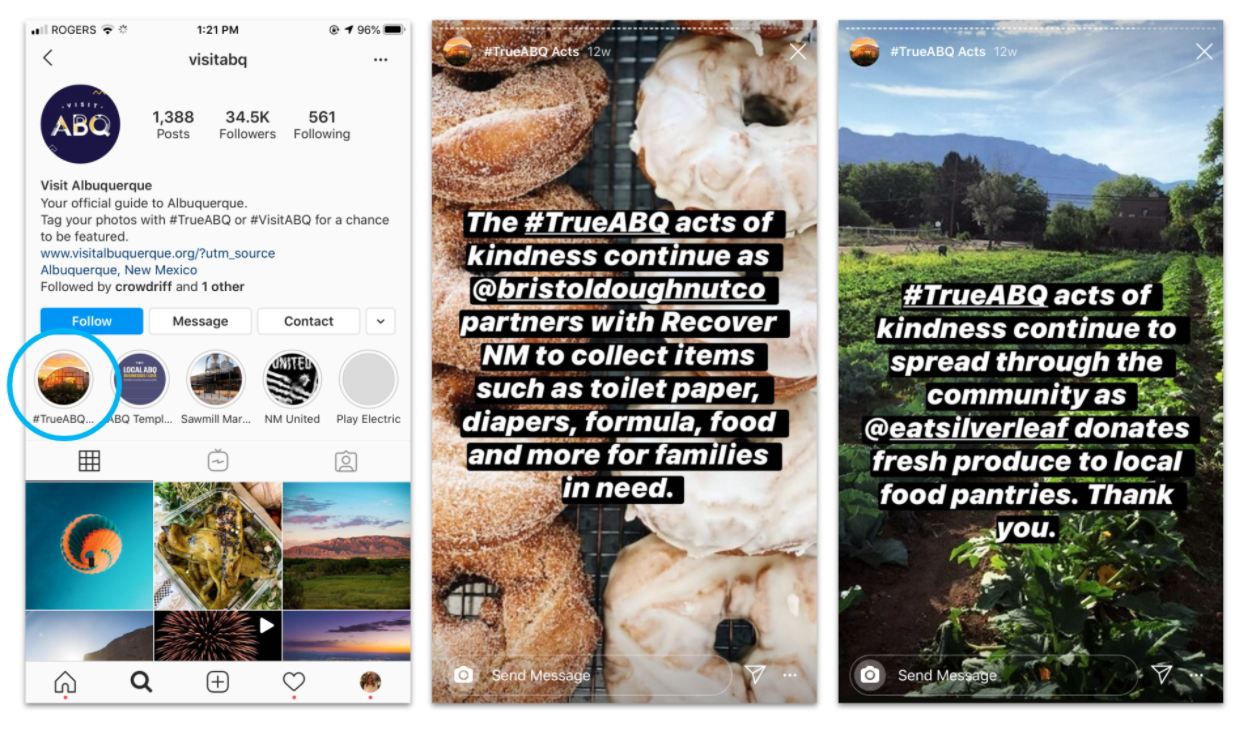 Tips for choosing local hashtags:
Make sure your hashtags are location specific otherwise you'll bring in content from anywhere in the world.
Choose several hashtags based on different themes. You can have one for eating locally, acts of kindness, and shopping.
In CrowdRiff, you can exclude keywords, hashtags, or usernames. This helps improve the quality and relevancy of your content. To exclude content, go to "excluded terms" under Social Trackers.
6 | Repost the visuals you're trying to source
Another way to encourage more local UGC creation is to repost the kind of visuals you're trying to source from your community, fans, and followers.
Sometimes it's as simple as adding a call-out in your Instagram photos, like Kentucky Derby Museum.
They're promoting their hashtag #DerbyEveryDay and also showing their audience they're looking for content of people on their tours.
With CrowdRiff's Social Publisher, you can repost visuals in just a few clicks. Share your best photos and videos to Instagram, Facebook, and Twitter right from your CrowdRiff library.
Tips for reposting visuals you're trying to source:
Use encouraging language in your posts like the Kentucky Derby Museum: "We love seeing photos of your visits!"
Let people know how they can submit their photos and videos, whether it's with a hashtag or a public link or both
Be consistent – the more people see the kind of visuals you want, the more they'll share them with you!
Want more ideas on how to source more UGC from your audience? Check out these two posts:
7 Effective Ways to Source More User-Generated Content for Your Brand
4 Ways Travel Brands Can Source Content with CrowdRiff
Header image credit: @erinexploring_