People often ask us: should I hold off on using UGC on my website until our upcoming website refresh? In a short answer, no.
When you know a website redesign is on the horizon, it can feel like there's no point in updating your current site. But, a complete overhaul of your design can be a lengthy undertaking and the process can be months (or even years!) in the making.
Meanwhile, your visitors are still coming to your site. They aren't waiting for a prettier layout or a new font, they're just looking for the helpful information they need to plan a trip, book a stay, or buy a ticket. Knowing this, there are lots of benefits to updating your current website now.
With CrowdRiff, you can make some quick updates to your current site while you are waiting to undergo a larger redesign.

Here are 3 ways CrowdRiff can help you before you completely overhaul your website:
1| Make it more visual with refreshed images and galleries
Let's be honest – if your visitors keep seeing the same images on your website every time they visit, it will leave them feeling like your site is not up to date with everything that is happening in your destination or at your attraction.
With CrowdRiff, UGC photos, videos, and galleries can be added in as little as 5 minutes. These galleries are a great way to showcase your experience and keep visitors on your site for longer.
CrowdRiff will pull photos and videos directly from social channels into your library in real-time, and then use AI and intelligent search to help you quickly find the most effective and compelling visuals in one click.
Then, whenever you want to update an image gallery, it's as easy as selecting the images in CrowdRiff and pushing them to the desired page in a single click. And when you decide to revamp your website, all you need to do is copy the code over to your new page. It's that easy!
Embedding a gallery on your website is as easy as copying the code provided by CrowdRiff. When you add or remove images from a gallery, those changes are automatically reflected on your website.
2| Put key analytics and insights to work
Updating the visuals on your current website allows you to learn from the kinds of imagery that people are interested in and what resonates with them the most, and you can then use that insight when planning your redesign.
CrowdRiff gives you access to key insights and performance analytics for the visuals and galleries on your website, so you can truly understand which content performs the best.
You'll never have to guess which galleries are seeing the highest engagement rates, or which CTAs convert the most, because those answers are right in CrowdRiff for you. You can easily respond to changing metrics or decreases in engagement by switching out your visuals and testing their effectiveness.
Arm yourself with these insights and put them to good use when you decide to redesign your website.
Let's say you notice that the updated nightlife gallery on your current website is getting a lot of traction. You can use that insight and create an entire page on your new site dedicated just to the nightlife in your city, with galleries for the best options in each neighborhood.
3| Build a visual content library
No matter what type or style of website you have, you can always benefit from having a library full of impactful and original imagery at your fingertips. With CrowdRiff, you can quickly build a visual content library and easily discover tons of great UGC without the manual work of searching for it yourself or breaking the bank.
Not only does a collection of great photos and videos give you the ability to refresh your current site right now, but it means you'll have tons of great imagery ready to go for your relaunch. It's simply a matter of searching your library and selecting the photos you want to use in your new design.

Getting started
Prioritizing the top 5 pages of your website is a great place to start. Focus on updating these first, so the pages your visitors check out most often are the most engaging.
Whether this is your homepage, events page, or contact page, every part of your website can benefit from a more visual and eye-catching approach.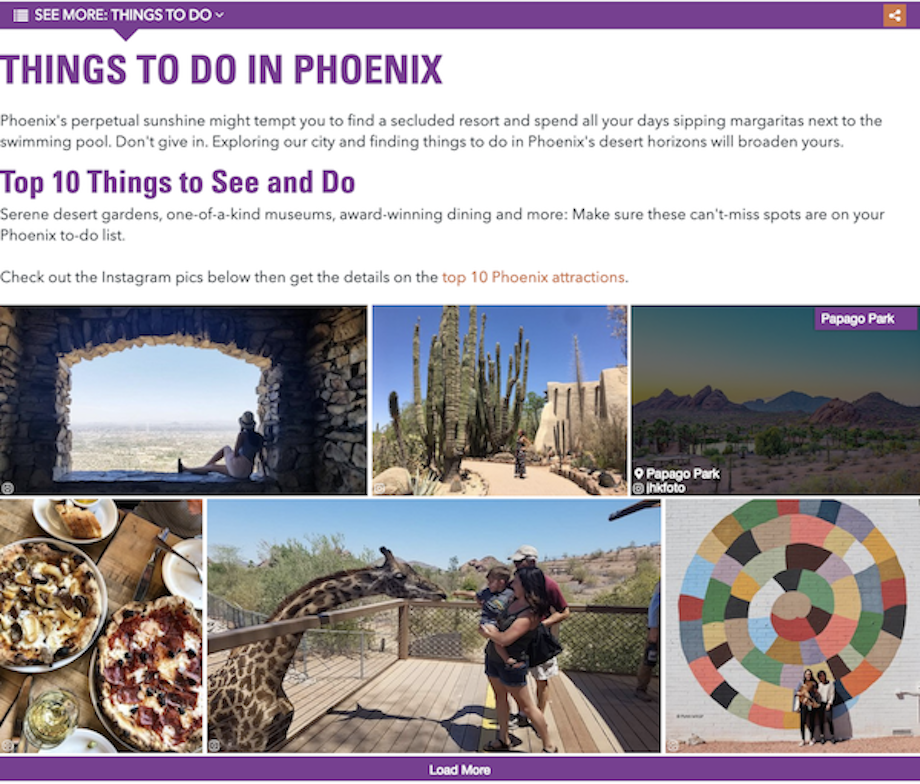 Visit Phoenix has a seriously impressive number of galleries on their website. Here, they've added a UGC gallery to their "Things to Do in Phoenix" page.
After identifying your top trafficked pages, build out galleries one-by-one for each of them. Then, you'll be able to start tracking their performance, and can make adjustments and updates quickly when needed.
Easily repurpose your visual content for your new website
With CrowdRiff, you don't need to worry about doubling your work efforts when you're ready to launch your new website.
When you decide you're ready to start your redesign, an entire content library full of UGC will be ready to go. Your visuals and galleries are all stored in one place, so it's easy to copy them over to your new design. Plus, you'll be able to incorporate your findings about the type of visuals that work the best.
CrowdRiff can help you find and share the most authentic and compelling visuals to make your website (current or future!) a success. If you'd like to see how CrowdRiff can help you out, book a demo and we'll walk you through it!

---
Header image courtesy of Simon Migaj and found on Unsplash.