It's not a stretch to say many destination marketing organizations (DMOs) don't need to be pushed to work with "influencers" or content creators. The benefits of doing so have been reported for years: access to more diverse perspectives and short-form content that can be used across a DMO's social channels to help fill content gaps.
Instead, the influencer problem for DMOs, especially smaller teams, is the work involved in managing them. From sourcing creators, drawing up contracts, managing payment and insurance, and providing feedback – working with creators requires a lot of admin.
Think of how short-form video content exploded in popularity during the pandemic on platforms like TikTok, Instagram Reels, and YouTube Shorts. With travel demand back and better than it's been in years, brands have felt the pressure to keep up with creating short-form, vertical video content to win over a share of that wanderlust. For example, some 84% of respondents to a 2022 Influencer Marketing Hub survey said they have increased content production compared to last year. The survey included 2,000 respondents from brands, marketing agencies, and PR agencies representing every region, organization size, and industry including travel.
We understand how small teams may feel that it's impossible to compete for eyeballs with larger destinations that have dedicated content production teams and sizable budgets. Without enough content to keep travelers engaged, travelers simply swipe away to find another brand to inspire them.
But let's assume that your team has allocated a portion of your budget to working with creators and you have the green light to roll. You've probably already asked yourself these questions:
How will our team have the time for this?
Which staff will work on this?
How and where do we find creators?
When we do find creators, how do we make sure their storytelling is authentic and aligns with our brand?
How do we get quality content without a massive budget?
What do we do with the finished product(s)?
How will we handle managing contracts and paying creators?
How do we measure the success of this project?
Whether you're excited to get started, or have already begun but find it tough to be consistent, CrowdRiff Creators is here to help. CrowdRiff Creators has already helped DMOs ramp up content production and create quality short-form videos to fuel their Instagram Reels, TikTok, and YouTube Shorts strategies. CrowdRiff Creators manages the workflow with creators from content conception to completion so that your team isn't doing the heavy lifting and can focus on other tasks on your plate.
How CrowdRiff Creators solves destinations' problems
Remember those questions you asked yourself at the outset of your creator collaboration work? Let's run through our nifty answer to show you how CrowdRiff Creators makes a destination marketer's life easier:
CrowdRiff Creators finds local creators for you
Considering more than 50 million people worldwide consider themselves as content creators, pouring through profiles and pages can be exhausting. Only 16% of respondents to the Influencer Marketing Hub survey thought it was "easy" to find the appropriate creators to work with. Let's face it, if something isn't easy and you have a small team, just one difficult task creates a logjam to meeting goals.
In fact, 58% of respondents (the largest percentage) to the survey said influencer discovery was the top reason for using an influencer platform (see chart below).
That's why the CrowdRiff Creators team takes care of sourcing, screening, and training creators. We source up-and-coming creators – many of whom are also locals – to create short-form content that can be used as Stories for TikTok, YouTube Shorts, or Reels on your brand's behalf.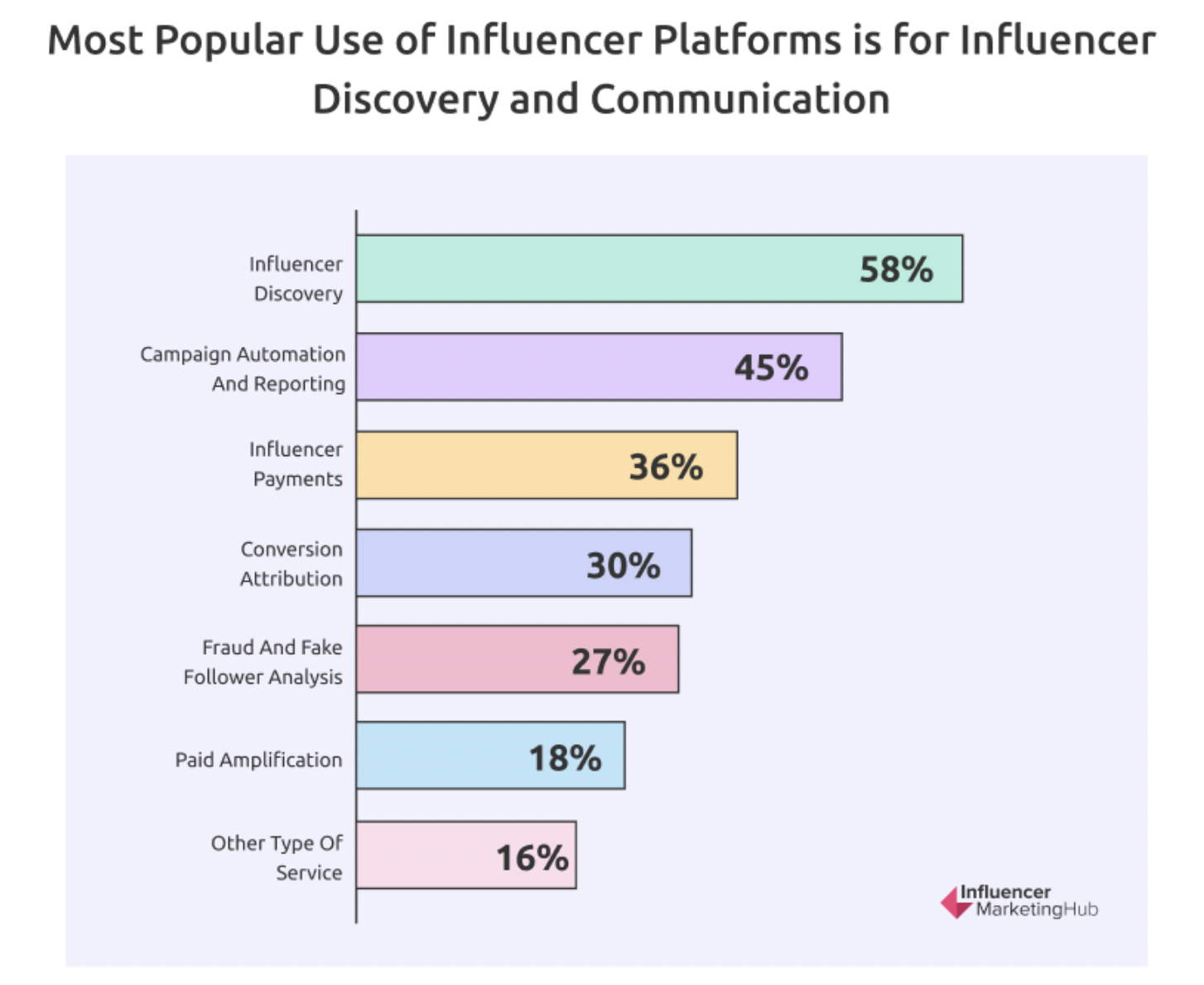 Source: Influencer Marketing Hub
We manage all payments and contracts with creators
Our team makes sure that all creators are paid promptly and fairly, while taking care of contracts and communication. Creators are paid via a CrowdRiff reloadable Visa Debit card, which we often see creators use to purchase items in their local community. It's a great way to encourage creators to spend at local businesses in the destination!
We make sure creators know your destination
Instead of focusing on established influencers with a large following, CrowdRiff Creators targets smaller, local creators who are passionate about their area. We focus on the quality of the content, not the quantity of followers. We work alongside your team to define your short-form video needs, and train up the creators. Our team will work with you to help build a strategy that yields more content on more channels.
Think about the benefit of working with creators who understand your objectives and are also passionate about telling compelling stories about your destination.
"For us the proof was in the metrics. We've received 600 short-form videos from over 40 creators. We have a lot of written content, but creating this video content is critical for us and not everyone is an expert at creating video content. We've received over 1.1 million views on our social channels [from CrowdRiff Creator content]. This is truly content at scale. I can't say enough about how much they helped us with this strategy and the implementation of this strategy and we are looking forward to the next steps in this partnership." Lynn Carpenter, VP Marketing, Visit California.
Ready-to-go multi-channel content that lasts longer and goes further
Content produced by creators is delivered as a batch of video snippets that all relate to the same place or content theme. Destinations can use CrowdRiff Studio or any third party software to combine these snippets in any combination to make short-form videos that are ready to use on social media. We've seen that destinations often combine video snippets from different creators or different content shoots to create listicle style content.
CrowdRiff Creators has already made DMO teams' lives easier
In just the past few months alone, CrowdRiff Creators has worked with more than 88 creators to deliver over 66,000+ seconds of short-form video content. In fact, at one point, CrowdRiff Creators content was used in 50% of one large DMO's TikTok strategy!
The CrowdRiff Creators team becomes an extension of your team that cares about inspiring travelers and giving them the information they need to make smart decisions. Where before many DMOs were struggling to keep up with content demand and often rushing to collect as much vertical video as possible, CrowdRiff Creators can ease this burden through delivering a steady stream of high quality short-form content, without any of the additional work from the DMO. CrowdRiff Creators has elevated destination brands by supporting day-to-day content production so that DMOs can focus on the bigger picture and key long-term goals.
Ready to take a short-cut to short-form video at scale?
Get in touch with our team to learn more
Learn more