This year the travel and tourism industry has come face to face with an age-old problem: its lack of diversity. What can you do to better represent the diversity in your community and travelers?
At last year's annual CrowdRiff conference, SEE, we asked 3 BIPOC (Black, Indigenous, and People of Color) content creators and marketing professionals to share their advice and speak about the importance of building a more inclusive travel industry. They also shared a list of BIPOC travel voices to follow, which we've included in a separate article.
Why does your marketing need more representation?
Earlier this year the Black Travel Alliance found a lack of diversity in the travel industry at all levels from employment to marketing and advertising. This year more than ever it has become clear that the travel and hospitality industries need to be more inclusive not just of the Black community, but of all marginalized people. Our panelists reminded us of just a few of the reasons:
Black travelers have long been underserved. Black U.S. leisure travelers spent $109.4 billion on travel in 2019, representing 13.1% of the U.S. leisure travel market. (MMGY)
There is an unprecedented demand for Indigenous tourism. In Canada, Indigenous tourism outpaced the mainstream tourism industry with 23.5% growth from 2014-2017, compared to 14.5%. (Indigenous Tourism Association of Canada)
Diverse teams outperform across industries and organization sizes. Companies in the top quartile for both gender and ethnic diversity are 12% more likely to outperform all other companies in the data set. (McKinsey)
Types of representation across your organization
When talking about representation in advertising, employment, and research, it's important to remember that it means more than just race, gender, or cultural diversity. Representation also covers:
Disability
Sexuality and gender
Age (think about how older travelers are often underrepresented)
Race and religion
"Make sure that when you're trying to be more representative you think outside the box of gender and race, but also sexuality, age, and even size," says Annette Richmond, Creator, Fat Girls Traveling.
Breaking down preconceived notions
Before you start thinking about opportunities for representation, Richmond recommends taking some time to unpack preconceived notions. Use this four-point checklist as a guide:
Acknowledge privilege. Do all people feel welcome and represented in your destination?
Learn & unlearn. Listen to people from underrepresented communities and unlearn your biases. As a starting point, use social media to poll segments of your audience to see if they feel welcome at your destination.
Advocate. Research underrepresented demographics in your community. Then amplify those voices.
Represent. Create a strategy so that your destination is more representative of the people that not only live there but also the people you want to welcome as travelers.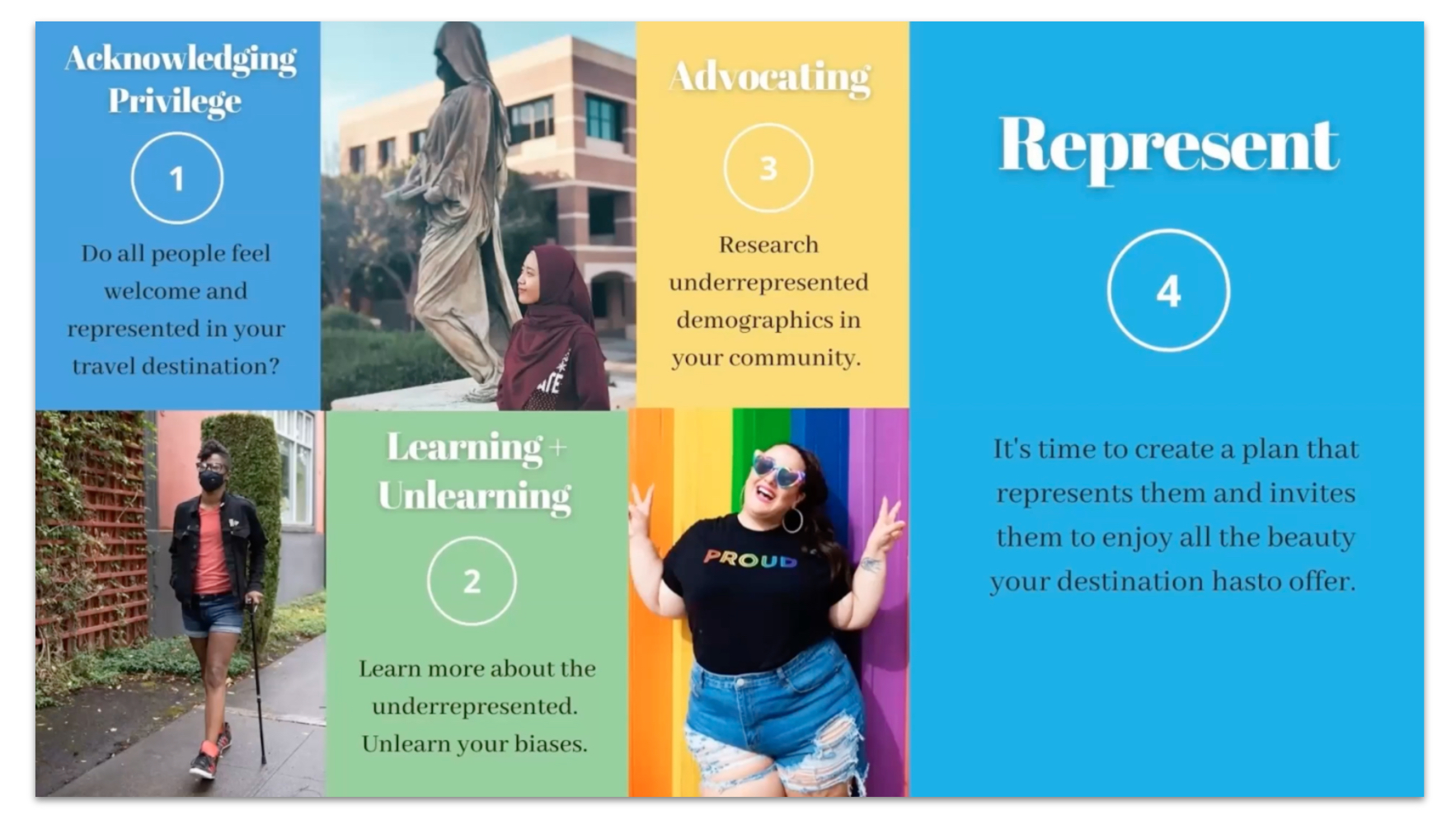 Image credit: Annette Richmond
8 ways to represent the underrepresented in your destination marketing
1 | Reshare content from diverse creators
One of the easiest ways to increase representation in your marketing is to reshare content from diverse creators—both who have visited your destination and who are doing great work in their community.
Richmond says it's not only important to follow people who live differently than you do, but also to share those experiences to increase awareness among your audience.
Tip: Create a schedule for consistency.
2 | Conduct interviews to introduce new voices
"Interviews are another easy way to introduce new voices and educate people without being overbearing," says Richmond.
You can use social media to keep things fresh. Instagram Reels, IG TV, or Stories are easy ways to engage your audience while being entertaining and factual.
Tip: Interview Black, Indigenous, or other minority-owned businesses in your community.
3 | Change the imagery in your marketing and advertising
Despite the $109.4 billion Black U.S. travelers spent in 2019, they're still not seen in most advertising. Making your imagery more reflective of your community and the travelers you want to attract will have a huge ROI, says Zenovia Stephens, Founder, Black Adventure Crew.
"When I look at a travel guide or a website I'm going to be a lot more inclined to keep looking, reading, or even planning a visit if I see myself reflected. Why? Because nobody wants to go somewhere feeling as if they don't belong, aren't wanted, or may not even be safe."
Tip: Fill your feed and CrowdRiff library with diverse content creators.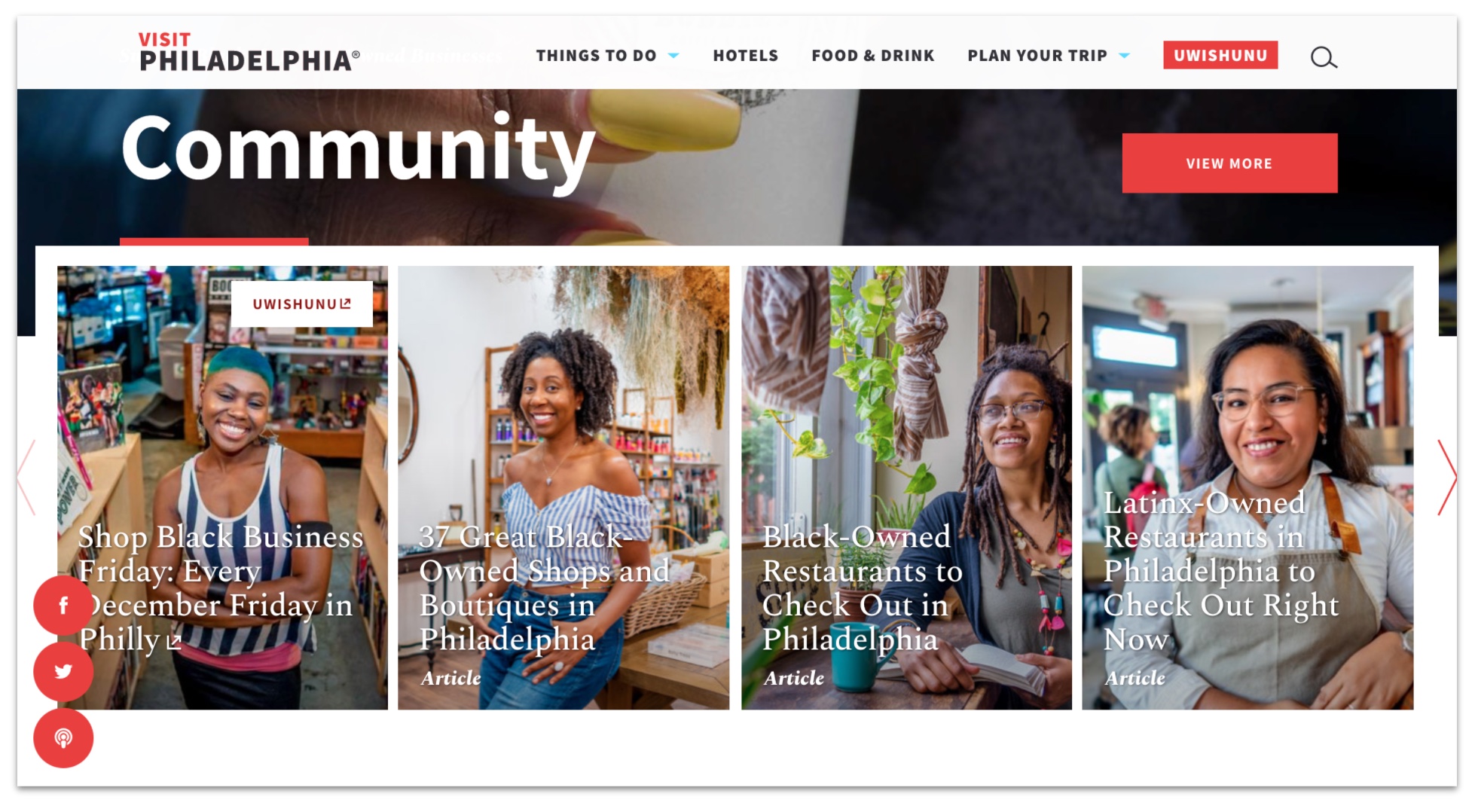 Visit Philadelphia has a section on their homepage specifically supporting the Black community.
4 | Promote Black-owned businesses and culture (and those of other minorities)
Not only is this good for the local economy and your relationships with local businesses, but it also shows prospective visitors that your commitment to change and inclusivity is real.
"When you provide businesses and cultural points of interest that are relevant to the Black and Brown community [and those of other minorities], it shines a light on your willingness and your desire to attract and make sure that people from all backgrounds feel considered," says Stephens.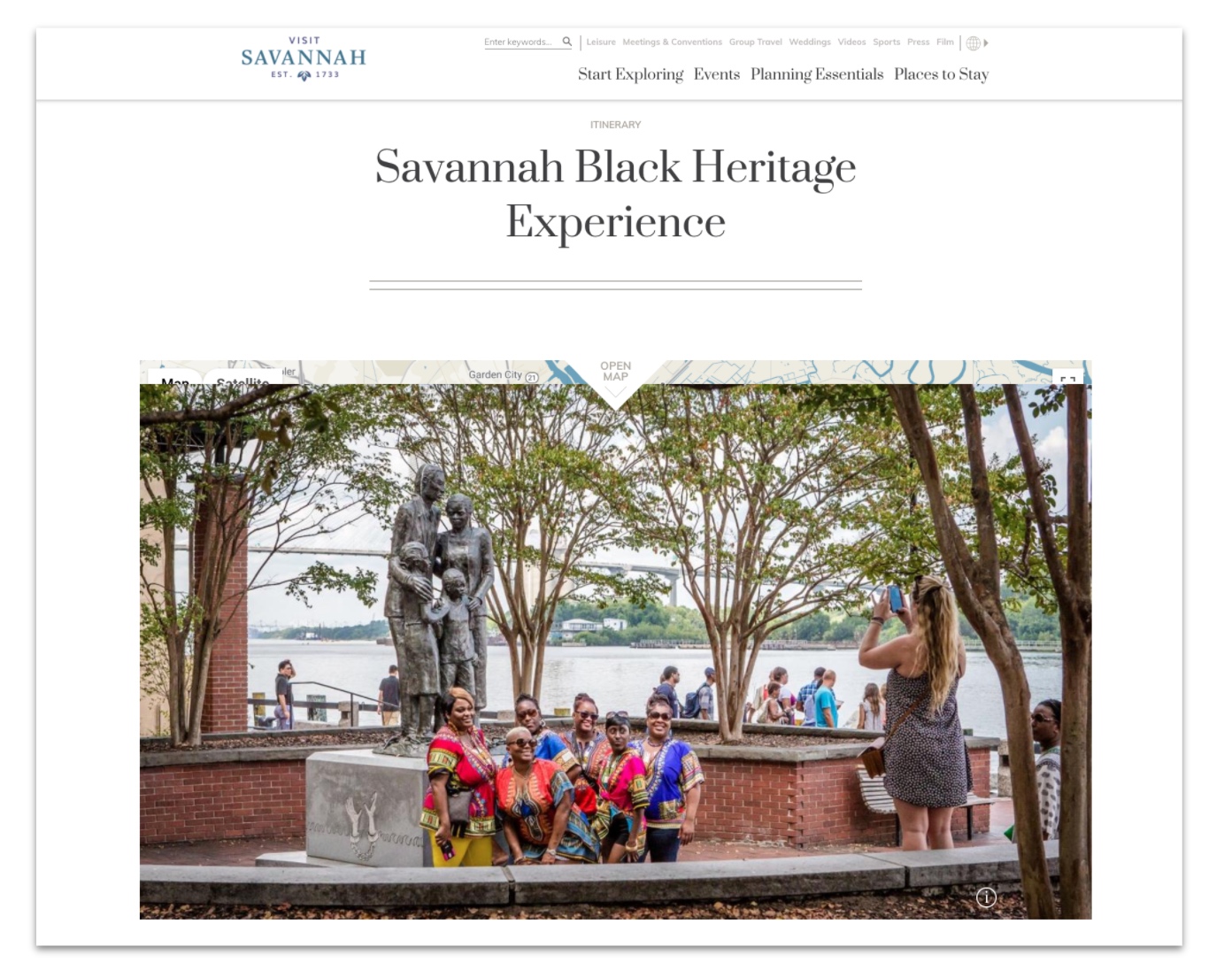 Visit Savannah has a section of their website with a map around Savannah's Black Heritage experience.
5 | Work with BIPOC content creators
While shouting out and sharing marginalized voices is a start, you also need to pay marginalized people for their contributions.
Stephens says to make sure to compensate these creators and travel bloggers fairly since historically they've been underpaid. Find opportunities to hire them for campaigns and suggest them to other brands.
Tip: Ask others for recommendations of marginalized people to hire.
6 | Collaborate with new and established voices
Working with diverse creators is important, but remember to choose a mix of new and established people. "If we keep tapping into the same speakers and influencers then the narrative will be the same," says Richmond.
Tip: Reach out to a new collaborator each quarter.
7 | Diversify your executive team
How many Black, Brown, or people of color are in positions of senior leadership at your destination or travel brand? Stephens says diversity in the workplace at all levels is the foundation for building a more inclusive industry and attracting new visitors.
"If the travel industry really wants to change, you must provide a seat at the table for Black, Brown, people of color, and all marginalized communities."
8 | Partner with minority-owned operators
Post-COVID-19, the demand for authentic cultural experiences is expected to pick up where it left off. Sébastien Desnoyers-Picard, CMO, Indigenous Tourism Association of Canada, says partnering with an Indigenous operator sets your travel brand apart, adds relevant cultural context, and meets the increased demand.
His advice for those looking to partner with Indigenous operators:
Create a meaningful partnership. Build a relationship without a timeline; respect people have other duties like serving their community before they can bring in guests. Come without expectation and commit to sharing.
Know what you bring to the partnership. Outline the mutual benefits (new ideas, customers, and location) and how you compliment each other.
Relinquish control. Understand that Indigenous people are in control of their own stories—don't do the storytelling for them. Respect the autonomy of Indigenous experience being shared. Not everything can be photographed or filmed.
Work with Indigenous communities to define your guest code of conduct.
Manage expectations. Be careful with things like image selection, which plays into people's perceptions. When writing content, avoid cultural taboos, and validate your sources.
Final thoughts…
Stephens reminds us that to make a true difference, the work is ongoing.
"Don't ease up when things appear better or when you feel like the racial tension has died down. This is ongoing work and you have to be committed to being part of the movement. The great news is that you don't have to do it alone. Commit to the change, get involved with the many creators and bloggers ready to help and we can all make a difference within the travel industry."
Header image credit: @bj.thetraveller