Road trips are a classic form of travel but there are so many new trends, vehicle types, and devices that make the road trips of 2022 lightyears away from those you took with your parents.
But some things haven't changed and probably never will: travelers' desire to hit the open road, having the flexibility to go at their own pace, and visiting bucket list attractions. No wonder road trips have become a tradition that travelers keep year after year.
With summer in full swing, road trip season is officially here and many travelers are loading up their cars, campers, and RVs for the trip of a lifetime that they may have had to put off for a couple years.
The only downside? Inflation will make road trips this year some of the most expensive ever thanks to costs such as fuel, lodging, and dining skyrocketing. But the good news is many travelers are forging ahead and not letting sticker shock at the pump rain on their parade.
With many pandemic travel restrictions lifted around the world, rising prices are no match for the pent-up demand for vacations. Still, destination marketing organizations (DMOs) can't pretend travelers' aren't feeling the sting. One poll found two-thirds of Candians will likely have to cancel or limit their road trips this summer, and data from Statistics Canada show rental cars in Canada were nearly 20% higher in May 2022 compared to May 2021. Another study found the average rental car price in Europe this year has more than doubled since before the pandemic.
AAA projected that 42 million U.S. travelers – the highest on record – would take a trip more than 50 miles from home during the July 4th holiday weekend, with the majority being road trips.
Overall, however, the data is really positive and proves this year's travelers are more resilient and determined than ever, come what may with trip costs. Your DMO has a huge opportunity to showcase all that your destination has to offer to local and regional travelers who are itching to get back on the road.
Let's run through our six tips for how to make sure your DMO is top of mind when travelers are planning their next road trip.
1.Stay on top of staycations and regional travel
In the U.S., most road trips take place close to home, with destinations often only a few hours away. In fact, the largest share of U.S. trips from 2019 to 2021 involved traveling less than 250 miles from home, according to data from the U.S. Department of Transportation.
Staycations will likely be big again this year, but that doesn't mean travelers are staying at home. Travelers are increasingly opting for more affordable trips to destinations close to home, making it an easier (and less stressful!) vacation, especially for families. Keep this in mind when planning your marketing this summer and beyond.
Consider creating blogs on easy day trips to take in your destination, with itineraries that cover how locals can experience an attraction from a new perspective and local businesses they can support along the way. Here's an example we love from BC, Canada!
2. Create interactive itineraries
Here's another mini pep rally: DMOs are still a trusted source of road trip planning information!
DMOs are on par with advice from family, friends, and social media in terms of most popular road trip planning resources, according to survey data of U.S. travelers from Miles Partnership and Longwoods International.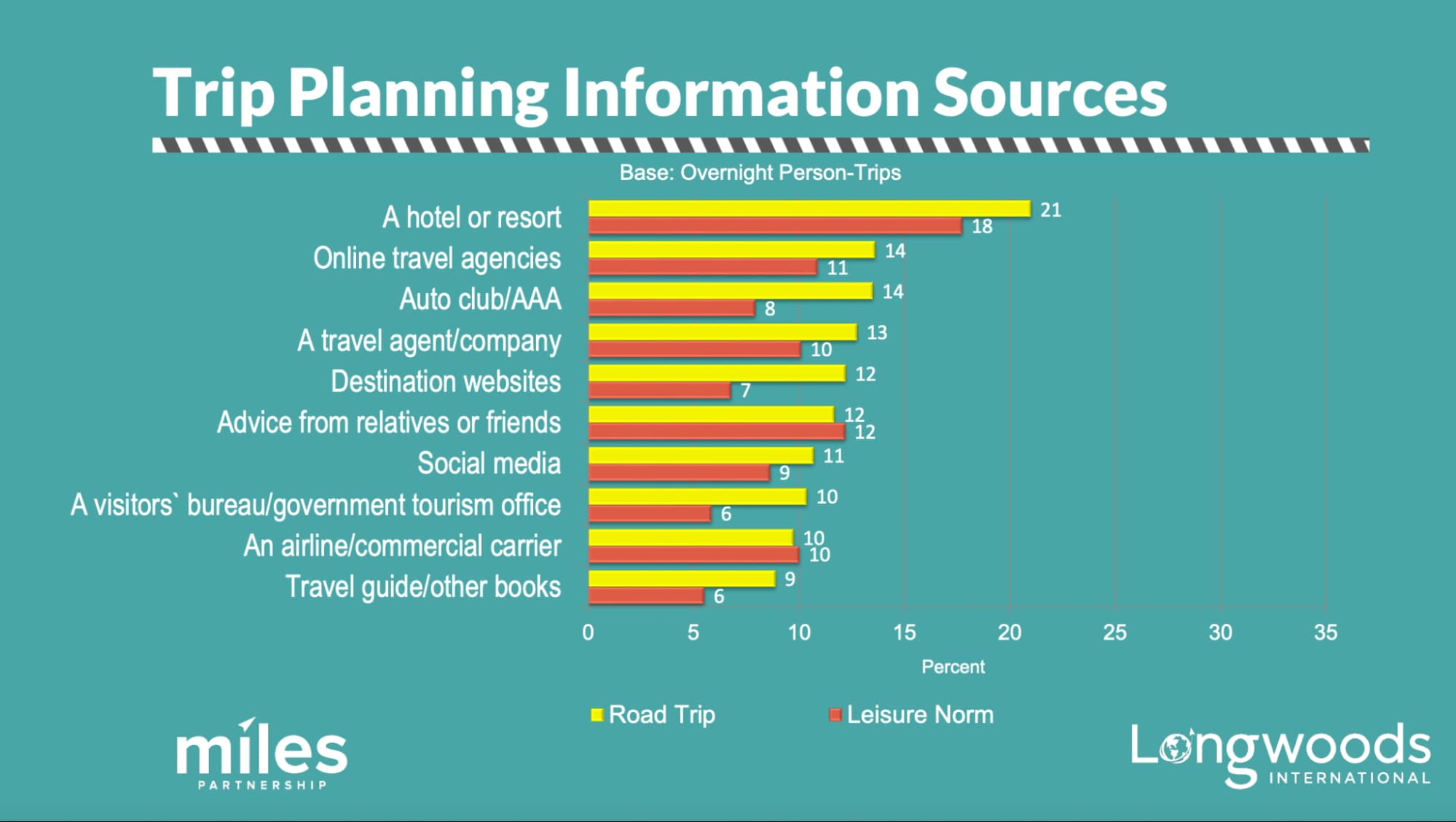 Just because travelers turn to you for advice, however, doesn't mean you can rest on your laurels.
Some examples of DMOs who are staying relevant and creating interactive itineraries are Bonjour Québec and Visit Utah. All of Bonjour Québec's itineraries include tips for the best mode of transit for each route (car or bike), detailed maps, and what to look out for. We also love these tips from Visit Utah on how to best experience road trips across the state – they also include helpful tips on Utah driving laws and how to support local business along the way!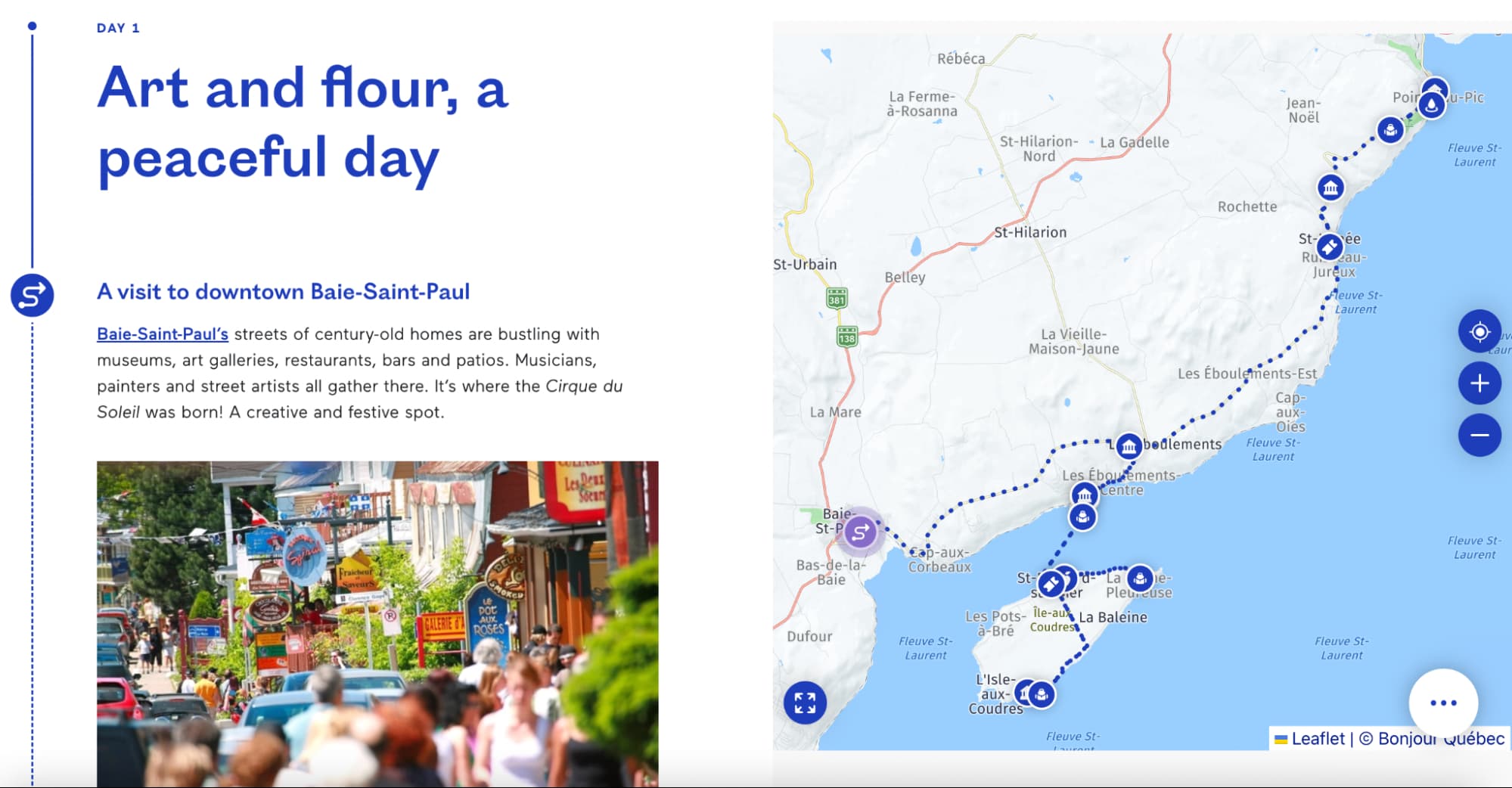 3. Focus on group activities and families
Visiting family and friends is one of the most popular reasons to take a road trip, survey data from Miles Partnership and Longwoods International found. That's why a huge chunk of your road trip content should target families and feature suggestions for group activities suitable for all ages.
Entertainment (think events like music festivals or state fairs) and outdoor activities are among the top activities for road trippers, the survey found. And for activities of special interest, visiting historic places is the most popular. This all makes sense given how in the U.S., for example, many road trips have historically included stops at iconic national parks, museums, and historical points of interest.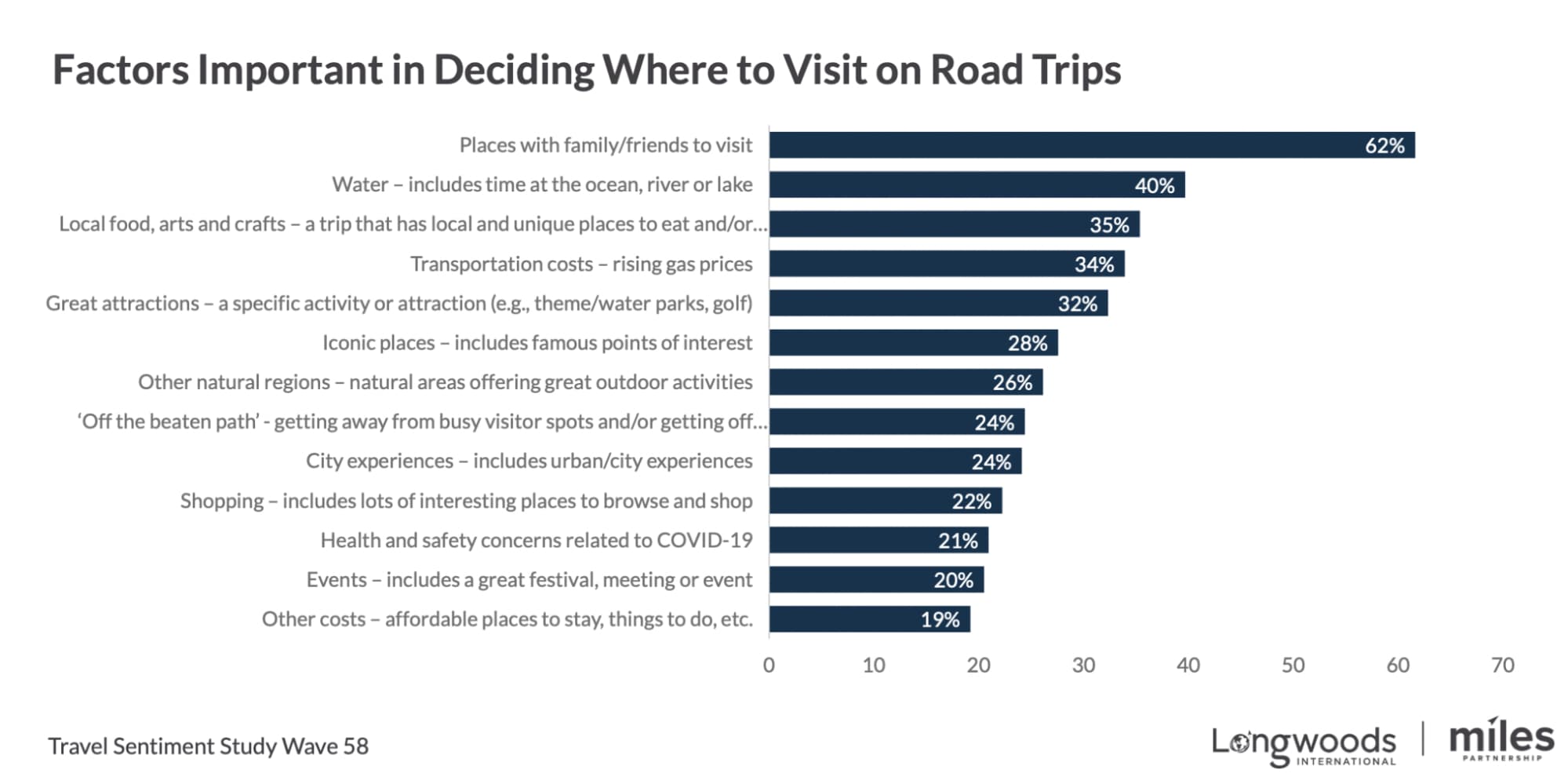 4. Feature tips for RVs
RVs are still road trip icons and the most popular way to hit the road in style and comfort – 30% of U.S. road trips (the largest percentage) are in campers or RVs, followed by rental cars (14%) and owned cars (10%), Miles Partnership and Longwoods International data shows.
A recent Phocuswright survey also found 47% of younger U.S. travelers (ages 18 to 34) are eager to take an RV trip in the next year, compared to just 40% in 2021.
Sharing photos and user-generated content (UGC) about RVs across your social channels will help RV travelers envision their trip in your destination and let them know they are welcome. Consider also creating itineraries specifically for RVs that include important parking info and campgrounds in your area.
5. Bring your destination to life with road trip UGC
It's hard to beat the beauty of travelers' photos of scenic byways or the unexpected gems they see along the road, like an old diner or sign from a bygone era. These are some of the best photos you can get of your destination because they showcase some of the local adventures and help bring your itineraries to life.
Here are a few ways UGC can help:
Add UGC of scenic stop-offs: social proof that these places are worth stopping at

Add UGC of local businesses / restaurants: see what your partners along different routes are sharing and encourage them to share content that's helpful to road trippers

CrowdRiff can help source content for Galleries to show the range of road trip experiences your DMO has
Most importantly, you can learn a lot from this content. Maybe one of your itineraries includes a stop at a scenic look-out, but you notice that a lot of travelers are sharing photos of a mural on the side of a building only a few minutes away. There could be an opportunity to find the artist and create content around that. Learning how to adjust itineraries or add new stops is a great perk of paying attention to the kind of content travelers are sharing.
6. Tap into your partners
Find out what kind of road trip content your partners are sharing if you're not already in the loop.
We love to hear that hotels like Wyndham are investing in road trip features within their mobile apps and booking platforms. For example, Wyndham's app lets travelers create custom itineraries and shows them where their preferred brands are along their route. Alternatively they can opt for Wyndham to recommend a route based on their travel preferences.
More locally, it's a good idea to make sure your hotel and lodging partners and visitor center staff are familiar with itineraries you have on your website so that staff can offer their best advice when travelers come to them with questions.
Wrapping up: an electric and integrated future for road trips
Road trippers may spend a lot of time and money at fuel stations this year, but the future will be super-charged with more sustainable road trips.
The percentage of electric vehicle (EV) ownership in the U.S., Canada and Europe compared to all vehicle types is still in the single digits, but it's steadily climbing. Within a few decades, experts predict EVs will represent the majority of vehicles on the road.
It's time to start including EVs in your road trip itineraries and even creating itineraries specific to EVs (think shorter distances between stops to accommodate battery charge and availability of charging stations). States like New York already have ambitious plans to install charging stations along all major roadways so EVs can travel longer distances.
Consider embedding tools like this from the U.S. Department of Energy to your website or create your own that shows electric and other alternative fuel stations in your area. In addition, there could be opportunities for your DMO to work with companies like Road.Travel, which curates road trip itineraries for connected cars and acts as an audio guide and artificial intelligence voice assistant along the way to help book tickets and reservations.
To find out how you can take your road trip marketing into the future, get in touch with our team to learn how UGC can power your marketing.