While spending some time relaxing with her dogs Doc and Baxley by the lake last summer, Explore Georgia's Digital Content Specialist, Parker Whidby, began thinking about how she travels with her pups just about everywhere, and wondered if others did the same.
"I found that 37% of pet owners take their dogs on the road, especially millennials," she said, adding that pets can be found in 68% of American households, and one in 10 has its own social media account.
"In 2016 people spent $67 billion dollars on their pets, so there's a big market we hadn't even tapped into with this demographic."
As a DMO that primarily caters to visitors driving in from neighboring states, and with a social media strategy targeting millennials, Whidby found the perfect way to turn her passions for pet ownership and social media into a unique digital campaign.
The cutest way to market to millennial pet owners
"What we wanted to do with this campaign was bring millennials into the state, and since so many travel with their pets and their pets are like their children we wanted to inspire them to bring them to Georgia."
As the fall travel season approached last autumn Whidby got to work positioning Georgia as the most pet-friendly state in America, producing social media content, travel guides, giveaways and blog posts targeting the millennial pet owner.
For example, the state's visitor's centers, which see 14 million travelers per year, now distribute Frisbee-shaped brochures with pet-related information, along with plastic water bowls. Whidby also created pet-friendly city guides that list, for example, the pet policies of each microbrewery in the state, outlining which ones designated a place for furry friends to wait outside and which ones welcome them on the tours.
The primary focus of this initiative, however, was on social media
Though it wasn't a total takeover, the DMO's social platforms, which boast a combined 600,000 followers, featured a new puppy picture each week using the hashtag #ExploreGeorgiaPup.
Whidby began by posting pictures of her own dogs and before long pet owners and furry influencers started reaching out directly. Eventually each of the state's cities earned its own puppy mascot, which would appear regularly on social media next to the area's local attractions.
"We've built this relationship with all of these local photographers and videographers, where we share their content and they send us photos for free. It's been low budget and focused on building relationships with photographers and followers."
Collaborating with partners and rewarding people for sharing photos
Whidby was also able to stretch her budget further by working with local hospitality partners. A Georgia-based pet-friendly resort, for example, helped host a contest that provided the winner and their furry friend with a free two-nights stay, which received over 2400 entries.
Whether a professional photographer or local pet owner, anyone that is featured on Explore Georgia's social media accounts receives a personal, hand-written card from Whidby along with a park pet kit. The kits include a portable dog bowl, chew toy and puppy-sized bandana with the words "Explore Georgia Pup" printed on it.
"We pick a weekly winner, feature their photos and send them a park pet kit for their pup with a handwritten thank you note, and it was crazy how many people shared photos of the packages on social media, so it spread the brand, because other people wanted one."
A great puppy photo sparks high social media engagement
While the DMO has a strong presence on Twitter and Facebook, Instagram holds a special place in Whidby's heart. "Instagram is definitely my favorite, it's my baby," she said. "Since I started in September 2015 we've grown organically from 32,000 followers to almost 120,000."
During that time the hashtag #ExploreGeorgia has reached nearly a quarter of a million tags, while the puppy-specific hashtag has been used over 3,000 times in under a year.
According to Whidby the key to a good puppy picture is a happy looking pet positioned in front of a Georgia landmark or attraction without any humans in the way.
"Pictures with the dog but without people do better. For all of those destinations [we feature], you throw a dog in there and everyone likes the picture more."
The DMO also set up a Pinterest board featuring pet-friendly travel advice, and has reached 10,000 followers.
Moving forward with a new social campaign (& a tool that saves them hours finding visuals)
With the success of #ExploreGeorgiaPup, the DMO is now using a similar approach for #ExploreGeorgiaFarms, to promote the local agritourism industry in the run up to pumpkin and apple picking season.
The biggest difference between the two campaigns, explains Whidby, is that this year the DMO has signed up with CrowdRiff, which she says has allows her two-person team to do much more with less.
"Last year when I was doing this I spent hours and hours just searching online for photos. Being able to use CrowdRiff personally has been a huge help and time saver in letting me search through social content, find great photos and automatically get rights requests."
For example, this image posted October 1st embodies what Whidby describes as the perfect farm photo:
"That amazing photo was posted last year, and I wouldn't have been able to find that as easily without CrowdRiff," she said, adding that the #ExploreGeorgiaFarms images are also being turned into a live gallery to be featured on screens in some of the DMO's visitor's centers, using CrowdRiff.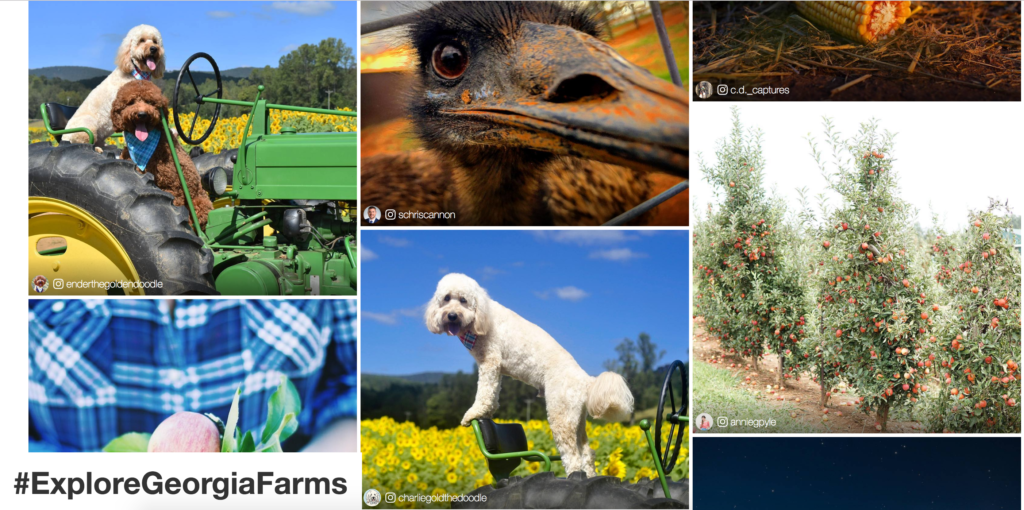 Puppies have made a lasting impact on Explore Georgia's marketing
These low-budget yet highly engaging social media campaigns have led 14,000 followers from social media to the DMO's website. The #ExploreGeorgiaPup campaign reached 1.1 million Facebook impressions alone with a 2.3% engagement rate, as well as an average of 2.15% engagement on pet-related tweets.
"Our Explore Georgia community has become this whole dog community, and I still send people park pet kits and all of that, even though it's not our main focus anymore," she said.
"Even though the campaign is technically done, we can still promote that throughout the year. I don't think pet friendly travel is going anywhere; it's only going to increase."
Our lovely header photo is courtesy of Explore Georgia!
---