Wouldn't it be ideal to get inside the head of travelers who are in the early stages of planning their next trip? Well, Facebook is attempting to help destination marketers do just that.
Back in March, Facebook unveiled its new Trip Consideration feature — and it seems like the world's largest social network had destination marketers top of mind when designing it. The new feature helps marketers better target individuals who are starting to look for their next trip destination.
But this tool is so new, there aren't many use cases or examples yet for DMOs to reference when assessing the feature. Is it a good fit for your tourism organization? Does the ROI justify the extra effort and ad budget?
Well, we're here to save you a little time: we did the homework on this tool for you. Here, we'll take a deeper look at the ins and outs of Trip Consideration, its benefits, and how to use it.
What is Facebook's Trip Consideration Tool?
Boiled down to its essence, Facebook's Trip Consideration tool helps you create ads targeting people before they've even decided where to go on their trip.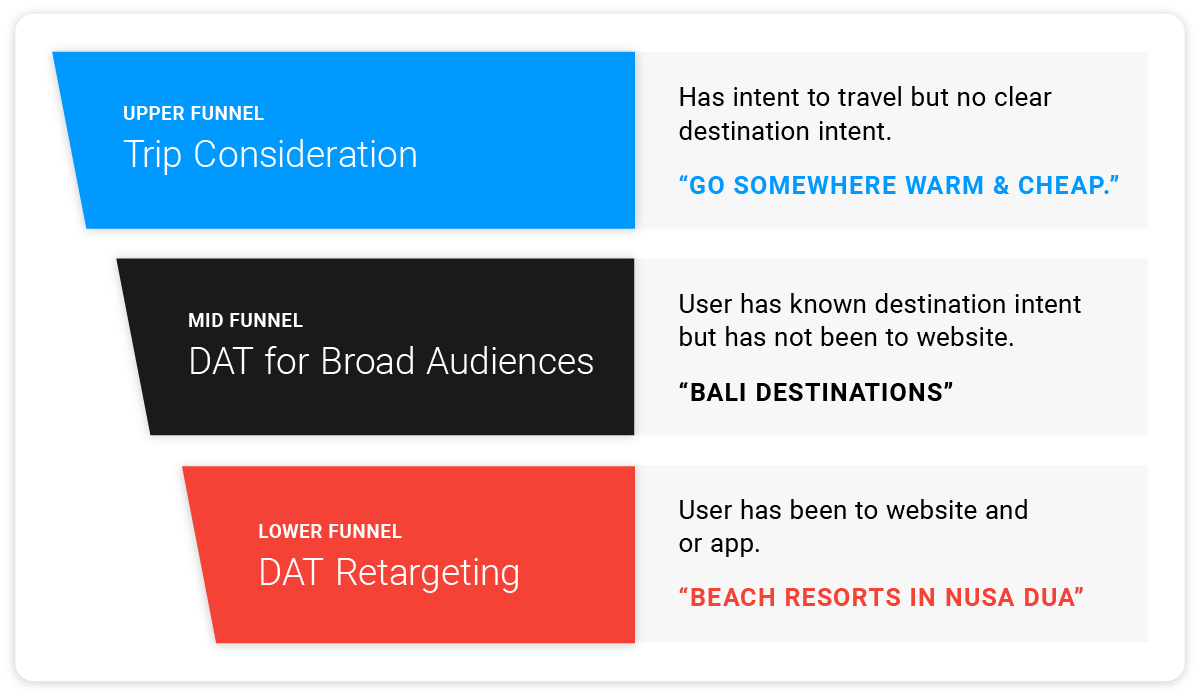 While many destination marketers may be using Facebook dynamic ads for travel to serve up ads to folks who are browsing for hotels but haven't booked or are price-checking flights, Trip Consideration could help you reach potential travelers even earlier in the planning stages.
Facebook believes that many soon-to-be travelers use the social network when researching their next trip. According to Facebook data, 68% of millennials found ideas for their most recent trip on Facebook. Another 60% of millennials also used Instagram as a discovery tool for their upcoming trips as well.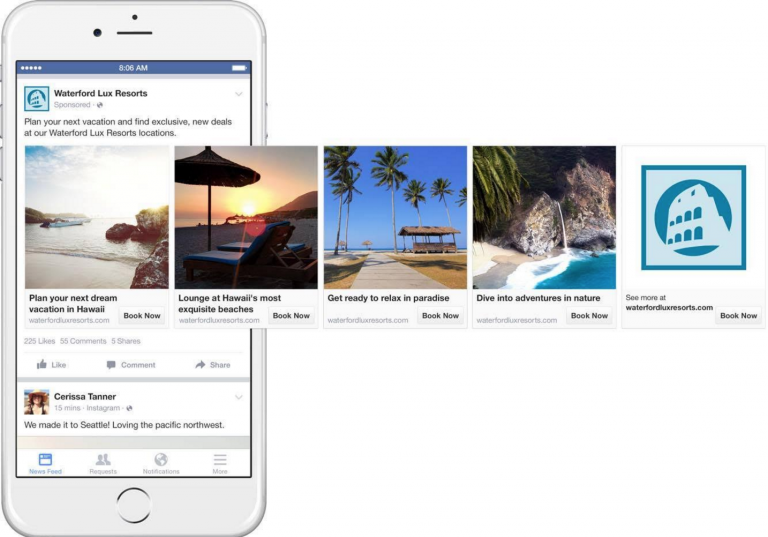 Working together with other Facebook ad targeting options, Trip Consideration aims to hit travel-ready users, and can be implemented across Facebook, Instagram, and Audience Network. When the tool is turned on, DMOs can prioritize delivery to people who have shown a general interest in travel but haven't nailed down a specific destination.
For example, Facebook users who browse several travel sites but only don't go any further than the homepage of those sites.
A few travel brands have already seen a positive impact from using this fancy new feature. EF Ultimate Break had the chance to try out the Trip Consideration tool and saw a whopping 49% improvement in their conversion rate.
What Facebook's Trip Consideration Means for DMOs
In addition to giving you another specific targeting option, Trip Consideration offers some other potential benefits for destination marketers, including:
Getting to be the first destination on someone's mind:

When you can get info in front of people while they're just starting to consider a trip, you can more easily make the case for your destination and be the first to captivate them.

More image formats means more customization:

Rather than pulling images from a feed, like Dynamic Ads for Travel, Trip Consideration allows DMOs to specify images that'll show in the ad. You can use static images, image carousels, or a video, which means you can also A/B test the different image formats for impact.

Better qualified travel leads:

By being able to target someone in this specific stage of the funnel, you have more options for personalization to really target your ad to speak to a traveler — and therefore get more qualified leads from your ad dollars.
New Use Cases for Facebook Trip Consideration
Trip Consideration creates a prime opportunity for you to deliver specific content to people who are comparing destinations, and looking for more travel inspiration to sway their decision. Here are some simple ideas specific to a traveler's trip consideration phase that will help you make the most of this new tool:
Show travel deals people can't ignore.

When someone doesn't have a specific place in mind yet, this is the prime time to swoop in with an irresistible travel deal.

Promote content covering the one-of-a-kind offerings your destination has to offer.

Think food (always a hit on Facebook), unique landscapes, or even filming locations that are specific to your location. What is the thing that's going to get someone really interested and want to come experience for themselves?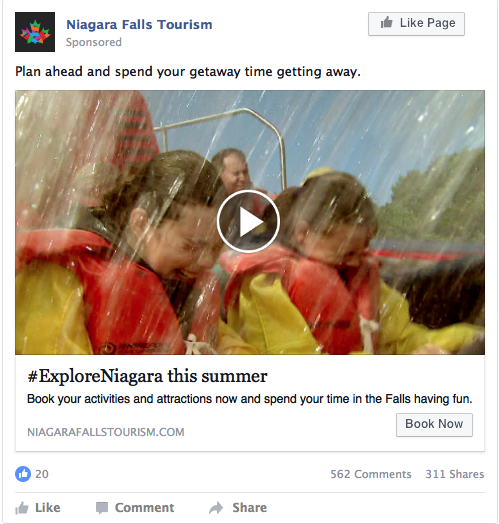 Use visuals that are really going to catch someone's attention. An ad like this one from Niagara Falls Tourism would work well. They've taken a rights-approved UGC video of real travelers experiencing the torrential Niagara Falls from up close.
Image carousels from influential bloggers.

If there's one big thing that influencers get right, it's that they know how to capture your eye and get you interested in more of their content. So, this is a great place to insert a few of some of the

top-performing UGC photos

you have

rights to

, and get people hooked on views of your destination.
Need a time-saver for finding Facebook ad creative?
If you use CrowdRiff, this means you can easily insert any of your rights-approved UGC images from influential bloggers into your ads, or even videos that other travelers have posted on social media — using our handy Chrome extension Sidekick.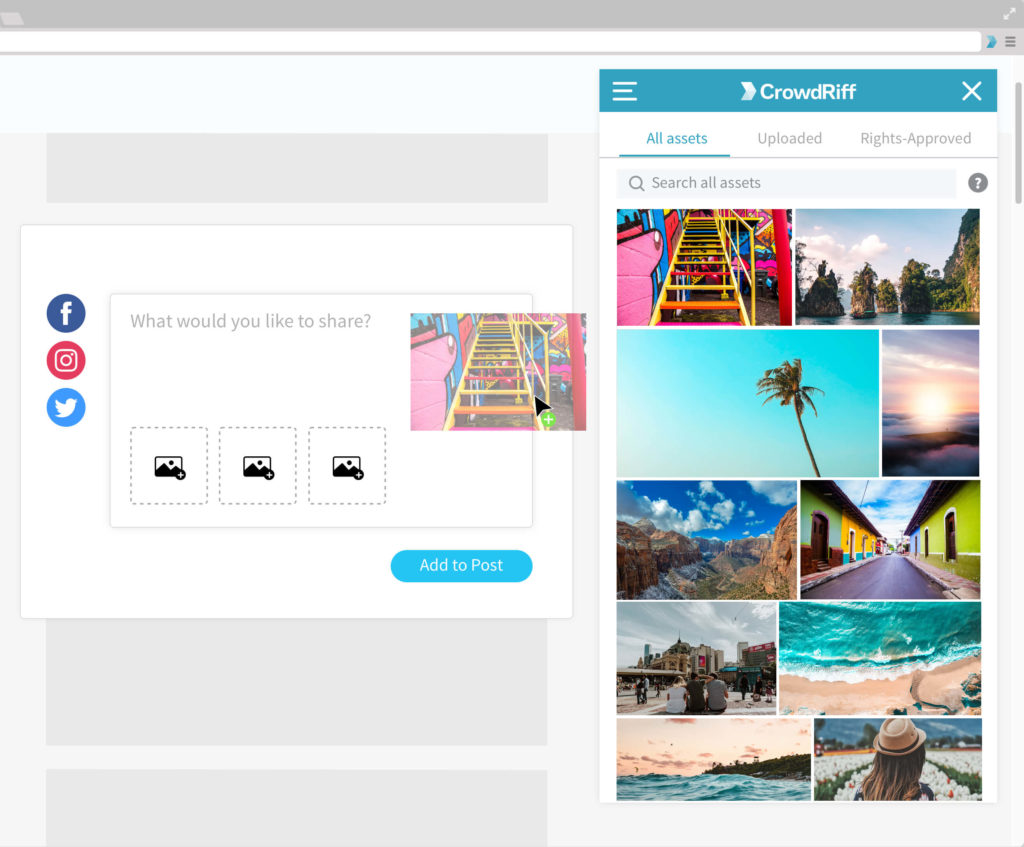 With Sidekick you can tap into your CrowdRiff library for the right ad creative without ever leaving your browser. Use the power of word-of-mouth to sway the way potential traveler in the trip consideration phase to the "I want to go there" phase. It's as easy as a drag and drop.