With the holidays just around the corner, destination marketers are doubling down on how to support local businesses and their communities.
Holiday gift guides are a win for everyone. They can be put together in a short amount of time, you amplify all the great products from local businesses in your area, and residents and visitors get ideas for thoughtful local gifts.
We've chosen a handful of inspiring examples from our customer community to keep your creative juices flowing for your own holiday guide, or next idea to support local businesses.

1 | Repurpose an old blog post into a gift guide
If you're short on time, give an old blog a fresh look with updated UGC. This is exactly what Visit Fargo Moorhead did with a blog from 2015.
The blog originally covered the best places to get local gifts for the holidays but didn't include imagery. They gave it a facelift by including CrowdRiff galleries with calls to action (CTAs) that link directly to their partner's websites.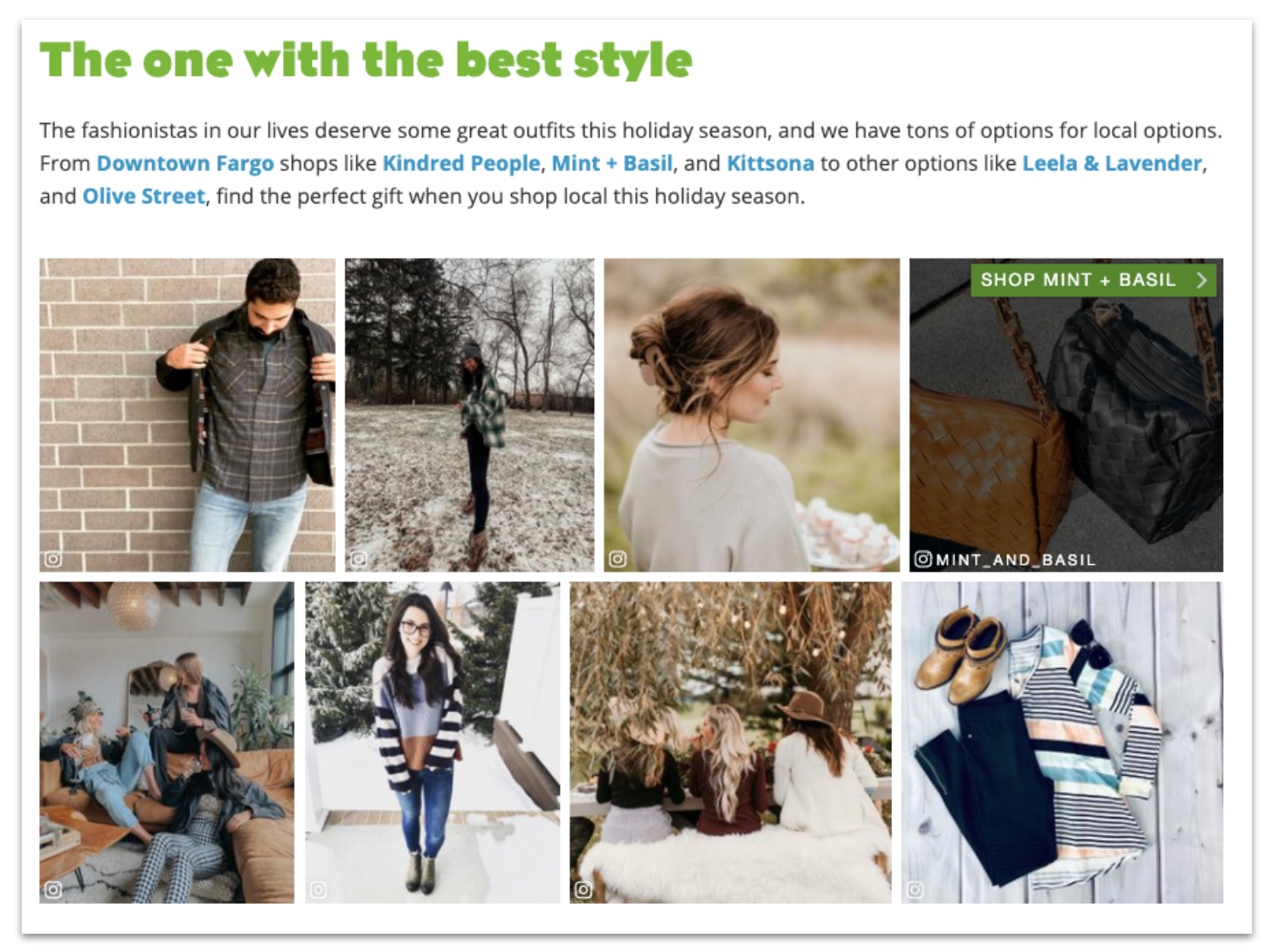 2 | Showcase local businesses with single embeds
Galleries are a beautiful way to showcase different products from your partners, but CrowdRiff single embeds help readers focus on one image, or product.
Visit Pittsburgh's Holiday Gift Guide features both. It includes something for everyone—family, fashionistas, pet enthusiasts, and even Pittsburgh-lovers!—and is "as good looking and well-curated as any glossy magazine," according to The Travel Vertical.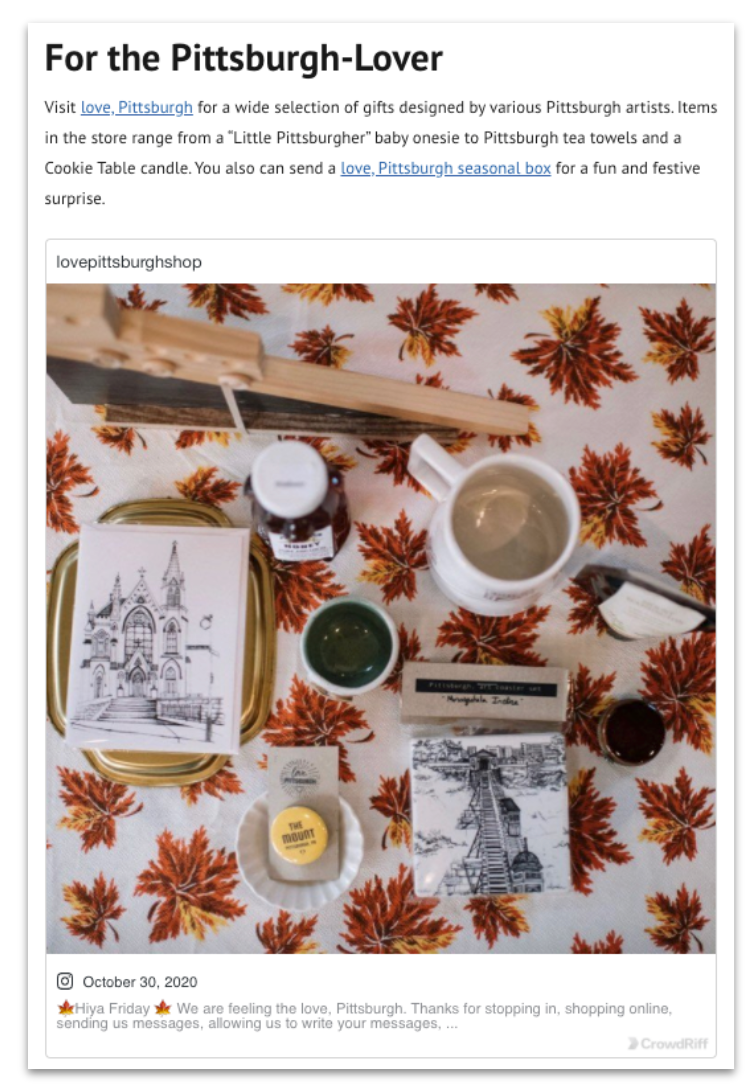 3 | Take your visitors on a flavor trail
If your audience has a taste for exploration, why not take them on a flavor trail tour? This is how Tourism Victoria is showcasing the Saanich Peninsula.
This kind of self-guided tour encourages people to explore the region and pick up some holiday gifts from local shops along the way. On their Flavour Trail page, they use a CrowdRiff gallery to highlight products, complete with Google Locations to pull in up-to-date operating hours, and CTAs to drive visitors to those sites.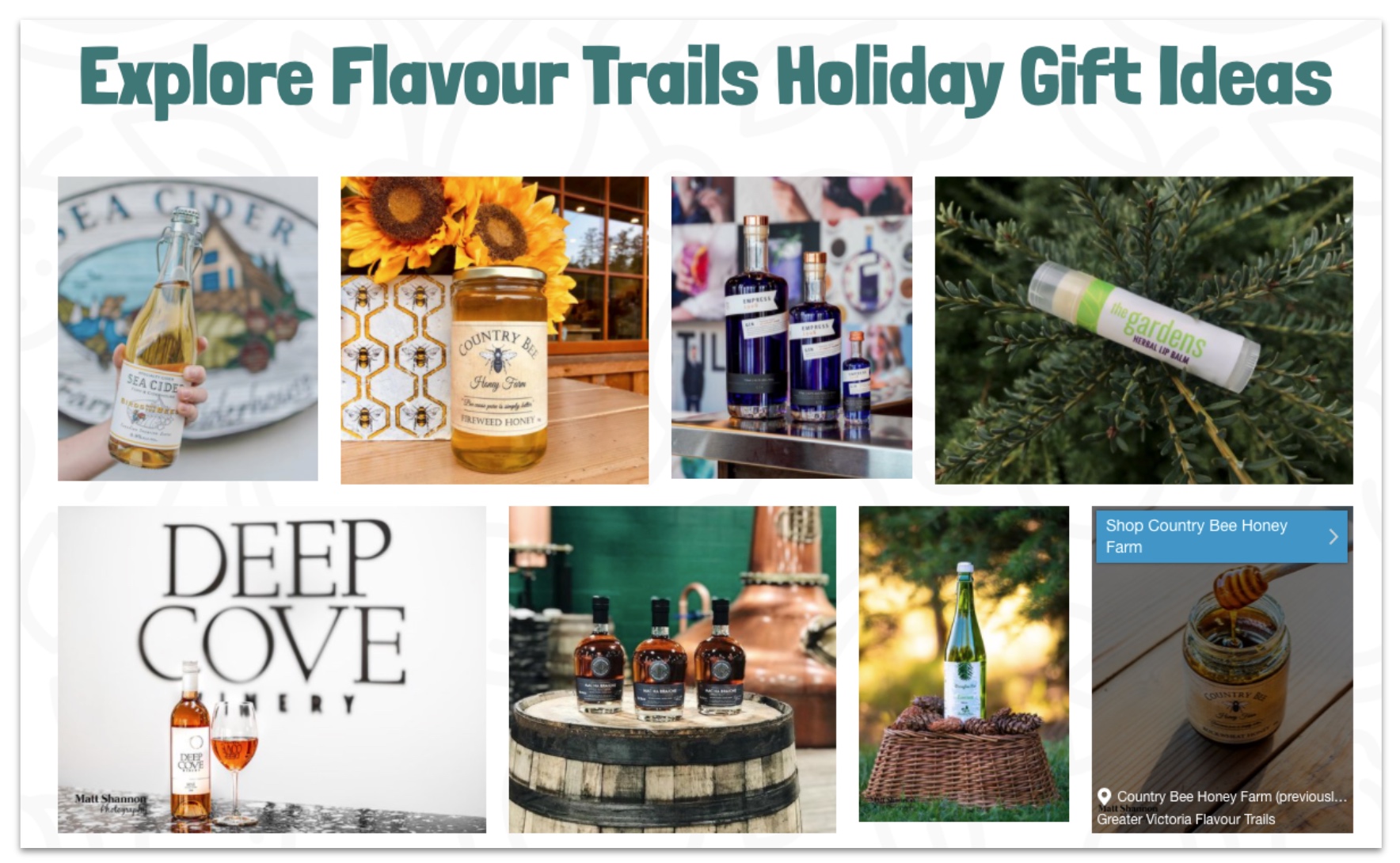 4 | Curate local gift ideas for fans of your destination
Lovers of Frisco, Texas, will be delighted to stumble upon this Unique Gift Ideas for Frisco's Biggest Fans holiday guide blog post.
The guide focuses on unique "made in Frisco" presents, complete with CrowdRiff-powered galleries that use imagery from businesses and happy customers.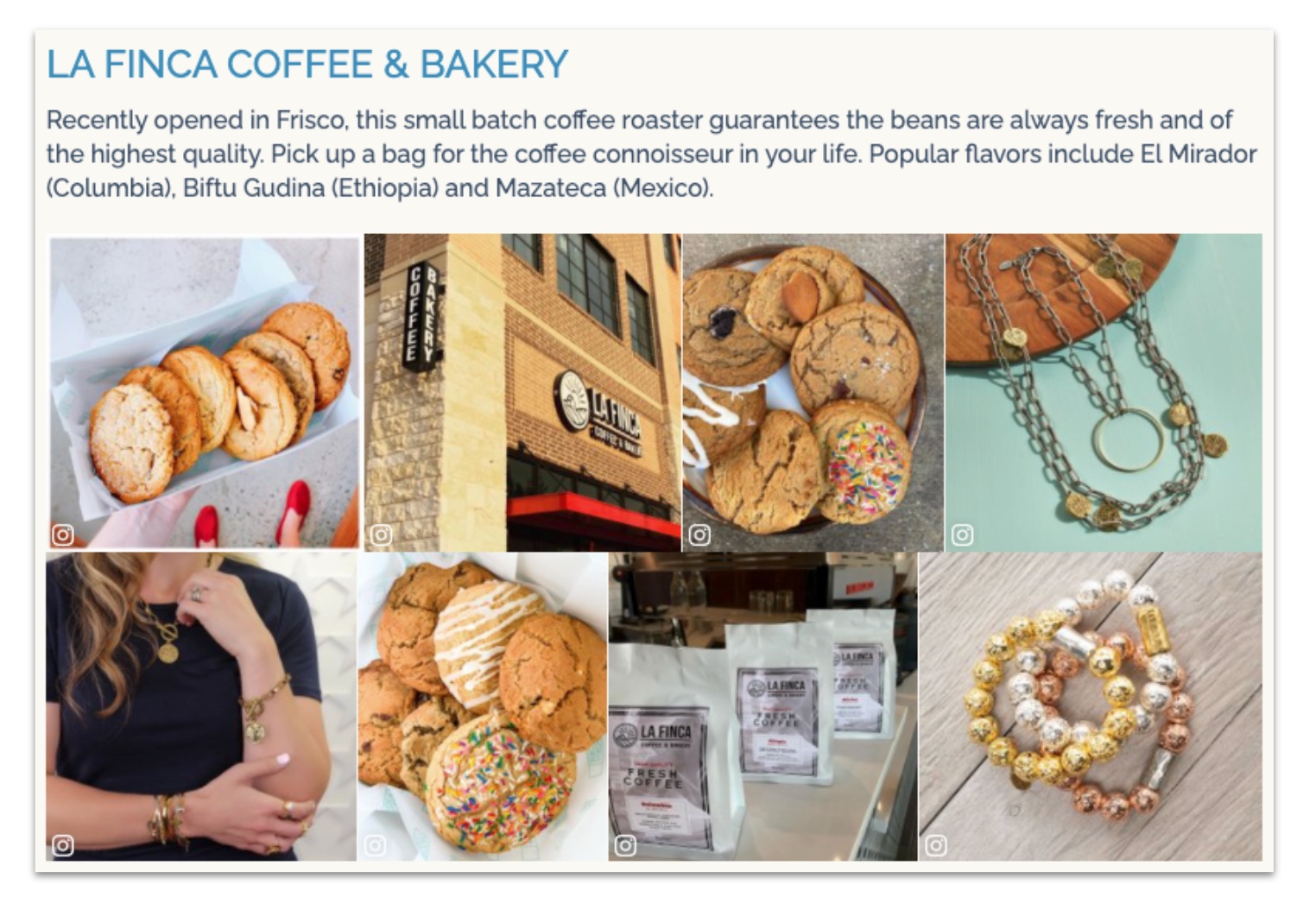 They also offer a gift guide by personality or local boutiques you should be shopping at to further support local businesses over the holidays.
5 | Create a visual-first holiday guide
We love this visual-first holiday gift guide from Vancouver's North Shore Tourism that relies almost purely on UGC images sourced through CrowdRiff.
Each image includes a call to action to drive traffic to each business's website. The images also use CrowdRiff's Google Location feature so visitors know the hours and location of the businesses. The guide covers a wide range of categories including for mom and dad, foodies, art lovers, readers, outdoor adventurists, and more.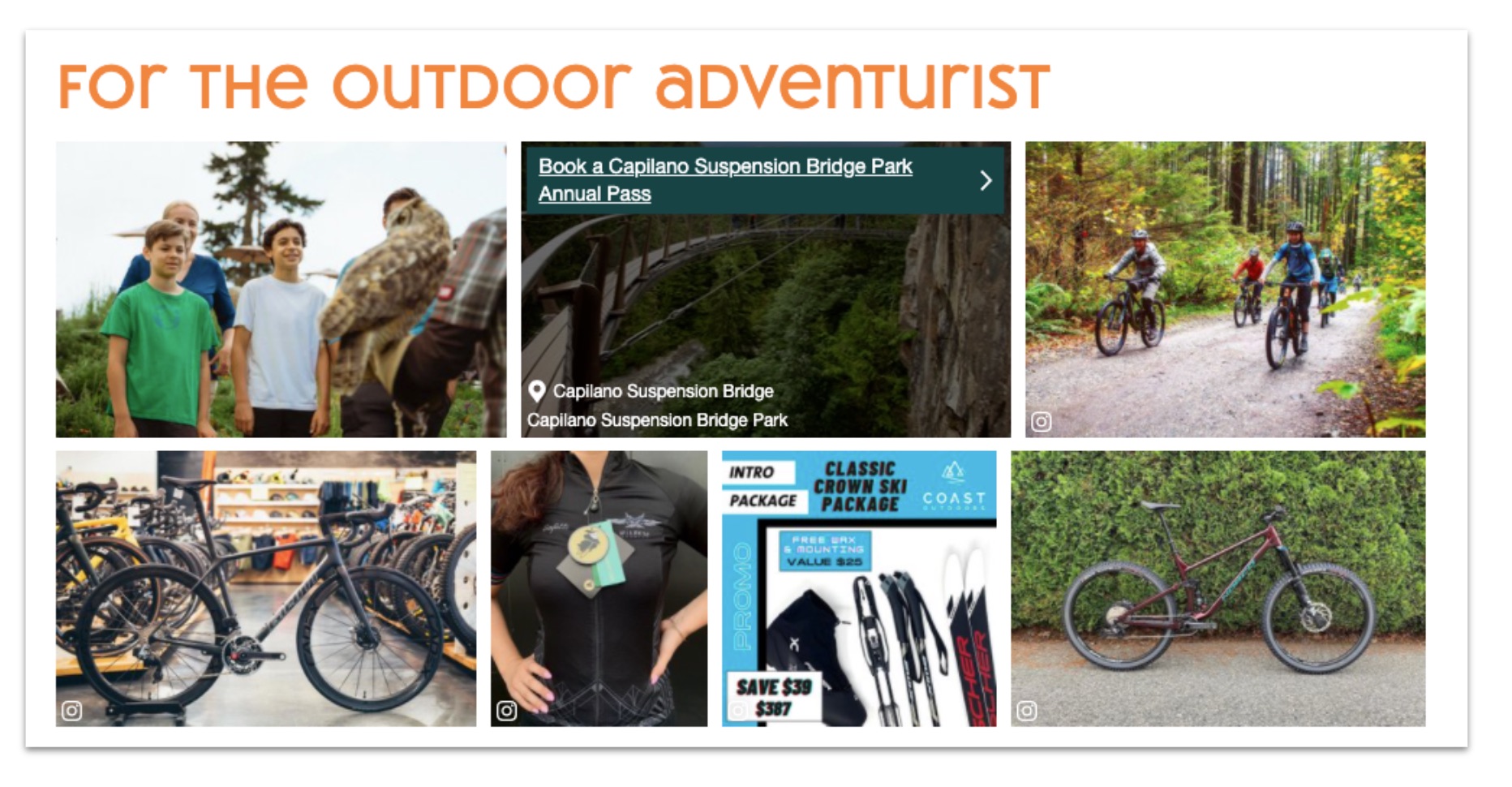 They're also encouraging businesses to tag @vancouversnorthshore on their gift Instagram posts to be featured!
6 | Launch a 'Merch Madness' campaign
Rather than putting together a gift guide on your own, why not let locals chime in? This was the idea behind Stevens Point Area CVB's Merch Madness campaign.
They used a landing page with CrowdRiff galleries to capture votes for local shops, which they promoted using rights approved assets on Facebook and Instagram. Then, they built out the bracket based on votes and narrowed down the top 16. They also wrote a blog, featuring all of the spots that received a vote with more galleries and single embeds to serve as a guide to the top 16 and the honorable mentions.
7 | Use a mix of branded content and UGC
Travel Marquette put together 'The Marquette Lovers Holiday Gift Guide' that features galleries and CTAs throughout.
We love how they've used a mix of branded content and UGC to showcase glossy product shots and more authentic imagery of customers enjoying products. Calls to action also guide visitors to the website for each shop.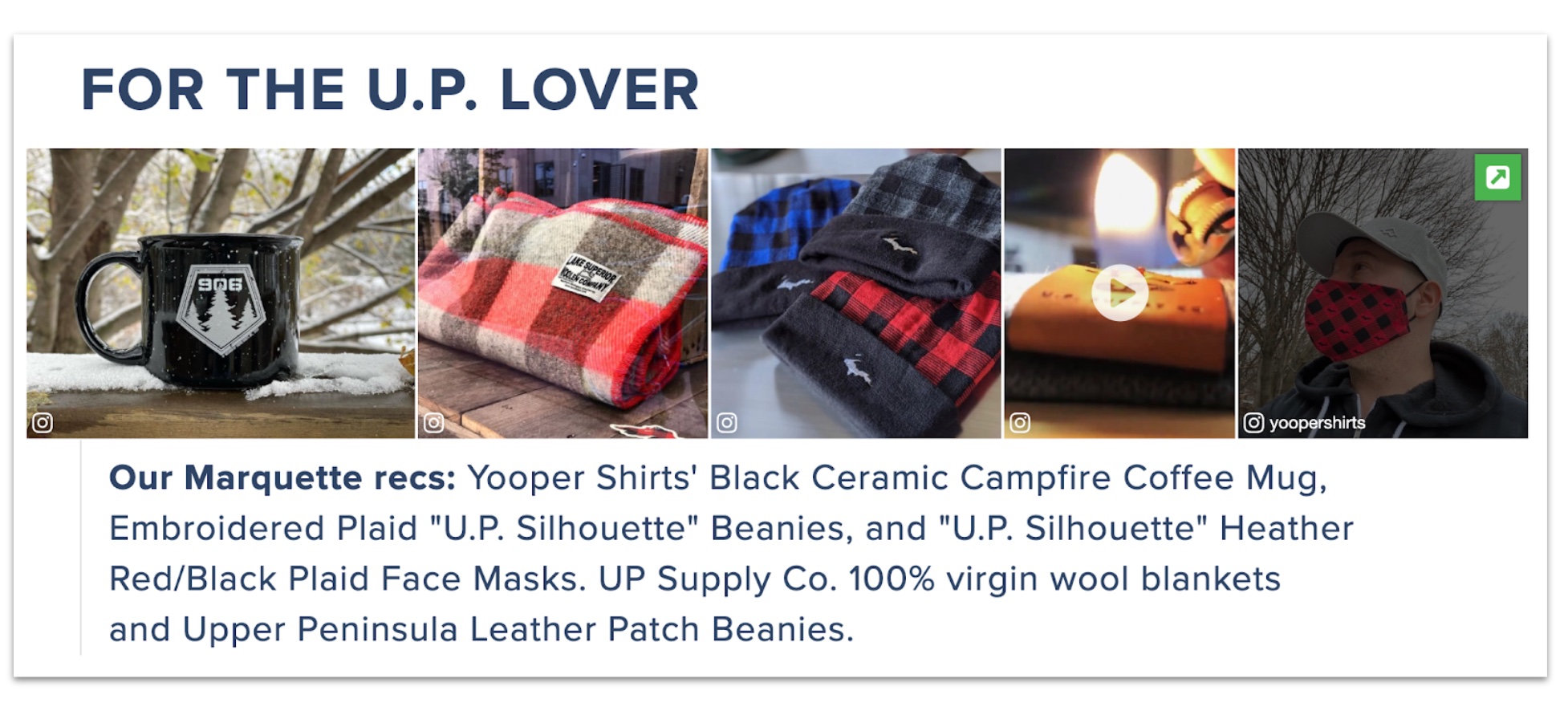 Why keep your guides for the holidays?
We hope these examples have inspired you to think not only about how to leverage UGC and CrowdRiff for your holiday guide but also how to use them throughout the entire season. Releasing local-business focused content (spring business guide, anyone?) is an effective way to build your destination brand and support your community throughout the year.
Did we miss your Holiday Guide? Send us an email at marketing@crowdriff.com.
Header image credit: @ydaniels