Are you using user-generated content (UGC) to its full potential? If you're like most resorts and hotels, there's a good chance you're not. More than 40 percent of hospitality brands use UGC on their Instagram, but only 20 percent use it on their websites.
The problem is, most travelers discover a resort or hotel's website before they check out their Instagram. Seventy-five percent of desktop traffic and 62 percent of mobile traffic to hotel sites comes from organic Google searches.
Hoteliers could be using UGC to turn this traffic into direct bookings, but only one in five actually are.
Even 52 percent of visitors from online travel agencies (OTAs) click on links to hotel websites. Do you know how many stick around? As a marketer, you can be using UGC to convince these visitors to stay and book direct.
But UGC isn't just useful on your website. Read on to see how you can use authentic social proof at every stage in the traveler's consumer journey.
The Dreaming Stage
Include UGC at the very start of the marketing funnel, when travelers are still thinking up vacation ideas.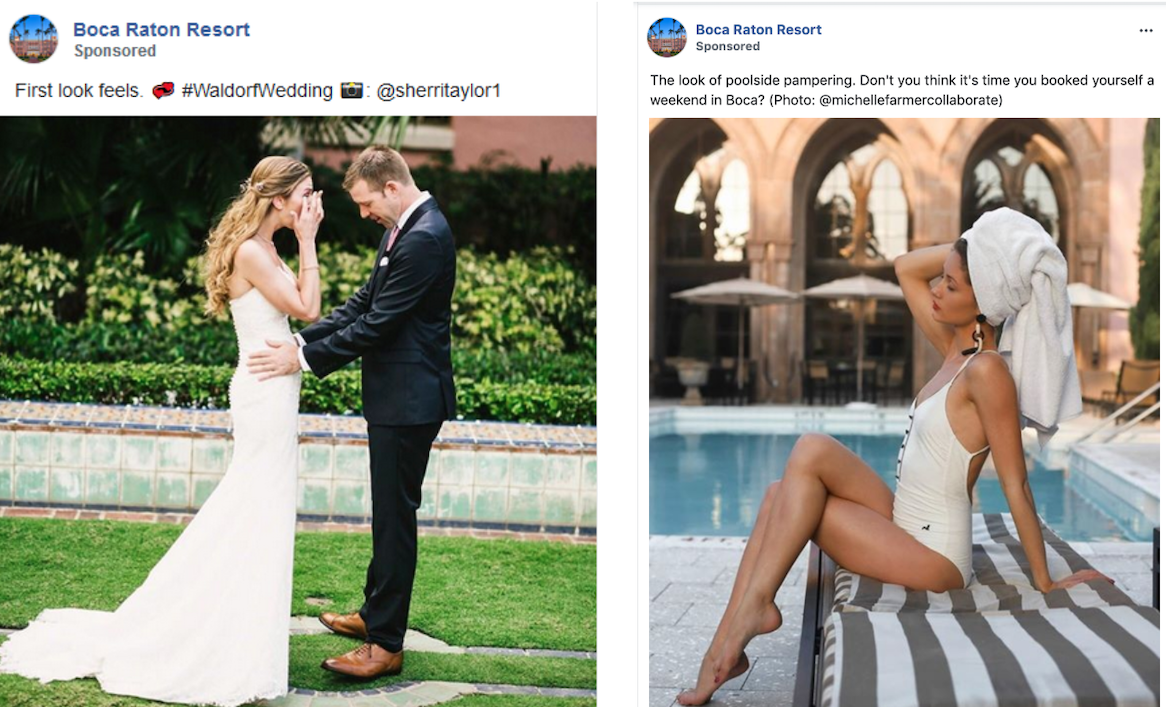 Southern Florida Resort Boca Raton requested the rights to its top-performing social assets for each kind of traveler and repurposed them in their digital ads.
Social Media
There's more to UGC than reposting images on your social media accounts. Using paid social and display ads on platforms like Facebook can drive potential guests to learn more on your website. Only 25 percent of resorts and hotels actually use UGC in their Facebook ads, so this is a great opportunity to stand out from the crowd.
Digital ads featuring UGC generate a click-through rate that's four times higher than traditional ads. Why? Social users are so used to seeing the same old conventional ads that they often tune them out completely—a phenomenon called "ad fatigue." Experiment with different digital ad formats and include a call-to-action.
Include UGC in your Instagram Stories. Even if users aren't tagging you, you can repost their content on your Story or Highlights if you get their permission. Add swipe-ups, interactive elements and links in your bio to drive visitors to booking pages.
Blogs, Magazines, and Newsletters
UGC and professional photography don't have to live separately. Contrast authentic content from real travelers with more conventional, "professional" images in your blogs, magazine and email newsletters. Use professional photography to showcase your property or accommodations, and UGC to showcase the diversity of experience and unique perspectives of your guests.
For example, try choosing a "Photo of the Week" from one of your Instagram followers and feature it in your blog or newsletter.
Virtual Tours
Virtual tours of your property let website visitors explore your hotel destination from the comfort of their own home.
A significant number of hoteliers already use this strategy to boost bookings, but what about a virtual tour with user-generated content? You can compile images and videos from travelers and provide visitors with an authentic 360-degree view of your property.
The Planning Stage
Use UGC when travelers have started planning their vacations. These customers have likely already chosen a destination, so you just need to convince them to book a trip with you.
Luxury lakeside Hotel X in Toronto curates fun and engaging imagery travelers share on its homepage.
Use UGC on Your Website
Travelers are taking a closer look at websites during the planning stage, so use UGC to add social proof. You can also curate user-generated content on pages that serve specific interests, such as wedding and spa pages.
Seventy-six percent of hoteliers rely on professional and stock images on their websites, but this isn't always the best content to motivate prospective bookers. Targeted UGC galleries, for example, will appeal to guests with specific interests and keep them engaged for longer.
Incorporate UGC into Your Consideration Ads
UGC isn't just helpful to attract travelers in the dreaming phase with your ads, it can be a powerful tool at the consideration stage as well. Target travelers who've already interacted with your content or visited your site with paid social or display ads. You can even overlay text-based reviews to UGC to double the social proof.
The Booking Stage
People at the booking stage are often evaluating their travel plans, and UGC can help turn them into bonafide customers.
Oceanfront golf resort Cabot Links strategically uses UGC images as booking portals by attaching CTAs to images in the gallery when potential guests hover over them.
Add CTAs to your Visuals
The best way to target these potential customers is to add call-to-actions (CTAs) to your visuals. Research shows that CTAs drive action and bookings, and action-orientated language—"Book!" "Click!" "Discover!"—is extremely effective for sales.
Overlay CTAs on UGC. Travelers might see a "Book Now" CTA when they hover over a particular image, for example. The CTA might link to a booking page or OTA, but it should increase conversions and, hopefully, direct bookings, significantly.
The Experience Stage
Once customers have booked a destination, they might want to add activities to their travel itineraries—wine-tasting trips, bungee jumps, horse-back rides, and other once-in-a-lifetime experiences.
Hotel Angeleno promotes itself as a boutique hotel closest to UCLA campus, offering free WiFi and a shuttle bus.
Use UGC on Digital Displays
If you have digital displays in your property, consider UGC photo displays and social walls that showcase local activities and experiences. Travelers will see these displays when they are in a "good mood"—they are on vacation, after all—which means they are more likely to book.
Team Up With Local Partners
Working with local businesses and influencers will help travelers create the ultimate itineraries, and you can include UGC about local attractions and services on your website and social media pages.
The Sharing Stage
You can increase the chances of travelers sharing your content by using UGC in your emails, social posts, and even direct mail.

While traditional print mailers are often glanced over and tossed away, Florida resort Tradewinds filled this piece with guest photos to add extra personality, which sets it apart from other mail.
Use Best-Performing Visuals
Use the best-performing UGC in your promotional and guest loyalty emails. You'll need to measure UGC in order to achieve this, though—something most hoteliers don't bother to do. In fact, only 12 percent measure how visuals contribute to revenue, while half don't measure visuals at all (get access to our visual marketing report by filling out this quiz).
Without a data-driven approach, you won't be able to increase the value of website visitors and bookers or boost customers' lifetime value.
Run Contests
Email and social media contests are a great way to increase awareness and encourage people to share content. Encourage followers and subscribers to share their travel photos and videos in order to generate more UGC for future campaigns. Promote a certain hashtag, or provide a public link for people to upload their photos.
Incorporate UGC into Direct Mail
Fifty percent of consumers prefer direct mail to email. If you use this marketing method to drive loyalty and repeat business for your property, don't forget to include lots of UGC in order to improve engagement and get people talking about your hotel destination.
Using UGC Beyond Just Social Media
As you can see, you can use UGC at every stage of the traveler's journey. Target customers with authentic visuals when they are still thinking up and planning their vacation, keep them engaged on-site, and invite them back with authentic visuals that are proven to resonate.