Visit Temecula Valley is a haven in Southern California known for its wineries, outdoor recreation, and breathtaking hot air ballooning…to name a few. With so much beautiful California wine country to capture and a marketing team of only three people, the DMO certainly had its hands full before making the switch to CrowdRiff. 
Now, they've freed up valuable time spent searching for assets, which gives the team at Visit Temecula Valley more opportunities for creative storytelling on emerging platforms, and in new formats. 
We spoke to Ricky Casillas, Director of Digital Marketing, to discuss their approach to storytelling with the help of the CrowdRiff UGC and CrowdRiff's short-form video creation solution, CrowdRiff Studio.
For Casillas, great content helps Visit Temecula Valley promote partners, highlight underrepresented attractions, and leverage dynamic seasonal promotions — like their Craft Brew Month in May, which they promoted by creating an engaging landing page that incorporated interactive Web Stories and a user-generated content (UGC) gallery sourced from locals and visitors to the area via CrowdRiff.
With CrowdRiff UGC and the ability to create Web Stories using CrowdRiff Studio, Visit Temecula Valley benefited from:
Access to eye-catching, high quality visual assets suited for both desktop and mobile 

Increased visibility in organic search results 

The ability to embed engaging UGC and Web Stories on their website (and beyond!)
Next, we'll talk about each in detail — and how Visit Temecula Valley leverages the CrowdRiff UGC and CrowdRiff Studio and to the fullest with Galleries, Web Stories, and more.
Tell engaging stories with authenticity
Ricky believes that visual storytelling is the future of destination marketing — (we may be biased, but we wholeheartedly agree!) — and that CrowdRiff helps Visit Temecula Valley lead with strong visuals first.
"It's a better approach to showcase anything visual on our website. And I feel like that's just the direction everybody is going in the future…We like platforms that show short form content, a lot of visual content. We're looking at our phones constantly, [so] it makes sense to be more visual," said Ricky.
Ricky also understands the intrinsic value of images that aren't staged or 'designed'. He looks for digital assets that feel like real experiences, such as people enjoying Temecula Valley's copious vineyards and generally having a good time.
He notes, "People use certain themes as backdrops for their photos. It's just interesting to see how every visitor has a different style of showcasing our destination."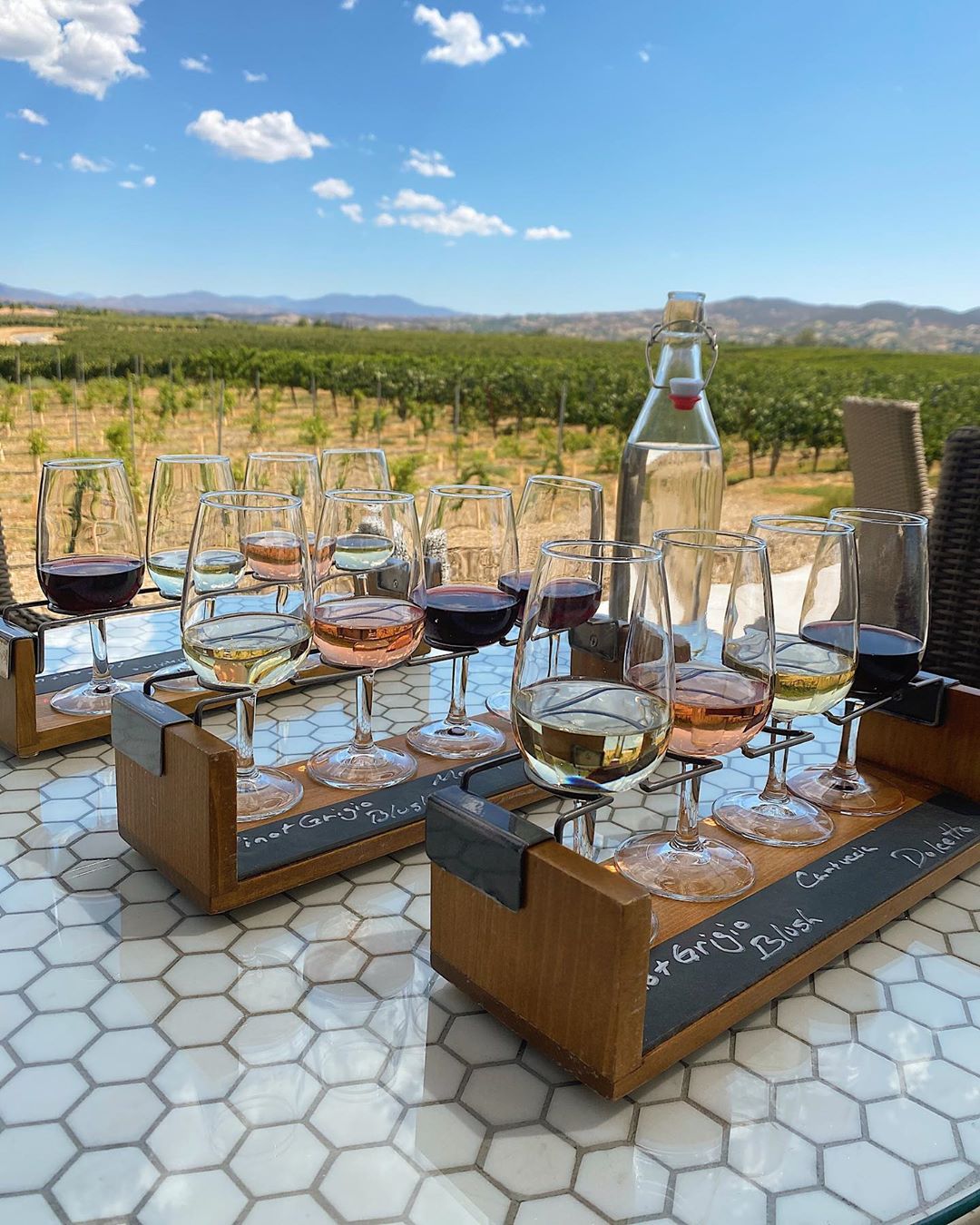 *Example of user-generated content of Visit Temecula Valley's stunning wine country
Ricky and his team have been using UGC Galleries in many creative ways on their site to increase engagement.
To promote their most popular hotel packages, they created a Gallery that links to each, with visuals from past visitors to give future visitors a taste of what each package had to offer.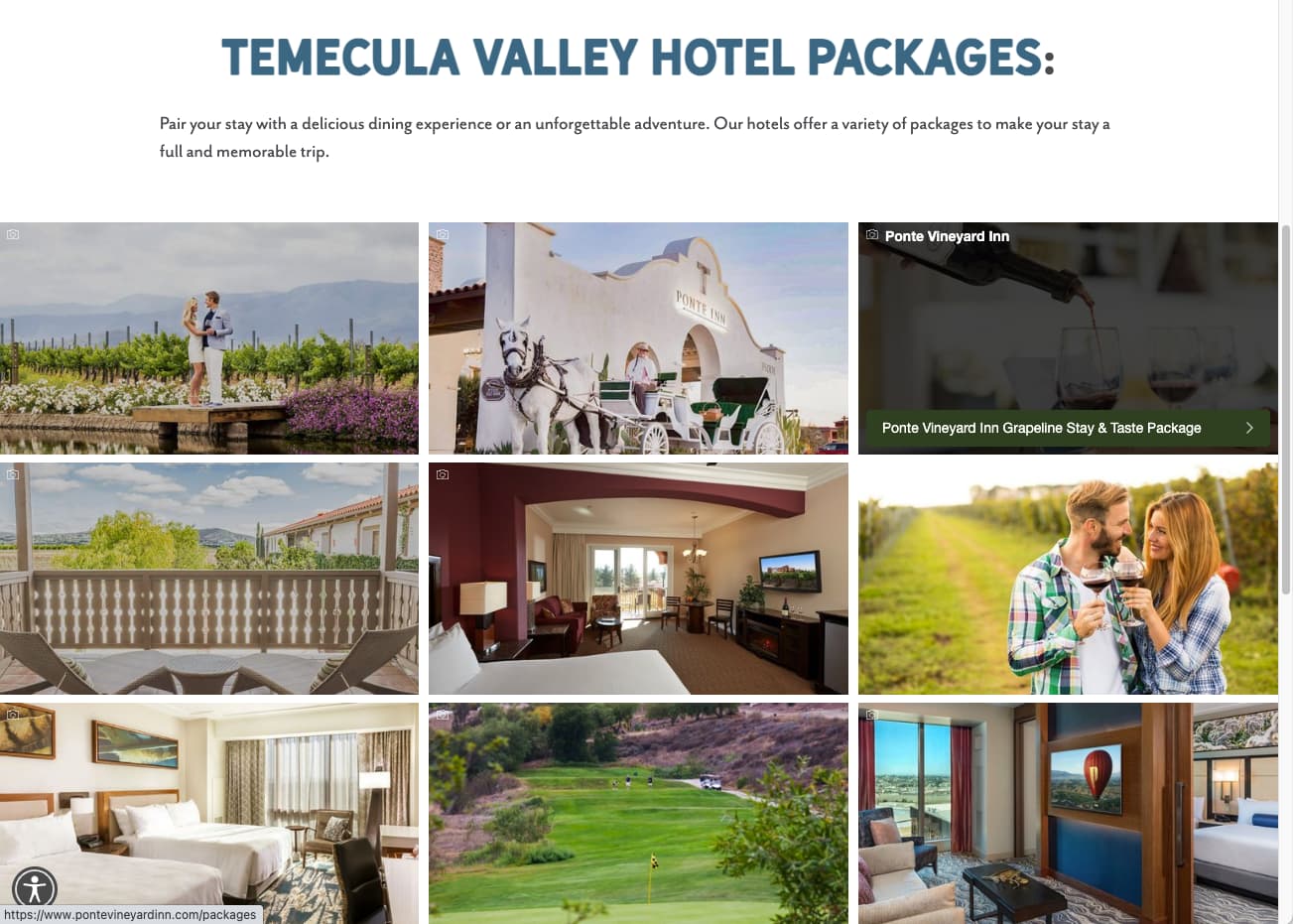 This Gallery has increased referral traffic to their hotel partners and allows them to track which packages receive the most engagement, interactions and clicks.
Increase organic visibility
Google continues to leverage and expand Web Stories as an organic channel for users to explore travel content across Google Search and Discover. Google Web Stories are immersive, visual-first experiences designed to engage, educate, and delight searchers and help travelers connect the dots between dreaming and planning their next trip.
For DMOs, this is an invaluable channel for telling your destination's story. Web Stories are evergreen and live on the open web, presenting an opportunity for DMOs to reach more travelers with their content.
CrowdRiff Studio is a solution for DMOs to tap into this new organic channel by creating Web Stories with exclusive features  built specifically for the travel industry. By using CrowdRiff Studio to create Web Stories, you'll increase your DMO's chance of appearing in the new "Visual stories" section on the Google search results page on mobile.
Plus, CrowdRiff Studio is an intuitive solution with edit, trim, and crop functions, so you can take your own visual assets, or take right-approved UGC from the CrowdRiff platform and transform them into mobile-friendly, tappable Web Stories. That's partially why Visit Temecula Valley currently has an interactive Web Story Gallery on their homepage and "Things to Do" page, since Galleries help to keep travelers on the page for longer.
A few other benefits include:
Make your content more visible on Google, reaching more travelers organically in a cost effective way

Web Stories created with CrowdRiff Studio have a unique travel-specific swipe-up feature that includes CTA buttons that can direct travelers back to your DMO's website 

Give old blog content a new lease on life by converting them into Web Stories, which can then also be repurposed across social media platforms like Instagram or TikTok
Create Web Stories once, repurpose infinitely
Beyond the organic discoverability, Web Stories can be  a powerful long-term marketing play. Unlike Instagram Stories, which disappear after 24 hours, Ricky sees a lot of value in using Web Stories, which are evergreen and don't disappear, to give assets a longer shelf life.
"I just love the fact that Web Stories can be used on our website and it looks great on mobile or on desktop. It's a really useful solution not a lot of people know about, but I really encourage people to do more research into it," said Ricky.
Next, Ricky and the team at Visit Temecula Valley are building out a repurposing strategy where their Web Story content will also be published on their Instagram and TikTok, like their highest-performing Story, "Top Instagrammable Spots in Temecula Valley."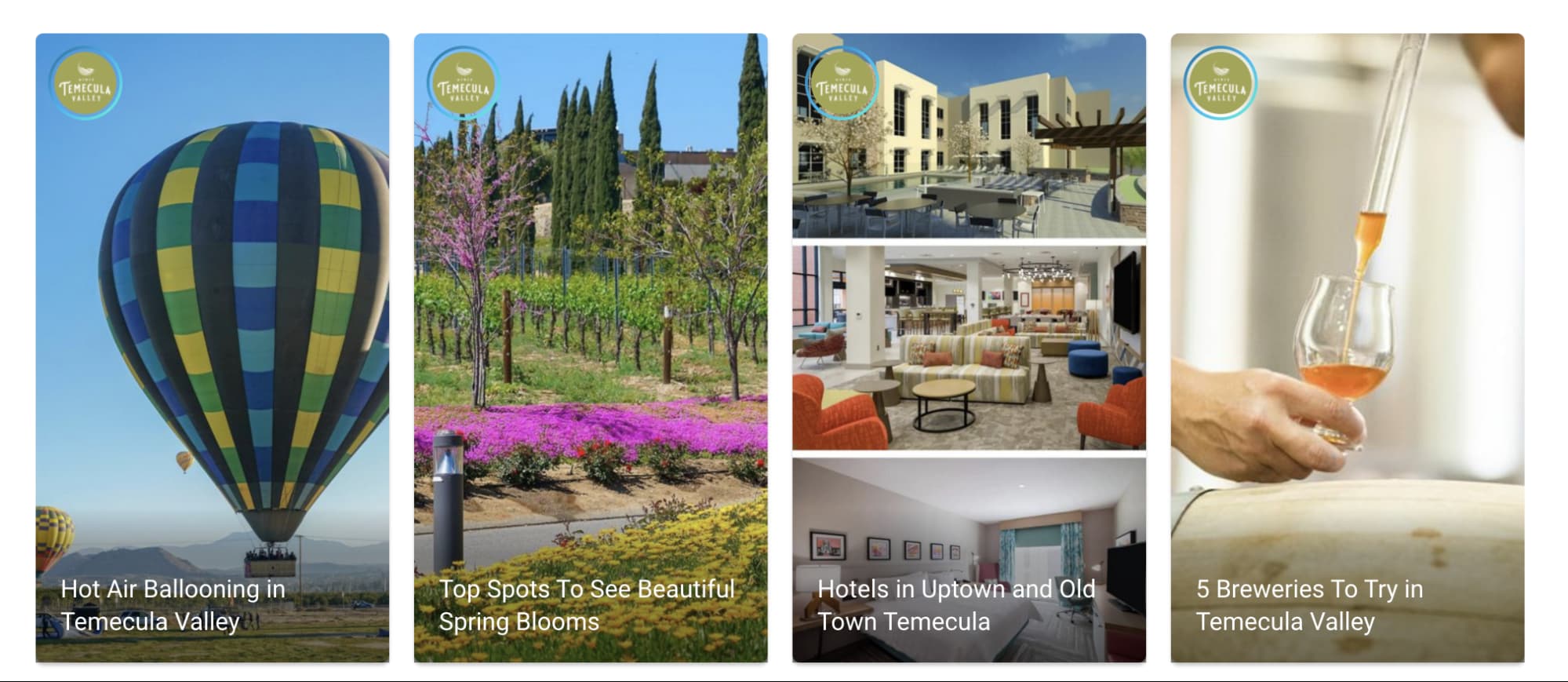 *Example of how Visit Temecula Valley uses Web Stories on their website.
Putting it all together
Since implementing CrowdRiff UGC and CrowdRiff Studio less than a year ago, Visit Temecula Valley has seen big results, like:
Time saved sourcing great imagery

Real and engaging depictions of the destination through images and videos

Ability to support partners and promote their seasonal offers, specials etc through Galleries

Overall increased website engagement and more traffic driven to their site through Web Stories
For Ricky and the team, this is just the beginning of a dynamic storytelling strategy that keeps giving, allowing a valuable interplay between destination and partners, social and organic platforms, and legacy content that can be turned new with Web Stories.
Interested in hearing more about how you can leverage CrowdRiff to improve your marketing?
Check out how VisitDenmark are using UGC Galleries on their site to attract more visitors, and how Kootenay Rockies save time and educate travelers with Web Stories.