Short on Instagram Story ideas?
With 500+ million people using Instagram Stories every day, the format continues to grow. But between limited resources and pre-pandemic blues, it's challenging to keep up with content demands and be creative.
Not to worry—here are 10 Instagram Story ideas you can use to engage your audience, expand your reach, and influence local tourism.
1 | Profile a neighborhood every week
Putting the spotlight on a neighborhood or corner of your destination is a great way to grab both residents' and travelers' attention. Encourage locals to discover a new favorite neighborhood, restaurant, bike trail, park, or mural, and give travelers something to put on their bucket list.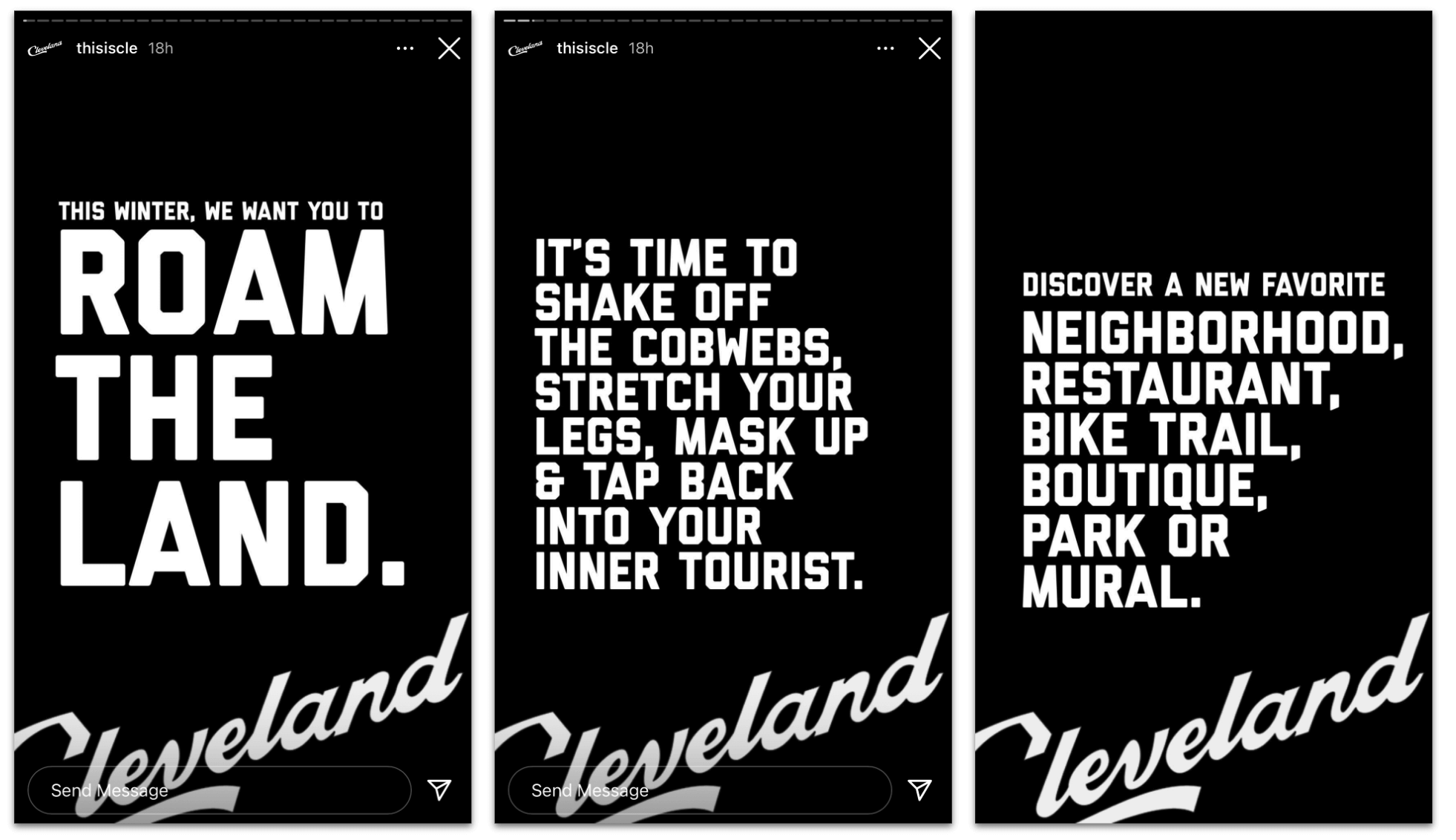 On their latest Instagram Story, Destination Cleveland encourages locals to "shake off the cobwebs, stretch your legs, mask up & tap back into your inner tourist." They showcase a local neighborhood, Kamm's Corner, by featuring a series of posts promoting, murals, restaurants, book stores, and other local businesses.
They use a mix of Story templates and user-generated content to deliver an authentic, branded experience.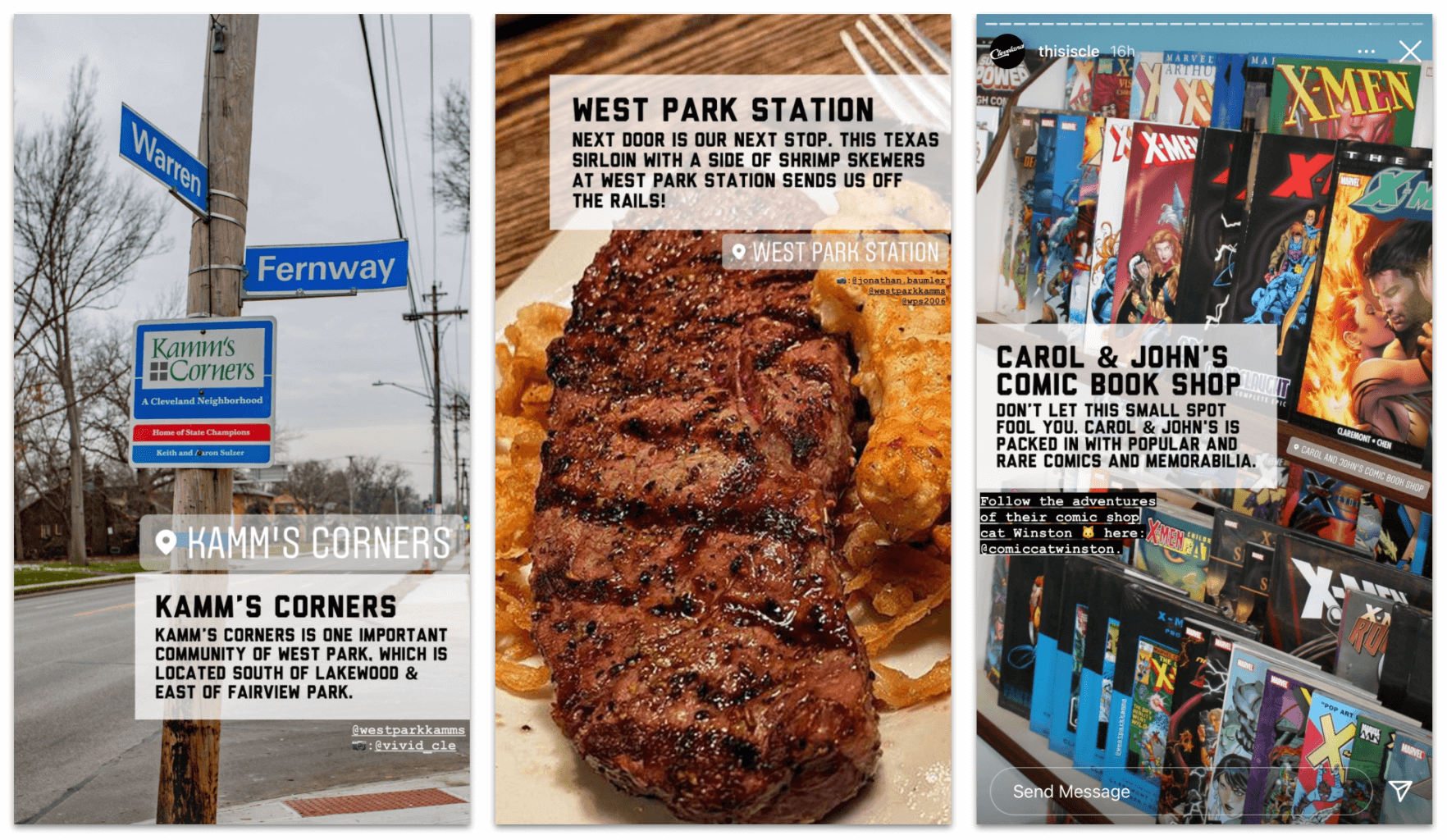 2 | Use the Support Small Business Sticker
One way to support small businesses during COVID-19 is to use the new Support Small Business sticker. Instagram created the sticker last year to help people discover and show their love for small businesses.
When you use the sticker, the tagged business can repost the content to their Stories or message you directly. When people tap the sticker in your Stories, they will see information about the businesses including their location and hours.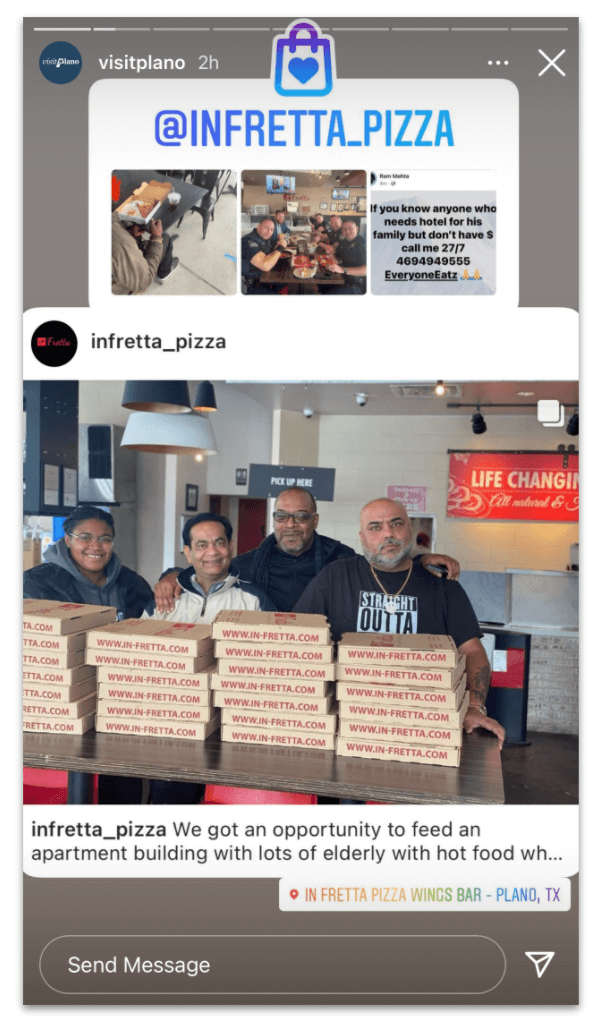 3 | Feature photo or video contest submissions
Use photo contests to gather UGC from your community. Sort through photos and videos from followers and feature them daily, or include the best submissions at the end of a contest. Maybe even create a highlight on your profile to save them all. But don't forget to tag the user every time you share one!
Use these submissions for a post on your Instagram feed or blog post. Note where each photo was taken and include enticing details to make it even more attractive. Keep in mind that if the user doesn't tag your Instagram account or use your brand's hashtag, you'll need to get their permission to use the visual.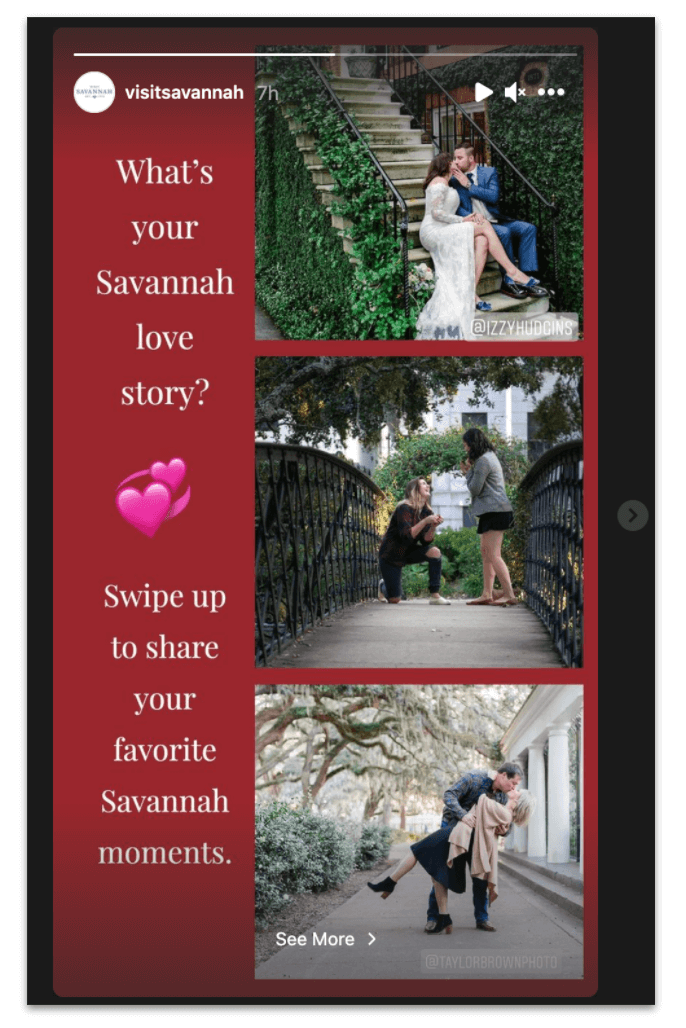 For Valentine's Day, Visit Savannah asked their audience to share their Savannah love Stories along with a photo. They're promoting the contest using Instagram Stories and using the swipe up feature to drive directly to CrowdRiff's Collector.
4 | Use Stickers to interact with your community
Use the editor to make your Instagram Stories fun by adding stickers, countdowns, filters, and other cool items.
The quiz sticker lets you share trivia-style multiple-choice questions with your followers and track the results. When someone votes they can see right away whether they got it right. You can see who voted what and how each person voted. The question sticker lets you pose and answer questions and share the results.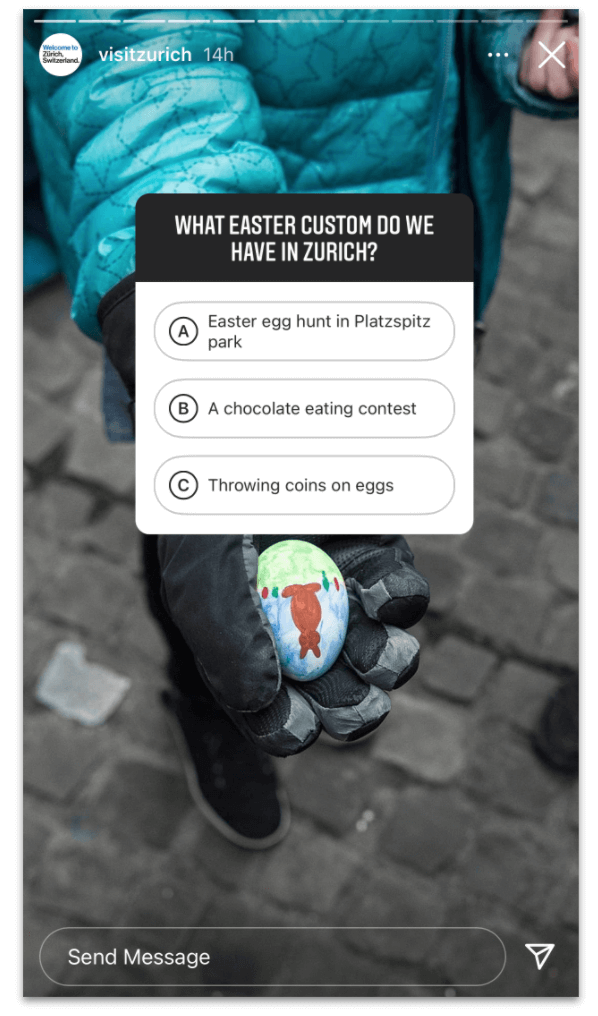 The best part? It's well-known that when someone engages with your quiz or poll sticker, your Instagram Story is more likely to show up first in their feed—meaning more engagement and visibility for your brand.
5 | Cross-promote Reels or IG Guides
If you really want to make your Instagram stand out, share Guides and Reels in your Stories.
Instagram Guides provide a way to share curated, bite-sized content with your audience. Reels, on the other hand, is a way to record, edit and share 15-second video clips with audio, effects, and other creative tools.
Many DMOs like Experience Kissimmee are receiving tens of thousands of views on their Reels. With the sharp rise in short-form video, Reels is a solid bet to boost engagement among your followers.
6 | Stitch together compilation videos
They call it a viral video for a reason. Social video generates 12 times more shares than text and images combined.
Collect user-generated content (UGC) and stitch them together to make a video. It perfectly suits the Instagram Stories format since you can make each one a frame or create a longer video. Build them around a specific theme, like Travel Alberta has done for their #WeekOfWinter campaign.
Don't forget to add a swipe up CTA on the last frame so people can book or learn more about that adventure, or to a link in your bio where they can get more details.
7 | Amplify others' voices
If you have a local event coming up, like restaurant week, use those details to your advantage. Post photos, information, videos, and more to capture followers' attention at least a week before.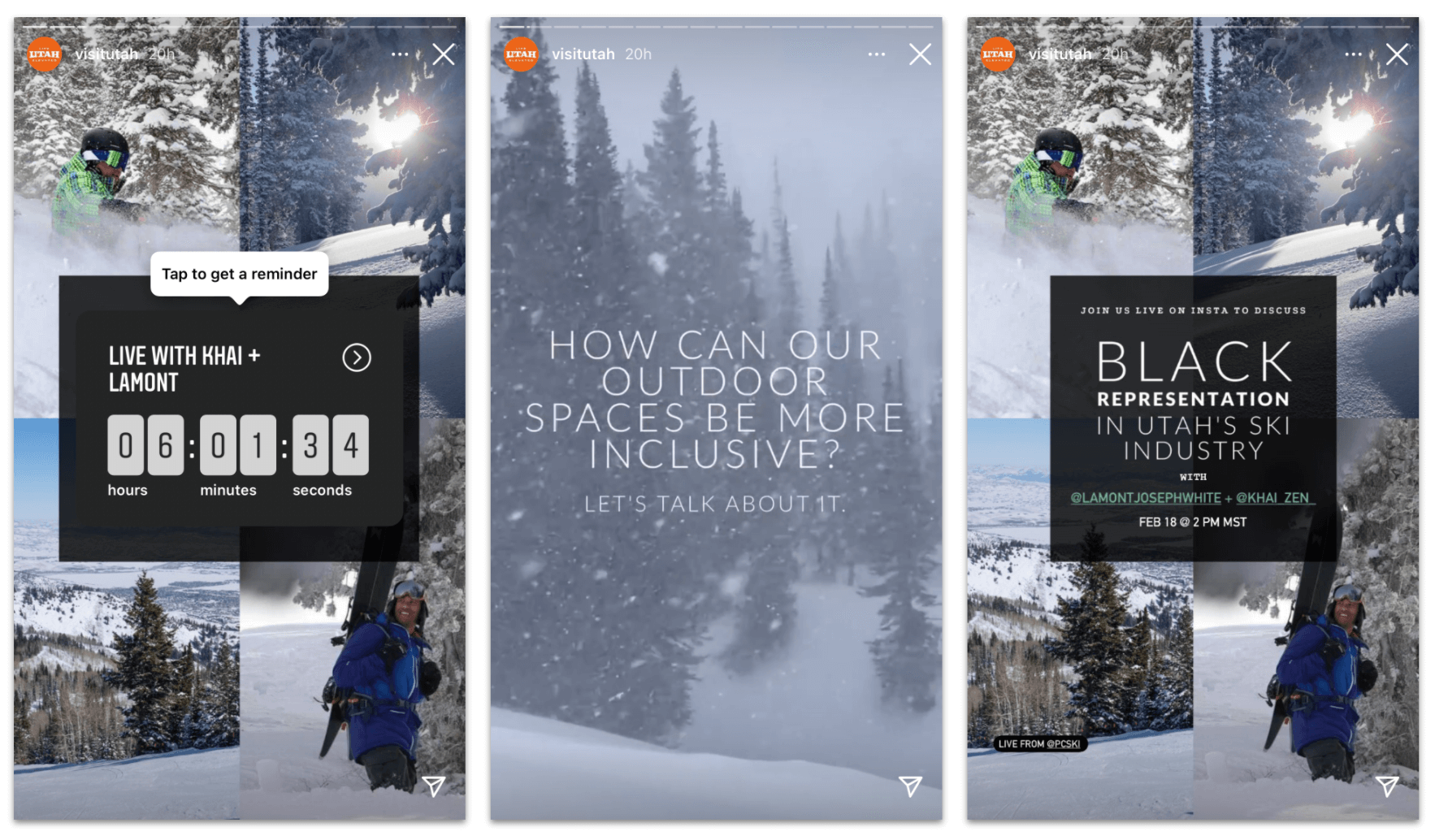 Use the Countdown Sticker to count down to the date and time you set for the event, like Visit Utah. They're promoting an event that discusses black representation in Utah's ski industry. Your followers can tap the post to get a reminder when your event is happening.
8 | Communicate responsible travel messages
What's great about Instagram Stories is that you can share tons of in-the-moment visuals. What's not so great is that they disappear after 24 hours.
Collect past Stories and save them to your profile homepage as Highlights (or turn them into Instagram posts). Use them to share valuable information about your destination, like Tourism Squamish.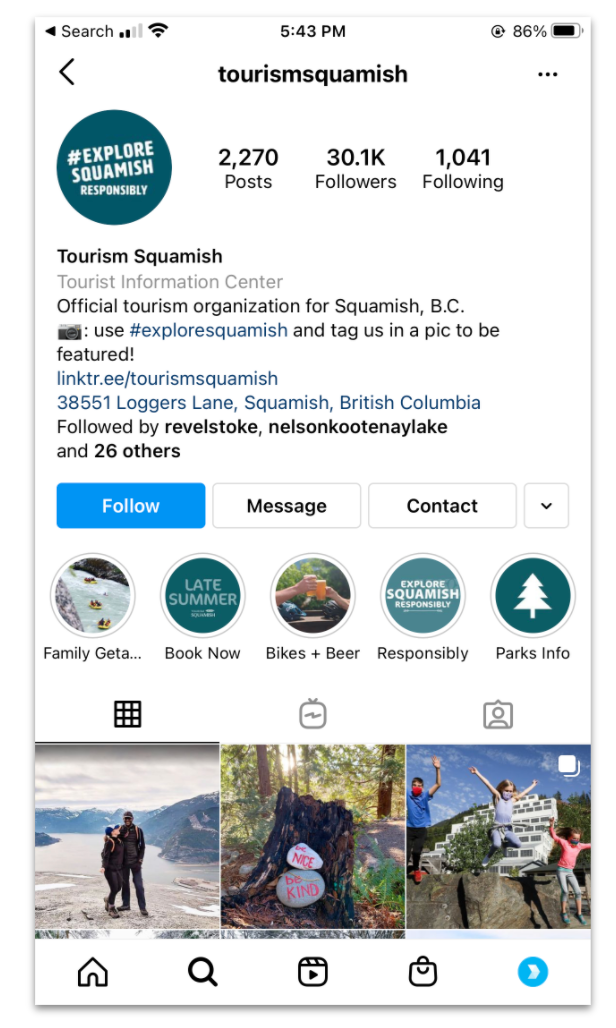 They include information about how to explore Squamish responsibly. This sets traveler expectations and helps keep everyone safe. They even matched some of their Highlight covers to match their branding.
If you're short on ideas, find the most popular images or videos from a past Story and display them on your Highlights with promotional links or swipe ups. Offer people a sneak peek of a travel guide or activity, local testimonials, or even profile a local business owner.
9 | Promote content using the swipe up feature
Integrate swipe-up calls to action (CTAs) in your Stories to provide more information, link to a related blog post on your website, and allow people to buy tickets or products, or services. Keep in mind this feature is only available to businesses that have a following of 10,000 people or more.
If you are eligible, you can track how many website visitors came from Instagram, see how many new social followers you got, and note any jumps in newsletter or email subscribers. You can also tie ticket sales, rooms booked, or items purchased back to your Stories content.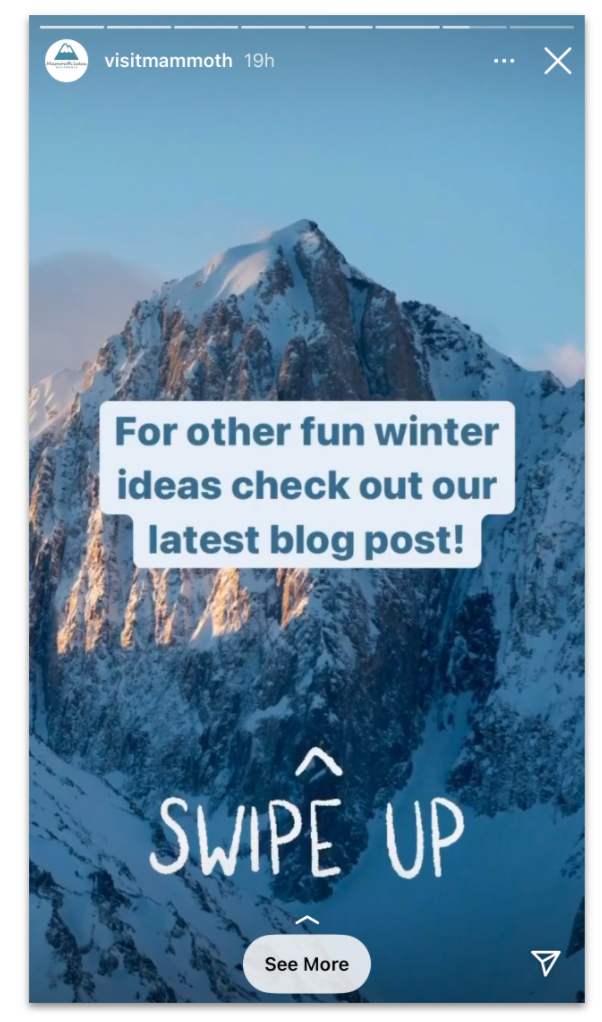 10 | Share IGTV videos to your Story
If you don't have 10,000 followers, there is a way to get links in your Stories. You'll just need to have posted at least one video on Instagram TV. You won't be able to post a URL, but you can link directly to your video so viewers can watch.
Simply open the IGTV video you'd like to share with your story, tap the airplane icon, and "add a video to your story." You'll have the option of adding text, stickers, or filters.
Powering your Instagram Story ideas with CrowdRiff
Instagram Stories are the perfect way to increase the reach of your audience, inspire action, and influence local and (future) tourists.
But you need a way to keep up with the content demands for your Stories.
CrowdRiff helps you tap into the stories your locals, visitors, and tourism partners are sharing every day so you can leverage them in your Instagram Stories and general social media marketing strategy.