When some destinations hear the term ambassador, they may perceive that role to be expensive and mostly reserved for celebrities. Tourism Australia, for example, named actor Chris Hemsworth as its official ambassador and worked with Hemsworth to create content about what he loves about the country.
But destinations don't need to tap Hollywood actors to find people who are passionate about their regions—successful ambassadors can be locals who share in the mission of promoting the unique and unrivaled experiences visitors can only have when they visit a certain place.
Whether you have an existing program or are looking for tips on how to start, ambassador programs can help by:
Collecting more user-generated content (UGC) for your destination's marketing activities
Bringing more acceptance of tourism in your destination because they put locals front and center in your marketing
When done right, destination marketing organizations (DMOs) can create a more diverse and representative place brand that locals adopt and identify with
Here are four areas that every DMO should keep in mind when engaging with ambassadors and looking to scale up a program.
This post is inspired by Carly Pereboom, Marketing Manager at Destination Campbell River, and Tamasyn Kennedy's, Content Curator and Asset Coordinator at Destination Campbell River, presentation at CrowdRiff's SEE conference.
1 | Identify passionate locals
First, it's important to know the difference between ambassadors and influencers. Here's how Destination Campbell River differentiates the two:
Influencers: People who do social media as their main job and as their primary source of income, typically have large audiences and a well-established brand, and don't necessarily live in the destination.
Ambassadors: Locals who are very familiar with the destination and have a perspective on what makes it unique, and social media isn't their primary source of income.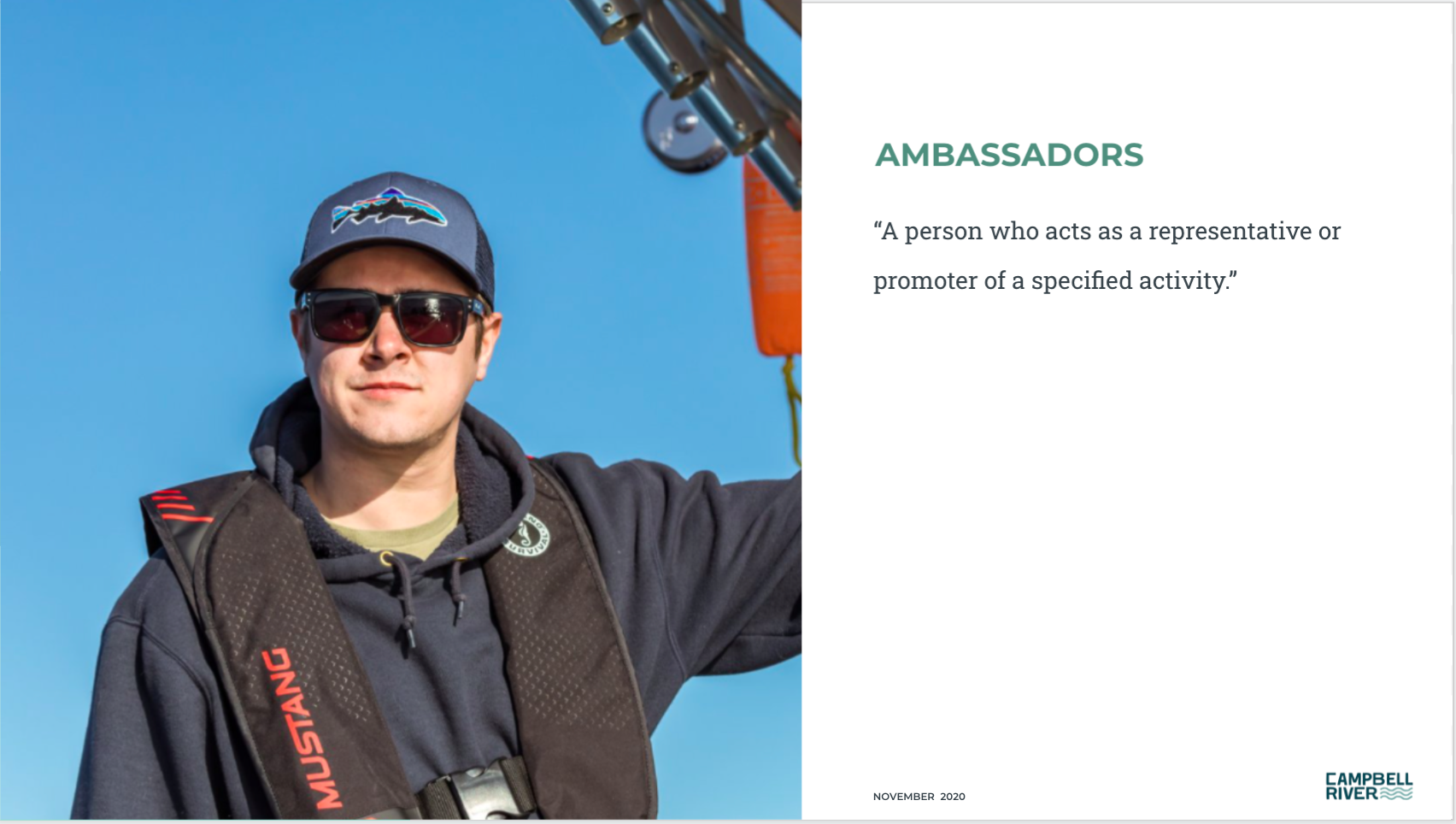 With travel restrictions and lockdowns during the past year, flying in influencers to visit wasn't an option for destinations like Campbell River. But Pereboom and Kennedy already had a local ambassador network in place before the pandemic hit and saw how eager they were to help in a time of need.
Here are four characteristics of a great ambassador:
Someone who is already active on social and regularly tags your DMO in their posts or uses your hashtag.
Someone who fits into your place DNA. If your destination offers a lot of outdoor experiences, you should work with people who enjoy being active outdoors, for instance.
Someone who may have a large social following, but audience size isn't everything. People who have a sharp eye for compelling visuals and an authentic voice that align with your brand are who matter most.
Someone who represents the diverse and inclusive fabric of your community. DMOs should also remember that representation means more than just race and gender; you should also consider diversity of age, disability, sexuality, and even size.
North Alabama Tourist Association currently has a 20-person team of ambassadors and is a good example of how to work effectively with ambassadors to make them feel like they're part of the destination's story and how to include a diverse range of voices in your network.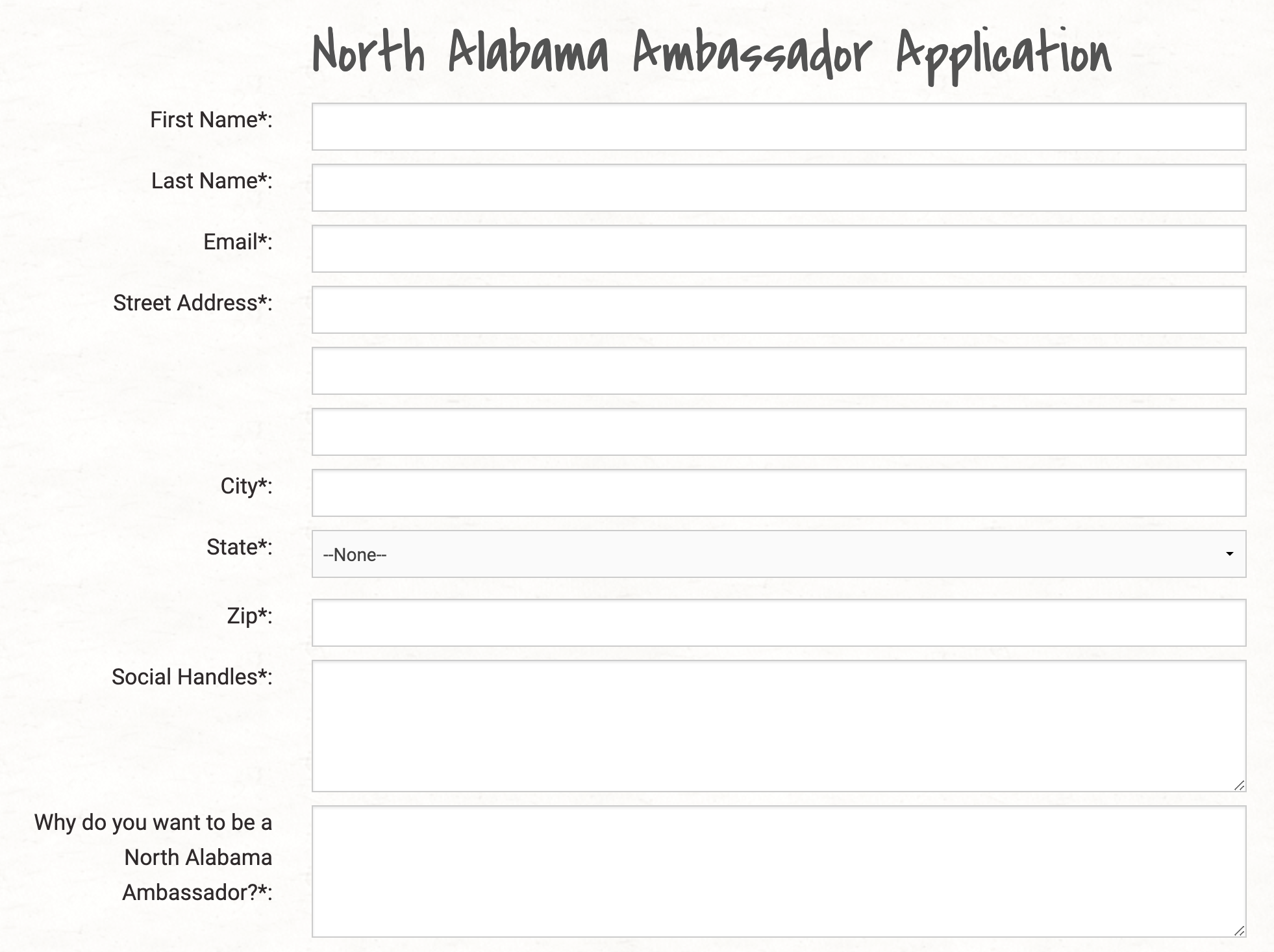 2| Create connections
Like Destination Campbell River, it's important to give ambassadors a seat at the table when DMOs are brainstorming storylines for their destinations.
Connecting ambassadors and local stakeholders like hotels and attractions are also crucial so that ambassadors can get the full picture and a sense of overarching themes that the DMO and its stakeholders are looking for and how that aligns with their interests.
Your destination may already hold regular networking events where stakeholders can connect. You should consider inviting ambassadors to those events or creating a regular meetup of your ambassador network to help build a sense of community.
"The ambassador program has evolved into relationships and collaborations without our involvement," said Kennedy. "They brainstorm and create on their own accord which has evolved into a micro-hub of creative stories that the DMO may not have necessarily honed in on, but has enriched the overall storyline of place."
The camaraderie among ambassadors has helped Destination Campbell River's relationship with influencers as well.
While many of their ambassadors don't have large audiences, they've been able to partner them with influencers on some occasions to reach larger followings and new audiences. These partnerships have served two purposes:
Given small teams like Destination Campbell River's the ability to cover more ground and events.
Established connections and friendships between ambassadors and influencers to spur more unique, authentic content.
3 | Grow your ambassador network
To incentivize people to become ambassadors, DMOs should think about experiences they can provide to ambassadors that they probably wouldn't be able to do otherwise.
Destination Campbell River took one of its long-time ambassadors, Tyler Cave, flightseeing to create content that resonated and told the larger brand story.
Ambassadors are also sharing content they make for DMOs on their own feeds, which has helped destinations like Campbell River get picked up by national entities like Explore Canada.
4 | Align on content, messaging, and program deliverables
Before ambassador programs begin, DMOs need to have a roadmap and know what goals they hope to achieve for both their organizations, ambassadors, and local stakeholders and residents.
Deliver the content: create a cohesive story between the DMO, ambassadors, and stakeholders and use ambassadors' knowledge and skills to help fill content gaps.
Deliver an overriding message: have an educational message and show how tourism can have a positive impact on the community.
Deliver experiences: use ambassadors to test out itineraries and create realistic trip recommendations for visitors such as how much time an activity takes and how far to book in advance.
The beauty of ambassador programs is that there will likely be a range of ideas and opinions on what stories should be told. So how can DMOs strike the right balance between what content they want to be created and what ambassadors want to show?
Destination Campbell River is in constant communication with its network and keeps an open dialogue going.
Some ambassadors may not feel comfortable posting about some places for fear they'll be overrun with tourism and locals won't be able to enjoy them. That's why they have strategically tried to keep some places just for locals by not tagging certain places in content.
"We have regular roundtable discussions with our ambassadors where we talk about what's coming up in the region, what they're excited about for the upcoming season and what they're excited to learn about when they visit destinations," said Pereboom. "From there, we hone it down to a few key topics and see who is most passionate with those ideas and assign ambassadors that way."
Helpful ambassador tips from Destination Campbell River
The Campbell River team described their program as a "snowball effect," that as more people became ambassadors that's led to a laundry list of content ideas to ensure there are never a shortage of possible storylines.
Pereboom and Kennedy have seven best practices they've learned in running a successful ambassador program that you can use to inform your own:
Create a contract and build proper usage rights into the contract.
Determine proper compensation: this can be monetary but more often it's exchanging an experience for content, covering expenses, or buying photography.
Have clear communication and deliverables: have post-trip briefings, create robust itineraries, and have regular check-ins with ambassadors.
Space out ambassador content: have ambassador content mixed in organically but don't oversaturate your channels with it.
Create evergreen content: use ambassadors to create content that will have a long shelf life. This was especially relevant during the pandemic, and it's also a way to let ambassadors share their favorite memories of the destination.
Set realistic deadlines: be mindful of the fact that ambassadors aren't your full-time content creators and have their own jobs. Make the experience worth their time and collaboration
Get locals involved: ask your audience—many of whom will probably be locals—what kind of stories they'd like to see told. For example, Destination Campbell River recently ran a poll on Instagram and discovered that its audience overwhelmingly wanted more stories featuring local adventurers.
Want to learn more? Check out our webinar on Attracting Travelers with Savings Passports, Check-in Trails, and UGC!