Picture this: a world where compelling, high-quality, rights-approved, user-generated content (UGC) images magically appear on your destination marketing organization (DMO) website.
Ok, it's not exactly magic. But automation makes the process so effortless! CrowdRiff's Auto-Updating Galleries are now available for all of our customers (they just have to turn it on!) to help you keep beautifully sharing your brand's story with fewer steps.
Gone are the days when you had to find the right UGC content, get the rights to use it and then go back and manually add new visuals to your website.
Now, once rights are approved, CrowdRiff automatically adds images to your site. You and your team have more time to focus on bigger projects and strategies and travelers clearly benefit from seeing an unfiltered, authentic, and practically real-time look at what's going on in your destination and what their experience could look like.
Let's take a closer look at how CrowdRiff's Auto-Updating Galleries can help you save time while bringing your UGC game to the next level. And while we're at it, we'll answer some of the top questions we get from customers using Galleries.
What are Galleries?
If you're not already familiar with CrowdRiff's Galleries, here's a quick rundown.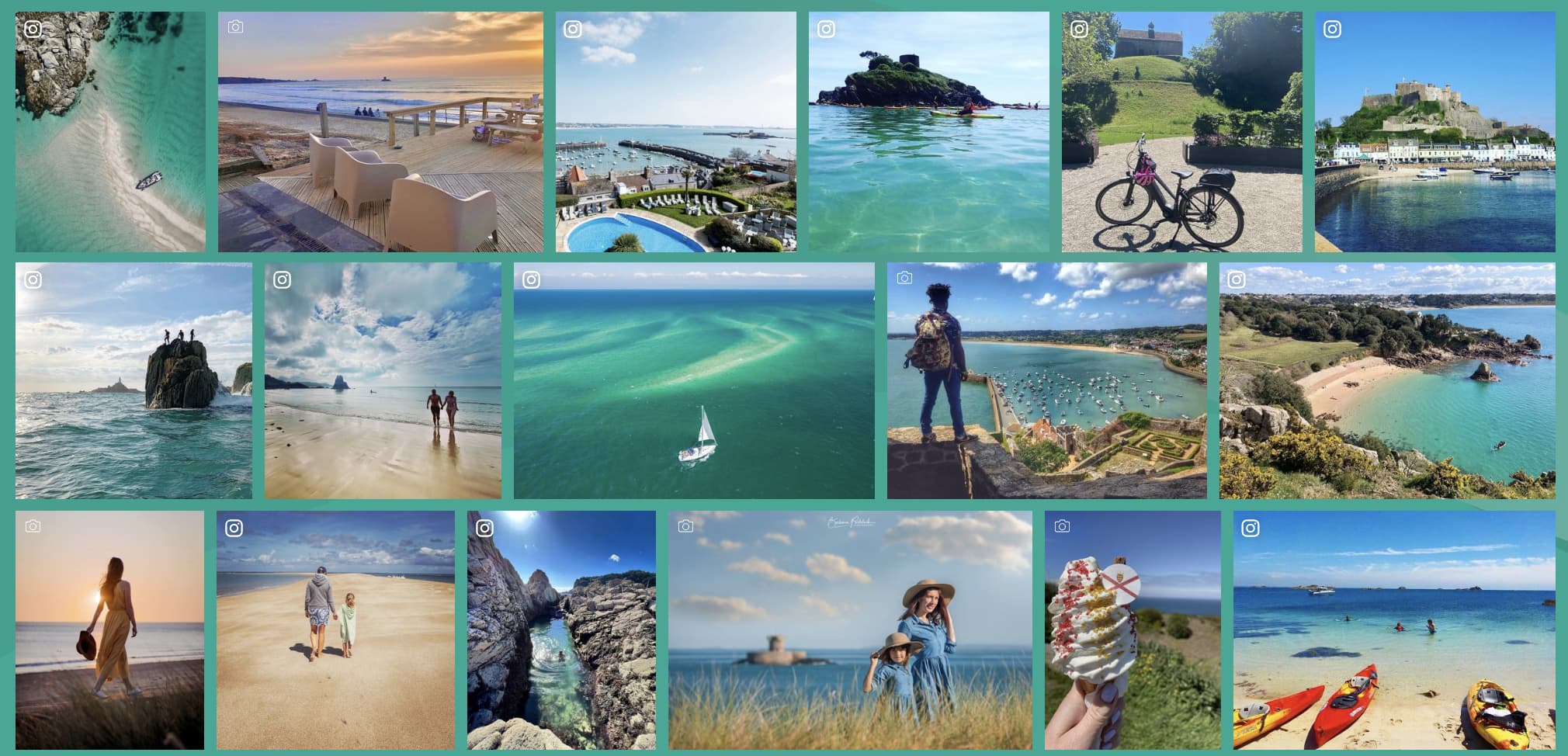 *Screenshot of Gallery from the Visit Jersey website.
Galleries are an embed for your site that allow you to show multiple images in a gallery-style format. Each image can be linked to relevant pages on your site or from a partner (think a gift guide landing page, or a museum website), and CrowdRiff continuously tracks the performance of each picture to make sure that those with the most engagement are featured first.
How does auto-population work?
Now, you can automatically update CrowdRiff Galleries with content from your own Instagram Business accounts. That means you can create a Gallery once, link up to 10 of your own connected Instagram accounts, and then automatically populate your Gallery with your new social content. As new content is posted to your Instagram feed, your Gallery will automatically update.
How does this automation help me?
This automation is particularly useful if you want to keep your website up to date with the latest content from your social media feed. Or if you'd like to add your own social content to a Gallery with existing UGC. It's also just a great way to automatically keep Galleries fresh with new content.
Visit Galveston is one customer that's added this update to their website Gallery and said it's already made a big difference. "We like that we can display our feed and that it automatically stays up to date with fresh images," the DMO said.

*Screenshot of Visit Galveston's Auto-Updating Gallery on their website.

How do I know it's working?
The next time you post something to your Instagram account, you'll see your Gallery automatically add that visual in about an hour. Auto-Update only works for new posts, so you won't see your previously posted content in your Gallery.
What about rights-approvals?
Since this content is coming directly from one of your Instagram Business accounts, there's no need to obtain rights because it's your content.
Keep track of rights granted outside of CrowdRiff
Did you find an image in your library that isn't marked as rights-approved, but you know you have the rights to it? During Gallery curation, you can now also mark assets as being rights-approved from an external source.
For example, if you have an agreement with a content creator, or got the rights to an asset via email, now you'll be able to manually mark it as rights-approved within CrowdRiff.
Speaking of content creators, one of the benefits to getting rights to images include building relationships with local creators. By engaging directly with these talented creators, they may be willing to share high-resolution versions of a photo or video you want to acquire or join your ambassador program so that they regularly provide you with great content directly.
Does auto-update pull in existing content?
No. Once enabled, the auto-update function will only pull in new posts from your Instagram account. If you're creating a new Gallery with auto-update, we recommend that you manually add 10 or more pieces of social content to fill out your Gallery before you begin.
3 tips for curating Galleries
While CrowdRiff has taken most of the heavy lifting out of making sure travelers always have something new and exciting to check out each time they see your Galleries, you'll still want to make sure they're relevant to things like current trends, key dates and health and safety.
Some things to consider:
Show-off your outdoor attractions. Many travelers are getting back out there and are perhaps eager to be more adventurous than they were last year. Spending lots of time outdoors while traveling is one pandemic trend that likely isn't going anywhere, so you'll want to make sure your Galleries reflect your destination's natural beauty to give your audience something to get inspired by after two years of largely being cooped up at home.

Change imagery to reflect different seasons. Many travelers will naturally make pictures of changing leaves or hitting the ski slopes, for example, that clearly show season-specific activities. Or maybe your destination's change of seasons isn't as pronounced weather-wise, but you still have things like key festivals and events that are annual favorites. It's a good idea to regularly check your galleries to make sure images are as relevant and timely as possible.

Share the latest health and safety messaging. We know, it's not sexy and it's not the easiest thing to do. But we've all learned a lot in the past two years about how to balance compelling and fun imagery with important safety information to reassure travelers. Especially with local mask guidelines and travel restrictions constantly in flux, take the initiative to ensure your Galleries have all the latest and greatest messaging to show travelers you value their health and safety.
See how efficient Auto-Updating Galleries can be
Since these updates are already available for you to turn on in your CrowdRiff account, go ahead and try adding assets to a Gallery today and see how easy it is to feel confident that you're only leveraging rights-approved visuals. Have questions about the new workflow? Check out the CrowdRiff Knowledge Base to learn more.
Not yet a CrowdRiff customer? Book a walkthrough of the platform and we'd be happy to show you how easy it is to leverage rights-approved user-generated content for your marketing efforts.