How do you find the right balance between local and visitor messaging as your destination reopens?
This question has come up over and over again from our customers and community. And as restrictions and guidelines continue to shift quickly across the United States, it's an important one to address.
Recently I had the chance to sit down (virtually) with a group of smart destination marketers and discuss this. I wanted to know how they were responding given their unique situations at the state, city, and county level.
We hope you can apply some of the following insights as your destination continues to tailor messaging to both audiences amid shifting restrictions.
You can watch the full conversation here or read the highlights below.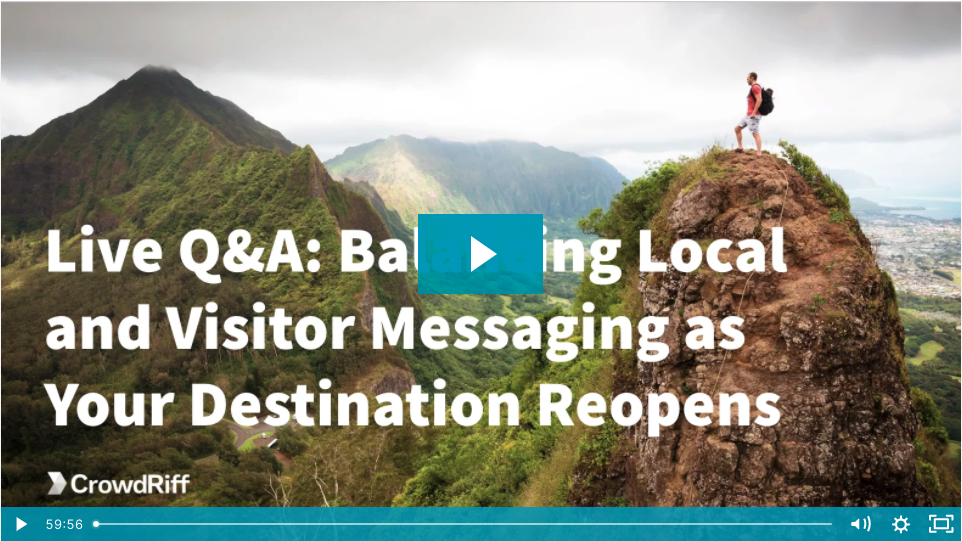 How are you approaching messaging right now to adhere to health and safety protocols?
Jake Brown, Content Manager, Visit South Bend Mishawaka: We're focused on telling people what is available to them, whether you're local or traveling from out of state.
We're letting people know what to expect when they get here in terms of regulations. We don't want them to come here and be blindsided by what they encounter once they're here. For example, you need to wear a mask within the state of Indiana and locally.
It's also about communicating that a lot of our attractions and restaurants are back open, things like new hours and other information people need to know. We want to arm people with as much information as possible.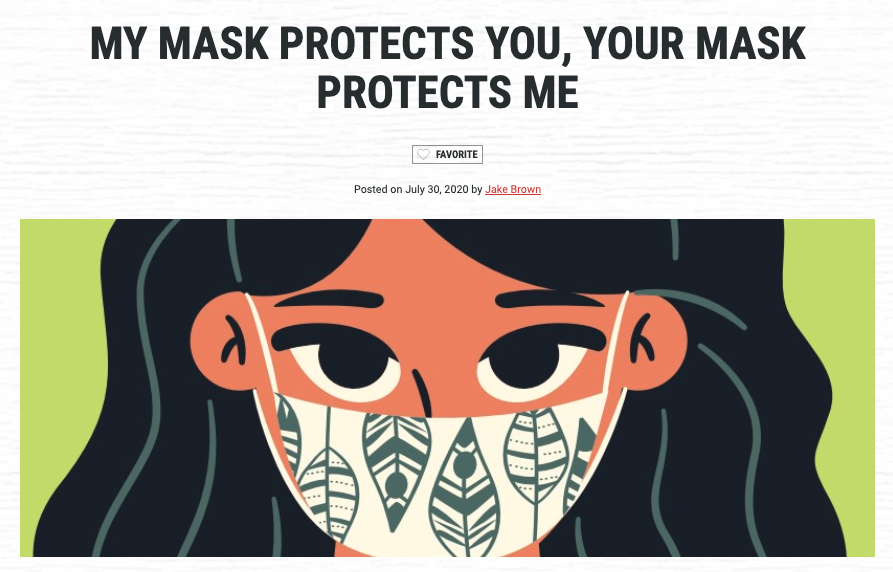 A recent campaign by Visit South Bend encouraging people to wear masks around the community.
Kristin Gillespie, Director, Content Strategy, Visit Seattle: Our audience is a little bit different because we're not actively calling people from outside the region to come visit.
That said, we are recognizing and acknowledging that people are finding their way here. Cabin Fever is real. If you walk around downtown Seattle you can tell that there are visitors staying in hotels or with friends and family. We're trying our best to be a resource for them to visit responsibly when they do find themselves here. We also have a statewide mask order.
We want to make sure that we're communicating the reality of where we are as far as what's open, what's not what's allowed.
If they do show up here without a mask, we guide them to where can they get one in the city, because we do have partners that are making masks available.
We're getting this message out predominantly through our website and social channels. We're still not running any paid media because of funding challenges.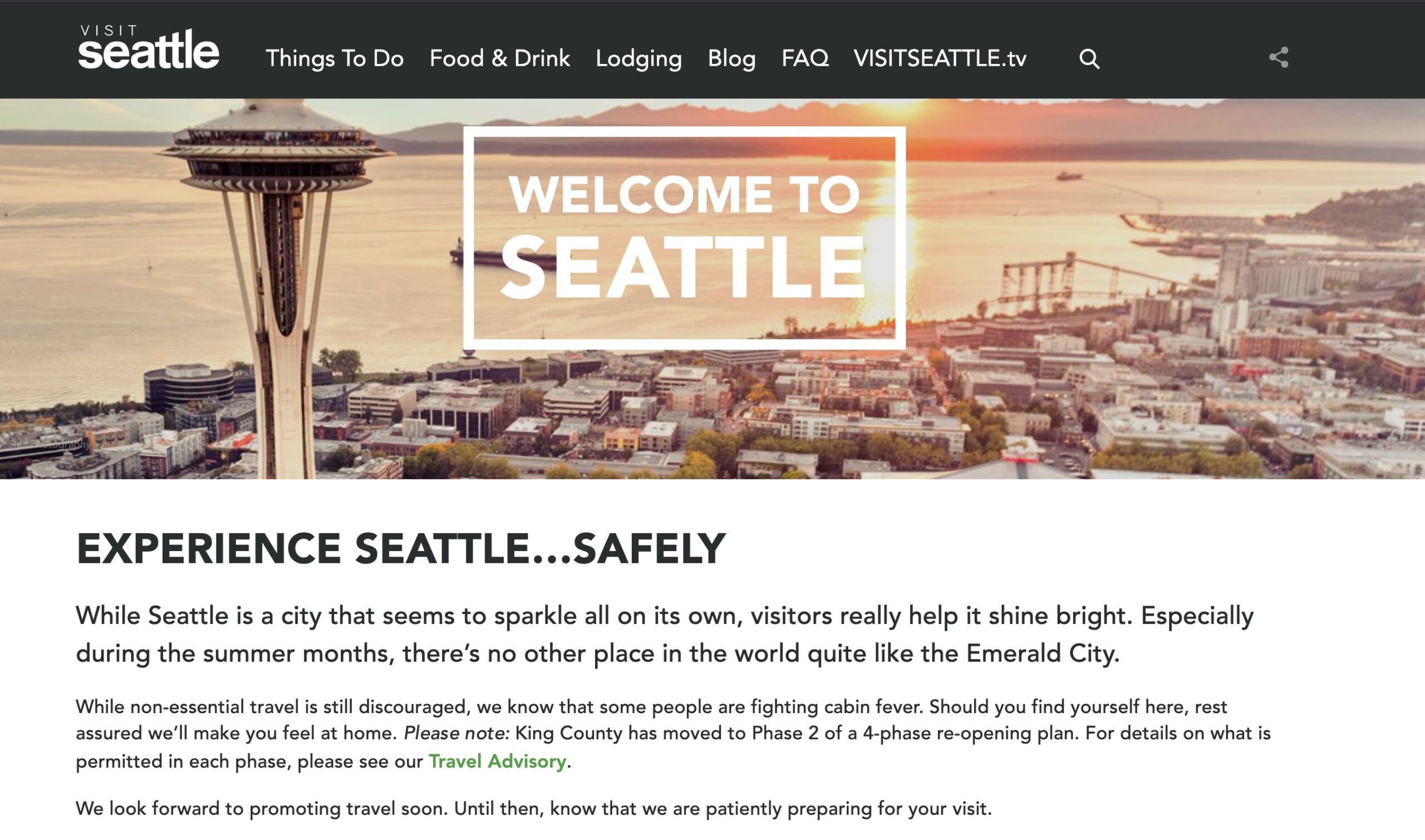 Visit Seattle's temporary COVID-19 homepage.
We're redirecting our homepage to a temporary homepage that is talking about what our current situation is and has links to our travel advisory as well as an FAQ of COVID-19. That page also has newly reopened businesses and links to some virtual experiences.
This page in particular has seen about 25% of all of our page views on our site. This is definitely information that people are seeking out.
Charles Lammers, Creative Assets Manager, Wyoming Office of Tourism: We're currently relatively free of restrictions, but that's largely because of our population. We have just over half a million people in the entire state, which equates to about 6.1 locals per square mile. So it's really easy to socially distant for locals who really don't really have any neighbors.
But we're noticing a lot of pockets of the state that are more known for tourism aren't adhering to social distancing.
We've left it up to a lot of our local partners to set up their own social distancing mandates. Rather than be the middleman and come up with our own set of guidelines, we decided to send people directly to the CDC website.
How are you are working with partners to support their business and amplify their message?
Jake Brown: During the lockdown, it was really just getting as much information to them as we possibly could about grants and funding and ways that they could find relief.
We went from one partner newsletter a month to weekly at one point, now we're back down to one every two weeks. They contain a mixture of where we're at in our reopening and the resources available for partners.
The campaign around mask-wearing has really resonated. I was just talking to a partner the other day who was thanking us for starting the initiative. It makes it easier for them to enforce the mask order show visitors that it's accepted and encouraged here.

VSBM's mask-wearing campaign included a contest where people could win gift cards around the area by sharing photos wearing masks around the community.
Kristin Gillespie: With all of the shifting ordinances and social issues we've been dealing with over the last four months, certain partners have risen to the top of needing some additional support.
We've been promoting them via our social channels. I'm highlighting specific businesses that have deals or takeout and delivery or CSA boxes through our Instagram Stories and sharing them as Highlights.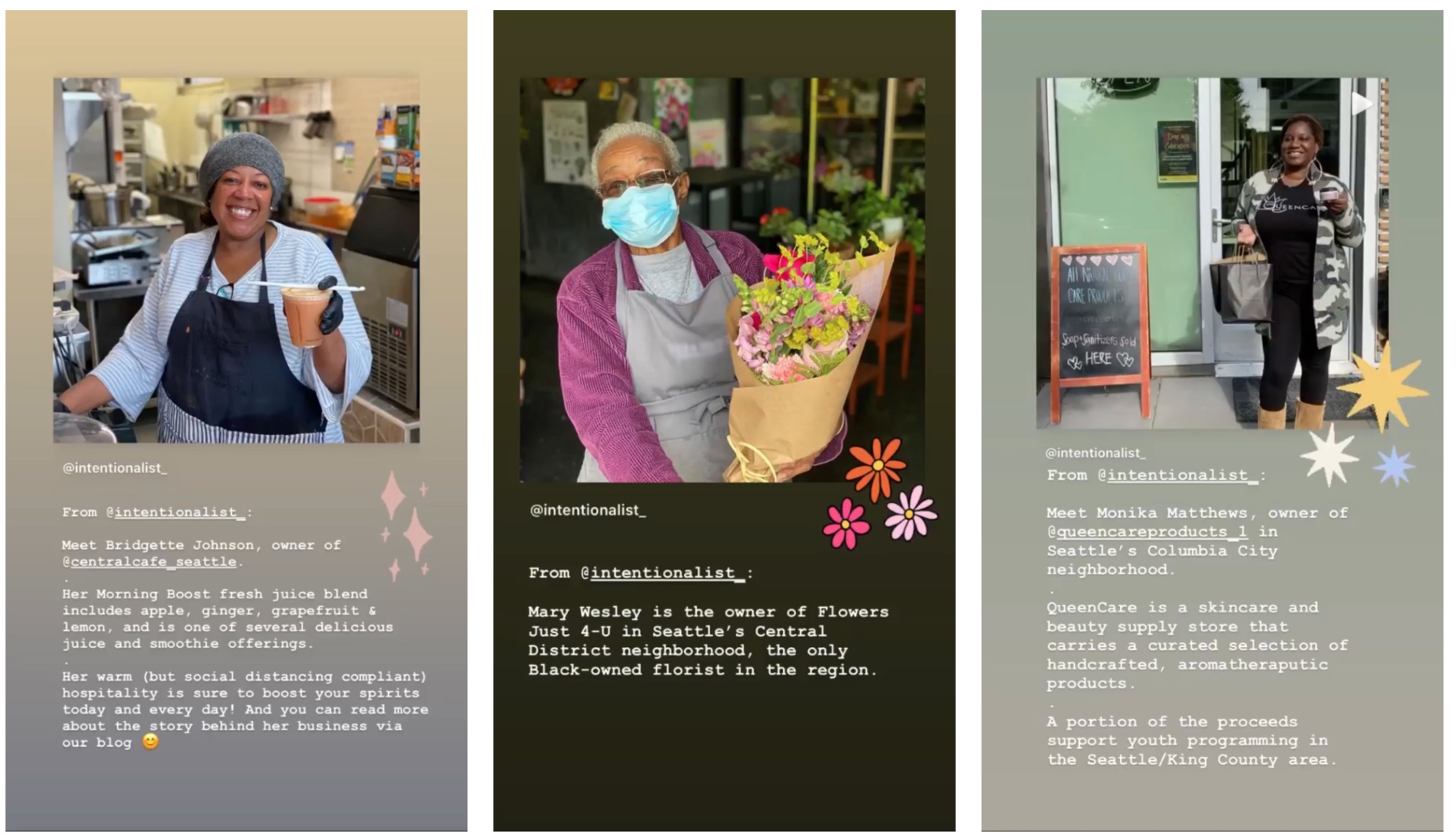 Visit Seattle has a dedicated Instagram Highlight for Black-Owned Businesses.
We've also been updating and highlighting partners that are newly reopened on our homepage.
We have a rotating carousel that we've been changing out weekly featuring nine partners per week that shows what they're offering, with links to their website that shows a little bit more about what's required if you are going to be using their services.
Blake Ward, Interactive Marketing Manager, Wyoming Office of Tourism: The Wyoming office of tourism is really excited to announce that we just successfully worked with Governor Gordon and his team. And we've procured $5 million of CARERS Act Relief Funds for Wyoming's lodging tech tax boards to help foster economic recovery from COVID-19.
And this is really going to help out at that local level and help our hospitality sector because they are such a vital portion of what we do here at the state.
Aside from that, we also have worked really closely with our Agency of Record to create programs for partners to participate in, while giving individual communities their own voice in messaging.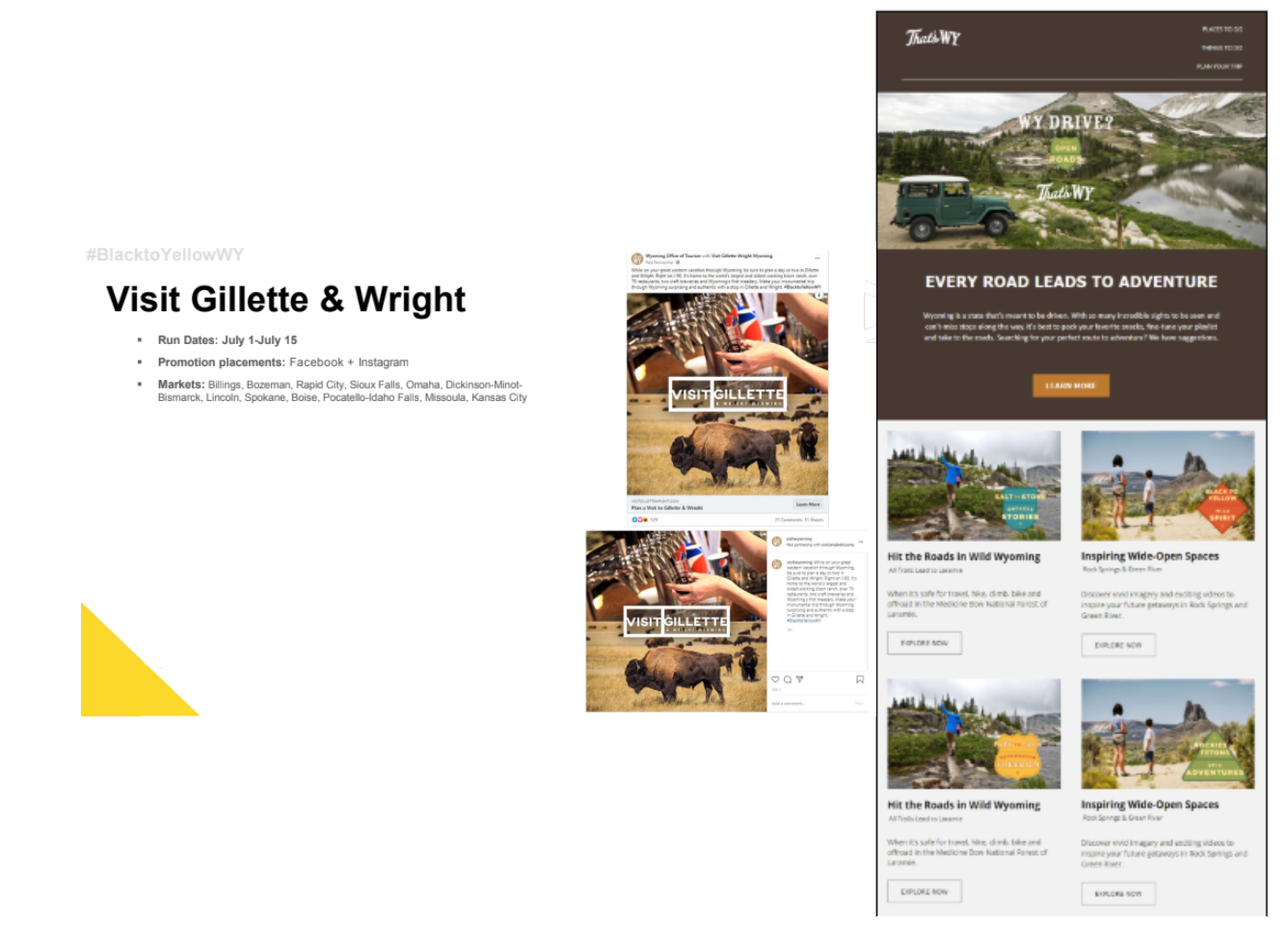 Two initiatives the Wyoming Office of Tourism has created to support parters: A) Gillette/Wright Wyoming – paid Facebook/Instagram opportunity. B) Email Advertising Opportunity for Partners – Wyoming Routes.
The goal was to structure these programs to achieve a regional focus that can live alongside and elevate the state's larger campaign efforts.
The creative supports the partners, businesses, and attractions along four routes, covering the entire state. Programs include digital traffic, email ads, as well as social media possibilities.
What kind of programs are you running towards locals to encouraged them to support their communities?
Blake Ward: Typically we market during the summer to people out of state. But we decided to take a really different approach this year and market entirely to drive markets and entirely to people within our state instead.
We have some really neat radio spot programs that we've kind of never done before. Also, just really pushing and amplifying our drive content within our website.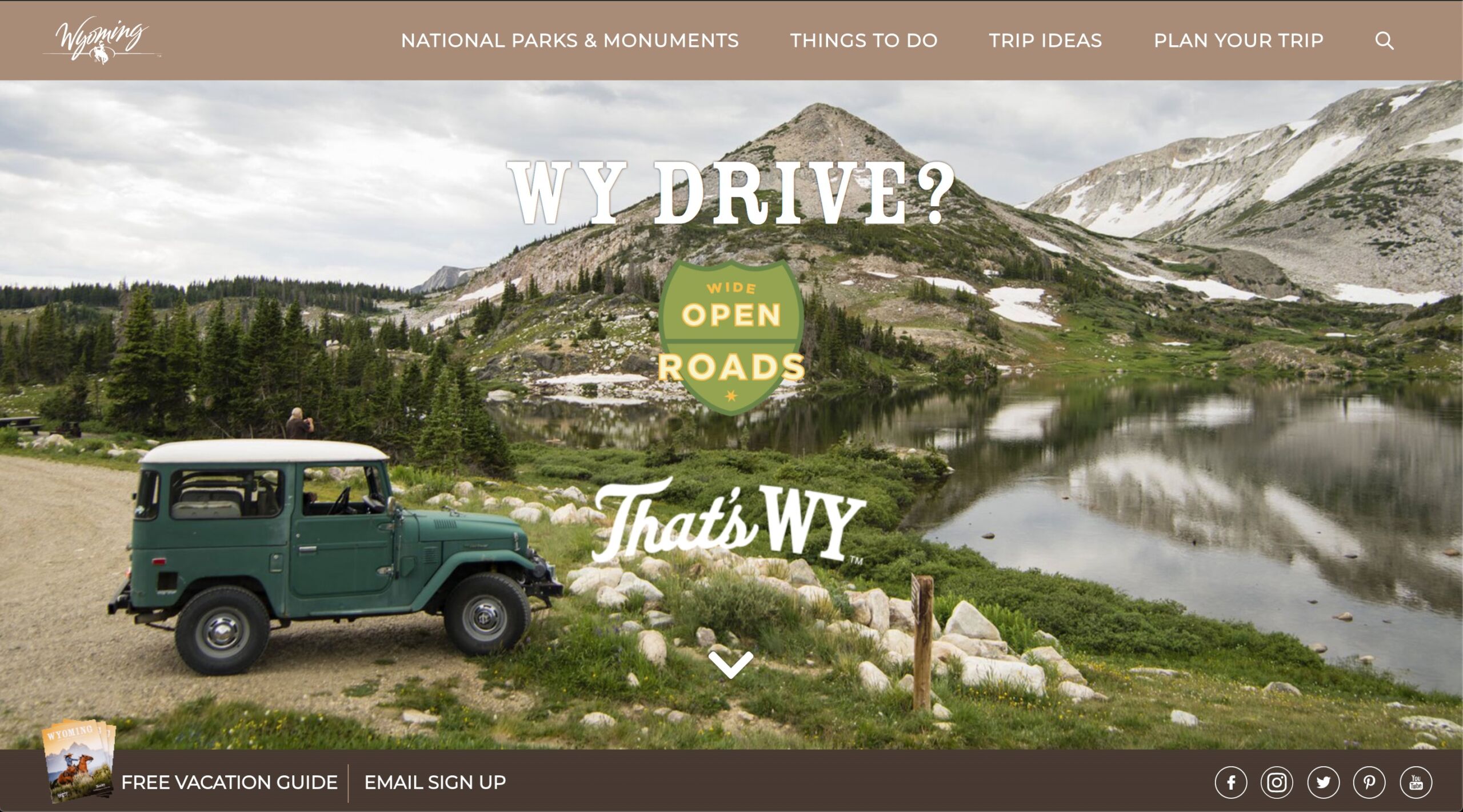 Travel Wyoming's WY Drive Page promotes road trips to people within the state.
One of our brand pillars is called WY Drive. Everything is about making road trips since we have so many wide-open roads here in Wyoming. And so our target audiences are those who are willing to get in the car and drive a little while and see these fantastic places across the state.
We also put a lot of work into these itineraries that give people the opportunity to pick and choose which stops along the route they want to see. I will also add many of these stops are smaller partners across the state. So we're focusing on the little guys as well as the big guys here.
Jake Brown: We've moved away from [marketing to locals] a little just because Indiana's more open than some of the surrounding areas. We're in a more traditional visitor focus posture, especially with some youth sports stuff really picking back up. We recognize that every weekend there's an influx of visitors.
One paid initiative is we're running all summer long radio ads with the local NPR station, which is a great audience for us. Like everyone else, in times of tighter budgets, it's a very cost-effective option to highlight specific restaurants and attractions that are back open.
Documenting partners on social media is another way to lift up local businesses that are doing good work and amplify the message of hey, we went to this restaurant, and it was a great experience and they're doing it the right way.
How are you building trust with locals and visitors alike to ensure a safe and sustainable re-opening?
Kristin Gillespie: For partners, as we're coming up on our reopening campaign we're hosting interviews with some of our key stakeholders and partners to understand what their reality is. We want to make sure that when we do launch our campaign it's resonating with their needs.
For visitors and locals, we're trying to stay as factual as possible and giving as many resources that kind of paint the reality of where we are as it changes.
We're also in the process of building a pledge page that our so that our partners can self identify that they are taking this pledge of health and safety. When visitors come, they can travel reassured that these partners are following the protocols.
Charles Lammers: Blake already mentioned that we adhere to our brand called WY Responsibly. We've aimed the campaign at both locals and tourists.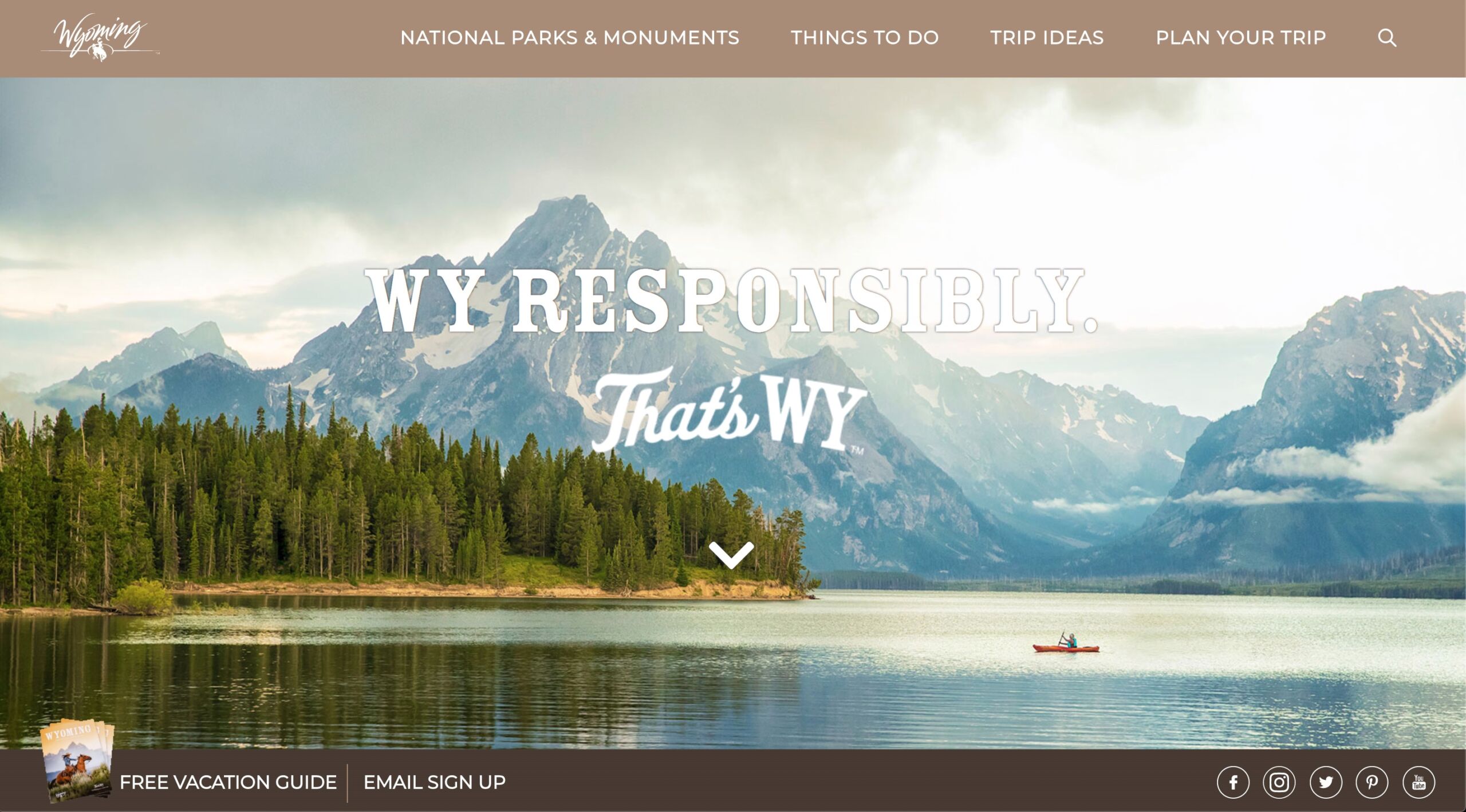 Travel Wyoming's WY Responsibly page is aimed at both locals and tourists.
We need to buy responsibly and that means wearing masks and checking ahead of time before you come to the state to see what restrictions are in place.
It's kind of unified everyone, from locals and tourists. From a local perspective, it's never been something that we've totally focused on. Now our locals and the people in the surrounding states are both kind of in the same boat with us.
Jake Brown: We were in a posture of we're ready when you are. Earlier, and now again, it's just about connecting people to the resources they need to be aware of what the situation is on the ground here.
5 tips to balance your local and visitor messaging
Communicate the reality of what the situation is right now. Let visitors know what to expect when they get to your destination by aligning messaging and campaigns on your website, social media channels, and other channels like radio around health and safety guidelines, who's open, etc.
Focus on what your partners are doing to keep people safe by amplifying new policies and practices across your owned channels. Try creating an Instagram Story Highlight featuring local businesses or partners who need extra exposure.
Use real-time UGC to show experiences in your destination through the eyes of locals.
Empower businesses to show visible signs of health and safety. Many destinations like Visit Stockton, Visit Savannah, and Visit Seattle have provided a set of safety guidelines for businesses, residents, and visitors that show they are complying with the CDC. This helps reassure travelers that these partners are following the protocols.
As your destination opens up, give locals and visitors ideas for travel like outdoor activities. Try putting together a road trip itinerary to spotlight some local attractions in your area.
Header image credit: @randomlies