With fewer marketing resources, many travel brands are looking for free or low-cost ways to connect with locals and future travelers.
Connecting with your audience helps increase engagement, both online and locally, and keeps people dreaming for when it's safe to travel again.
Here are six effective ways to do that.
1 | Contests
Contests are an easy way to collect content from the public and engage your fans and followers.
Encourage people to share their favorite memory around the city, like Lincoln City or Mesa.
Or, for a different angle, ask your audience a question. Visit Indy is asking people to send in a short video clip of the first thing they'll do in Indy when life returns to normal.
Maybe even try a small challenge, like Kamloops. For Canada's Victoria Day Long Weekend, they're asking people to send them photos of their at-home campsites for a chance to win a barbeque and gift cards to local stores. They also list community businesses where people can stock up on supplies.
Games can also rally community spirit. The Maryland Office of Tourism put together a list of virtual activities like Bingo, Mad Libs, and a Maryland statute challenge. They're using CrowdRiff's Media Hub to share them.
Ideas for contests:
Whether it's being featured on your website or winning a prize, give people a reason to enter your contest.
Promote your contest on social media, in your newsletter, and on your website.
Use the CrowdRiff's Public Uploader as an easy way to source contest entries.
2 | Repurpose b-roll
In the past, we've seen travel brands reuse b-roll for travel campaigns.
The South African Tourism Board wanted to show visitors that there was more to do than go on a safari. They created a campaign called "24 Hours of Wow" that featured 144 six-second video clips showing different activities. Visitors could customize their trip based on the video clips.
The best part? Sixty percent of the b-roll they used was repurposed from what they'd already had on hand in their content library.
If you've ever worked with a videographer, you most likely have a ton of b-roll sitting in your archive.
Why not repurpose this content for a different message?
For example, the South African Tourism board could recycle their videos to focus on marketing the city to locals.
Ideas for repurposing b-roll:
Take stock of your b-roll—quick shoots on a team member's phone to videos from a professional shoot.
Create a system to organize your video content. If you're a CrowdRiff customer, upload this content to your library so it's automatically tagged and easy to find when you need it.
Host your b-roll on CrowdRiff's Media Hub so journalists, bloggers, and your partners can easily access the source files.
3 | Find new spokespeople
When the National Cowboy Museum asked their head of security, Tim, to take over their Twitter account, they had no idea Tim would take it viral.
From writing out the word 'hashtag' in his tweets to saying 'thanks' in his posts, Tim's unique way of running Twitter was picked up by major news outlets like Good Morning America and the Daily Mail.
This one is from Warhol and the West. Did you know that Andy Warhol had a passion for the West? Here's John Wayne from 1986. Which one is the Duke? Hard to tell with that perfect impression. Lol! #HashtagTheCowboy Thanks, Tim pic.twitter.com/KCnuQhF99Q

— Nat'l Cowboy Museum (@ncwhm) May 12, 2020
His authentic cowboy voice (he's a real cowboy!) goes to show how a different experience can help you engage your current fans and reach new ones.
If you don't have someone like Tim on your staff, ask community leaders or locals to do a takeover.
What if a local photographer whom you have a good relationship with took over your Instagram for the day?
What if local businesses did a takeover every day of the week?
You also have the added benefit that your business or locals will give your content extra exposure by promoting it on their feed. So not only are you providing exposure for your partners, but your partners are also driving visitors to your content.
The people of your destination are your greatest asset. With a bit of coaching and guidance, who knows where they could take you?
Ideas for spokespeople: 
Find trusted locals or "micro-influencers" in your community to see if they're interested in collaborating with you.
If a business is taking over, ask them to share their origin story or give people a peek into "a day in the life" of the business.
Educate spokespeople on your brand.
4 | Live videos
Did you know that 80% of people would rather watch a live video from a brand than read a blog.
Live video is a highly effective way to promote local businesses, show off what makes your destination unique, or take people behind the scenes of your destination.
Visit Lexington, KY, put on Daily Programming for their fans. They provide fun, useful, and entertaining content for locals and followers stuck at home right now while raising awareness for their businesses and causes.
Ideas for live video:
Focus on authenticity over perfection.
Respond to comments in real-time and tag other people and your location.
Repurpose the content as an Instagram Story Highlight.
Host a live stream featuring local musicians.
Take people on a virtual tour of your museum or attraction.
5 | Virtual events
At CrowdRiff we host biweekly Community Meetups for our customers. Anecdotally, we knew people saw the value in them.
But just to be sure, we asked. From those who responded, 100% said they'd attend in the future.
We're hearing the same thing from people in our community. People love virtual events.
Use virtual events to replicate what people would normally do in your destination.
Visit Santa Rosa has a daily reminder of what's happening every day of the week. For example, on Wednesdays, they host a cooking class with a local chef, while Thursday nights are for beer or wine tastings.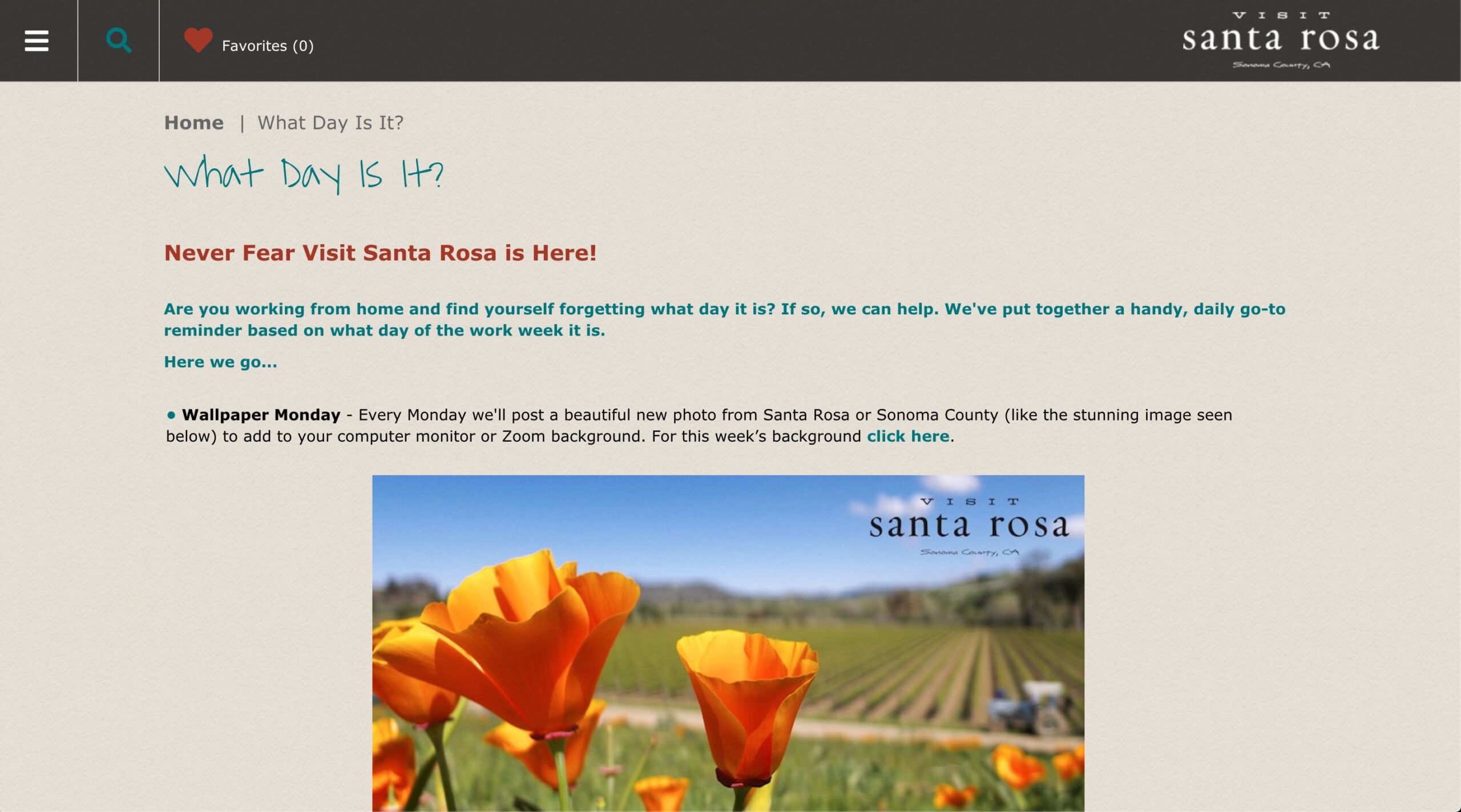 Ideas for virtual events:
List events hosted by you and your partners on your website.
Encourage local businesses to get involved. Help them showcase their customers and partner with complementary businesses that target the same customer.
End your event with a CTA. Maybe you want them to subscribe to your content or follow your DMO on Instagram. Or maybe it's a business that wants to promote its subscription.
6 | User-generated content
As things change quickly, give people an accurate picture of what it's like at your destination or travel experience using UGC.
UGC shows people when it's safe to return to restaurants or visit surrounding cities.
UGC helps put your community front and center.
People trust UGC, and it's created every day by the people in your destination. All you have to do is tap into it.
For example, North Alabama put together affordable road trip itineraries for when things open up again. They're using UGC galleries to showcase unique imagery at each stop.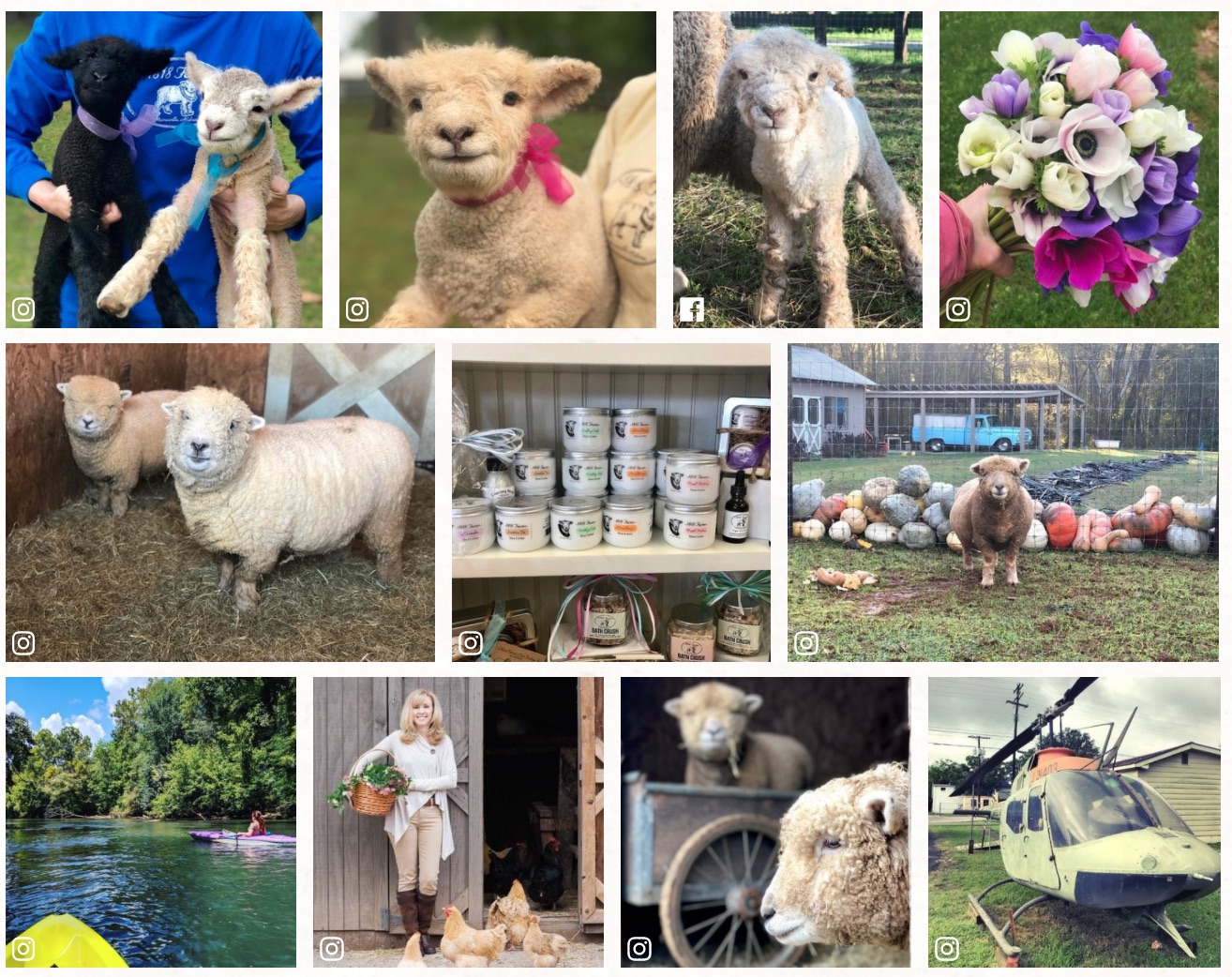 Rather than a perfectly curated image, the UGC shows what people can actually expect at each stop right now.
Ideas for UGC:
Focus on images that showcase your destination as it is right now.
Know when you can or can't use someone else's content.
If you're using CrowdRiff, source UGC from hashtags and your partners.
Have a low-cost marketing idea we missed? Let us know on Twitter or Facebook.
Image credit: @cyxapppik