As a travel marketer, you recognize the importance of great imagery and the influence it can have. A library of compelling photos and videos means you're never at a loss for authentic and inspiring visuals for your marketing.
Public Uploader is one of CrowdRiff's simplest yet most powerful tools for building a library of high-quality visuals. It lets anyone in your community add photos and videos directly to your CrowdRiff library from any device.
Consider these scenarios:
A professional photographer you frequently collaborate with needs to send you a new batch of photos you just commissioned of your best outdoor activities.
You want to run a photo contest on social media to get more high-quality imagery, and need an easy way for participants to submit their entries.
Your resort is frequented by an older demographic that isn't super active on social media, but you still want to get photos from one of your most important target markets.
CrowdRiff's Public Uploader lets you handle every one of these situations — quickly, easily, and with minimal effort on your part.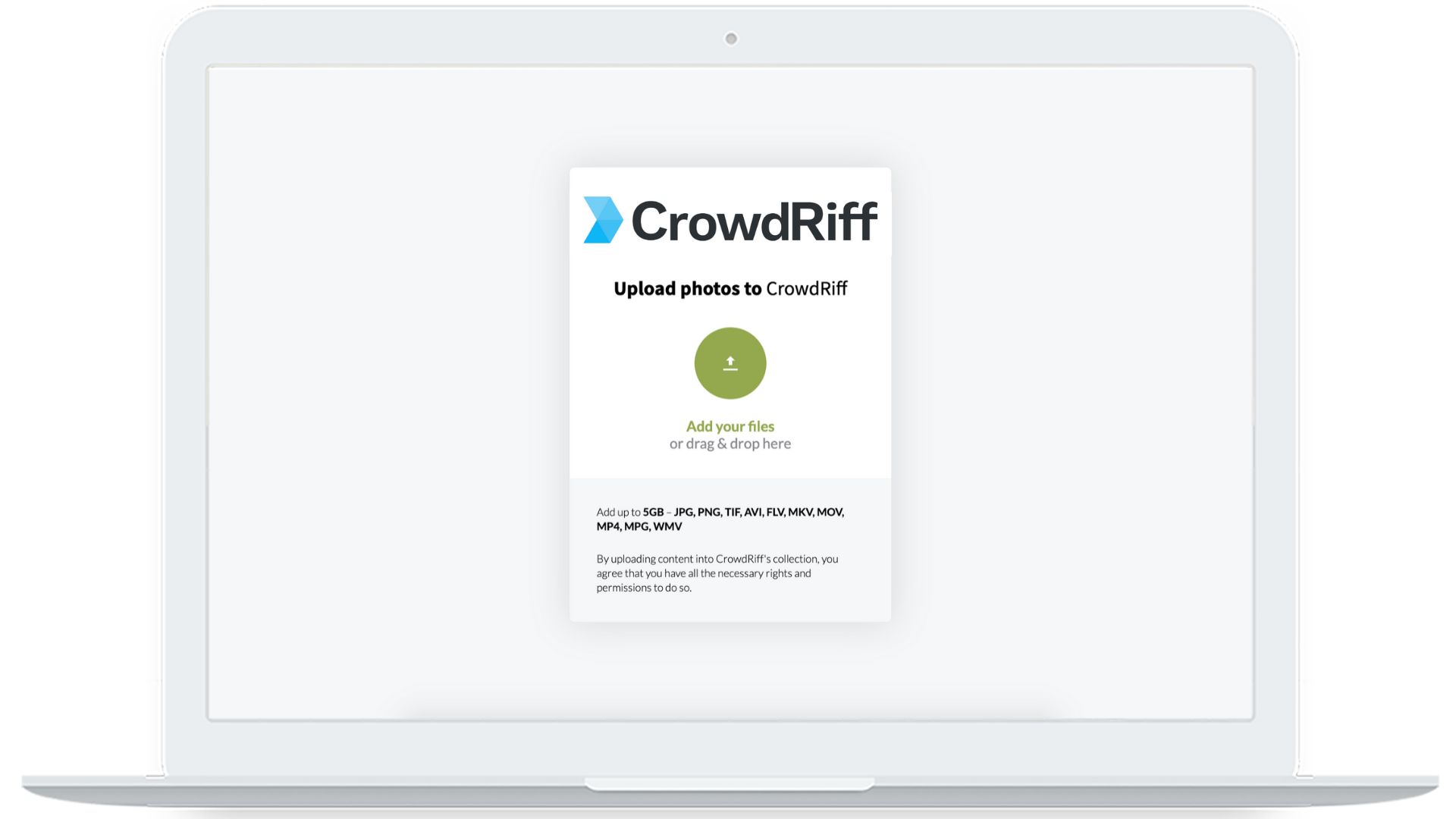 An example of CrowdRiff's own Public Uploader. Public Uploaders can be custom branded.
New: custom Public Uploader links make it easier to track your visuals by campaign, channel, and contributor
It's now even easier to keep track of the photos and videos that are added to your library with the addition of custom Public Uploader links.
You can create an unlimited number of unique URLs that can include any keywords you'd like. Those keywords will then be added to any photo or video uploaded to your library using that link.
Now, instead of sharing the same link with everyone, you can create multiple links that are customized to specific channels, contributors, or campaigns. This means you can better manage, organize, and find the visuals that have been added to your library.
For example, maybe you're running a social media contest. You could create a link with "Winter2020PhotoContest" in the URL. This means that "Winter2020PhotoContest" would be a keyword automatically added to the images uploaded via that link, so you can track the contest submissions and easily find them in your library by searching for that term.
With custom Public Uploader links, you can:
Quickly track and find your visuals. Before, you would only know a contributor's contact information and that an image was submitted via Public Uploader — not the channel it came from or whether it was tied to a specific campaign or contest. Now, you can easily surface the visuals you need with a simple search for the keywords in each link, so it's easier to attribute the visuals in your library to their source.
Easily organize visuals from photographers and your most frequent contributors. As a destination, resort, or tour operator, you likely work with some professional photographers. This update makes it easier to organize the visuals submitted by each of your partners, as you can create separate, custom links for every project they take on.
Streamline photo contests and quickly find submissions. Rather than having to manually add a contest-related keyword to every entry, Public Uploader does it for you. You can search and filter your library by campaign, so it's easier to find and use the photos and videos submitted, as well as evaluate the success of the campaign.
Public Uploader is a great way to grow your content library, save time, and get high-quality imagery. With custom links, it's now even easier to use, and you can better find and manage the visuals you receive.