How can you make your destination stand out year-round?
Travel Iowa used to produce just one annual guide that came out in January. Last year they decided to do both a spring/summer guide, released in March, and a fall/winter guide, released in September, allowing them to promote more seasonal travel.
User-generated content plays a critical role in making their guides more authentic and filling gaps in photo inventory.
"They're not staged photos we took, but actual travelers or locals' experiences in Iowa," says Jessica O'Riley, Tourism Communications Manager.
While her long-term goal is to have the majority of the photos be UGC, she started with a smaller goal of finding images for the 10 travel areas' openers, the large image before each of the area sections. Using CrowdRiff for last years' fall guide, she sourced seven of 10 travel area openings, a few images to highlight on the back page of the guide, and "an absolutely stunning cover image."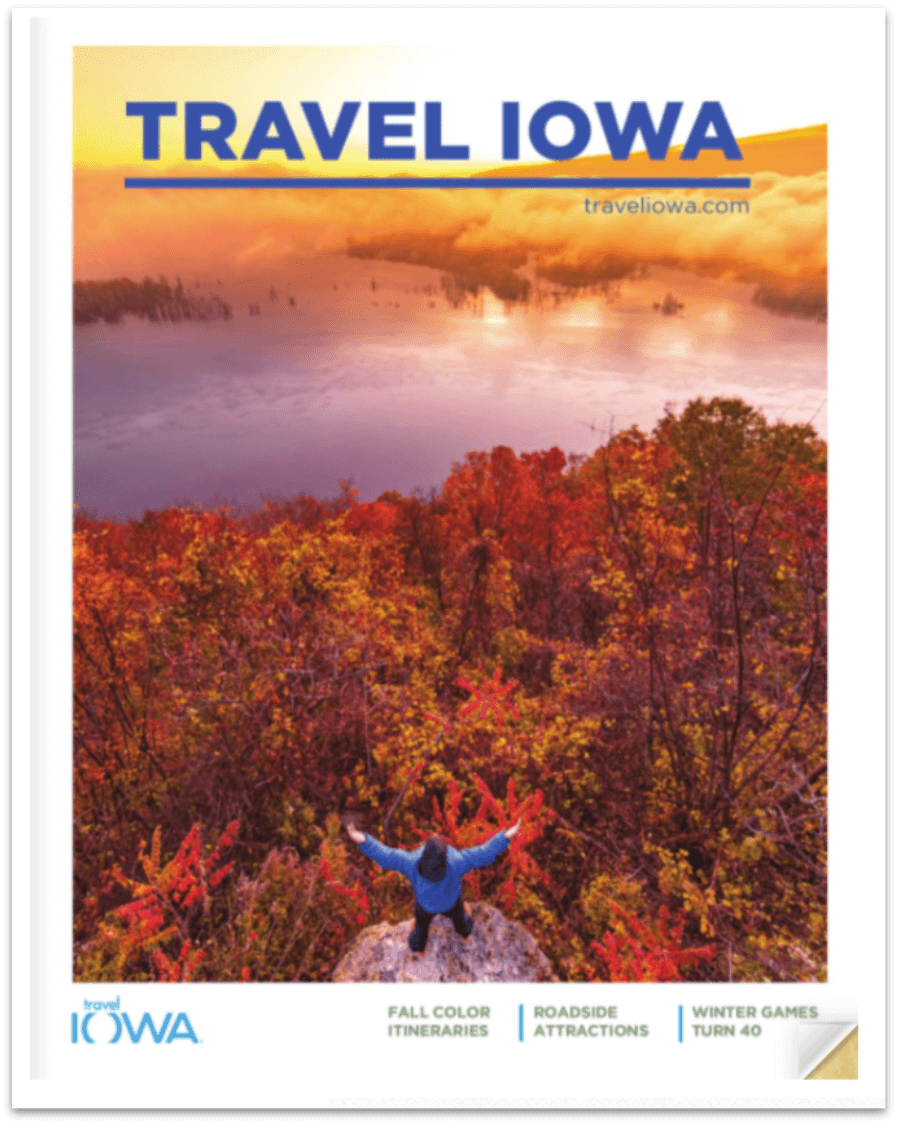 Using CrowdRiff's Collector to gather high-resolution images
Jessica uses CrowdRiff's Collector, a feature to get visuals from your community into your CrowdRiff library, to gather the high-res versions of images she wants to use in the guide.
Here's the process she uses:
Pull in content through popular hashtags. Travel Iowa uses #ThisIsIowa, #Iowa, and #IowaOutdoors.
Send a rights request through CrowdRiff's hashtag rights app to the original photographer.
When they say yes and it's an image you want to use, direct message them on Instagram (or another social platform) asking if they wouldn't mind sharing the image via a Collector link.
"I say 'hey, thanks so much. If you're open to sharing a high-resolution photo would you mind putting it in this collector so we can use it down the road?'"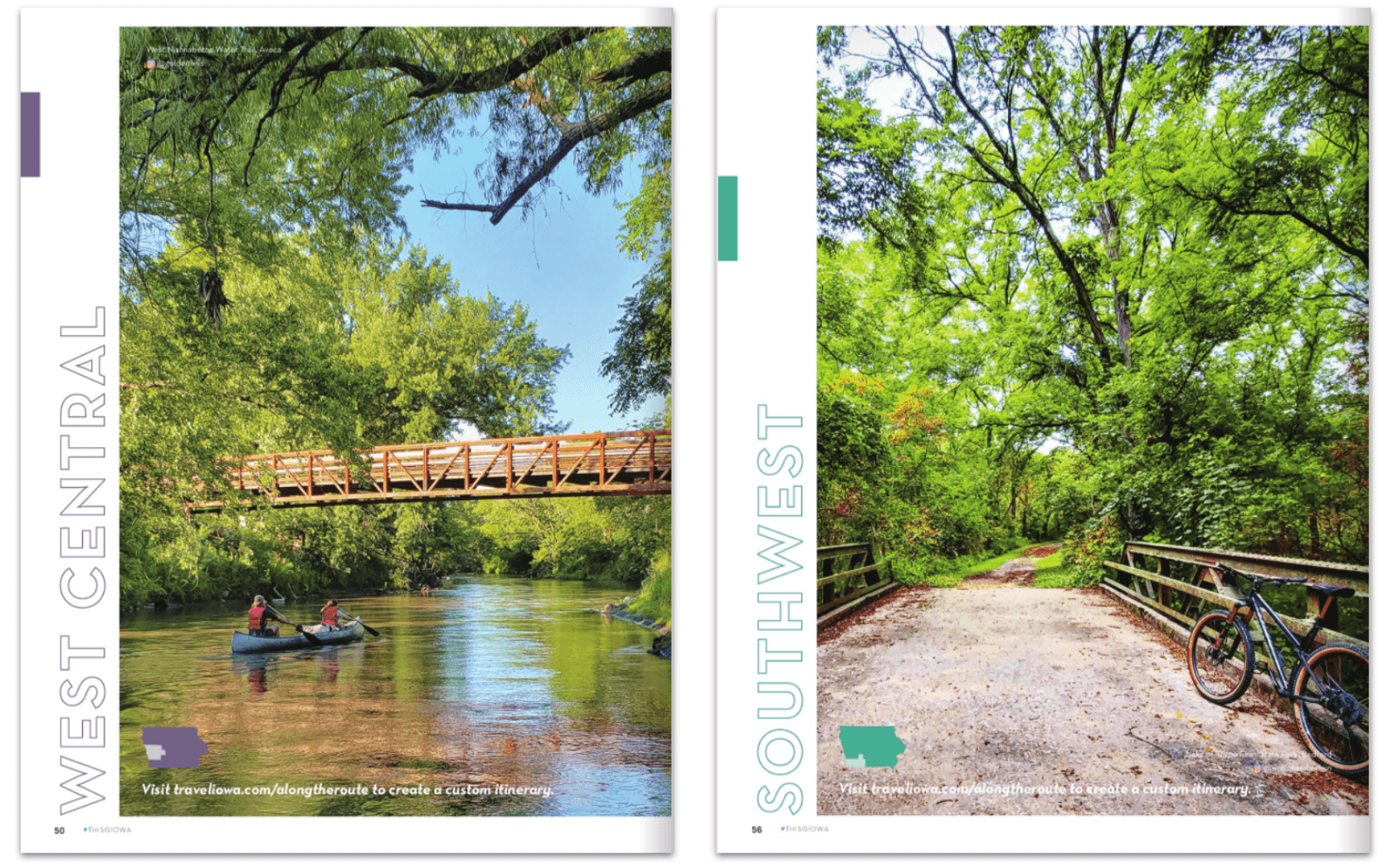 One tip she has for other DMOs is to plan for the images you'll need in advance. If you see a stunning photo you could use in next year's spring/summer guide, ask for it now!

"Without UGC, the guide wouldn't have the same flair"
Jessica says having UGC in the guide really elevates the experience. "Without UGC, the guide wouldn't have the same flair or authenticity."
"We've gotten several handwritten notes from people about how much they love the travel guides and how good they look. I have to contribute it to the photography that we're using because it's a stunning guide."
After the guide comes out, she'll DM all the photographers whose images they've used and send them a link to the guide, thanking them for their photos. Jessica says they're very appreciative to see their photography in print, especially because they get a photo credit. They will also often share the guide on their social media channels.
CrowdRiff has been "an incredible time saver"
Travel Iowa doesn't just use CrowdRiff for sourcing imagery for their travel guides. They also use CrowdRiff to:
Source UGC images to keep their social media channels active
Power 100+ UGC Galleries on their website to promote unique experiences
Share images in Media Hub for the press to download and promote Travel Iowa
Gather high-resolution images from locals, travelers, or their tourism partners with Collector
Jessica says CrowdRiff has been "an incredible time-saver," especially with the travel guides.
Before using CrowdRiff, all of their digital and social media assets were in separate places. Now they are hosted in one place and automatically tagged with relevant keywords, making them easy to search and use at a moment's notice.
'I was just blown away by what people were doing with CrowdRiff'
As much as CrowdRiff has been an important tool for Travel Iowa, Jessica says it's the community that has inspired her to do more. She just started using the platform before attending the annual user conference, SEE, in 2019.
"I was just blown away by what people were doing with CrowdRiff. I realized we were only using a tenth of this amazing opportunity. My goal was to use CrowdRiff as much as we could. I've been diving in and learning from what everyone else is doing."
"Even the virtual SEE conference was fantastic. I love hearing what other DMOs are doing because then I see how I can use it too. Learning from what other destinations are doing has been invaluable."