What kind of feeling are you trying to evoke in your marketing right now?
If it's not joy, inspiration, and honesty, you could be missing the mark. 
Recent data shows that travelers find ads with these tones most appealing. At the same time, travelers also want to see content about how DMOs and travel brands are prioritizing their health and safety. 
If you're like most travel marketers, you're swimming upstream, with increased pressure and reduced resources. How do you know where to double down, and where to pull back?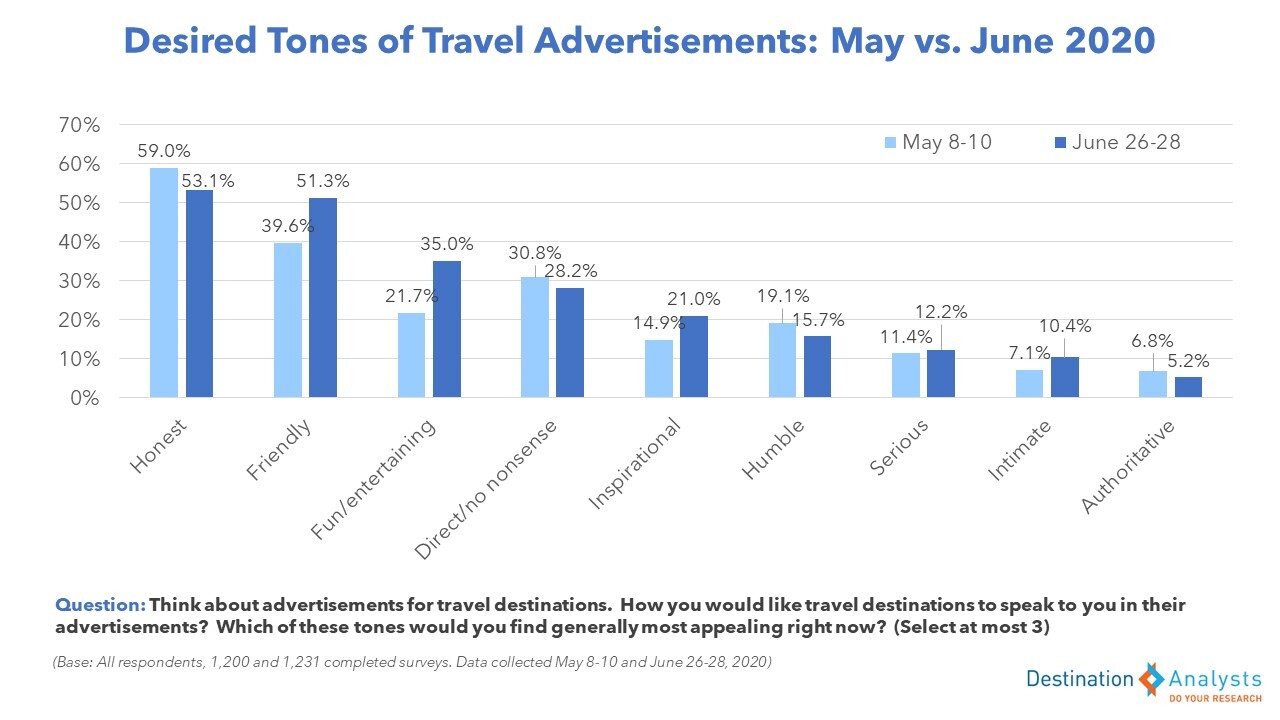 Source: Destination Analysts
The benefits of user-generated content 
With pressure to do more with less, more travel and tourism marketers are realizing user-generated content is more than just a nice to have. While social media managers have always seen the value in UGC, people higher up in the organization now understand UGC is a powerful tool to engage locals and future travelers. Here's why:
UGC makes your message more trustworthy. It's one thing to say you're keeping people safe, it's another to show them how. UGC is unfiltered, giving people an accurate picture of what's happening in your destination or at your travel experience right now.
UGC gives you the tools to amplify and support your partners. Show who's open, promote special offers and drive traffic to partners and stakeholders using local and regional content. 
UGC can replace gaps from budget cuts. UGC gives you access to an unlimited supply of beautiful, engaging visuals you can use to power every marketing channel. 
UGC is the voice of your community. Invite locals into the conversation, put them front and center in your marketing, and share stories of positivity, resilience, and how people are respecting social distancing at your destination or travel brand.
Now that you know the value of UGC, let's look at creative ways travel brands are taking their UGC further.
Getting the most out of your UGC
Scroll through the following examples to get inspiration on how to do more with your UGC.
The higher the number, the more effort it will take your team. The estimated completion time assumes you already have your CrowdRiff platform set up, and have a robust library of rights-approved images you can use. 
And while not every example is directly relevant to issues around COVID-19, we recommend you think about how you can make each idea your own given the unique goals, size, and position of your organization.
If you have an example we should know about, let us know in your Community Stories Hub!
1 | Create UGC web galleries from your Instagram Stories
Estimated completion time: 15 minutes
Did you know that Instagram Stories are growing 15 times faster than regular feed sharing? What's more, is that half a billion people open their IG Stories every day. If you aren't already using this channel, now is a good time to start. 
If you are using IG Stories, consider reusing your content in a UGC gallery on your website. It's a low-cost, low-effort way to cross-promote your offers and drive engagement across channels. 
Pre-COVID-19, Explore Georgia partnered with a local influencer to create social media content, including IG Stories. CrowdRiff automatically pulls your IG Stories into your library, so it only took the team a few clicks to create a gallery from them. Then, they embedded the gallery into a blog post promoting the food scene in Thomasville.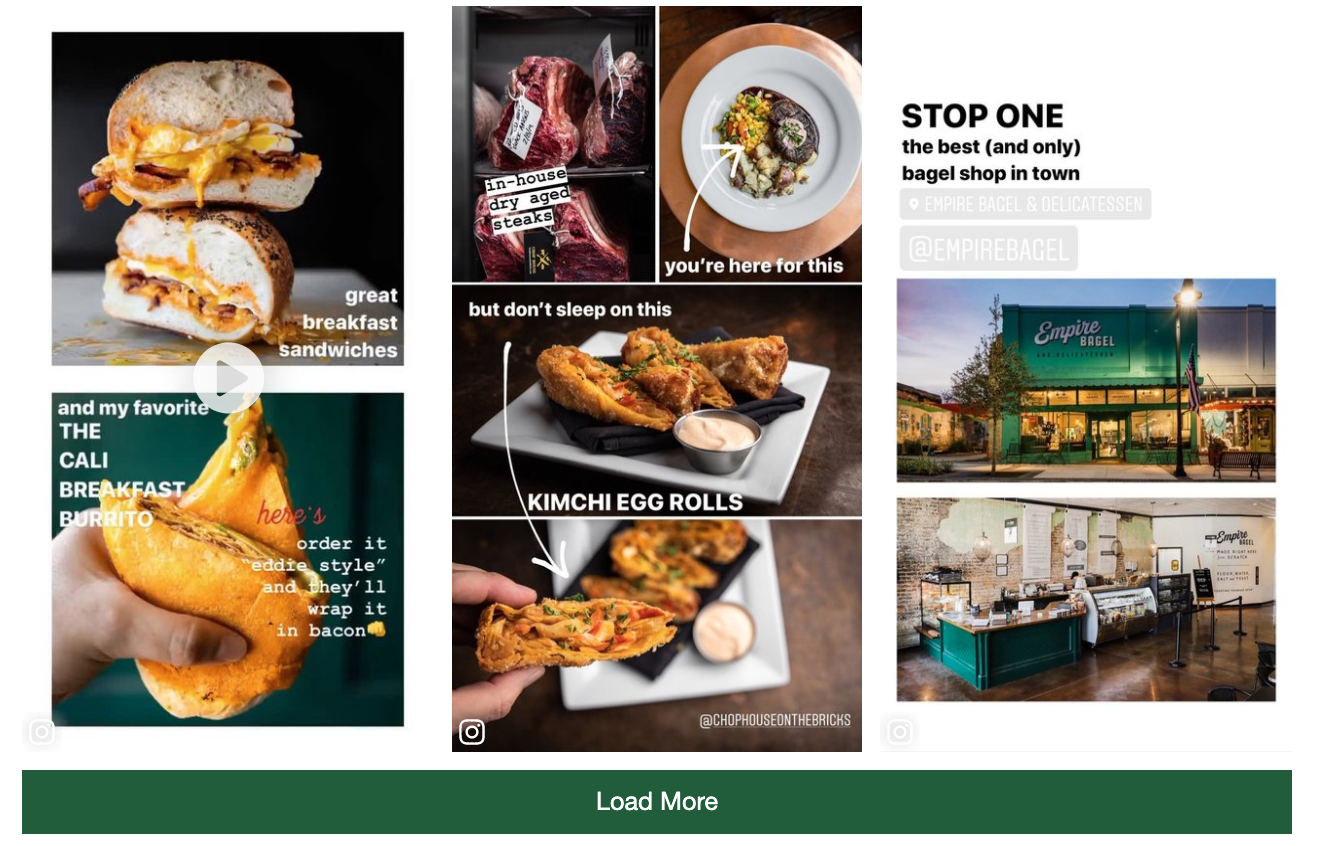 Try it:
Make a list of partners and local businesses that are open in your area.
Ask them to make an Instagram Story promoting their offers, and how they're maintaining safe social distancing guidelines. 
Create a blog post about local businesses in your area. Make a Stories gallery for each (or a few) of your partners who are reopening. 
Take it a step further and turn the images in the post into an Instagram Highlight!
2 | Repurpose UGC in your social media ads 
Estimated completion time: 30 minutes to several hours
If you have the budget for social media ads, repurposing your top-performing rights-approved assets can create the honest yet inspirational tone travelers are looking for. 
UGC has also been proven to drive engagement, boosting click-through rates by up to 3X. 
Use this video ad from Visit Indy for inspiration. The team used UGC sourced from CrowdRiff to promote their Top 25 restaurants pre-pandemic on Facebook and Instagram Stories.
Try it:
Source content around a related theme like food, nature, or beaches. Use local hashtags to bring in relevant content.
Get the rights to the images or videos you want to use. Remember there are various kinds of ads on Facebook and Instagram: video ads, carousel ads, single images, etc. If you want to put together a video ad, you'll need the rights to at least 10-15 images for a 15-second video. 
3 | Mix it up with a Jigsaw puzzle 
Estimated completion time: 1 hour
Throughout the pandemic, locals and visitors have sought out fun, stay-at-home-activities.
Some DMOs have ingeniously created a way to deliver entertaining content while bringing awareness to local attractions and celebrating local user-generated content.
Visit South Bend created 10 digital puzzles featuring some of The Bend's iconic attractions and beautiful landscapes. They used CrowdRiff to source the UGC and obtain the rights.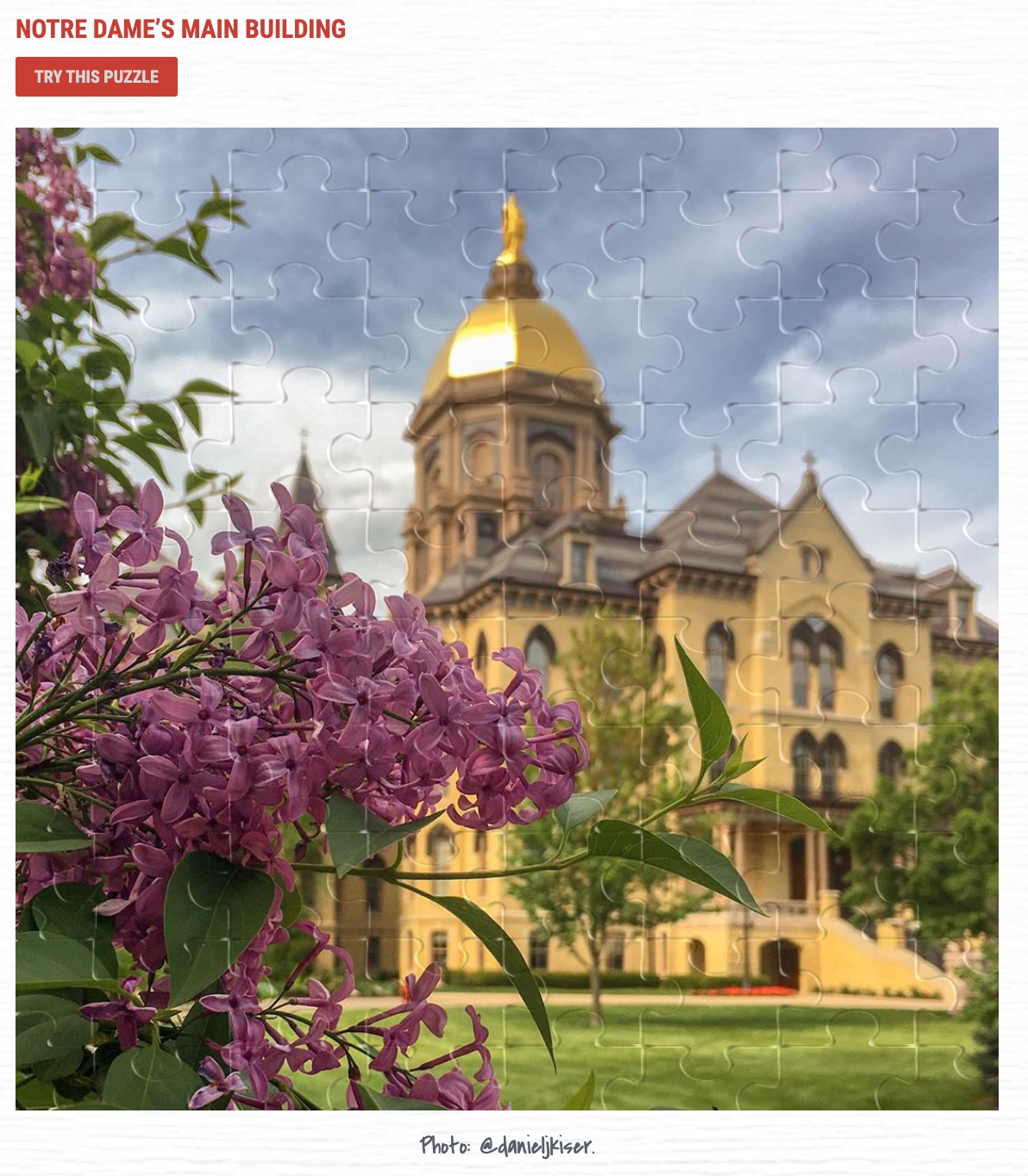 According to Visit South Bend, it's been the most popular piece of content they've released during the pandemic. Locals in particular have embraced it.
Try it:
Identify any relevant, regional hashtags, and add these to your tracked hashtags. For example, Visit South Bend is pulling content from #OnlyinTheBend #MondaysCanWait.
Search these terms in your CrowdRiff library. If you're looking for content about food, for example, narrow your query using Intelligent Search.
Request the rights for the images you want to use. 
If you have your own photography or designed graphics you'd like to include, upload these images to your CrowdRiff library.
Download the images from CrowdRiff, and upload them to a digital jigsaw creator like Jigsaw Explorer​ or ​Jigsaw Planet.
4 | Feature UGC in print ads and banners 
Estimated completion time: 1 hour (plus the time of the printing) 
If print ads and/or banners are still on the table for your DMO, consider UGC as a way to keep your costs down.
Ontario-based tour operator Hornblower Niagara Cruises uses CrowdRiff to attract travelers from around the world. 
Pre-pandemic, they also advertised locally, as you can see below.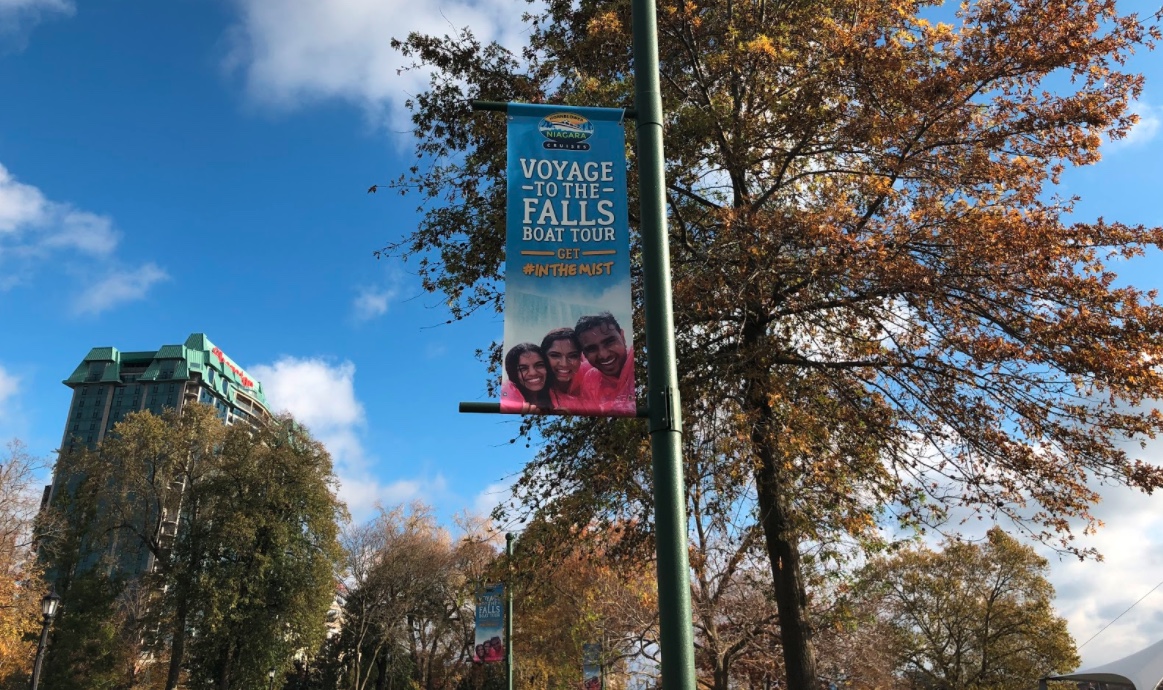 One night, the person who you see in this lamppost banner was walking in the neighborhood and came across his own picture. 
He took a photo of himself and shared it on his Instagram Story, tagging Hornblower Niagara Cruises!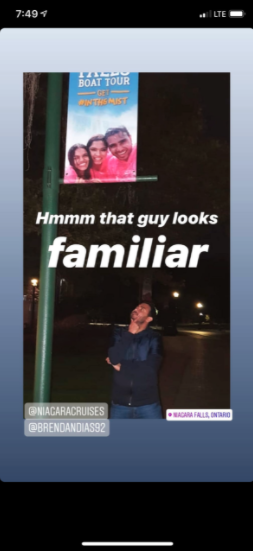 Try it:
Reach out to the original photographer and ask them for a high-resolution image to use in your print or banner ads. Often, this can help you spark a longer-term relationship with them around using their photography. One word of advice: Be mindful of asking professional photographers to use their content without some form of payment.  
5 | Use UGC in your visitor center (photo wall)
Estimated completion time: 2 hours
As visitor centers around the world reopen, consider how you can use UGC to improve someone's first (or repeat!) experience when they come to your destination.
Display a UGC photo or video wall to give people ideas on what to do locally, show how partners are adhering to safety guidelines, and showcase uplifting and inspiring adventures past visitors have had.
We love this panoramic photo wall in Zürich, Switzerland's main tourist information center (inside the county's largest railway hub!), which they displayed prominently pre-pandemic.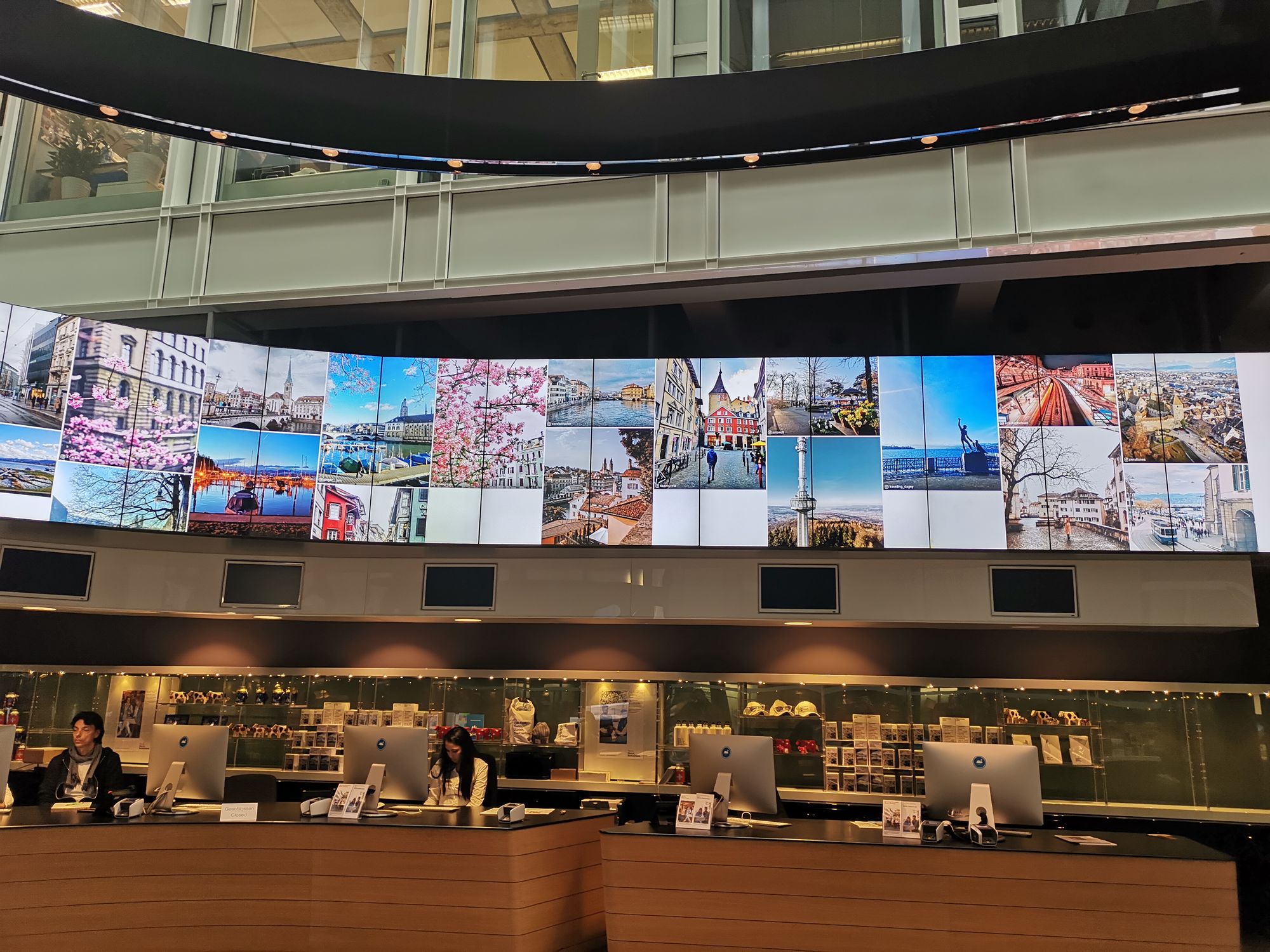 Try it:
Look for images in your CrowdRiff library around road trips, outdoor adventures, and content showing how you and your partners are maintaining health & safety guidelines.
Request the rights to these images and create a photo wall app, which are galleries that have been specially designed for large-screen displays.
Once you customized the elements of your photo wall, CrowdRiff will generate a link for you. Then, all you have to do to get your photo wall up on the screen is open your favorite web browser and drop in the link!
6 | Share UGC with your partners and the media
Estimated completion time: 4 hours
What better way to take your UGC further than to share it with those who need it most?
You can help regional or local partners and stakeholders better promote their region or offers by supplying them with fresh, relevant UGC for their marketing. 
With more media outlets and bloggers looking to use authentic social media imagery in their stories, the ability to let them easily find and embed these images is critical, especially as your destination reopens.
Ascona Locarno Tourism uses CrowdRiff Media Hub to share images their regional partners can download and use, granted they have the right permissions.  
Explore Georgia uses the Media Hub to share images with journalists, bloggers, and even locals (check out their UGC Zoom backgrounds!).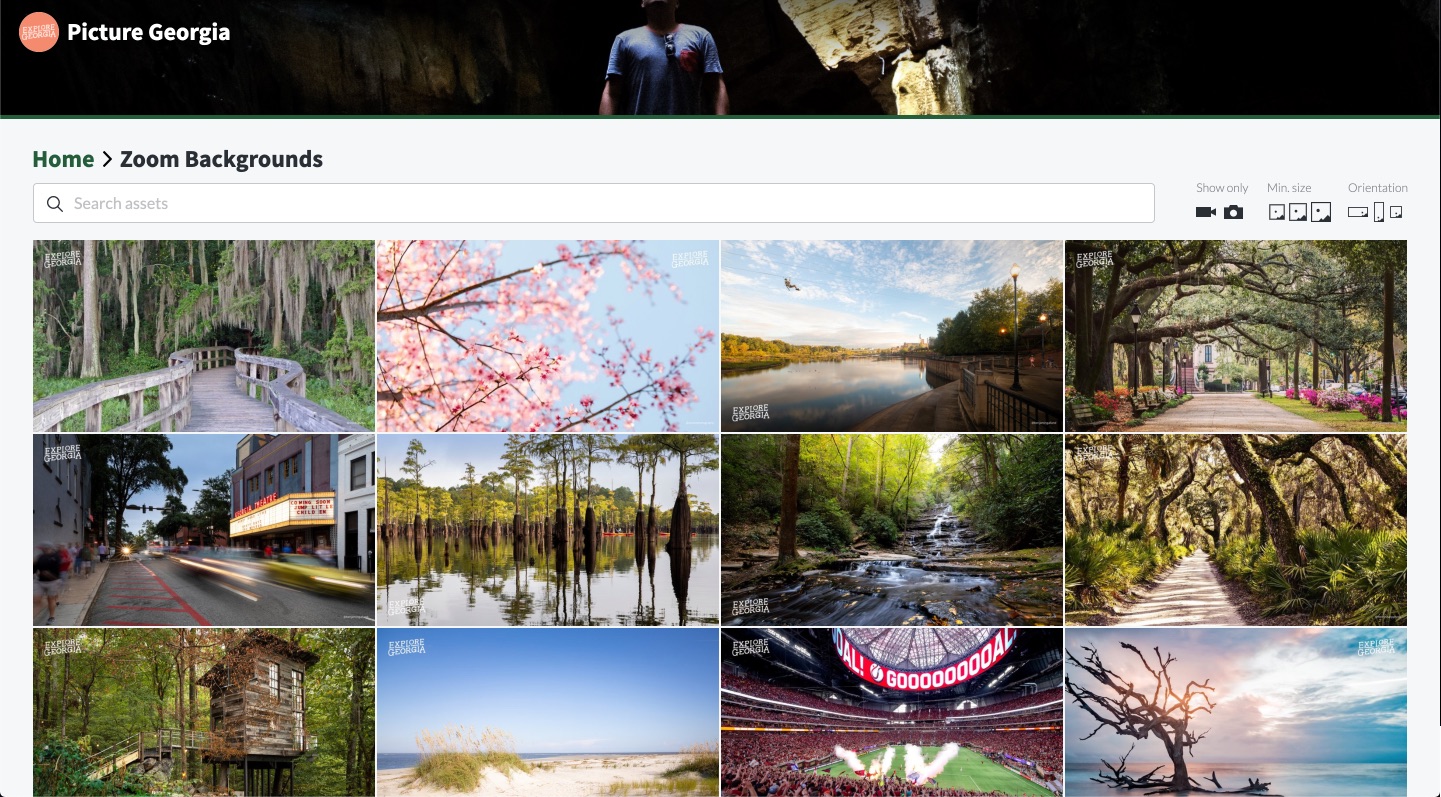 Both brands have beautifully branded libraries that are organized into different collections based on regions and campaigns. 
Try it:
Note: You'll need an Advanced Media package with CrowdRiff to share visual content with journalists, bloggers, influencers, and partners.
Add owned or UGC images to an album and toggle the album to be in your Media Hub. 
If you want to engage locals, share things like Zoom backgrounds, games, and activities. 
If you're sharing with partners, create albums for regions and generic activities like hiking, eating, and sightseeing. 
If you're sharing with the media, curate social and owned photos that show your destination the way you want to be portrayed. 
Set appropriate restrictions and permissions and start sharing!
7 | Stitch together a video using UGC images (and quotes!)
Estimated completion time: 1 day
Take regular video content a step further with user-generated video content. In fact, UGC video gets 10X more views than branded content. 
Back in March when stay-at-home protocols were issued, Visit Rochester shared an uplifting message with their community with the following UGC video:
At what was a time of unease, the video sent a message of hope to Visit Rochester's partners and community that would not feel as genuine with purely branded images.
As California reopens, Highway 1 Discovery Route released a video promoting solo travel, featuring UGC from around their community. The UGC images paired with quotes from real travelers help reinforce the social proof that the area has more than enough space to welcome adventurists safely. 
Try it:
If you already have the rights to the content you want to use, simply repurpose the images. Use a tool like iMovie, TimeLapse, or Magisto to quickly combine a series of images into an edited video.
For an extra punch, reuse visuals that have received a lot of engagement on your social media channels or your website.
Repurpose the video in your email newsletter, like Visit Rochester, or on your social media channels.
8 | Build a UGC-powered map
Estimated completion time: 2-4 days
There's no better way to help visitors and locals know their way around a destination than a map.
UGC adds social proof to your map, so people know what to expect at each location. As you know, this is more important than ever before. 
Visit Turku built a map using the CrowdRiff API that shows things to do, attractions, restaurants, and landmarks around their city. Even though they build the map pre-pandemic, it's something they can easily update to show the most up-to-date photo and videos at each location.
When you click a point on the map, you'll see UGC that was sourced through CrowdRiff and more information about that place.
Try it:
Note: You'll need a developer on your team to create this experience.
Talk to your CSM or book a demo to build a UGC-powered map with CrowdRiff.
9 | Generate a trip planner
Estimated completion time: 2-4 days
Giving people an itinerary is one thing, giving them the tools to choose their own adventure is another.
Visit Long Beach's trip planner allows people to scroll through Instagram photos to discover things to do.
When you see something that catches your eye, you can see where it is on a map, and add it to your trip plan.
All the photos are rights-approved UGC, populated using the CrowdRiff API.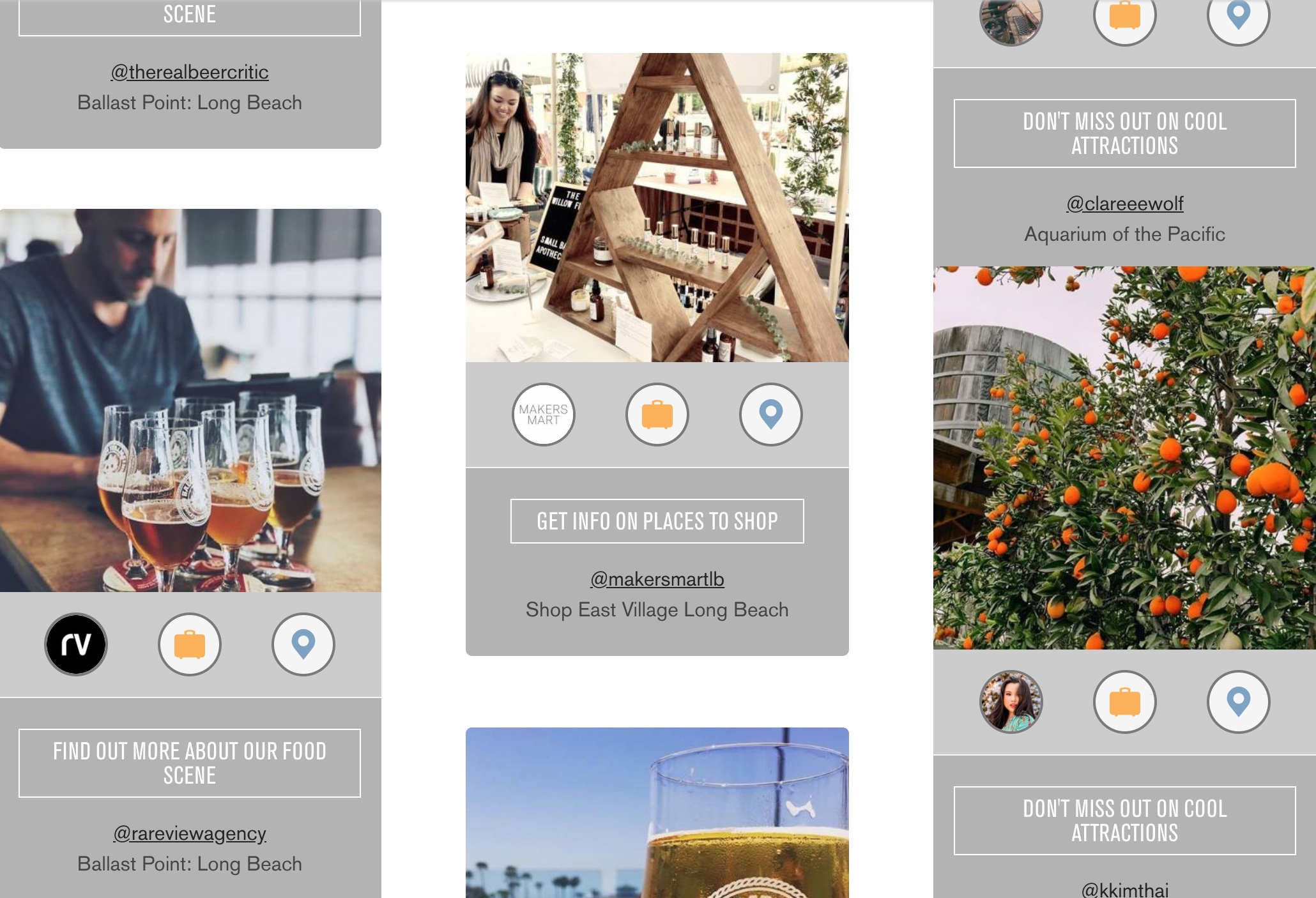 Try it:
Note: You'll need a developer on your team to create this experience.
Talk to your CSM or book a demo to generate a trip planner with CrowdRiff.
10 | Organize regional or persona-based road trip itineraries
Estimated completion time: 1 day to several weeks
While some travelers like choosing their own adventures, others look to itineraries to dream and plan vacations.
Almost one-fourth (23%) of American travelers say they want ideas for things to do and see in-destination, 17% want a fun itinerary, and 15% want road trip ideas. 
Itineraries are also a great way to drive foot traffic to your partners who may be opening up.  
Estimated completion time: 1 day
Melea Hames, social media manager, Alabama Mountain Lakes Tourist Association put together a "when business returns to normal" blog series that covers four areas of the region. Each post includes a short itinerary using CrowdRiff galleries to showcase unique imagery at each stop.
For leaner teams without the resources to create a more interactive experience, a series of blog posts is an effective way to highlight your partners and give people more direction when traveling to your destination.
Tourism Vancouver Island road trips
Estimated completion time: Several weeks
The team at Tourism Vancouver Island put together this stunning road trip experience using UGC galleries, and interactive Google Map. They feature popular trips that end or circle through Vancouver Island, listing local partners and businesses along the way.
While this size of project may not be realistic for smaller teams, we hope it gives you ideas to borrow when planning your own road trip itinerary right now (like using UGC to highlight local businesses!).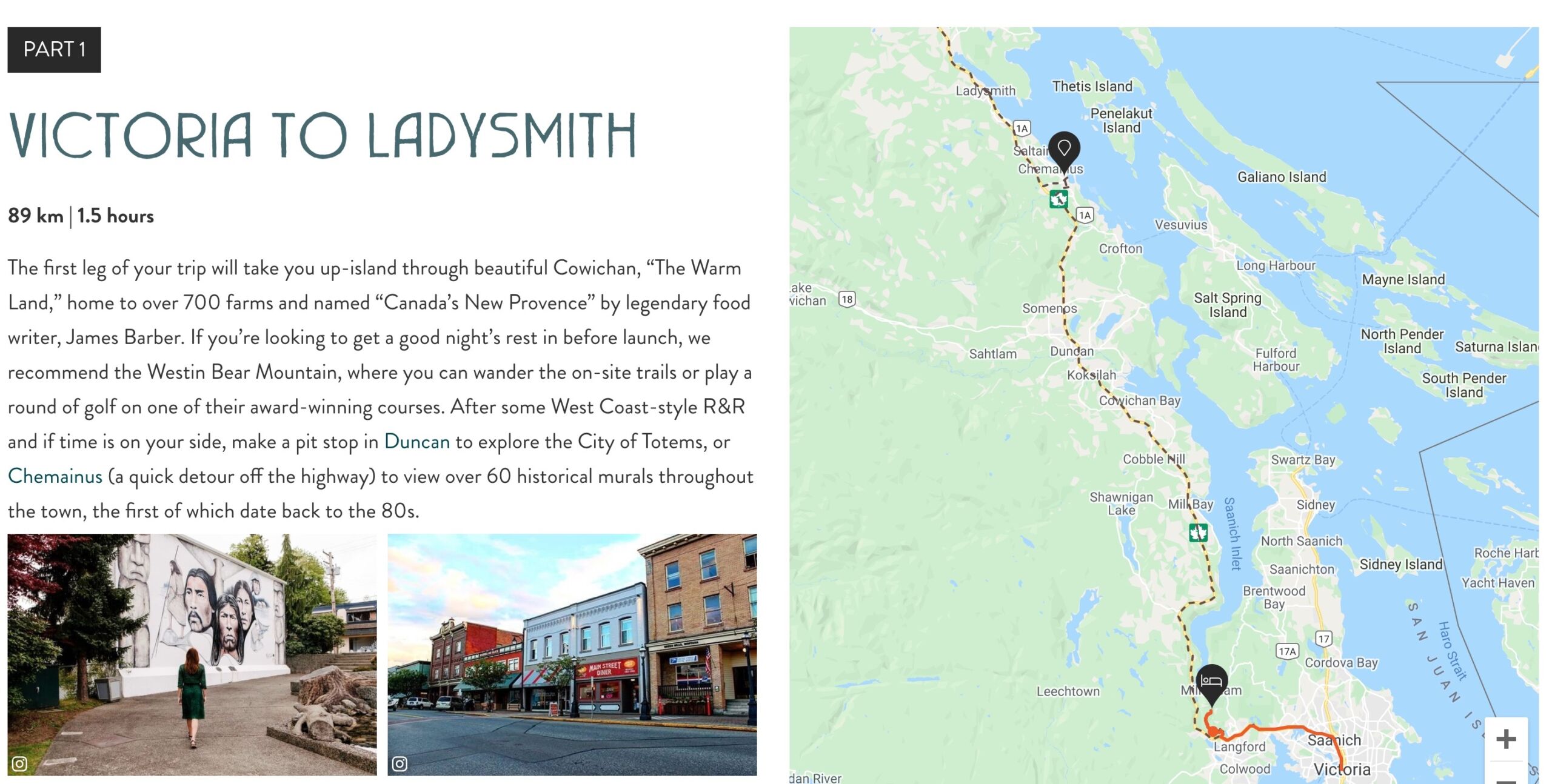 Try it:
Note: You'll need a developer on your team to create Tourism Vancouver Island's experience. 
To create an experience similar to Visit North Alabama, pull in content from popular local hashtags as well as from your partners using Connect.
Build a gallery for each partner, get the rights to the images, and host them on a blog or series of blog posts.
Melea suggests DMOs can tease out the specifics of that region to appeal to certain travelers. For example, the northwest area of North Alabama has many recording studios and an overall "music vibe." 
11 | Power your digital visitor guide with UGC 
Estimated completion time: 1 week
Printed visitor guides published by DMOs are an important resource for trip inspiration and planning. However, with nearly every DMO operating with reduced budgets, physical visitor guides are off the table this year for many.
A digital visitor guide or brochure keeps your audience dreaming, reintroduces your destination to residents, and amplifies your partners, stakeholders, and local businesses.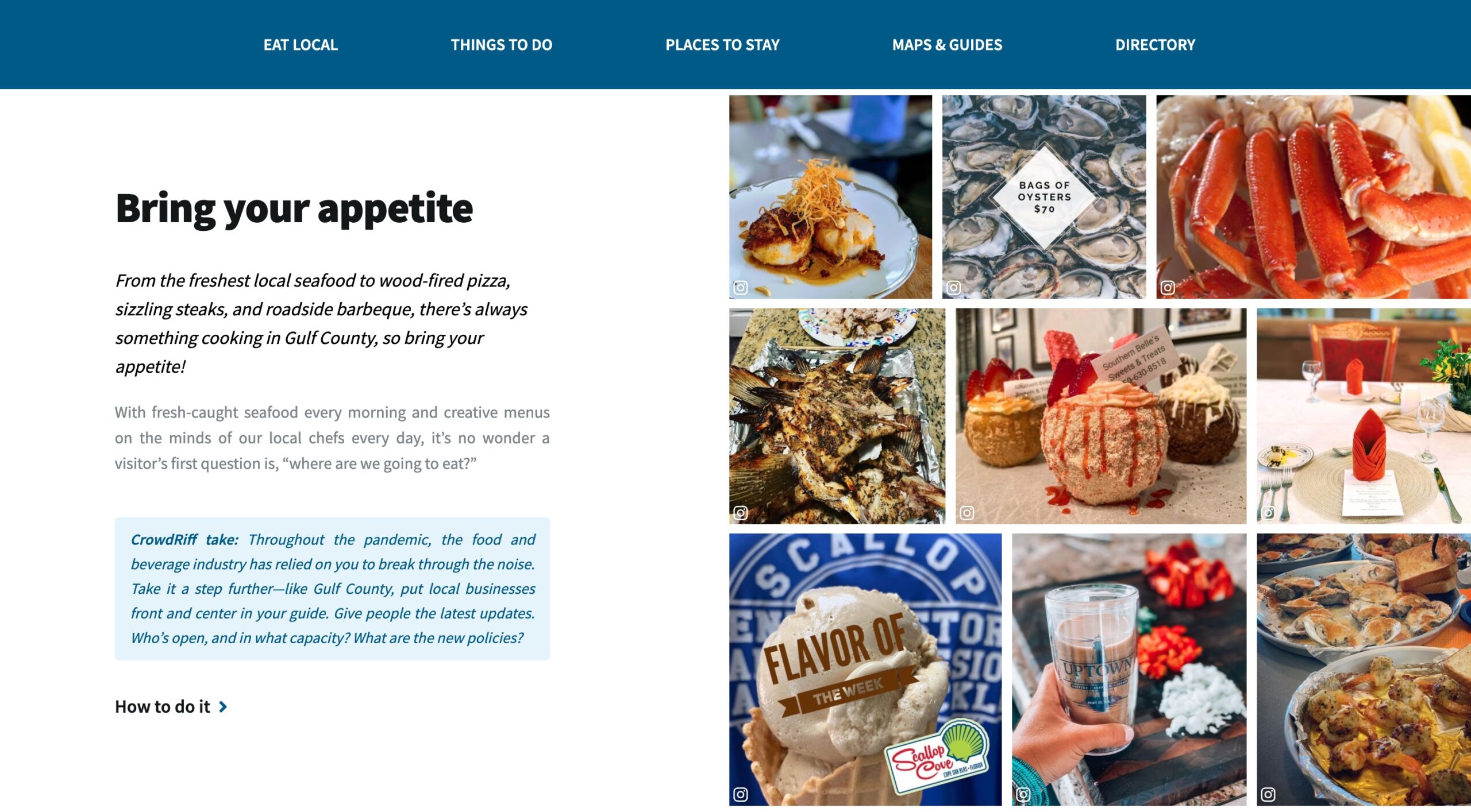 Use CrowdRiff to source timely UGC, drive traffic to your partners, and tell the most accurate, trustworthy story of your destination as it stands today. 
The best part? As rules and restrictions around reopening change, swapping out the images in your galleries is as easy as a few clicks!
Try it:
If you don't have a developer on your team to create an interactive digital experience like the above, consider a series of visual blog posts. One can be on where to eat, another on what to do, and another on where to stay. 
If you do have a developer on your team, follow the instructions in this blog post and in the guide to create a similar experience. 
A note about getting rights to UGC
Before you start putting the photos and videos you find on social media to work, we recommend that you get explicit permission from the creator before using UGC in any channel. This includes:
Using a visual in a gallery on your website
Embedding visual on your website
Using a visual in your Media Hub
Reposting a visual on your social media channels
Using the photo in digital or print ads
Keep in mind that once you have the rights for a piece of content, its potential vastly increases. As you've just read, UGC content can be repurposed for just about any marketing channel!
Header image credit: @acoupleofnobodies