With millions of posts and Stories being created on Instagram every day, how do you stand out?
A podcast by Facebook found that Instagram has a noticeable impact on how people plan their trips: 70% of travelers use Instagram to share their travel plans, 67% use it to find inspiration for new journeys, and 61% find things to do on Instagram while they're traveling.
We've rounded up the top examples from other travel brands so you can boost engagement and keep your visitors inspired.
1 | Instagram Guides
Instagram Guides are the platform's format for curated, snackable content. They're an easy way for you to share places, tips, and recommendations with travelers and locals.
You can access Guides on your Profile, and share them in Instagram Stories and DMs. They also show up on the Explore Page. Fun fact: Guides were actually created for the tourism industry!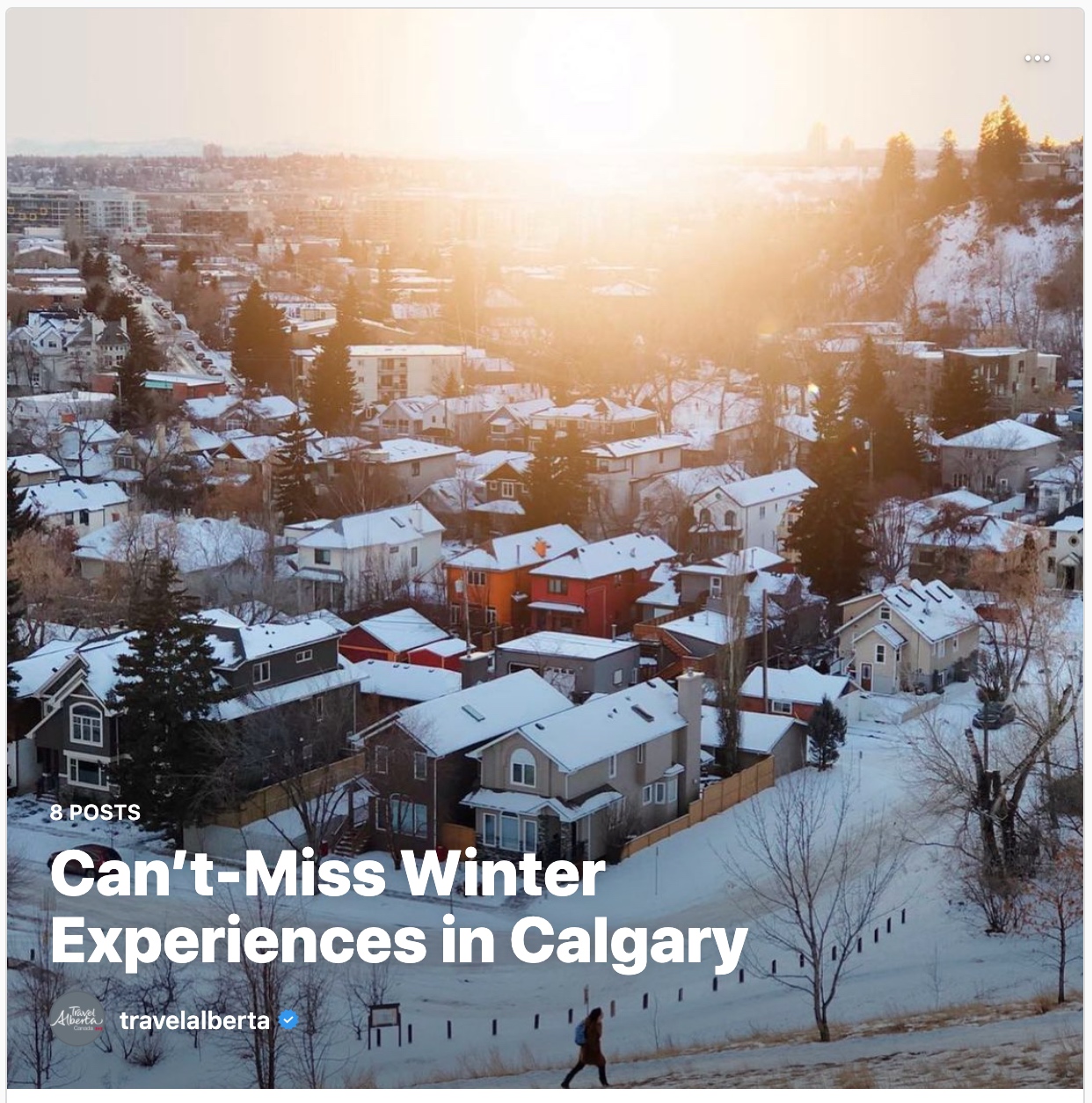 Travel Alberta repurposes website content into Instagram Guides. Courtney Manson, Social Media & Consumer Marketing Specialist, says travel Guides on Instagram are an effective way to give blog posts a new life and more reach.
You can't import photos to Guides, but they're perfect to host user-generated content you already have the rights to. Use Guides to promote seasonal experiences, shop local ideas, and more.
Our advice
With Guides, Instagram users have new ways to consume and discover visual content. This offers a massive storytelling opportunity for DMOs. Though Instagram doesn't currently provide in-depth analytics for Guides, you can still measure the number of Swipe Ups you get on your Stories as a success metric.
2 | Instagram Reels
If one type of content reigned supreme in 2021, it was bite-sized video. TikTok kept taking off, and Instagram Reels saw awesome growth. With Reels, you can record and edit 15-second multi-clip videos with audio, effects, and creative tools.
Travelers can discover your Reels on your Instagram feed, in Stories, and if you have a public account, through a new space in Explore.
Experience Kissimmee tapped into this trend to grow their Instagram followers and engagement. They started by cross-promoting their TikTok content on Reels. Camila Carvalho, Social Media Senior Manager, says some of their Reels were receiving 10,000+ views. Due to the success, they now create content directly on Reels. The social team will cover events in the area and create original content to help support their 900+ partners in the area.
Our advice
Start using Reels if:
You want to expand your Instagram following and engagement.
You are already posting to TikTok (it's low-effort to cross-promote on Instagram Reels).
Your target audience is a younger demographic.
3 | Showcasing local pride
One way to keep engagement levels high during the winter months is with clever campaigns that cut through the noise. Help locals discover new spots around town or inspire them to support businesses by sharing moments of local pride.
Visit Cadillac in Michigan ran an Instagram campaign using the alphabet. They photographed their bear mascot (Caddy) across town to highlight various partners and attractions.
When Visit Greenville in South Carolina ran a similar campaign, they earned nearly 1 million impressions and 34,000 engagements!
Our advice
Naming contests, local listicles, and parading the local mascot around town are all unique ways to keep engagement up right now. If 2021 has taught us anything, it's that creativity and finding new ways to entertain your audience is here to stay!
4 | Meme content
Is there a place for meme content on your DMOs' Instagram profile? If you can find a way to do it and still uphold your brand values, we think so!
After the Bernie Sanders inauguration meme went viral, the San Francisco Travel Association jumped on the trend. They shared a photoshopped image depicting Sanders in socially distanced circles in Alamo Square. The image received almost 22.4K likes and 217 comments, about four times higher than a usual post.
Our advice
Carve out some time every week to experiment. Keep track of your experiments and measure the results. No matter what you do, stay true to your brand identity!
4 Instagram lessons for DMOs right now
The impact of social media on travel inspiration is undeniable. Whether it's testing a new format or messaging style, these five trends will help guide your Instagram marketing:
Using Guides to repurpose web content
Boosting engagement and reaching Gen-Z audience with Reels
Experiment with themed content to boost partners' visibility
Tap into the Internet trends when it makes sense for your brand