fgi
User-generated content can do a whole lot more than just get likes on social. Some of the best tourism marketers are building trust across all of their channels, even with a small library of UGC images to work with.
We've rounded up a handful of innovative DMOs and attractions taking UGC to the next level that you can use as inspiration for your next marketing campaign.
1 | Use UGC as part of an email-based customer journey
It's one thing to say your guests had a great stay at your hotel. It's another to show them! Crescent Hotel in Eureka Springs, Arkansas, is leveraging UGC throughout their guests' email journey. They send two emails from each property: one after booking and the other after the guest checks out.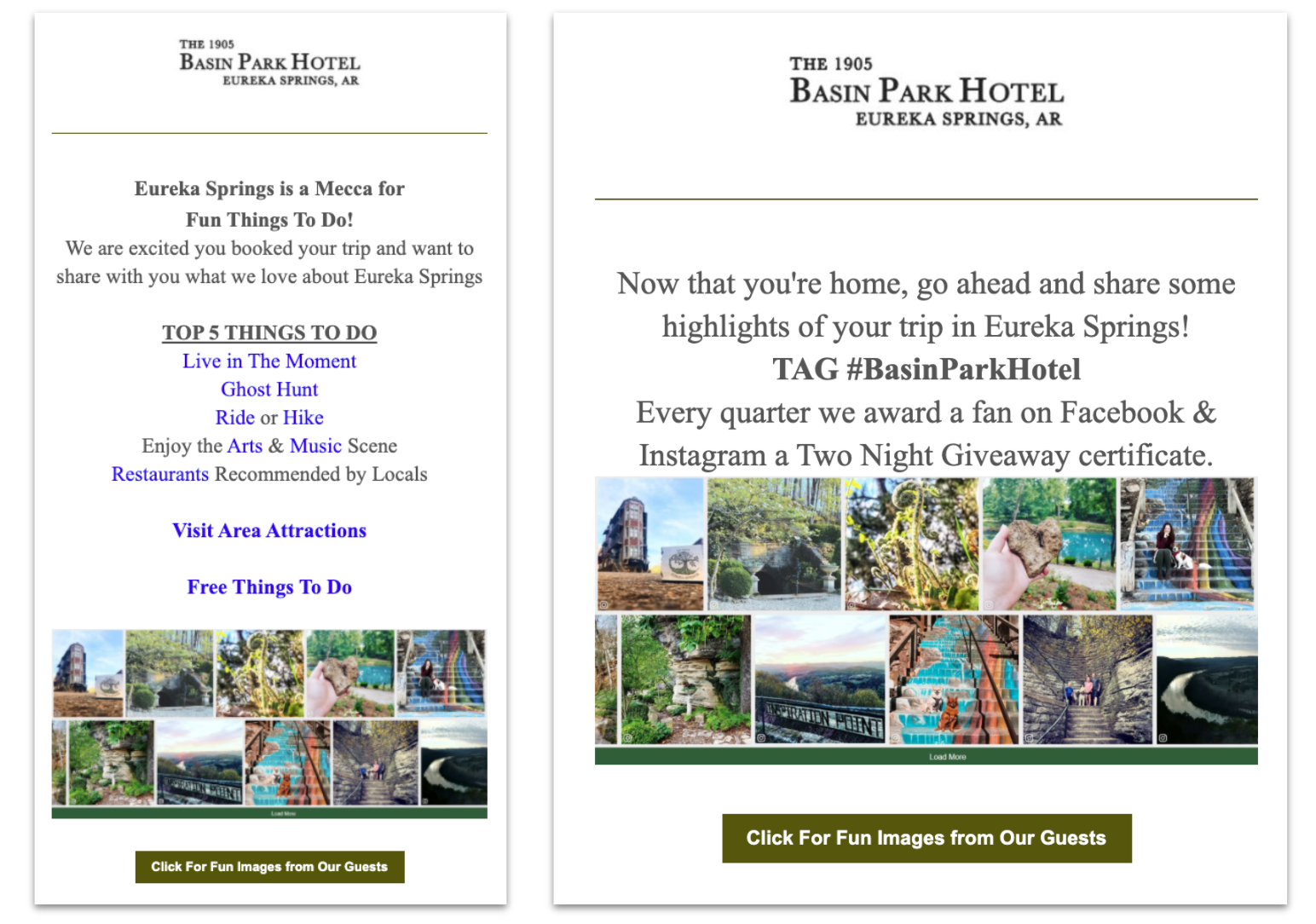 Pre-stay: Sent 3 days after the guest makes a booking

Email: "Top 5 Things You Need To Know About Your Trip"
Purpose: Inspire guests what they can around the property using UGC to showcase local area attractions, free activities, etc.

Post-stay: Sent 2 days after checkout, asking guests to share and tag their photos

Email: "How Much Fun Did You Have? Share the highlights of your trip"
Purpose: Encourage guests to share photos with the hotel hashtag with a giveaway for two free nights
Tips:
Take a look at your visitor or guests' customer journey. What local-area attractions can you showcase with UGC? What can you offer to encourage guests to share their photos with you?
Get the rights to other guests' photos to share in your email marketing.
2 | Feature stunning UGC on your Instagram account
There's no better way to invite your guests into the conversation than by featuring them in your marketing. This also gives people an accurate picture of what's happening at your destination, property, or attraction right now.
Rosemary Square is a boutique outdoor shopping center or "Urban Oasis" in the heart of West Palm Beach. They use CrowdRiff to source and get the rights to photos they repost on their beautiful Instagram feed. They also use this content in galleries across their site, with calls to action that lead potential visitors to more information.
Tips:
3 | Show people exploring your attraction safely
With travel restrictions changing so fast, it's hard to know what's open and what's not.
The Children's Museum of Indianapolis is currently open. They use UGC in a gallery on their homepage that shows images of children and other guests wearing masks. The social proof helps a) show that the museum is currently accepting visitors and b) reinforces health and safety procedures to incoming visitors.

Tips:
Try encouraging a photo contest using Collector to gather more high-quality, rights-approved images of guests wearing masks.
4 | Keep your messaging agile with UGC galleries
Another way to plan for the unexpected is to have content on hand for every situation.
Space Needle, the observation tower in Seattle, Washington, is selling limited tickets due to reduced capacity. Since the pandemic started in March, they've been using the CrowdRiff gallery on their homepage to support different messages.
When they were shuttered, they showed images of healthcare workers to show support. When they opened this summer, they updated the gallery to show previous guests. Now, they're showing couples and individuals wearing masks while exploring the attraction.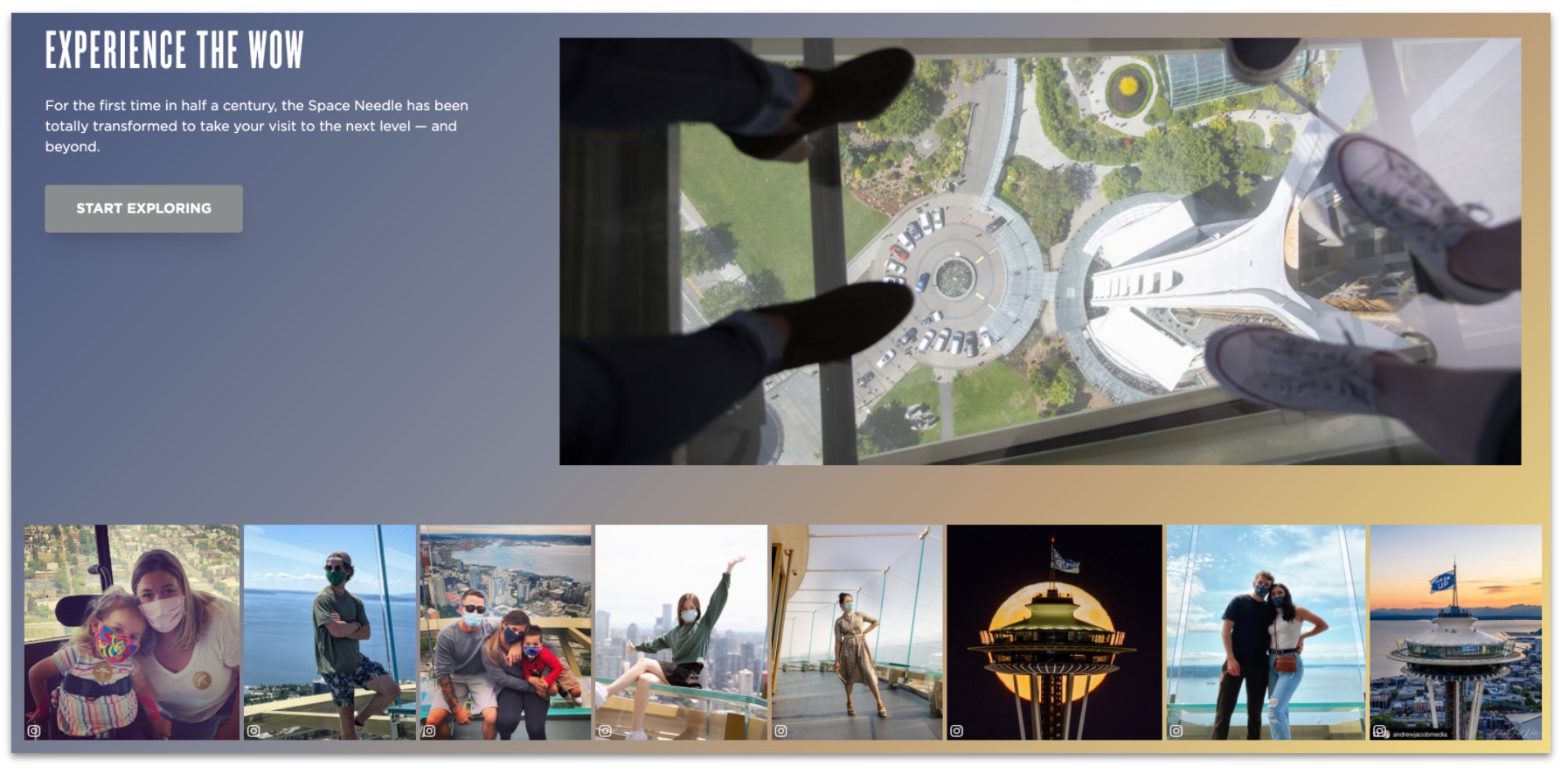 Tips:
Have content ready in case the situation in your local area changes quickly. Updating CrowdRiff galleries only takes a few clicks.
5 | Create a holiday gift guide
What makes hotels and resorts unique is the neighborhood or destination they belong to.
King and Prince Resort is encouraging locals and guests to support businesses in the area with its St. Simons Island Gift guide. The guide features local shopping options and uses UGC galleries to display product options for each category.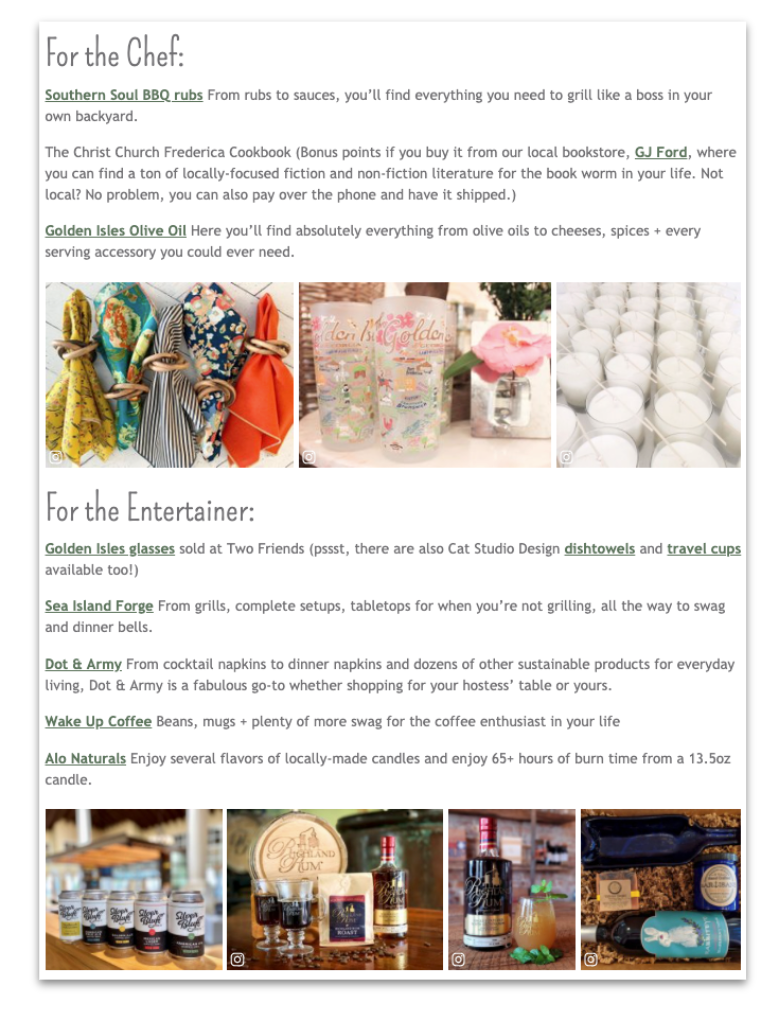 Tips:
6 | Promote different product offerings
The BC Ale Trail is a set of self-guided tours that highlight local craft brewery destinations around British Columbia. There are 19 ale trails in total, spanning 200 breweries across the province.
The team is using CrowdRiff-powered website galleries at the bottom of each ale trail page. They previously relied only on branded content but stress that UGC from craft beer enthusiasts and the community amplifies each offering.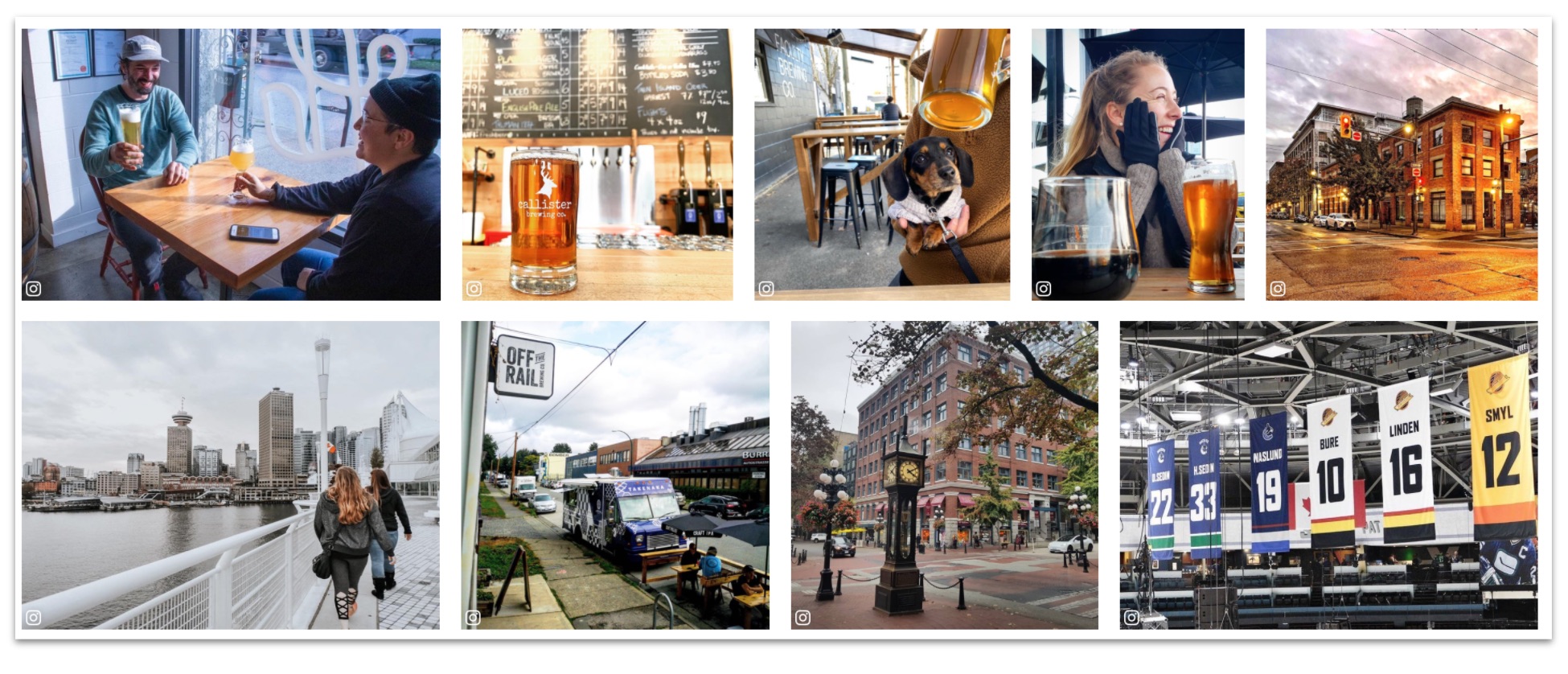 Tips:
When dealing with multiple galleries and product offerings, have a filing system composed of saved searches, albums, and folders to quickly organize and find the content you need.
7 | Build a custom homepage
TourHub is a place for travelers to find bucket-list worthy travel experiences. So naturally, the team wants amazing imagery to tell that story.
They use the CrowdRiff API to power their custom homepage, as well as to get the rights for content they use throughout the website, such as the hero image.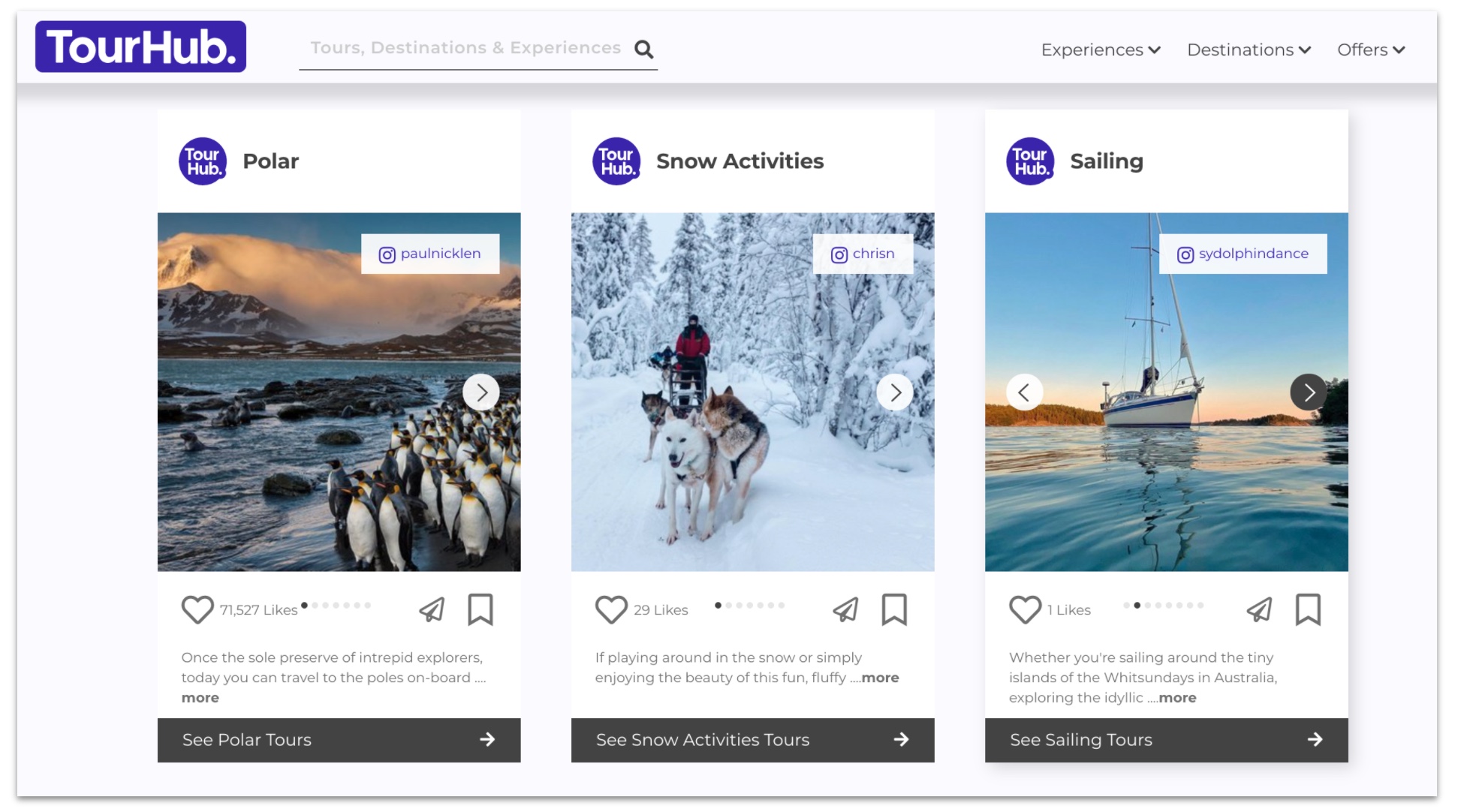 The homepage features tiles with different activities—from polar to wellness to safari. On the backend, each of these product categories is plugged into a different CrowdRiff gallery. Now, instead of going to Instagram to look for inspiration, visitors can look on the TourHub homepage.
"Our vision is that at every part of the website and the customer journey you will see user-generated content and people having these experiences."
-Kay Jones, Social Strategy/Digital Marketing, TourHub
Tips:
Note: You'll need development resources to create this experience.
Use CrowdRiff to track relevant hashtags to build your content library. Create a process to help you curate content quickly. Track hashtags, accounts, and use saved searches.
Leverage your developers to code the experience.
Getting rights to UGC
Before you start putting the photos and videos you find on social media to work, we recommend that you get explicit permission from the creator before using UGC in any channel, including those listed above.
Once you have the rights to a piece of content, you can use it over and over again. As you've just read, UGC content can be repurposed for just about any marketing channel!
Header image credit: @rhibuddha