At CrowdRiff, we're all about democratizing and demystifying user-generated assets. We want DMOs to leverage beautiful imagery and incredible content on a daily basis, whether that's part of a Gallery embedded on your website or your destination's IG feed.
So, we've compiled a handful of our favorite features to help your org use CrowdRiff to the fullest. (Want a broader overview about what we can do? Get to know our platform here.)
Here are three of the coolest CrowdRiff features you might not know about — and simple step-by-steps on how to use them.
CrowdRiff Connect
CrowdRiff Connect makes sourcing Instagram and Facebook content from tourism and business partners, influencers, and other social accounts a breeze!
How it works:
Set up your Connect Portal and configure your branding, like your logo and color scheme. This helps your gallery have a strong first impression on partners who may want to connect with you!

Send your partners a link to the Connect Portal and ask them to connect their Facebook Page and/or Instagram Business Account(s) to CrowdRiff

After they connect their account(s), their @mentioned and tagged content, posts, and stories are automatically added to your social assets library
The entire goal of the Connect feature is to build a community of partners that you can share assets with, so keep your gallery simple. That being said, avoid features that may distract from your message of getting the partner to "Connect" – like Galleries with CTAs or a "Load More" button.
This feature is great because:
It deepens the well that tourism boards and DMOs can pull from, seamlessly integrating partner assets into your collection(s)

Connect makes more visitor-created content discoverable for more people!

Partner content is amplified, broadening their reach (and yours). This can translate to more people visiting a partner's business, restaurant, or attraction
CrowdRiff + Google Locations
Google Locations are a powerful tool in any destination marketer's arsenal. There's nothing quite like seeing things exactly as they are. It's why we all love to Google Map places before we visit — for that feeling of already "being there" before you even touch down on the tarmac.
So, we partnered with Google Locations to enrich your photos and videos in Galleries! You can transform your Gallery into a visual directory, so when a visitor clicks on a photo with a Google location, they'll see the address, business or partner website, hours of operation, and more.
For example, here's how Bloomington, Indiana uses Google Locations. They feature a CrowdRiff Gallery on their website that showcases all the local breweries in town. When you click on any of the images within the gallery, you're shown business details about that particular brewery.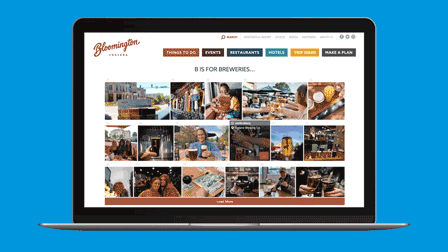 This feature is great because:
The additional context from Google gives your website visitors a better user experience, connecting your beautiful imagery with Google's helpful info

Rather than sending users to a Google Maps page, they'll stay on your website, increasing their average time on page and lowers bounce rate
Here's how to set up Google Locations within a CrowdRiff Gallery: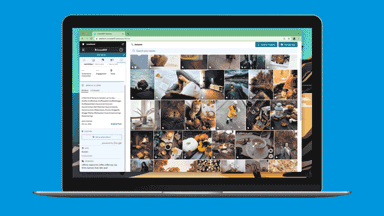 Select an asset you want to add location info to.

In the assets details, click Tell us where this is.

Type in the location and press Set Location.

Go to the gallery settings and make sure Location Details are turned on. Google will do the rest by syncing the business' relevant info!
Similar Photos
Have you ever spent hours trying to find a photo that hits the same notes as your highest performing assets? CrowdRiff's Similar Photos feature allows you to find visually similar photos in a matter of seconds.
Gone are the days of performing individual searches to generate photos like the ones you really like. Instead, a single click does the work for you, providing you with hundreds of rights-approved options to cull through.
This feature is great when:
You've requested rights to a photo for a print guide, but the owner of the photo never replied
You want to use one of your uploaded assets, but the licensing for that photo has expired
You really like a photo and just want to find more of the same look and feel
Content with similar keywords will get surfaced making it easy to find the content that you need! All you have to do is:
Hover over a photo featuring content you want to see more of
Select View Similar
And that's it.
Wrapping up
These easy-to-use CrowdRiff features can deepen your relationships with partners and creators, make it easier than ever to find stunning assets, and show off your destination in the best light possible.
Curious about what else we can do for your DMO? Check out a sneak peek.