5 Ways Museums Use CrowdRiff to Attract Visitors

Today, museums are undergoing a digital transformation. Instead of banning photography and video, they're actually encouraging visitors to actively take and share photos online.
Museums are lifting their curtains — curating not just art and artifacts, but these visitor (user-generated) photos too. And those collections turn into visual stories about their exhibits, culture, and visitor experiences.
By letting their personalities shine through visuals, many of the world's most forward-thinking museums are showing the world how dynamic and fun they can be. A key ingredient to their visual influence strategy is CrowdRiff.
These are 5 ways leading museums use CrowdRiff to attract visitors.
Livening up special events with real-time social media displays
One of the most popular events at The Royal Ontario Museum is Friday Night Live at the ROM. On Friday evenings the museum transforms into a themed social affair, where guests party beside exhibits, with food, drink, and live music.
As you'd expect, they have a hashtag dedicated to the event, #FNLROM, to encourage people to take photos.

During the event, they display a live gallery of photos tagged with #FNLROM, curated with CrowdRiff, and displayed on screens throughout the museum. That means more people share photos with the hashtag to see themselves up in the live gallery at the event — and outside the event, people see a flood of photos on social media, of people having a really good time at the museum, amplifying and encouraging the social conversation happening around Friday Night Live.
Then after the night is done, these photos live in a CrowdRiff gallery on their event page, for interested visitors to explore.
Giving people opportunities to explore and discover other visitors' experiences
CrowdRiff's website galleries don't just look pretty — they're interactive and engaging. Clicking an image allows you to see the original caption and poster.
Here, the Field Museum has featured a custom CrowdRiff gallery on their homepage.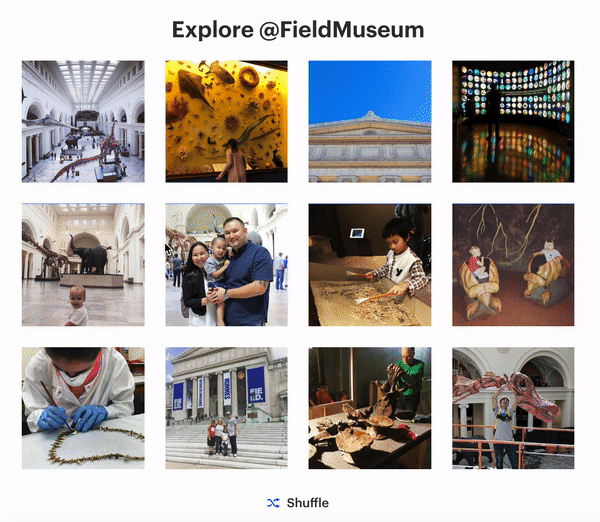 People landing on the homepage can hover over the pictures; if they're interested in what they see, they can click to learn more. This visual interface acts as a springboard for web visitors to start exploring different experiences available at the Field Museum.
This beautiful new feature on the homepage of https://t.co/R3YEkaMK1y shows off visitors' Instagram photos. Made possible by @swigs27 @am_ledesma @prplrckscssrs and @CrowdRiff! #musesocial pic.twitter.com/QN3UIL480I

— Caitlin Kearney (@caitkear) September 12, 2018
CrowdRiff customers have seen their time-on-site metrics quadruple after integrating galleries.
Inspiring ownership, community, and accessibility
If you knew your Instagram photo was displayed on a museum's official website, wouldn't you feel pretty good? Wouldn't you keep going back to the site to see it there (and share the page with your friends)?
Museums use CrowdRiff to display visitor photos and inspire this sense of ownership with its visitors. People can see that their own photos have real value to the museum, and it makes them feel like they have a part to contribute here.
We showcase user-generated content to give our community ownership over the museum. We want to give them a real sense that they're involved in what the museum is doing.
Ryan Dodge, Digital Engagement Strategist, Royal Ontario Museum
This is a gallery that the Children's Museum of Indianapolis displays on their website, which they keep updated with CrowdRiff.
With the hashtag #atTCM, they welcome people to share their photos with everyone, and to contribute to the museum community.
By displaying their visitors' photos, museums use CrowdRiff to show that they care just as much about its people and visitor experiences as its exhibits.
Managing large volumes of visual content more easily with AI technology
On the internal side, CrowdRiff plays a key role in keeping everything within reach. When all your visuals are spread on different platforms (Google Drive, Dropbox, hard drives, etc.) or trapped in a digital asset manager that has a hard-to-use interface, finding the image you need can take a while. This is in addition to all the new photos and videos your visitors are sharing online every day.
That's why museums use CrowdRiff as their all-in-one solution to manage all their visual content, from owned to social.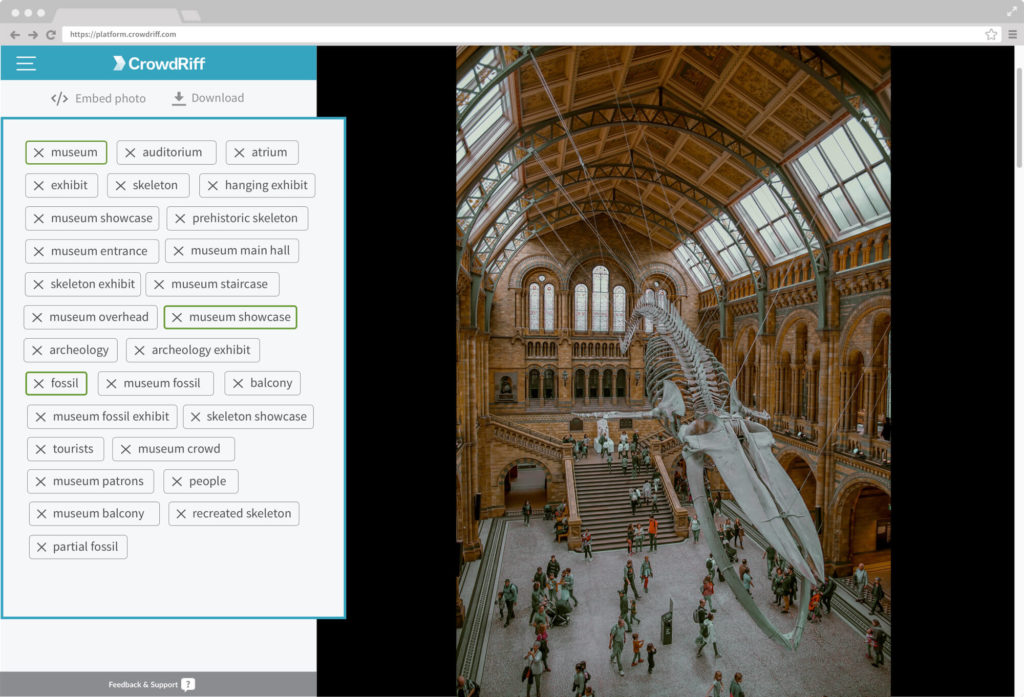 Say goodbye to manually labeling and categorizing your digital asset library. Whether your museum displays ancient pots or medieval armor, CrowdRiff uses AI to recognize what it's looking at and labels it accordingly. That means any visual is only ever a quick search away.
Gaining valuable insights into what your visitors are engaging with
While you could scroll through your museum's location tag on Instagram to look at what your visitors think are share-worthy, it's frustratingly manual. What's more, you can only really see individual pictures one by one, or in tiny thumbnails. And then there are the other photos your visitors Tweet, or share on Facebook.
In CrowdRiff, museums bring in content from all over social media, including Instagram, Facebook, and Twitter into one easy to search interface.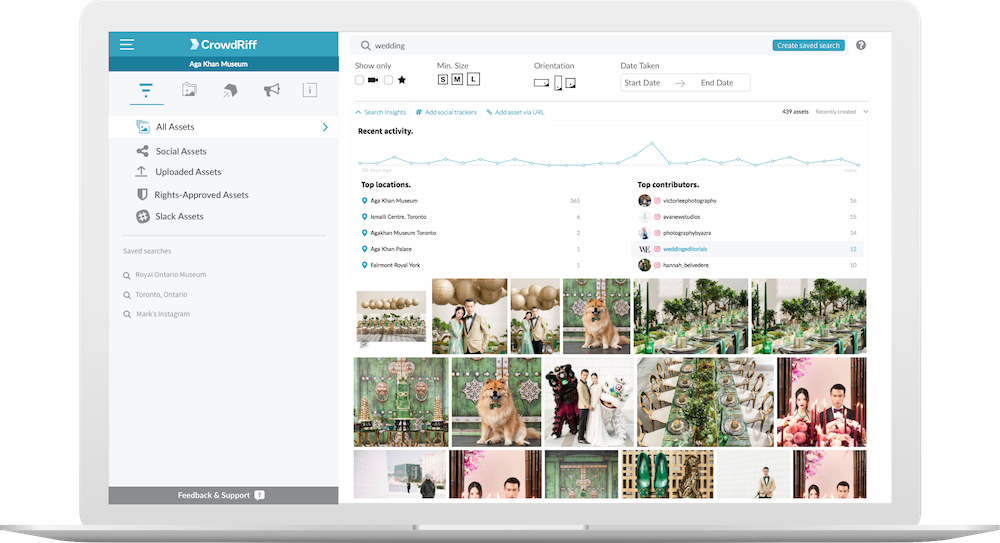 It even surfaces the people who are sharing the most photos and videos at your museum.
And when everything is in one place like that, museums are finding that it becomes easier to discover patterns and insights into what their visitors are engaging with.
"With that interface where we can see everything, we've started to notice trends, like the most popular pieces of artwork. Using CrowdRiff is definitely a more efficient way to see who's posting things about us, what they're posting, what they're enjoying."
Shannon Robb, Communications and Public Affairs Coordinator, Denver Art Museum
CrowdRiff can help your museum attract visitors
It's more important than ever for museums to stay relevant with their communities — both in terms of their physical space and their online presence. Otherwise, you're at the risk of being left behind, as people get drawn to other places that stay on top of their radars.
Looking for some inspiration to help you get started? Read our eBook on creative digital museum campaigns to see what other forward-thinking museums are doing to connect with their visitors.
CrowdRiff helps museums stay relevant, by helping them tap into user-generated content and powering their visual influence. Request a demo to see what CrowdRiff can do for you.