Luxury Resort Marketing: 3 Tips to Differentiate Your Property
Travelers pay more for luxury experiences at boutique hotels, lavish resorts and ski chalets, but the definition of luxury has changed. Effective luxury resort marketing now offers travelers with highly personalized experiences that can lead to self-actualization.
Marriott International's global chief commercial officer Stephanie Linartz noted how Millennials have changed the market for everyone.
"Millennials' consumption of luxury experiences is tied to how they see themselves as people. It's about experiencing something new — something that's Instagram-worthy."
If you're a marketer for a luxury hotel or resort today, you most likely experience some of the following challenges:
Communicating what makes your resort unique to potential guests
Influencing guests earlier in the sales funnel
Creating more engagement and elevating your brand with your visuals and content marketing
How to Stand Out In Your Luxury Resort Marketing
Challenge: People want to know what they can do, not what you have
The old saw about "show don't tell" has an upgrade. The new phrase is "engage don't list." By sharing content about what your guests can do, instead of just listing the features your resort offers, you can spark their imagination and make it easier for potential travelers to put themselves in the picture.
In the 12 weeks before a trip, travelers search 3X more for experiences than hotels and resorts. Use this to your advantage. Look at what is out there on social media and tap into content that's being shared around your destination, instead of just promotional, location-based content.
Solution: Assemble individual galleries to showcase each experience
Instead of adding a line on your features page to say that your resort includes a spa or a skybar, show travelers what it's like. You can do this by showing visual galleries on your website.
Try partnering with influencers to promote each experience and drive visitors to the webpage for more information.
Marriott's Linartz insisted that building strong relationships with travel influencers has become a fundamental business skill. "It hits you hard that these folks have tremendous influence over consumers who trust and believe them," she said. "It's important we do it thoughtfully, but that we do it." If you can't find the kind of visuals you need, run a photo contest to build your image bank.
Challenge: Resorts target travelers too late in their journey planning
A guest's travel journey can have anywhere between 70-800 touchpoints over a 1-7 month period, according to research. This journey is broken down into 5 stages: dreaming, planning, booking, experiencing and sharing.
Traditionally, resorts cluster their marketing efforts close to the purchase decision (the booking stage), long after the traveler has chosen a destination. The result is the state of luxury resort marketing today, where competition is fierce.
Why not start marketing in the dreaming phase? People book destinations first, so be a destination of your own, not a stop along the way. Luxury Travel Advisor pointed out that three-fourths of Americans prioritize experiences over brands.
Solution: Generate desire for your destination on social
Save time, money and effort by simply amplifying the posts and visuals that are getting good engagement already. Measure what's working, and reuse this content in digital ads, traditional media, with local partners, etc.
Visit Indy was able to achieve 3x stronger click-through rates on Facebook ads by doing this.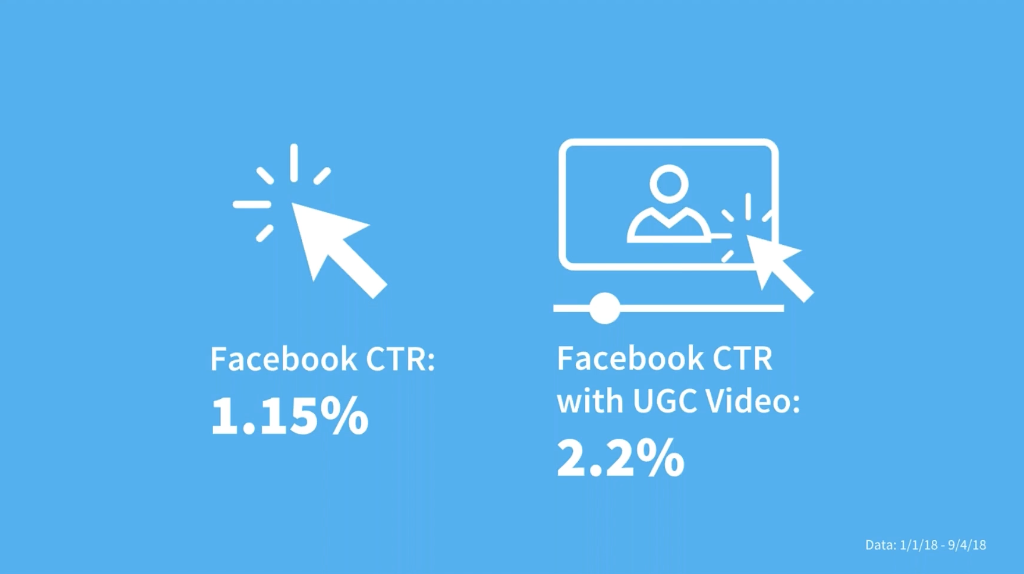 In every channel, make sure you are promoting your hashtag on all your marketing assets to encourage social word of mouth. Social is about sparking and joining movements. Make your destination one of them. On the backend, optimize SEO, load speed, and UX on your website so you don't lose the visitors you capture.
Challenge: Everyone is using the same visuals
Shutterstock and sites like them are the go-to resource for luxury brands in search of images to fill up their always-on content engines. There's nothing wrong with that, but there's nothing unique about it either.
One-of-a-kind experiences don't look like anything else. Owned, or brand-created content works as part of a mix, but alone it may not generate the engagement you're looking for. Some challenges with a strategy that uses only brand-generated content:
There's too much of it to catch luxury travelers' attention today
It may not reflect the diversity of different target audiences
It may simply be too expensive to be commissioned by artists and photographers regularly
User-generated content (UGC) is the most engaging, least expensive way to create a visual library worth thousands of dollars.
Solution: Strategically deploy UGC for maximum visual impact
Here's how Hornblower Niagra Cruises built their original, engaging content library using UGC, adding 20,000 images in two weeks.
If you want to do something similar, just search Instagram to find UGC for your luxury resort or destination, and ask the owner for the rights to use the content. Then you can use UGC in both digital and visual formats:
Online Marketing
Offline Marketing
You might even want to consider using a visual marketing platform to accelerate the process of sourcing, tracking and getting the rights to UGC.
In summary:
Use visuals to showcase each unique experience you offer
Use tactics like social media to capture travelers in the dreaming phase of their journey
Use UGC to build a library of diverse visuals, and improve engagement across channels
The most innovative companies have already started using UGC in their marketing plans. If you want to differentiate your property and the unique experiences you offer, try using UGC in your next marketing campaign!