How Visit Indy Achieves 3X Stronger Click-Through Rates on Facebook Ads with Persona-Based UGC Videos

From the Indy 500 to the world's largest children's museum, the capital of Indiana has its fair share of popular venues. Visit Indy's budget for promoting these attractions, however, hasn't changed for the last five years, even as its benchmarks and goals continue to rise.

In an effort to do more with less, the DMO has made some major marketing strategy changes in recent years, investing heavily in what works and cutting everything that doesn't.
"2015 was our first year going all digital," said Christine Zetzl, Visit Indy's Digital Marketing Manager. "Prior to that we had a traditional breakdown where we were investing 60% of our ad budget into TV, 30% in digital and 10% in radio, and in 2015 we went cold turkey, 100% digital."

How going all digital helped Visit Indy identify their key personas
It was during that transition that Visit Indy started using CrowdRiff, at first to track the success of its NCAA Final 4 campaign, before eventually integrating user-generated content galleries with the platform throughout its website.
"For every one of our major venues we have a dedicated CrowdRiff guide and gallery in our venue listing on our website, which has allowed us to single out some conversation groups [on social media] for all our key attractions," said Zetzl.
After "a few decades" of struggling to nail down the key demographics and drives of visitors to Indianapolis, Zetzl says social listening on CrowdRiff helped the organization hone in on what really encourages travel to the destination.
"Going all digital with our ad campaign allowed us to identify several different target audiences," she said. "We've always been a great family destination, but the persona targeting has helped us really flesh out our culinary tourism and our sports tourism."
The nine personas identified by Visit Indy also include "history buffs," "bucket listers," "urban adventurers," "nature lovers," "romantics" and "cultural connoisseurs." Zetzl says that rather than paying for a TV or radio ad that's broadcasted to a very general audience, the DMO now creates digital content that speaks directly to each of these specific traveler types.

Using rights-approved UGC to create custom video ads for each persona
"Especially with using CrowdRiff, we've made a huge jump into using UGC," said Zetzl.
"Visitors want to see other visitors interacting in the space, so 2018 is the first year that in our social ad buy, we decided and pledged that we're only going to use UGC images within the ad buy."
In April, Visit Indy released the first video created entirely from user-generated content acquired through CrowdRiff. The 30-second ad asks viewers "When you look back, what will you remember?" and uses a combination of still images and videos collected from social media to showcase the destination's diverse and social-media-post-worthy foodie culture.

"We wanted those authentic images of people enjoying our city, rather than us trying to recreate it," said Zetzl, adding that she created the videos on her own using some basic video editing software.
"We outline all the big events that are happening at the attractions that we want to feature, and we've added those keywords, and I just search within CrowdRiff and find the content that I think will work," she said.
Once she acquires rights to the UGC visuals, she makes a few cuts, adds music, overlays text and changes the aspect ratio. All said and done Zetzl says each video takes her about an hour and a half to put together.
"I did it with absolutely no video experience," she said. "That's kind of the beauty with UGC; it can be raw, it doesn't need to be overly edited."
The rawness of the videos, explains Zetzl, helps the content feel more native to the platform, and allows it to fit more naturally into a user's social media feed.

A/B testing video formats for Facebook and Instagram Stories
"For Facebook, when we originally rolled it out we made a 30-second video, and just doing some A/B testing we found 15 seconds performs better, so we've optimized for 15 second videos on Facebook, and Instagram Stories of 5 to 7 seconds," she said, adding that Instagram Story videos are always presented in portrait, while Facebook ads perform better with the standard 16×9 aspect ratio.

Snapshots from Visit Indy's Instagram Stories ad for sports fans and the landing page it leads to.
Thus far Visit Indy has released five persona videos created entirely using UGC, with the goal of creating one for all nine personas by the end of September.
"It was important to us that the images are current and true to our destination, and we wanted to collect them in real time, so we're rolling out new videos every two to three weeks. We're really seeing stronger and stronger performance as we make minor tweaks," said Zetzl. "With each video we are learning, and we're able to polish and refine it."

Achieving 3X stronger click-through rates on Facebook ads
Visit Indy's social ad buy, which is now entirely comprised of UGC videos, is currently generating a 1.33% click-through rate, according to Zetzl, representing 53% of total paid media clicks in the DMO's 2018 campaign.
"We're seeing a three times stronger click-through rate within Facebook and Instagram than we display," she said. "Over the last year we've been able to shift our funds, and we've been really optimizing more and more towards our Facebook ad buy with these UGC videos feeding that content."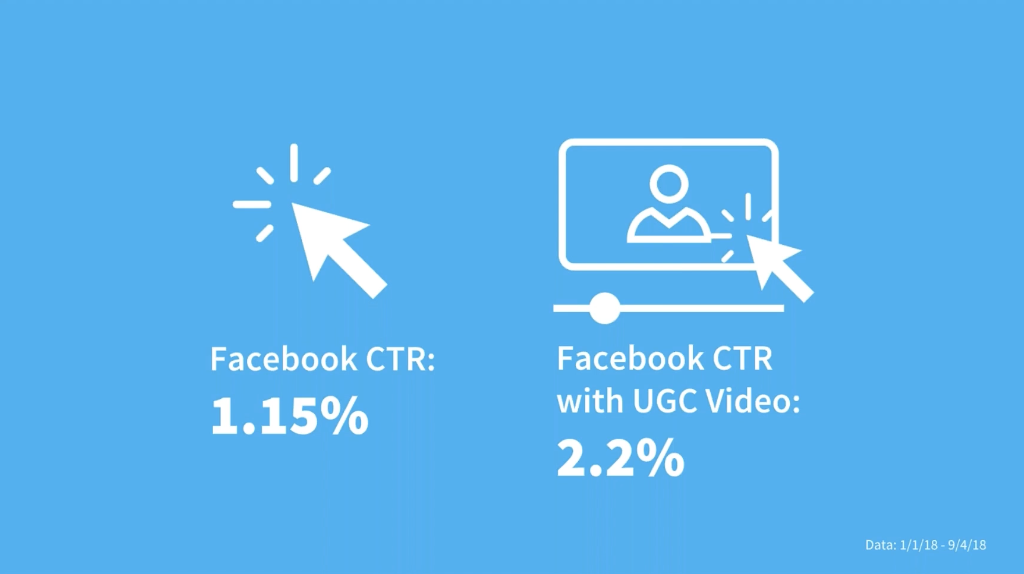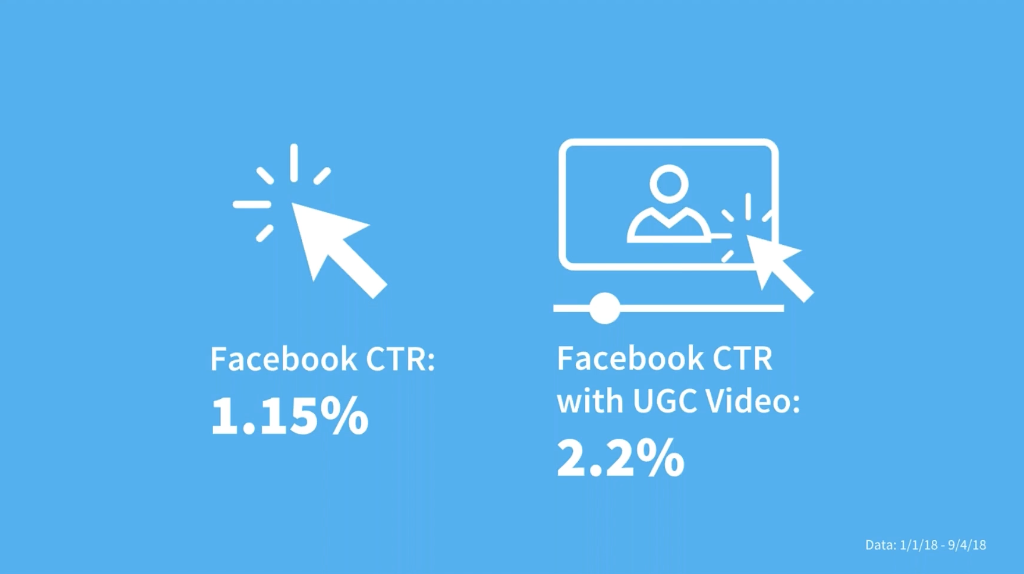 In fact, the destination marketing organization invested 30% of its total ad budget into social, and has pledged to only serve content in its social and display ads that incorporate user-generated content.
"We're not getting any more money for our advertising, but our annual goal keeps increasing, so when we look at different creative aspects and we see UGC really bringing in more clicks and more impressions for our money, that is a direct reflection of what we're going to choose to do in the future," she said. "We're always looking to do more of what's working, and right now UGC is working."