When it comes to promoting your destination, email marketing is one of the most cost-effective channels you have.
So how do you keep engagement and click-through rates up while reducing unsubscribes?
No matter if you're writing to your marketing partners, your locals, or visitors, crafting a strong message with authentic, engaging imagery is critical.
In this post, we'll look at six best practices for using user-generated content and CrowdRiff to better support these audiences, and ultimately boost your email marketing performance.
1 | Share marketing material with your regional partners
As a state or country destination marketer, your regional partners rely on you to support them.
Help them better promote their region by supplying them with fresh, relevant creative for their marketing, like Ascona Locarno Tourism in Switzerland.
In one of their regular email newsletters to local tourism and hospitality partners, they include a link to access a wealth of branded photography that their partners can use.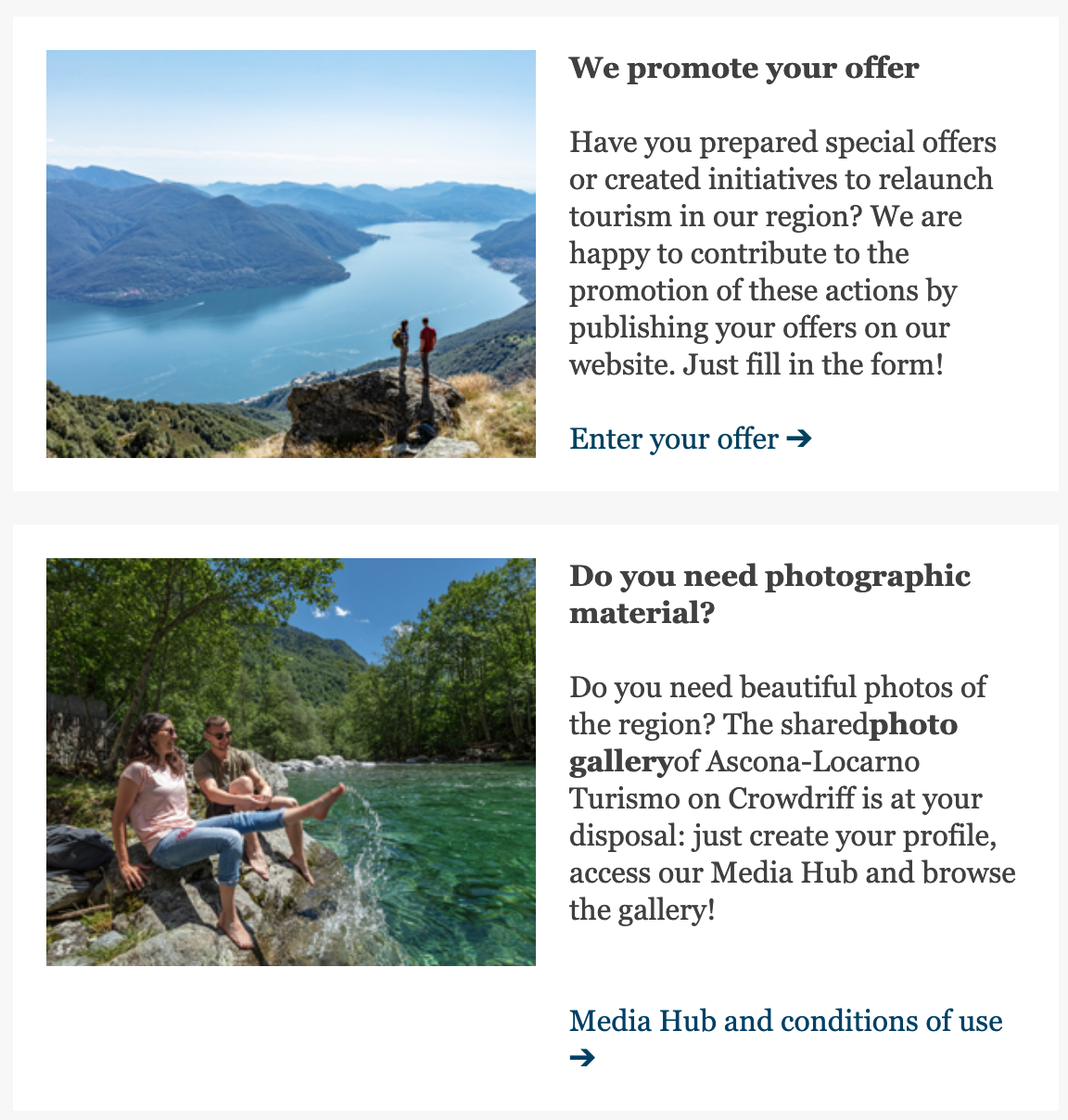 The images include everything from outdoor activities like mountain biking and paddleboarding to albums dedicated to regional areas.
They use CrowdRiff's Media Hub to host and easily share the images.
To manage who can access what, partners are asked to create a profile and specify the reason for using each image.
Ideas for supporting your regional partners:
Use your email newsletter to share items like branded photography and UGC your partners have the license to use in their marketing.
Organize your visuals in albums to make them easier to find. If you don't know where to start, try sorting by specific regions or activities like Ascona Locarno Tourism has done.
CrowdRiff can help you create personalized visual content packages that your partners can review, request access to, and download on any device.
2 | Promote local recovery campaigns to partners
As many destinations around the world reopen their doors, smaller destination marketers can benefit from the recovery initiatives of their regional partners.
Use your emails to keep them informed about the campaigns you're running and how they can participate.
In an email newsletter to its industry partners, the Indiana Office of Tourism shares information about state-wide recovery campaigns.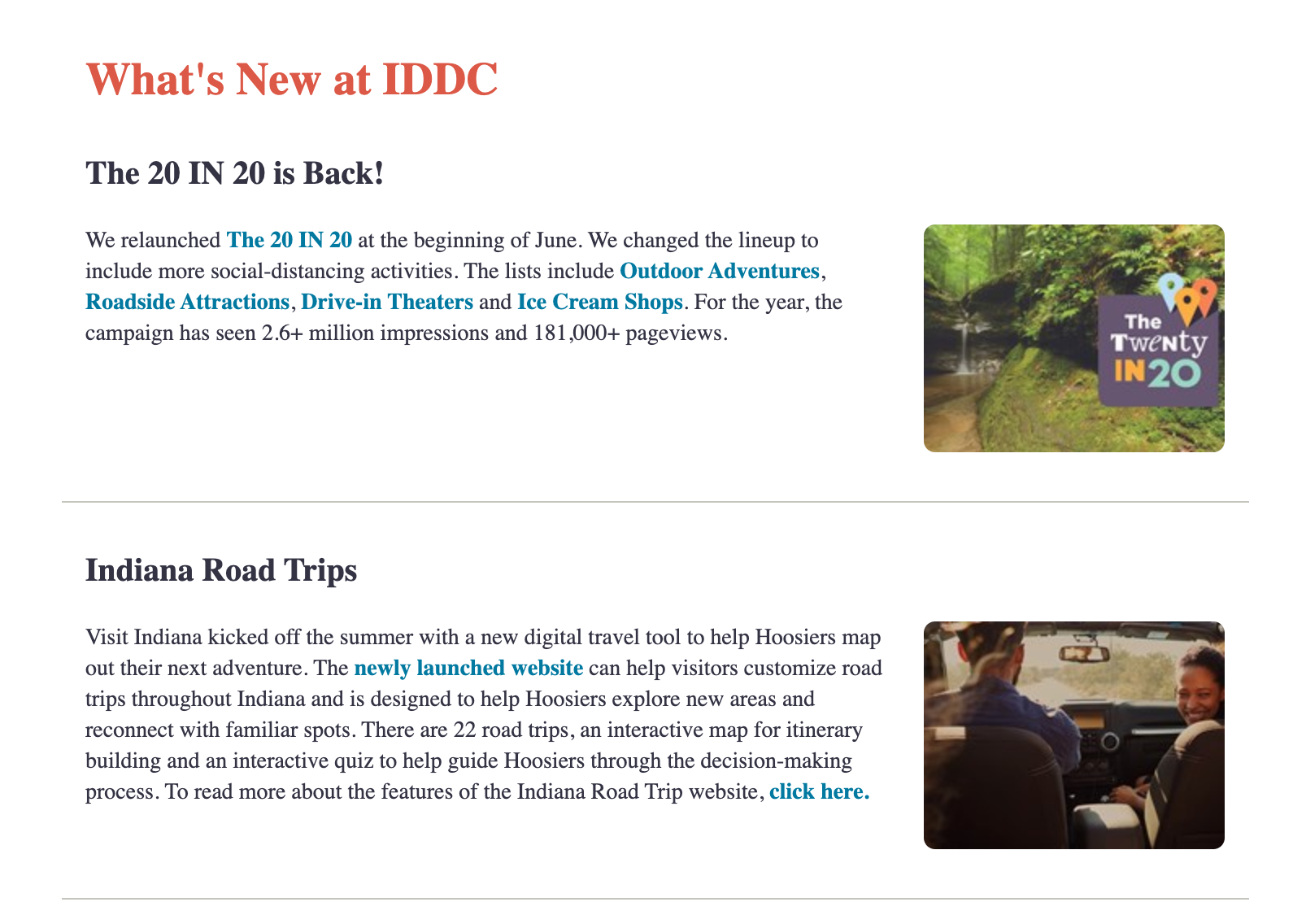 For example, its road trips website features 22 different pre-planned road trips throughout the state that can be tailored to each visitor's specific wants and needs.
Each road trip destination features an interactive map of the area with key stops along the way, as well as a UGC gallery powered by CrowdRiff.
The visuals show how people are maintaining physical distancing guidelines, a wealth of spacious outdoor activities, and what attractions are open. This real-time visual proof gives interested visitors the confidence they need to go there.
Ideas for promoting local recovery campaigns to partners:
The average American says they will take almost 2 road trips by the end of the year. Focus on promoting campaigns that attract the drive market and outdoor travelers throughout your state.
People want to see real-time visual proof of your destination right now. Be sure to include some form of UGC in your recovery campaigns to your partners.
3 | Use UGC to personalize your email campaigns for future visitors
Editor's note: This campaign took place before COVID-19.
A critical ingredient to your email marketing success is personalization. In fact, 87% of travelers will go with travel and tourism brands that personalize experiences, which includes their marketing.
Visit Seaside Oregon used UGC as part of a personalized email strategy to increase newsletter sign-ups by 50%.
The goal was to improve visitation in the off-season and engage potential visitors year-round.
As a small DMO, they didn't have the budget to have a personalized website experience, so they settled on a personalized email campaign to serve as a test case.
Here's how they did it:
1 | Encourage those who sign up for the eNewsletter to order a visitor guide and vice versa. The team used an automation system to know when someone has already signed up for the eNewsletter or visitor guide. That way, they won't get an irrelevant call-to-action if they already completed the desired action.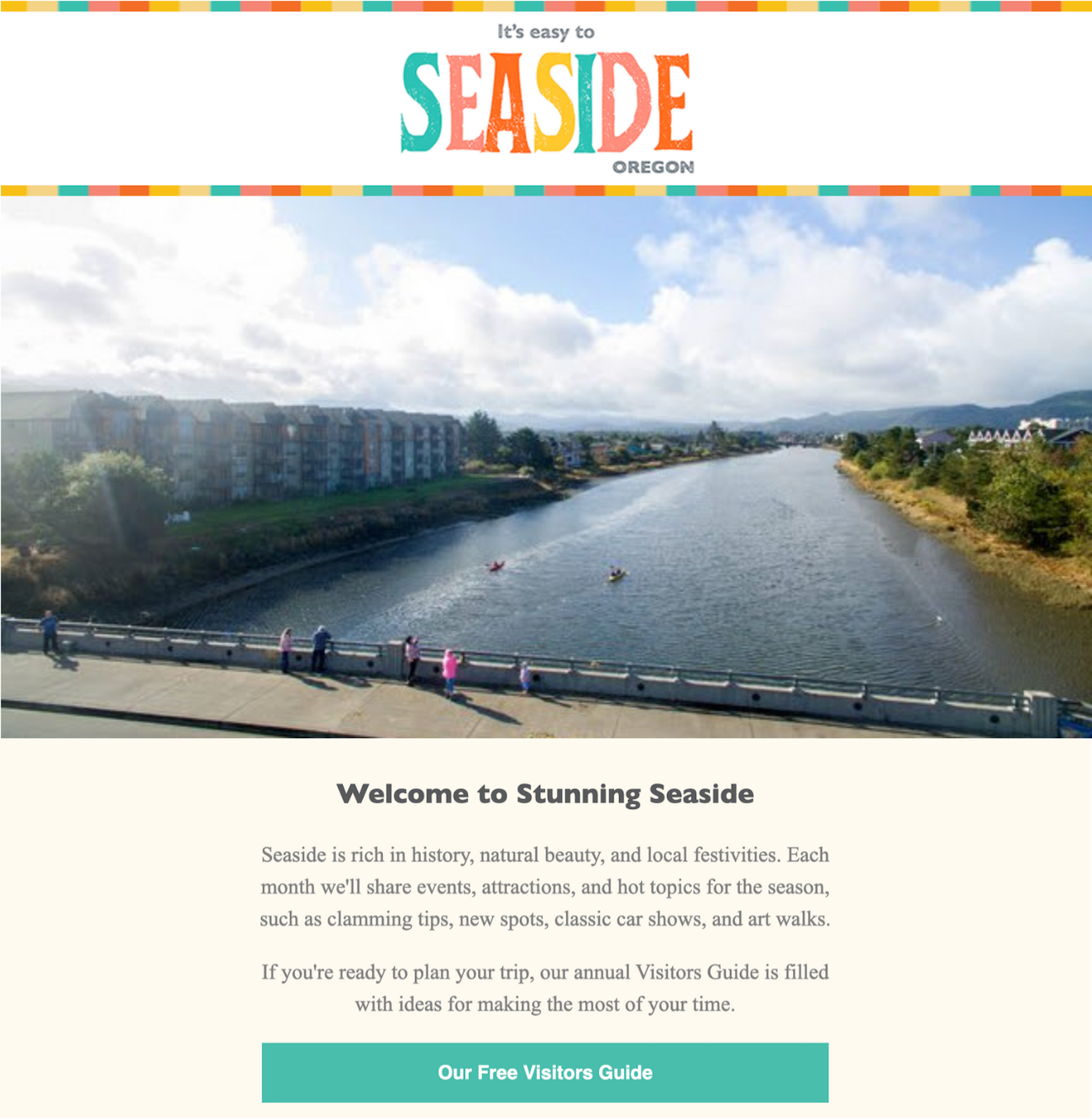 2 | Ask people 'what are you most looking forward to doing when you get to Seaside?' and give them options.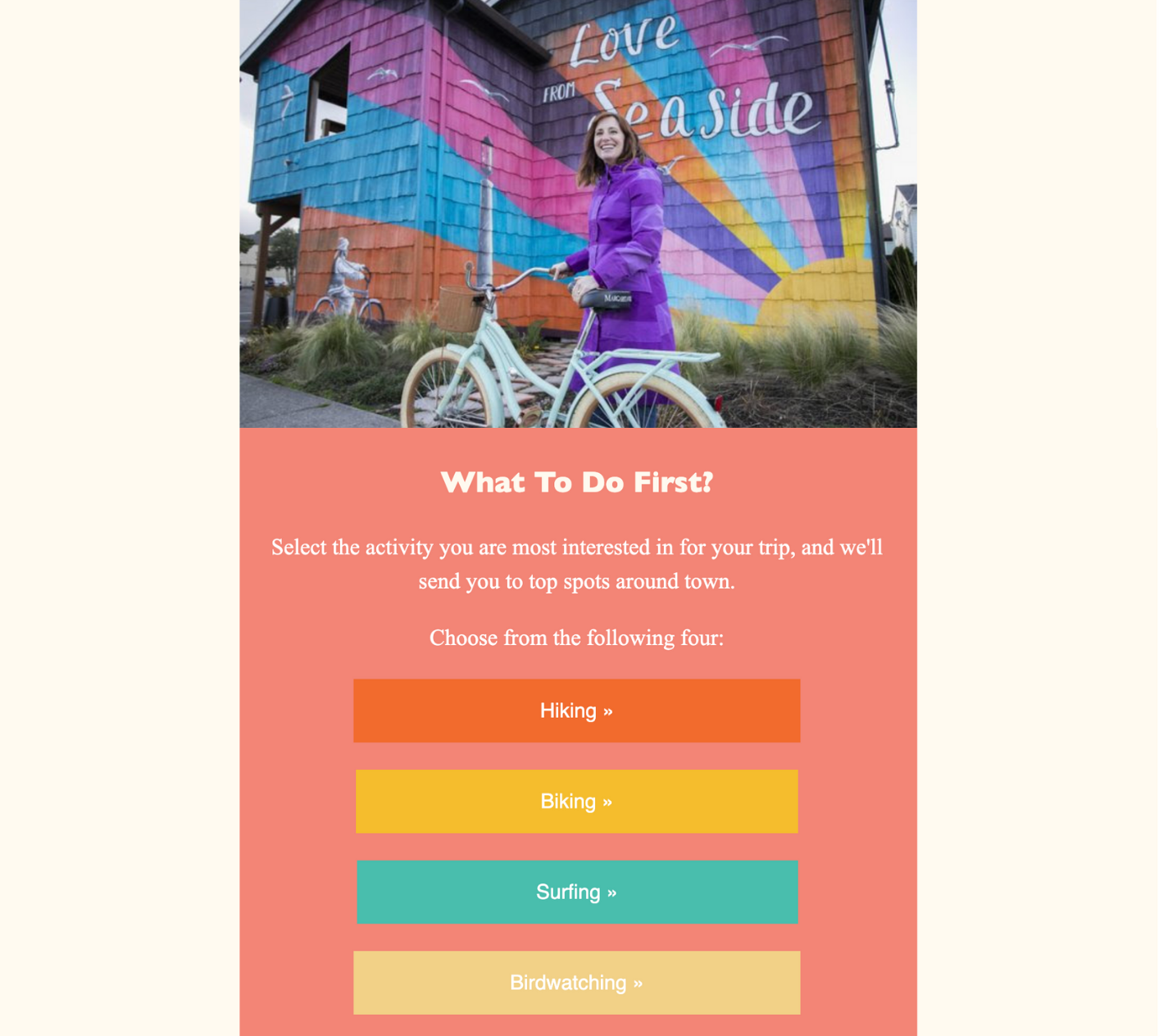 3 | Send people to the most relevant part of the website based on their answers.
4 | Use CrowdRiff to find and showcase relevant and engaging visuals for each activity and web page.
When people click on an activity like bird watching, they can see all the images people have taken of birds in the area to get them inspired and know what to expect when they get there.
Seaside currently offers four unique landing pages for those interested in bird watching, biking, surfing, or hiking. People will continue to receive custom content based on the option they selected.
5 | About 15 days later, those who have engaged with the campaign receive one final email containing a custom itinerary, based on their specific interests and tastes. Those who have not engaged still receive a standard itinerary.
The personalized campaign increased visitor guide orders by 30% and eNewsletter sign-ups by over 50%. And, of all the emails the team sent as part of the campaign, the lowest automated open rate was 39%!
Ideas for using UGC to personalize your email campaigns:
Get in a cadence of finding and getting the rights to UGC that tell the story of your destination. For example, if your area is known for bird watching, great biking trails, or interesting cuisine, source content that aligns with those themes.
Create web pages that highlight each one of these activities.
Have a way of segmenting your audience based on their interests. Even if you don't have marketing automation software, you can still include links to every page in your email. This way, people can 'choose their own adventure.'
4 | Craft compelling video content to engage your community
Take regular video content a step further in your email marketing campaigns with user-generated video content. In fact, UGC video gets 10X more views than branded content.
Back in March when stay-at-home protocols were issued, Visit Rochester shared this message with the following UGC video: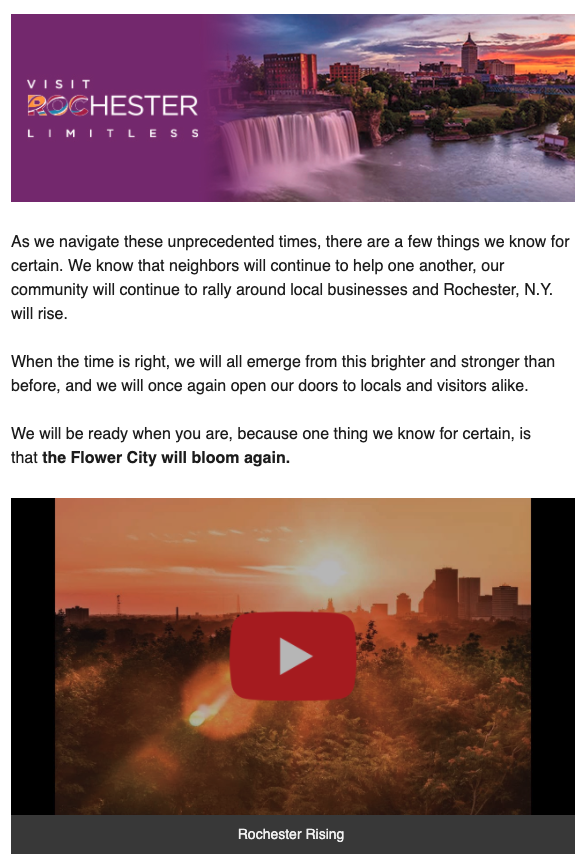 At a time of unease, the video sends a message of hope to Visit Rochester's partners and community.
The stitched-together UGC images help create a connection to locals and small businesses in a way that would not feel as genuine with purely branded images.
Ideas for using UGC video to engage your community:
When searching for UGC, you don't need to wait for the perfect video to show up. You can get the rights to your favorite photos around your community and stitch them together to create a video like Visit Rochester. Not only is this technique low-cost, it's also low-effort.
Host a UGC video contest. Try building a contest allowing fans to submit a short video as an entry for a prize. For example: Ask your followers to submit a video showing off a free activity in your destination.
Turn your Instagram Stories into a UGC video and feature them in an Instagram Highlight. You can create Stories about positivity and joy, local businesses, and outdoor activities, for example.
5 | Showcase timely visuals to give people ideas for their next adventure
Experiences like biking, hiking, and exploring hidden gems are in high demand right now.
Tap into this consumer demand by promoting these in your next email newsletter to locals, like South Eastern Ontario.
They're fueling ideas for locals and keeping future visitors inspired by sharing lots of links to relevant blogs and UGC in their newsletter.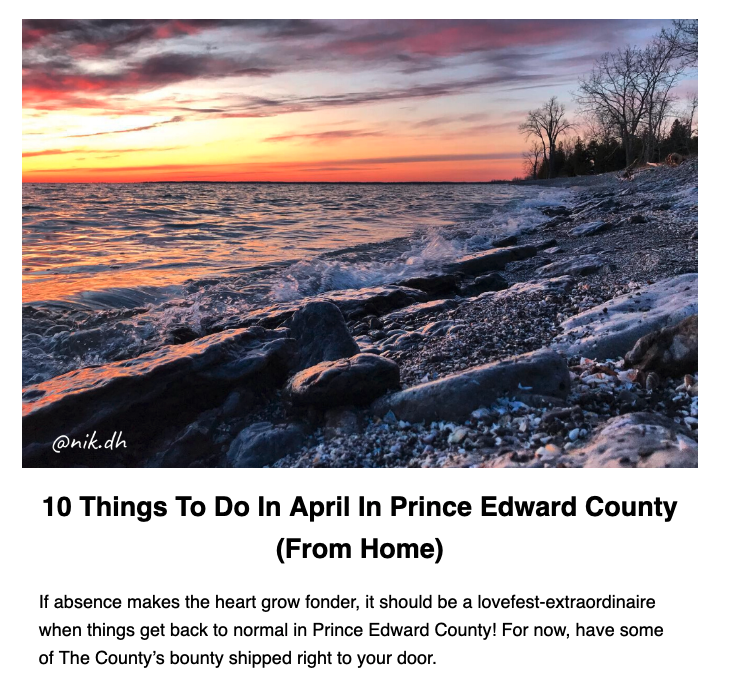 Whether your destination is just opening up or well into its recovery, UGC can keep your email creative up-to-date and relevant. Highlight Instagrammable spots, what a perfect day might look like in your destination (at home or around the city!), and outdoor experiences.
Ideas for showcasing things to do in your email newsletter:
Ask your audience what a perfect day would look like in your destination. Source UGC and create a blog post or short video about it.
Showcase experiences through the eyes of locals with UGC. Think hidden gems and unique experiences. This allows you to provide information to locals while still connecting to people who would want to have those experiences when they come to your destination.
6 | Run a contest
Contests are an easy way to collect content from the public and engage your fans and followers.
Try building a contest allowing fans to submit a short video or photo as an entry for a prize. For example: Ask your followers to submit their favorite memory of your destination for a chance to roundtrip airline tickets (or a gift card bundle) for their next local adventure.
This is exactly what Travel Alaska did to encourage residents to "show up for Alaska."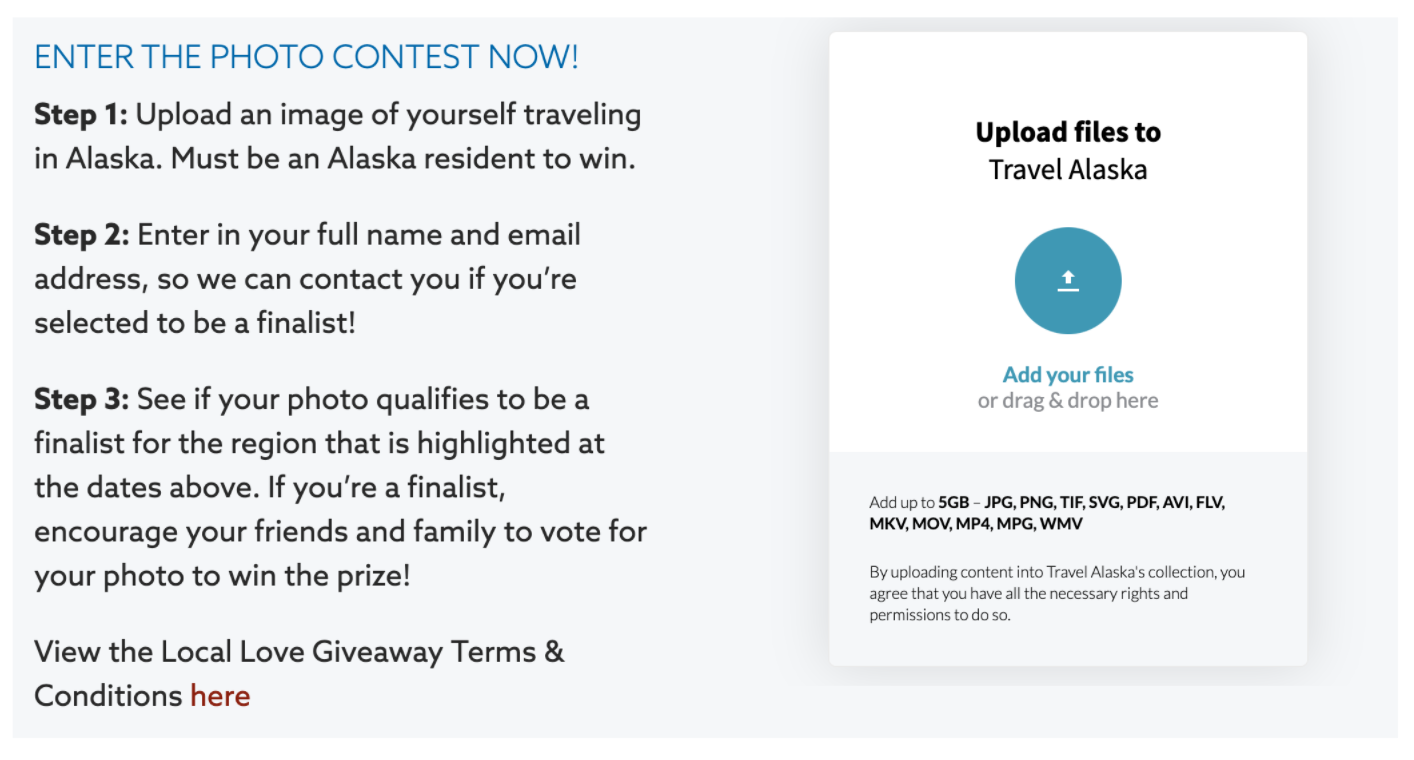 They're using CrowdRiff's Collector to gather rights-approved, high-resolution content directly from locals, businesses, and influencers.
Ideas for running your next email contest:
If your destination is starting to reopen, encourage state-wide travel. Ask people to share their favorite memory, like Travel Alaska.
Put together a challenge and ask people to share photos after they've completed certain activities, like Visit Bloomington.
Collect photos around a certain theme, like encouraging people to wear masks and maintain social distancing guidelines.
Try embedding a Collector link in your next newsletter!
Have an example of how you're using CrowdRiff in your email marketing? Let us know in our Community Stories Hub.
Image credit: @Alexazabache