Travel companies are spoiled for choice when it comes to creating content.
From stunning snapshots and user-generated content to clever captions and destination descriptions, there's plenty of work to be done for DMOs out there.
But let's be real: regularly coming up with compelling and successful content can be both pricey and time-consuming.
This is especially true if you're tied to a strict schedule or tight budget.
The solution? Start planning ahead.

An effective content marketing strategy empowers you to spend less time scrambling for ideas and more time creating and distributing content.
In this guide, we'll break down how to do exactly that.
Why do you need a content strategy, anyway?
Hey, good question!
It's no secret that travel marketers are crazy busy. At a glance, strategizing might just seem like another item on your to-do list.
However, the benefits of mapping out your content are well-documented. This includes everything from social media content to blog posts to advertising campaigns.
For starters, a recent CMI survey found that thinking ahead helps marketers stay focused on their team goals and create more relevant content for their audiences (65%).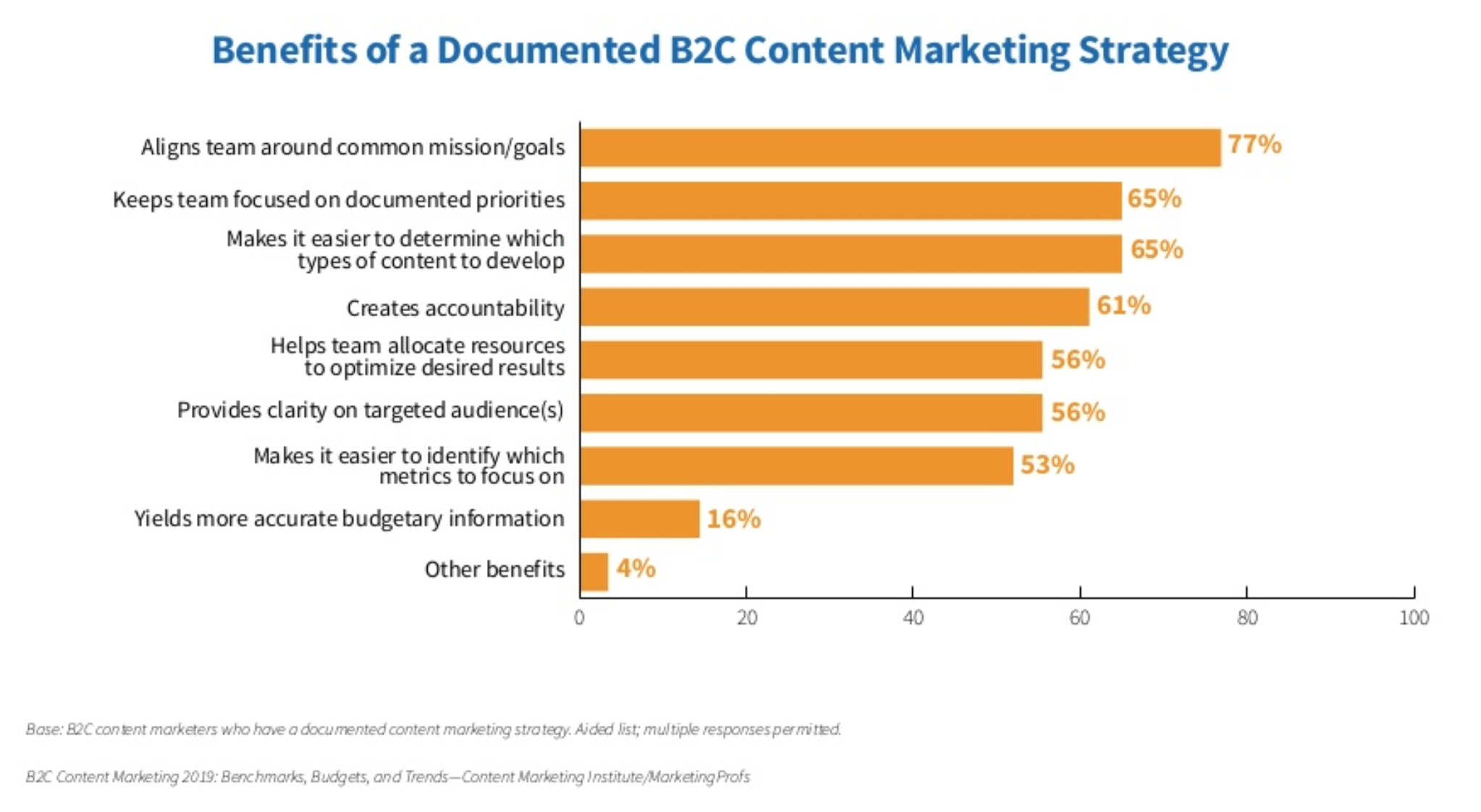 Couple that with travel marketing statistics that point to an increase in both digital ad spend and content marketing in 2020.
With a bigger marketing budget comes higher expectations and a need for accountability — both go hand in hand with your content strategy. By knowing what you want, it's easier to secure what you need in terms of resources (think: marketing tools, an influencer budget, social ads).
Oh, and consider that having enough time and resources to create new content are two of the top challenges of content marketers today. Having a defined strategy helps you avoid the headache of being strapped for time or cash when you're trying to meet your deadlines.
The three elements of a winning content strategy
Just like there's no "right" way to do travel planning, there's no "one-size-fits-all" when it comes to your content marketing strategy and goals.
Maybe you're laser-focused increasing your conversion rate. Perhaps you're looking for more social mentions.
And if you're not quite sure where to start with your strategy, don't sweat it.
Regardless of your goals or brand's destination, the following principles are fair game for just about any content strategy.
1 | Put together personas that define your ideal customers
The better you know your target audience, the easier it is to come up with content travelers will love.
Personas paint a picture of your potential customers, breaking down specific details of your audience so you can fine-tune your messaging. For example:
What are your travelers' goals and desires?
What are their objections and pain points?
Where do they hang out online?
What other brands do they love?
Tools such as Xtensio's free persona templates can help you build in-depth buyer personas from scratch. Here's a snapshot of their travel-specific persona template: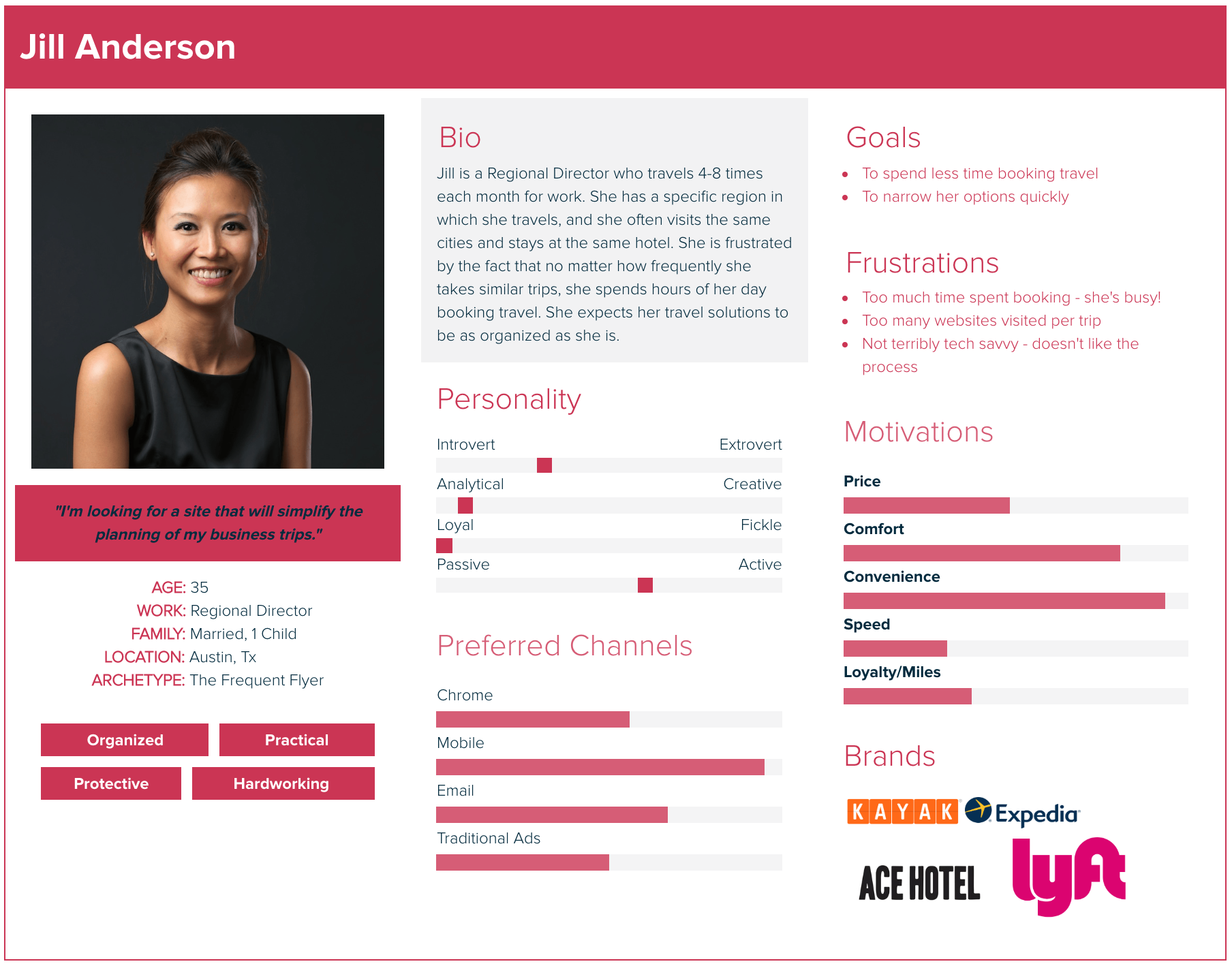 Need more proof that personas work? Check out how Visit Indy achieved 3x higher click-through rates on their Facebook ads via persona-based content.
Let's say you haven't gone through the legwork of creating personas quite yet. No worries!
Arguably, one of the best ways to better understand your travelers is by picking the brains of your colleagues and customers directly.
For example, consider interviewing visitor center or front desk staff about frequent questions or requests that they hear from people in different stages of their trip planning process, such as during travel planning or in-destination. The answers may surprise you and serve as valuable insight for your personas.
You can also send out a quick survey to your existing customers via email if you're hunting for first-hand data.
2 | Create a comprehensive content calendar
Assuming that you know your travelers inside and out, you're ready to start creating content.
From social posts to blog posts and beyond, you're likely juggling a ton of different creatives. If you're working with writers or influencers, you're likewise dealing with relationships and deadlines that need to be met.
This all speaks to the need of creating a content calendar that you can realistically stick to.
Whether you build your own or take advantage of our totally free content calendar template, make a point to include the following as part of each calendar entry:
Content type: blog post, social post, infographic, visitor guide, etc.
Completion date: the date your content needs to be completed to undergo review
Publish date: the date your content is going live
Campaign: distinguish between owned (blog post, social post), earned (media publication, influencer campaign) or paid (social ad, print ads)
Persona(s): defining who your piece of content is intended for
Rights and credits: determining if you have the proper permissions and rights to your creatives (think: UGC rights)
Objective: what is the purpose of your piece of content (brand awareness, conversions)
Cost: what is the dollar amount associated with a piece of content
Calendars do double duty of organizing your workload while also giving you something to present your managers and higher-ups for the sake of accountability. When someone asks what you're working on, your calendar spells it out in black and white.
3 | Review your results, then rinse and repeat
To wrap things up, let's talk about data!
Food for thought: 63% of social marketers regularly discuss performance data and ROI with their bosses.
Any content marketing strategy today needs to be data-driven. This means regularly reviewing metrics and KPIs to figure out what's working and what's not.
For example, do you know which pieces of content score the most traffic, or what visual assets are getting the most engagement? How about the top channels funneling visitors to your site?
Regularly reviewing Google Analytics can clue you in on which distribution channels work best such as paid ads, organic search or referral. In turn, you can give these channels your full attention and make adjustments to any underperformers.
Tools like Crowdriff can help you dig even deeper into visual content performance. For example, you can see what kind of visuals your travelers or guests find most engaging.
By figuring this out, you can focus on creating content that your audience actually wants to see versus second-guessing. Over time, you can continue to optimize your visual content strategy and messaging to reach even more travelers, and make your existing content resonate even more.
What does your travel content strategy look like?
With the tips above, you can put together a smart, goal-driven strategy that makes sense for your travel brand.
And if you need any help at all with the planning process, we've got you covered.

Image credit: @sierramorganjones