Getting your communications right around health and safety is critical for tourism recovery.
As a DMO, you need to be building consumer trust to get locals and visitors traveling again.
But there's a lot to juggle between relaying health and safety guidelines, supporting your local businesses & partners, and encouraging respectful travel behaviors.
DMOs of every size are using CrowdRiff to source, get rights to, and publish UGC that shows locals and visitors exploring safely in their destination. Unlike say, just adding a tagline to your website that says you're open, these photos and videos are social proof that people notice and trust.
Let's look at a few examples.
Social distancing and mask-wearing
People rely on state authorities for health and safety information. Leverage your brand as a DMO to promote these guidelines in unique and creative ways.
For instance, showing photos of people in face coverings helps normalize mask-wearing at local businesses and in the community. These photos can come directly from your locals or visitors.
Take a look at how Cobb Travel & Tourism does it. They're running a Halloween-themed contest, asking people to submit photos of themselves wearing masks and social distancing via CrowdRiff's Collector and on social media. The winner gets 2 tickets to a local attraction.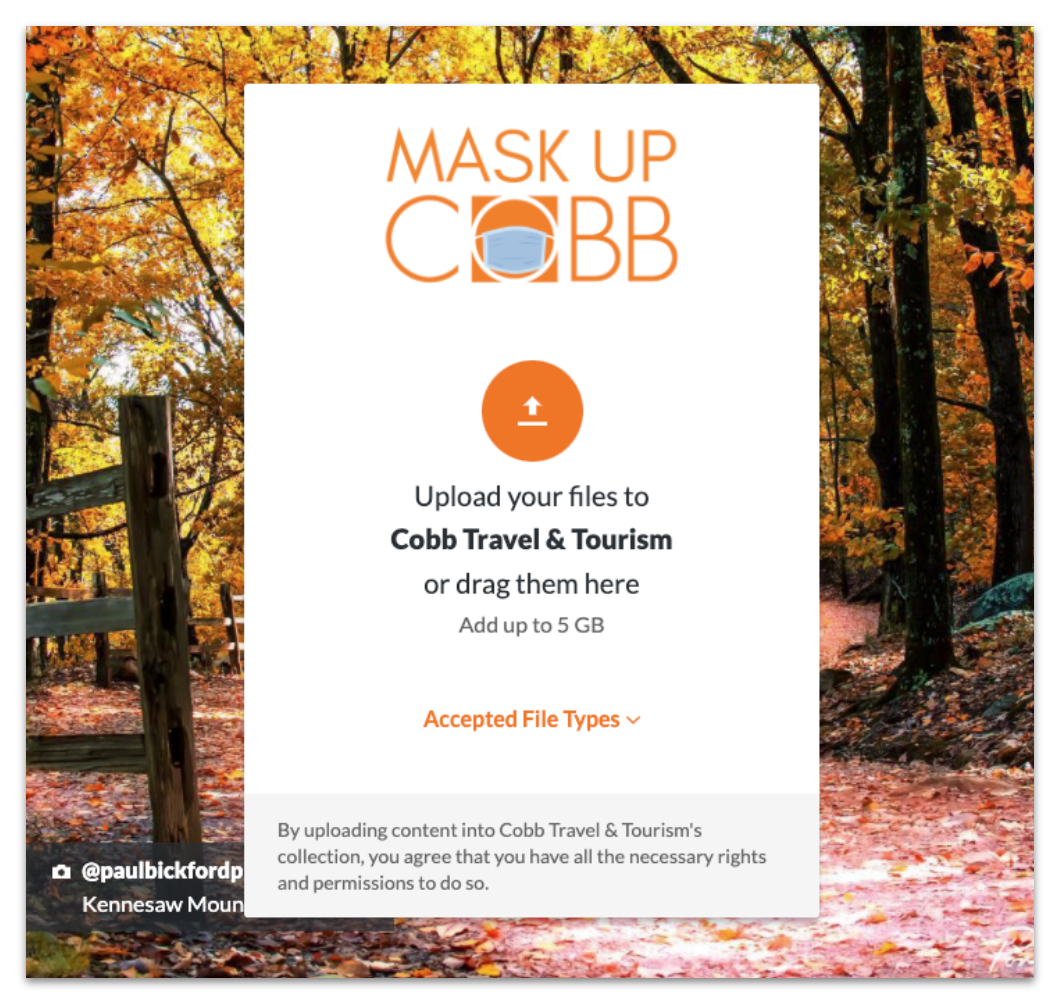 And they're not the only ones. DMOs like Visit South Bend, Huntsville Madison CVB, Visit Norfolk, and Ludington Area CVB have all run similar contests to collect high-resolution, rights-approved content from their communities.
Ideas for using CrowdRiff to promote health and safety guidelines:
Use hashtags or social accounts to find new content that shows people wearing masks and taking appropriate social distancing measures around your community and at local businesses.
Use Collector to run a contest. Collector allows you to easily get visuals from your community into your CrowdRiff library. Give away gift cards to local businesses or other prizes in exchange for new content.
Use galleries, single embeds, or Social Publisher to publish these visuals across your website, on your social media channels, in your next email newsletter, as part of a video campaign, or in other marketing material.
Support for businesses operating under new guidelines
As restrictions continue to shift, DMOs use CrowdRiff to show social proof around how local businesses are upholding new guidelines, promote offers, and stay top of mind with locals and visitors.
Visit Laguna Beach helps people find safe outdoor dining options with UGC. They use CrowdRiff to source fresh, real-time content from local businesses and publish it across their website and across the blog.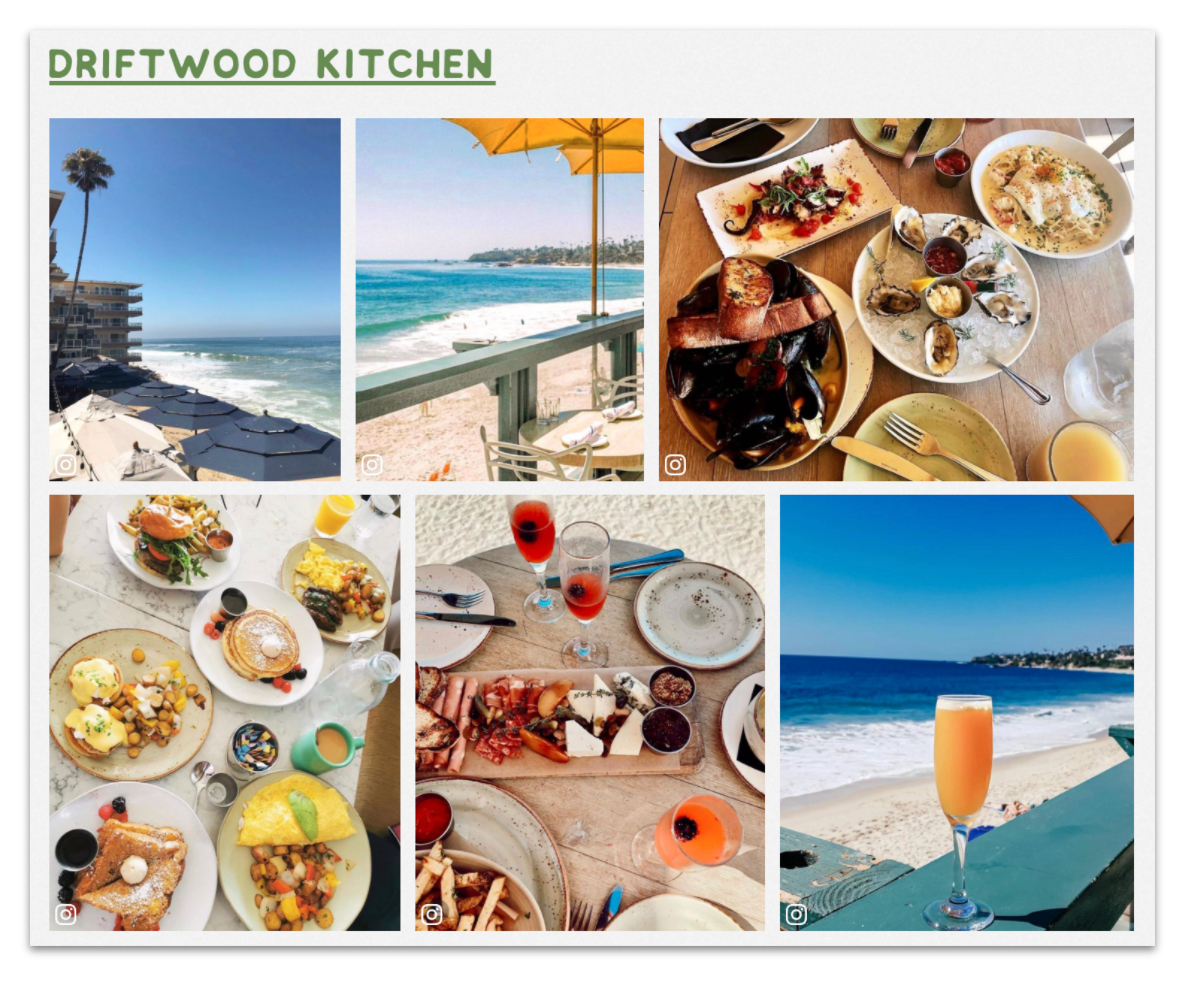 Other DMOs, like Vancouver's North Shore Tourism, created a recovery travel guide using CrowdRiff-powered galleries to promote socially distant experiences and drive traffic to their partners using calls-to-action (CTAs) on the images and videos. The guide also includes critical information on how businesses are keeping people safe.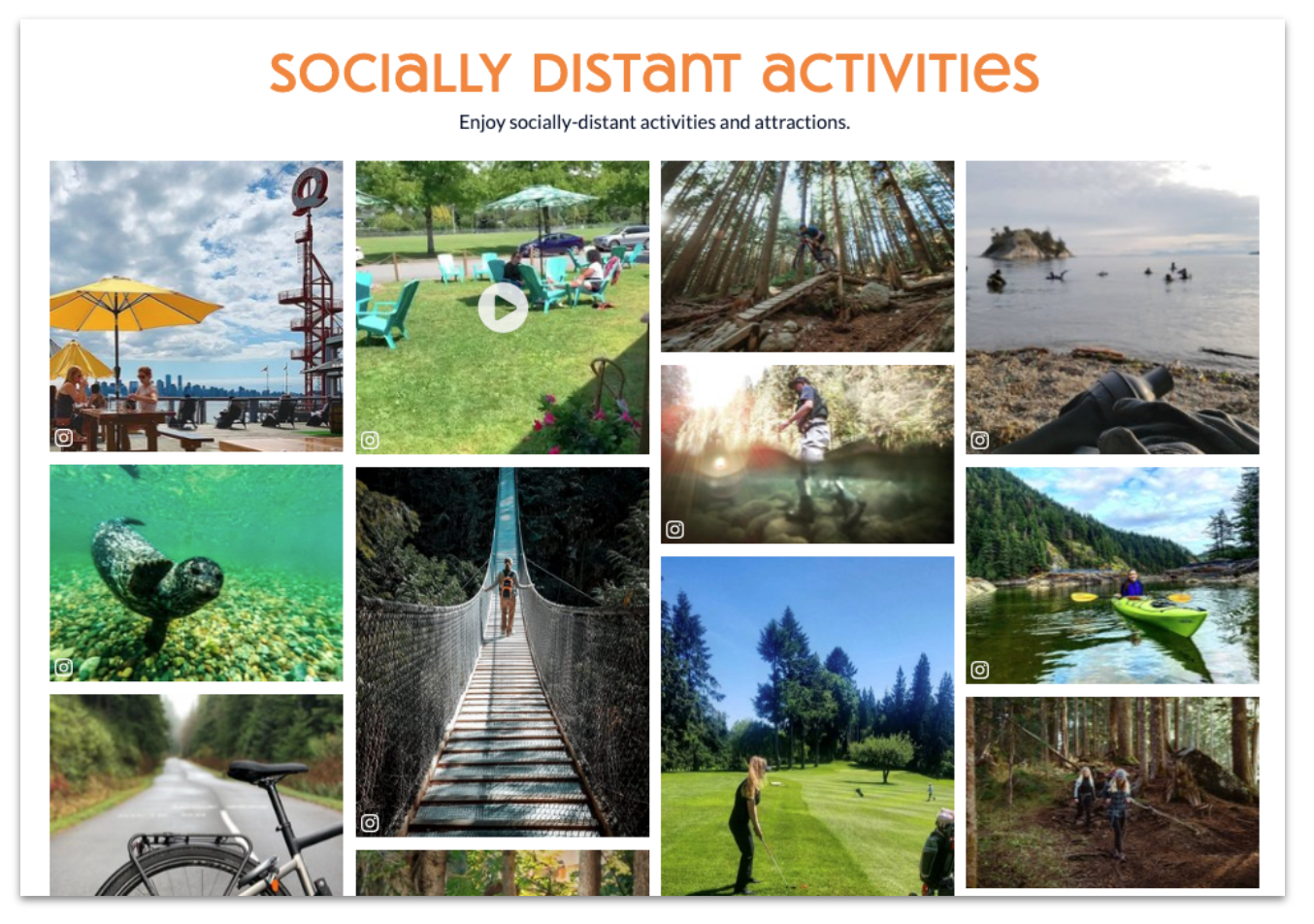 Ideas for using CrowdRiff to support businesses operating under new guidelines:
Pull your partners' Stories, @mentions, and tags right into your library through Connect and easily update communications with new content across your marketing channels.
Use Google Locations and CTAs to promote their latest offers and drive traffic to them.
Publish rights-approved imagery in your Media Hub they can use in their own marketing channels to stay top of mind with locals and visitors.
Respectful travel concerns around visitor behavior
Amplifying your partners and local businesses' health and safety messaging is one side of the coin. Appealing to local residents is another.
Beyond social distancing and mask-wearing, how can you use CrowdRiff to support local communities?
Many DMOs have turned to pledges so businesses and residents can commit to keeping the destination safe for everyone. Visit Stockton's Health Pledge is a great example of this.
It's a voluntary program for local businesses to participate in. Visit Stockton uses CrowdRiff to host owned and earned imagery on galleries to show social proof of these behaviors. They even use CTAs on the images to guide people to read additional information.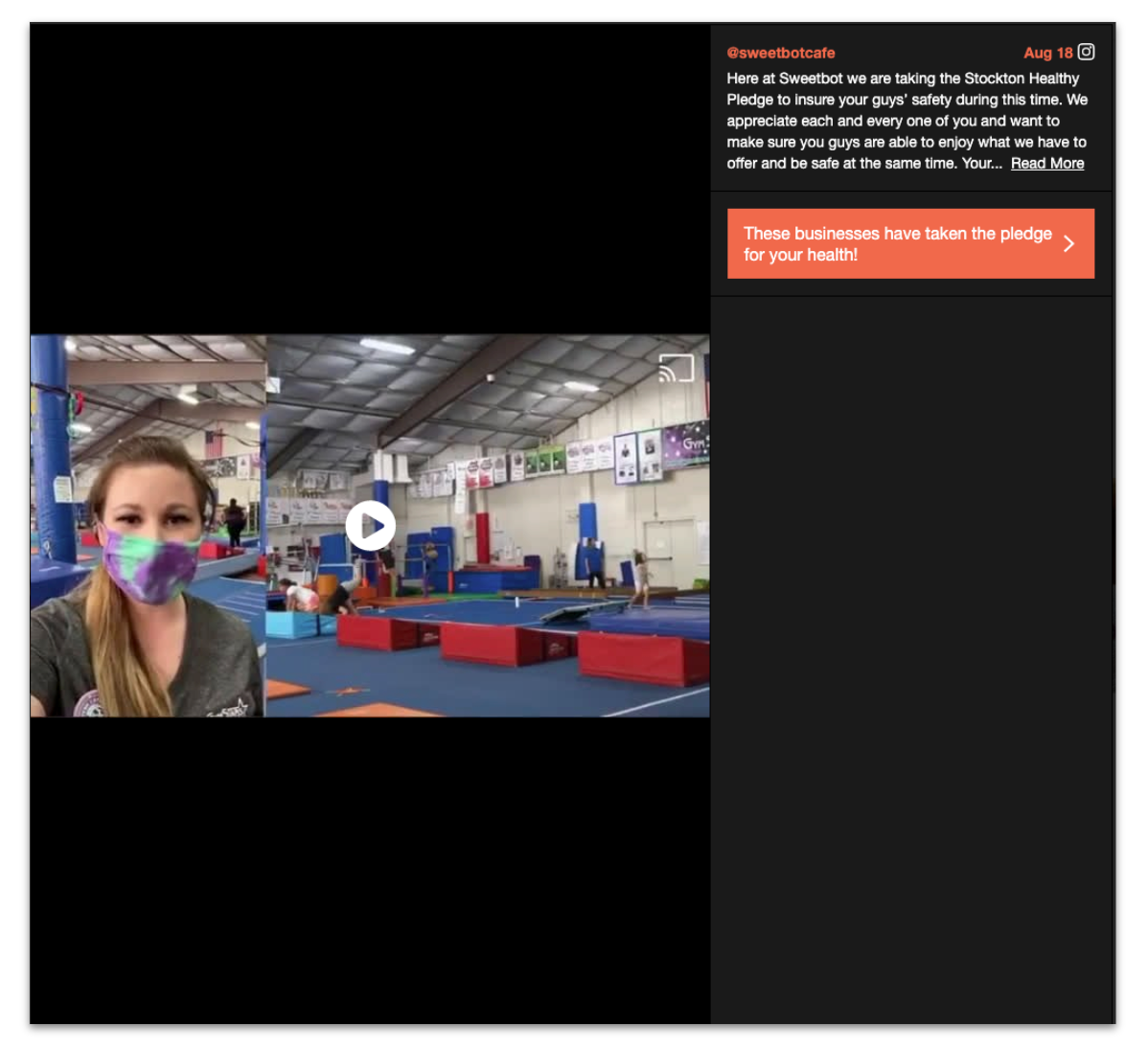 Some DMOs have taken this a step further, like Visit High Point. They created a page reminding visitors of responsible travel expectations, displaying this information in a gallery powered by CrowdRiff.
Ideas for using CrowdRiff to encourage respectful travel:
Source content that shows the kind of behaviors you want to enforce through your partners' social accounts or relevant hashtags. Get the rights to this content to build a library of photos you can use when you need it.
Deploy these photos across your marketing channels: create an Instagram Story highlighting responsible travel considerations, a page on your website, or include a section in your digital visitor's guide.
Host information with a list of guidelines that people can download and read before coming to your destination. Display this information in a gallery on your website. Add CTAs so people can download it directly from your Media Hub.
CrowdRiff is an essential part of your DMO's communication toolkit
To propel destination recovery, DMOs must focus on building consumer trust to get locals and visitors traveling again. The fastest and most efficient way to do this is to use CrowdRiff to source and publish UGC to communicate messages of health and safety, support local businesses, and construct relevant, real-time campaigns that benefit local communities.