SEE, CrowdRiff's annual conference and the travel industry's most forward-thinking marketing conference, was back with a vengeance in 2021 with an action- packed, virtual experience for our customers.
We had 27 speakers, 17 sessions, more than 300 attendees, and a keynote from Derreck Kayongo. Kayongo is a CNN Hero, former CEO of the National Center for Civil and Human Rights and the founder of the Global Soap Project, a humanitarian aid organization that collects discarded and unused soap from thousands of hotels worldwide, reprocesses it, and distributes it to in-need populations around the world.
It's these kinds of inspirational stories and innovative thinking that was carried through each of the sessions that helped our attendees leave feeling optimistic and energized about the exciting future of the global travel industry. We also, of course, acknowledged critical challenges the industry still faces after nearly two years of pandemic travel restrictions.
While the juiciest content was saved for SEE attendees, we couldn't help but want to share some of the important takeaways that came from the day's sessions. So, grab your notepad and take in the learnings from our sessions – let's see how you can elevate your destination marketing efforts in 2022 to be prepared for travel's impending and spectacular comeback.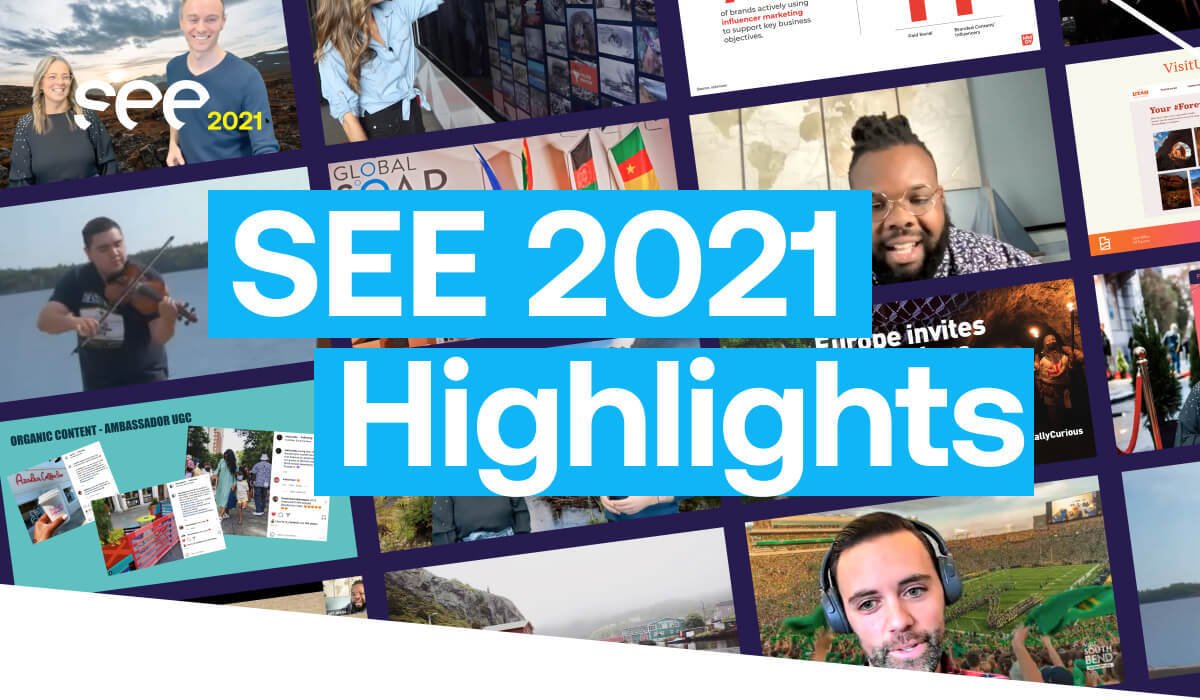 Focus on inclusivity
Many travel and tourism marketers have realized that not only have they historically ignored or underrepresented some groups in their efforts, they've also left a lot of money on the table.
The 2021 Funding Futures Survey found 76% of DMOs in the U.S. and 75% of respondents in Canada said "we are investing in a greater commitment to diversity, equity and inclusion (DE&I) such as training, staffing and working with partners and community groups."
Our session on "Creating a Diverse and Inclusive Destination in 2022" featured talks from Jeff Jenkins, Founder of Chubby Diaries, Ashley Lyn Olson, Founder of wheelchairtraveling.com, and KJ Philp, Content Manager at Visit Phoenix.
Include plus-sized travelers
During the session, Jenkins stressed the importance of making travel more inclusive to travelers of all sizes. With 98% of plus-sized people claiming they would take an extra trip if they felt it was more accessible, he suggested using user-generated content (UGC) visuals to showcase plus-sized people enjoying a destination and how a business is accommodating this group. Images of armless chairs or tour operators who can accommodate plus-sized people are only two examples.
There's a growing movement in the fashion world to have more plus-sized model representation, but the travel industry hasn't caught up to portraying this group in content. There are 138 million plus-sized people in the U.S. alone, and a potential travel industry worth $332 billion.
"If we can make our marketing more humanistic and talk to people where they are right now, I think we can make a difference." said Jenkins.
Make content accessible
Olson pointed out that from 2018 to 2019, 27 million U.S. travelers with a disability took $81 million trips and spent $58.7 billion, yet it remains difficult to find accessibility information on many DMOs' websites or social media. Some one billion people worldwide are living with a permanent disability, according to the World Bank.
Creating a landing page on a DMO's website dedicated to accessibility would make a big difference. Olson said Scandic Hotels' website is a great example of how to make accessibility information readily available.
"Keywords like 'accessibility' and 'accessible travel' are also great for SEO and will boost traffic to your website, so it's a win-win to have this," said Olson.
Also important: DMOs should ensure their websites are accessible with screen and keyboard readers for visually-impaired and other travelers who may need to navigate websites differently.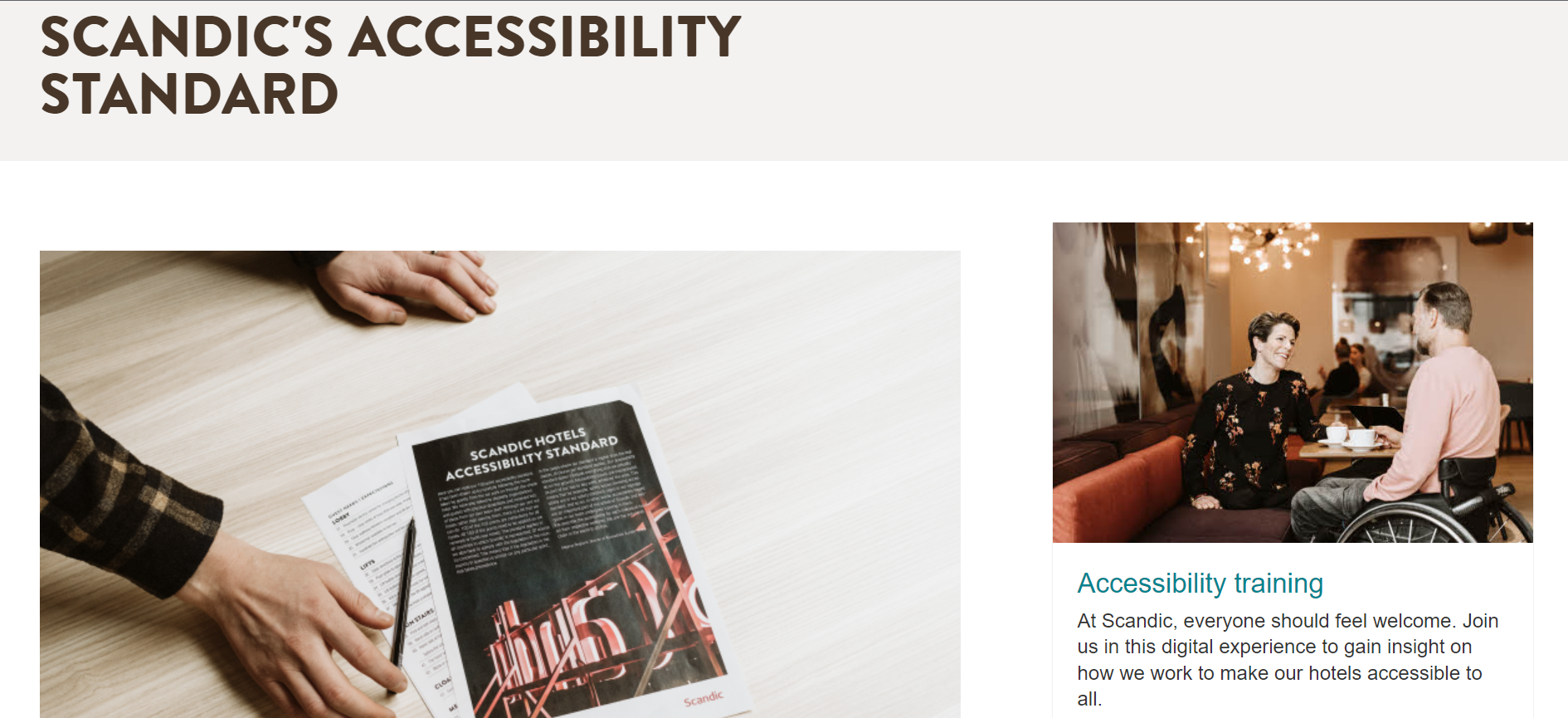 Work with LGBTQ+ creators
Over at Visit Phoenix, DE&I has become more of a check-in with everything it does rather than a check-off, said Philp.
LGBTQ+ travelers look to social to discover where to experience the local community like bars, restaurants, or points of interest for queer people. It's important to address this need in social imagery and help this group find what they're looking for. Call-to-actions (CTAs) from CrowdRiff galleries are an easy way to direct travelers from any specific image to additional related content.
"The images you're looking for are out there on social, I promise," said Philp. "There isn't a singular way to look LGBTQ+, success can be in the subtleties. It's not all about rainbow imagery and the community isn't a monolith. Some people under the umbrella are more marginalized than others."
Philp recommended DMOs seek out nano influencers, or those with small and niche followings, and work with LGBTQ+ creators.

Be sustainable
News stories on racial reckonings in recent years have inspired more organizations like Indigenous Tourism BC, dedicated to promoting the indigenous tourism industry in British Columbia, to include more educational content on how visitors could support marginalized communities through travel.
Deanna Wampler, Social Media Specialist for Indigenous Tourism BC, told the audience how they can help travelers choose a destination that allows them to contribute and give back in our "Building Sustainable Content Strategies That Drive the Right Visitation" session.
"People often think that responsible tourism means leaving no trace outdoors, but travel plans affect more than the physical environment," said Wampler. "They can affect the folks that call that land home."
Wampler explained how her team's content explicitly shows local and indigenous-owned businesses where travelers can directly support people who live in the community. The organization uses CrowdRiff to gather UGC imagery that shows what the experience looks like through travelers' eyes.
Indigenous Tourism BC also developed an app to help travelers understand how to support these businesses and find indigenous experiences. The app has garnered more than 130,000 downloads in a year and a half from travelers worldwide.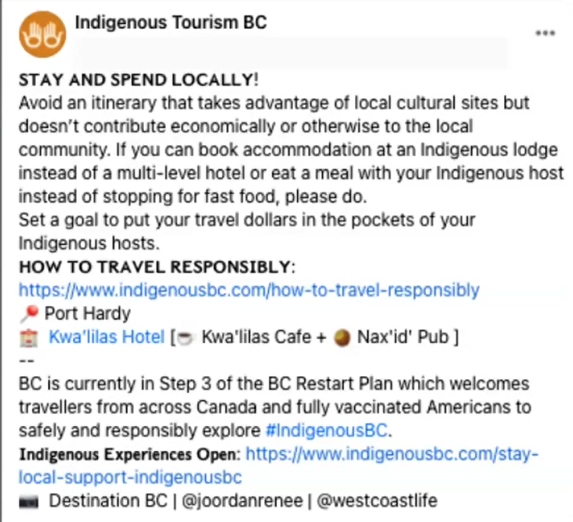 Level up your website
Destination websites must be designed with social in mind or travelers won't view them as a helpful resource. Web pages with UGC galleries decrease bounce rates by 26%, increase pages per session, and increase session duration, according to John Freeman, Social Media Strategist at Simpleview, which works with more than 70 CrowdRiff clients.
Freeman led our "10 Ways to Level up Your Website With CrowdRiff" session.
"The most important part of displaying and using UGC is consistently curating the content," a quote from Julie Grant, digital marketing manager at Discover Newport, shared by Freeman during the session.
"Ensuring all assets in each gallery look and feel consistent is the key to displaying a successful UGC and ensuring it fits within your brand and website's identity."
Some other Simpleview tips include:
Include @ mentions: 35% success rate of requesting photos without @ mentions vs. 55% requesting photos with mentions.

Design mobile Galleries: This is often overlooked, but CrowdRiff Galleries can help. Mobile Galleries are also important for user experience and SEO.

Embed single images through CrowdRiff: This guarantees the image will stay if the user deletes their profile or sets it to private, unlike native Instagram embeds, for example.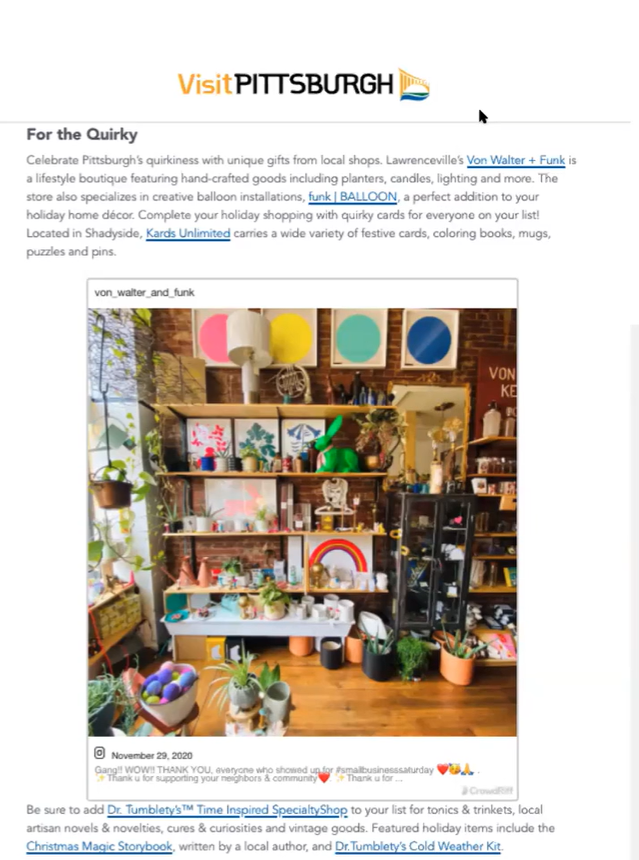 Be mighty!
Discover Long Island's small team didn't let the pandemic stifle creativity or stall their mission of promoting the world-famous destination.
Instead, they took the opportunity to rethink their content marketing strategy and launched multiple new, highly successful programs, including the Long Island TV YouTube series and the Long Island Tea podcast. Nikki Theissen, Vice President of Partner and Visitor Relations at Discover Long Island, led our "Small But Mighty Teams" session.
Long Island TV: the team wanted to own their own narrative through storytelling that only they could do, so they created a series of videos that showcased local attractions and businesses that are shared on Instagram Reels and Youtube. Long Island TV got 1.2 million views over 12 months and more than 2,700 subscribers to the YouTube channel.
Long Island Tea Podcast: features their CEO and COO and gives listeners the latest scoop on all things Long Island from a local perspective. The podcast has been listened to in 27 countries and has more than 8,300 downloads with more than 8,400 unique landing page views.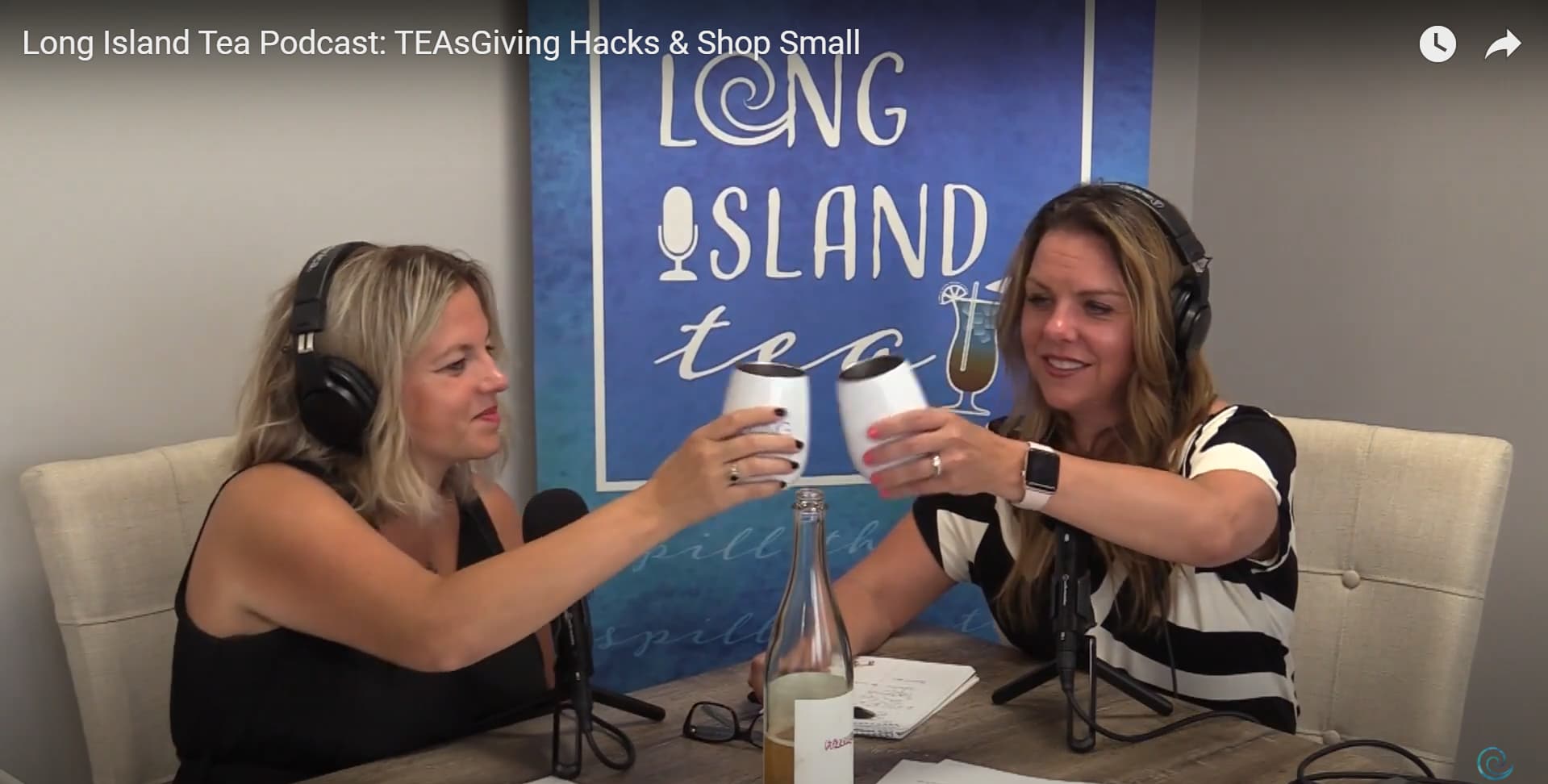 Be analytical
Some metrics are more meaningful than others, a theme that the team at Verb Interactive, a Halifax, Nova Scotia based marketing agency primarily serving the travel and hospitality industry, shared during our "Leading Your Social Strategy With Analytics" session.
With some metrics, DMOs will want to see as high a number as possible, such as with:
Followers

Engagements

Impressions

Link clicks
With others, it's more about the quality, like with:
Engagement rate

Growth rate
DMOs need to have their key performance indicators (KPIs) in place to decide which metrics matter most. And when content planning, they need to prepare for the unpredictable: be sensitive, be adaptable, and be up to date – all of which came into play when the pandemic hit.
Also, each team should ask themselves three questions when developing a data-driven content strategy:
Do I understand how to read the analytics of all of my current platforms?

Am I using this data to inform my decisions? For example, 62% of active TikTok users are 10 – 29 years old and TikTok for Business could help with understanding that audience.

Have I considered any other avenues I could use to amplify my reach on social, such as paid media or influencers?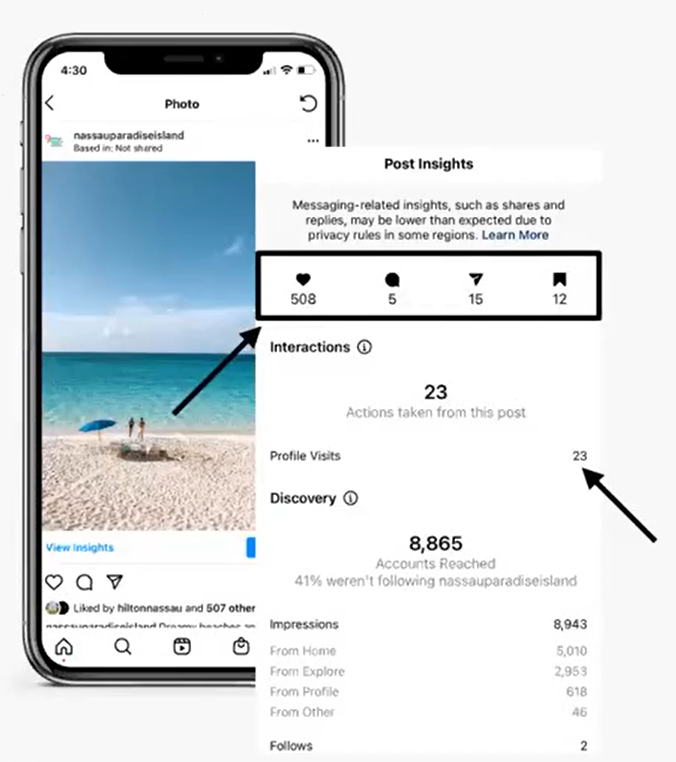 Be aware of social media trends
Going into 2022, it's more important than ever to leverage real-time data from social to inform decisions through things like social listening.
Our "2022 Trends in Social Media: How to Leverage CrowdRiff" session covered how social media is driving travel decisions.
Some 84% of active leisure travelers have a personal page on social media and 52% have selected a vacation destination based on social media info, according to
Brandon Billings, Vice President of Social Media and Content Strategy at MMGY Global and Mackenzie Bromley, Director of Social Media at MMGY Global, who led the session.
Here are three trends we're watching:
Importance of being authentic: 

79% of travelers say UGC has had a highly effective impact in their decisions. Authenticity resonates more than professional photos. CrowdRiff can encourage partners to utilize specific hashtags, save high-performing search and turn to your audience to find authentic and real-time imagery.

Insatiable appetite for social video: 75% of Instagram users take action after viewing a video ad. Build content specific to the platform and use CrowdRiff to work with locals.  Look for patterns and repurpose what you already have.

Growing shift to content creators: 66% of travelers made a travel purchase partially based on social media content from influencers/content creators. Make sure to partner with content creators who align with your destination over just going after individuals with a larger following base. Crowdriff can help identify strong creators and track new and emerging hashtags.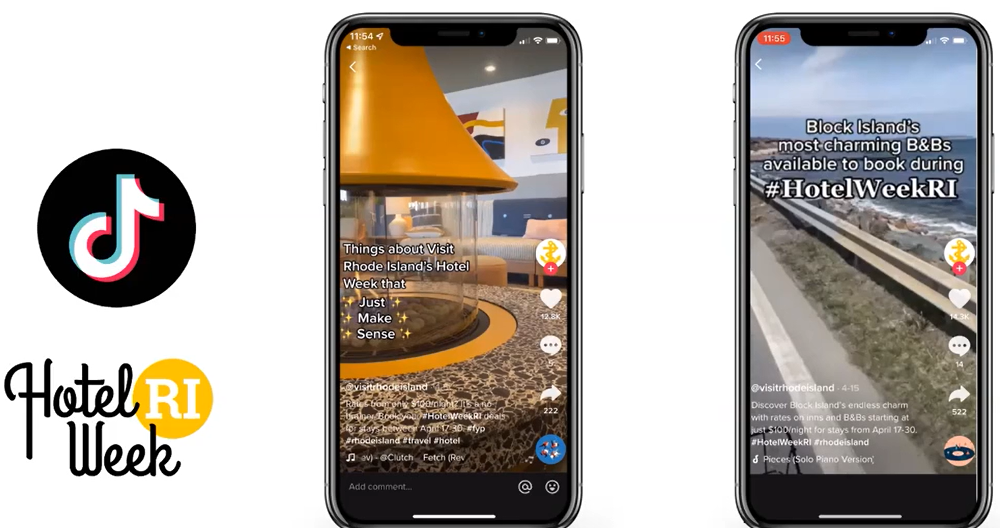 Plan for 2022
If the travel industry has learned anything in the past two years, it's to expect – and be prepared for – the unexpected.
DMOs can make a plan to ensure their 2022 content strategy is executed smoothly, regardless of unplanned events or trends. Here are three actions destination marketers should consider that we covered in our "Planning for 2022: Content, Website, and Social Media" session.
Plan out your content calendar: Include all of the important dates in your area's calendar and make sure you promote in advance.

Create blog posts that are evergreen: Topic ideas could include places to enjoy fall foliage. Update posts with new places each year.

Create and schedule social content in advance: Write many short pieces of copy with UGC about a longer blog piece. This will keep that "always on" momentum going in your strategy.
Now the dust has settled on SEE 2021, destination marketers should take the learnings from these experts and apply them to their 2022 marketing strategy. To learn how CrowdRiff can support you in creating successful campaigns, watch a free preview of our platform here!