Travelers today don't want to travel like tourists.
Some don't just want to visit the landmarks that everyone goes to see — they want personalized experiences too.
They want to explore different neighborhoods, wander the streets, and experience a destination through the eyes of a local.
A DMO's neighborhood guide can help travelers do just that. While a Google search might list out some must-visit spots, your guides can show them these spots in curated groups, and give them a taste of what each area has to offer.
Here's how to create helpful neighborhood guides that'll get travelers bookmarking your website, and clicking "Book Now!" sooner.
1 | Brainstorm some key places you want to highlight in each neighborhood
In addition to the most popular attractions in each area, think about things visitors might not otherwise be aware of. 
Is there a fantastic hole-in-the-wall joint most tourists overlook? A cafe that offers hosts performances every Thursday? Or maybe you can highlight that Insta-worthy wall of street art people like taking photos against.
These are the sort of unique tidbits of information you can provide people, that are really helpful and let you showcase your knowledge as an authority of your destination.
This is also a great opportunity to think given your tourism partners a boost. Are there some smaller or newer noteworthy businesses that you could send foot traffic to? Include them!
2 | Reach out to locals for recommendations
You don't have to come up with everything yourself — ask locals for suggestions!
How? To start with, send out a call for recommendations on social media.
Where would you have your last meal in San Francisco? You can tell a lot by a person's answer. https://t.co/WsTpGziYiV

— Only in SF (@onlyinsf) January 23, 2017
Give locals a chance to highlight the secrets that are so good they don't mind sharing.
The best part about asking people who live and work in each neighborhood for their suggestions is that you then have direct quotes (and possibly pictures) that you can include in your neighborhood guides.
You can also browse social media to see where people are posting pictures — and therefore where they're hanging out the most.
"There's so much going on you find little nuggets of things that are happening in town, new public art, new murals, new stuff happening… you can have your finger on the pulse of what's going on."
3 | Look for great visuals to feature
So you've got your ideas — now to showcase them.
People make decisions based on the visuals they see. That's why it's important to have plenty of amazing visual content to sprinkle throughout your guides, and exert some visual influence!
Now, you probably already own some photos to use in your guides, but chances are, they're not enough to create a true visual experience. Where can you go to get more photos?
People are taking and sharing thousands of great photos in your destination every single day.
What if you could tap into that? Sometimes it's just a matter of asking. If you spot a photo you'd like to use, ask for permission to borrow it. For example:
Our customers typically see a 60% approval rate in their rights requests. That means for every 5 people you ask, 3 of them will say "yes please!".
If you use CrowdRiff galleries, you can showcase the original social photos straight on your website, without having to download the photos first.
The great thing about user-generated content is that it really adds that authentic local "flavor" travelers look for and trust.
Read about how using UGC on your website can improve your conversion rate!
4 | Putting it all together
Now that you've got all your pieces, how should you stitch them together?
Create a layout that puts your visuals first
Of course, your neighborhood guide's exact layout will depend on your brand design, but one thing to keep in mind is this:
Make visuals the center of your neighborhood guide. Captivate and inspire everyone who reads your guide, with great photo and video content.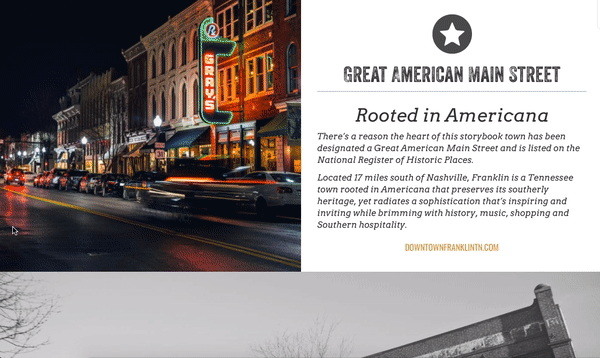 Your average reader might only read only 20% of a web page, but they'll view every photo.
So step back and let the visuals do the talking for you.
Tell a story
While we recommend visuals being the main driver of your neighborhood guide, text helps anchor your guides.
Travelers don't just want to know where to go. They want to know why they should go.
Instead of just listing where to find each spot within a neighborhood, try throwing in some backstories and interesting tidbits about each place.
How did this popular family restaurant come to be? Is there a top-secret sauce? A remarkable line-up to boast?
Just like how visiting Buckingham Palace would be significantly more exciting after you've watched The Crown on Netflix, charming your readers with stories makes a visit more meaningful (and your neighborhood guide a more interesting read!).
5 | Adding the calls to action
Now you're almost done! The last thing you need to do is make your guide actionable.
After you've charmed and delighted them with the content of your neighborhood guide, don't leave your inspired traveler hanging. Give them calls to action so they can take the next step.
If you're talking about a restaurant, give them a way to make their reservation.
If you've shown them a great local theatre, provide the link to where they can buy their tickets.
If you've told them about an awesome bike trail, a simple "Learn More" linking to that park's website can give them the information they need and help prolong their interest.
Some DMOs like Beverly Hills and Hammock Coast overlay CTAs on their photos. So as people explore and engage with their galleries, they're prompted to take action.
This kind of CTA makes a lot of sense, because people engage with visual content more than text.
With these CrowdRiff CTAs Hammock Coast was able to drive 20% of their traffic to their tourism partners.
Need some inspiration?
Here are some great neighborhood guides to get some ideas from.
Visit Denver:

Airbnb:
On the Grid: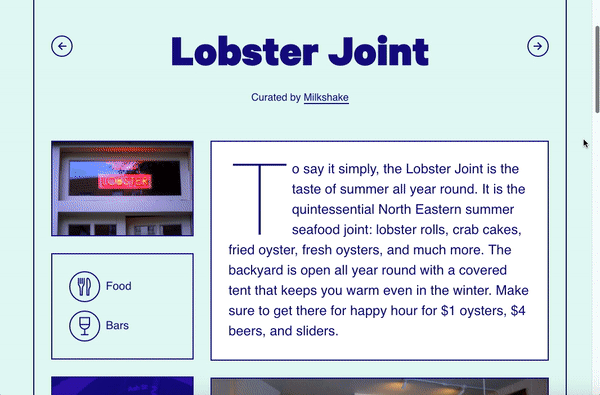 Now it's your turn.
As a DMO you have a unique advantage over sites like Instagram, Yelp, TripAdvisor.
You have a wealth of insider knowledge you can translate into your guides, and the ability to curate the photos your locals and travelers are sharing.
Pair your little-known backstories with authentic photos and actionable inspiration, and you create a neighborhood guide speaks to the way travelers want to experience your destination.
Header photo creds: @cascadia_pacifica