Our recent webinar with our partner Simpleview, "The Power of Visual Storytelling: Maximizing Engagement & Reach for Destination Marketing" was so packed full of info that we couldn't help but share an abbreviated version here.
We covered how CrowdRiff helps destination marketing organizations (DMOs) produce content that pulls at travelers' emotions, how our AI search organizes DMOs' user-generated content (UGC), best practices for short-form video (SFV) on different platforms, and MUCH more.
Let's get on board for more of the webinar's key takeaways:
The Definition of Authentic Content Has Changed
If there's one way we can sum-up why SFV is so important to invest in, it's this: "Travelers can see through the super glossy, over-produced content now and they know that's not realistic," said Alice Goode, Product Marketing Manager at CrowdRiff, who led the webinar. "Travelers really want to see themselves in the content that you're putting out there."
SFV is multi-sensory and more realistic for travelers. With an image, you're confined by the dimensions of the image. With a video, you can take a 360-degree view into how you tell a story. UGC helps to build trust and is viewed as more authentic than filtered photos or even professional photography. And remember, UGC isn't just images – UGC videos (usually also SFV!) have exploded in popularity.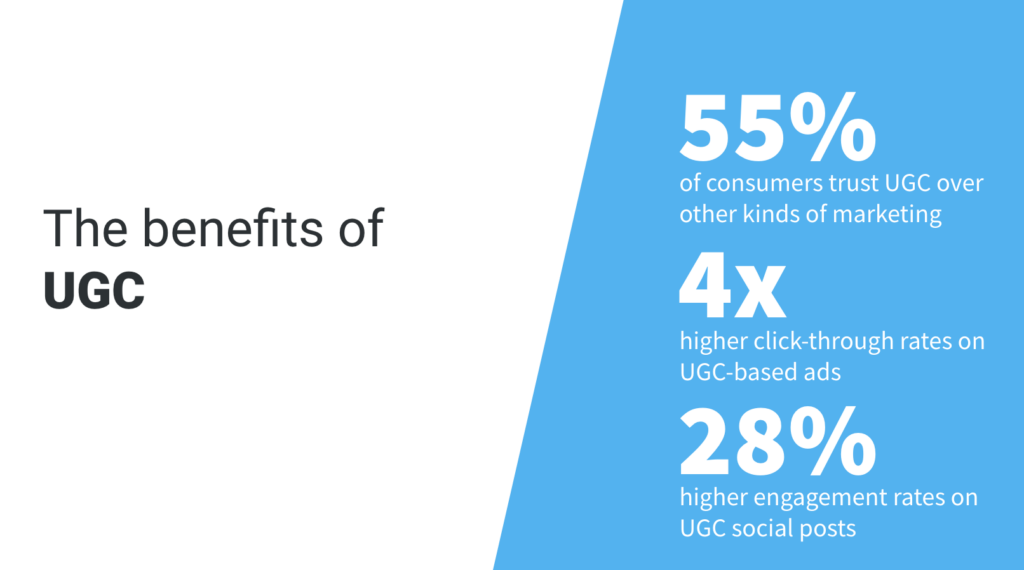 How CrowdRiff Uses AI to Help DMOs Find and Organize UGC
CrowdRiff's UGC platform is powered by AI search, which helps DMOs quickly and easily find the right content they need.
Here's how it works:
Photo upload and Auto-Tagging AI: CrowdRiff's platform keeps all of your visuals in one place, including all professional photography assets you own, and organizes it in seconds. AI automatically tags images with relevant and descriptive keywords for easy categorization and discoverability.
Lighting-fast image search: CrowdRiff's intelligent search recognizes word stems. For example, if you search "hike," our intelligent search will expand that search to similar words like "hiking," "hiked", "hikes", cutting down on the number of searches you have to do. It also searches in multiple languages.
Flexible search parameters: Additional keywords and date ranges can also be added to your search term. With the hike example, you could also add "mountain" or "sunrise" in "2022".
Social trackers: All photos, videos, and Reels captured and shared by your audience on Facebook and Instagram are sent straight to your CrowdRiff platform in real-time.
Quality score: CrowdRiff uses a quality score to tell you which images will perform best.
"If you can type it, we can find it," said Goode. "A great example of how this is used is, let's say you've just written a blog post about beaches in your area and you want to find a header image for that blog, you simply type in "beach" to the search and all of your images of beaches will show up."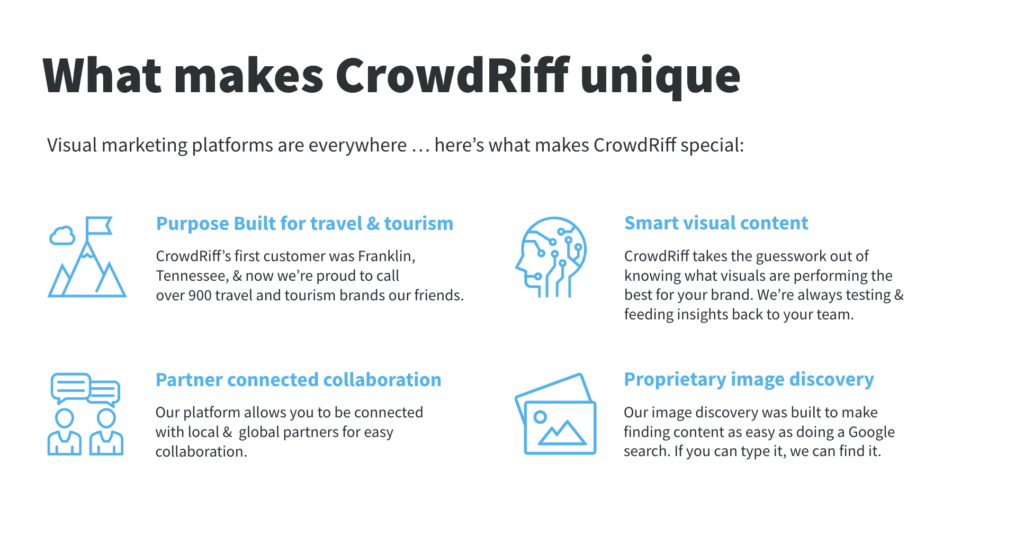 Looking for more content?
Get in touch with our team to learn how CrowdRiff is helping DMOs showcase their destination with UGC and short-form video.
Learn more
TikTok is U.S. Adults' Favorite Short-Form Video Platform
That's right! U.S. adults spend more time on TikTok per day than any other social platform, spending an average of 46 minutes per day watching and scrolling through their feeds.
TikTok was the first platform to champion an interest-based algorithm, which shows users SFV from accounts they follow and content from accounts that TikTok thinks they'll enjoy. TikTok helped propel SFV into the mainstream and whet travelers' appetites for it.
On average, TikTok videos have engagement rates six times higher than Instagram Reels (and if you're just getting started on Tiktok, CrowdRiff has an eBook ready for you with updated 2023 best practices for TikTok and other SFV platforms!)
About 35% of CrowdRiff DMO customers post on TikTok about once a week, showing how adoption is there but DMOs still have a lot of learning and exploring to do.
Some benefits to using TikTok include:
Videos can be up to 10 minutes long, but that doesn't mean they need to be 10 minutes. The shorter, the better.
Access to lot of niche audiences and micro-communities such as #solofemaletraveler and #cheaptravel
TikTok is better for trendy content (think viral dance videos or challenges)
TikTok videos are less polished and filtered compared to other platforms
While more than 30 U.S. states have banned TikTok on government devices, that's no reason for DMOs to abandon the platform, said Goode.
"The ban doesn't affect travelers and it's important to balance the marketing potential with the restrictions," said Goode. "It's still useful as a destination marketer to be on TikTok. Having a personal account just to keep an eye on the conversation that's being had by your destination on TikTok will help you keep up."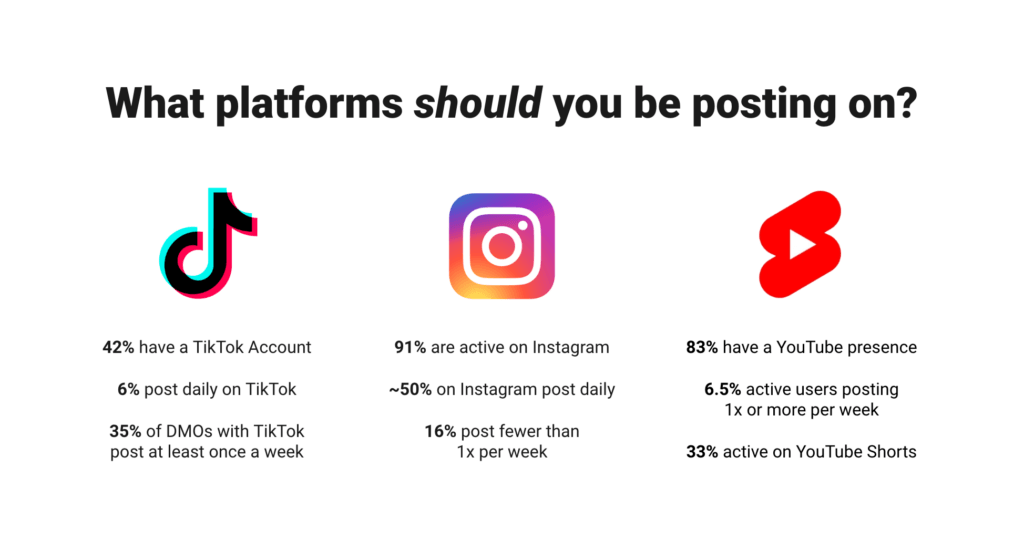 *Data shown represents CrowdRiff customers activity on each platform
Instagram Reels is Instagram's Fastest Growing Format
Reels account for 20% of the time that people spend on Instagram, demonstrating how popular this SFV format is becoming. A Reel can be up to 90 seconds long, but again, the shorter the better to stay in-line with travelers' shrinking attention spans.
One of the latest Reels updates we know DMOs will love are new templates, which allow you to borrow templates from another Reel to use as a starting point. You can pre-load the audio, transitions and clip placeholders so that you can then easily sew in your destination's content.
Other cool new additions to Reels include sound effects and audio imports, which let you put audio you like (from a song, for example) on a different video. Another example is taking audio you have of a local beach and putting that on a video of a beach that didn't have great audio.
And Stickers from Stories are now available in Reels (think stickers that let you vote for something, or those that are holiday-related).
YouTube Shorts Has YouTube's Global Power
YouTube Shorts have now surpassed 50 billion daily views globally, owed in large part to YouTube's position as the world's second most visited website.
Some 83% of CrowdRiff customers have a YouTube account. "A lot of destinations already have a YouTube presence to host longer branded videos," said Goode. "Right now 33% of our customers are active on YouTube shorts.
Shorts launched in 2020 and videos can be 15-60 seconds long. "Since 2021, the demand for YouTube Shorts has grown faster than the supply," said Goode. "What that means is that people are consuming YouTube Shorts videos faster than creators are able to upload them."
"We're seeing a lot of destinations that are impacted by TikTok bans turning to YouTube Shorts as an alternative to share SFV," Goode added.
Learning is a top reason why people turn to YouTube for content, and that's why videos geared towards educating travelers will likely be more successful on this platform.
Some other tips for YouTube Shorts:
"How-tos" or explainer videos work great
Take your audience behind-the-scenes of their favorite attractions
"A day in the life" videos work well (small business owner, for example)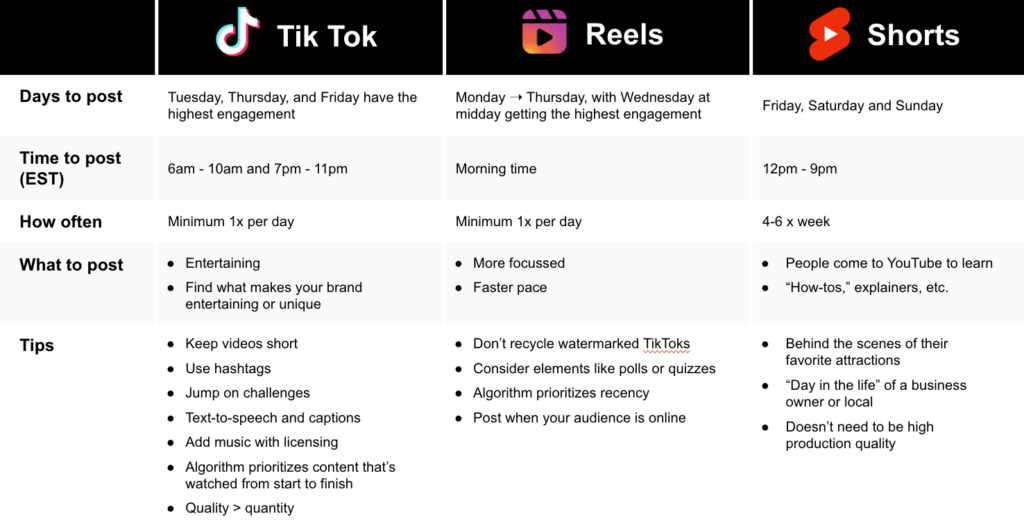 SFV Should Complement Your UGC
CrowdRiff Creators, our newest offering, is designed to help DMOs keep up with high demand for SFV so that your team isn't overwhelmed. CrowdRiff sources local creators in your destination to produce SFV aligned with your brand and goals, and delivers it to you in ready-to-go clips.
Our CrowdRiff Creators eBook explains everything about how Creators works, why it makes sourcing and sharing SFV easy for your team, and what makes our creators and their perspectives unique. We've already worked with many destinations across North America (including Visit California, check out their Creators' stats below!) that have seen their Creators content make a huge difference.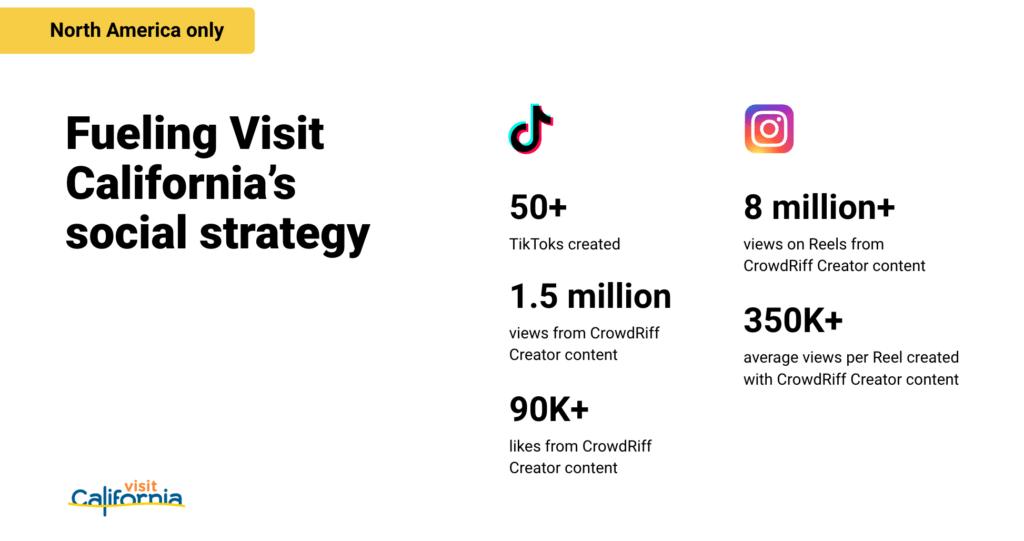 Watch the full webinar here for more insights into the latest SFV trends and how CrowdRiff's approach to helping DMOs source and create UGC and SFV is changing the game for what quality travel storytelling looks like.