With Americans of all ages saying staying safe from infection is their top lifestyle priority over the next six months, hitting the right notes around health and safety messaging is critical right now.
"The travel experience is going to be disruptive (health checks) or weird (everyone wearing masks) for a while so ensuring the message does not ignore those facts will be beneficial in the long-run," says a recent PhocusWire article.
We couldn't agree more, which is why we're rounding up eight travel brands that get their health and safety messaging spot on. Take inspiration from these brands, or visit our Community Stories Hub for more ideas.
Communicating messages of health and safety to locals
Pike Place Market is using its Instagram feed to encourage mask-wearing
Pike Place Market, a public market hosting hundreds of vendors in Seattle, is sharing imagery on Instagram to encourage the use of face masks. They show photos of both visitors and vendors wearing masks on their feed.
These visuals go a long way to paint a realistic picture of the experience at Pike Place Market right now. They set expectations for visitors and also reassure them that everyone is doing their part. It also helps the market promote its partners to their almost 150K Instagram followers.
Key takeaway: Focus on sharing what's open, managing visitors' and locals' expectations, and promoting messages of health and safety. If you can, leverage your following to show people what your partners are doing to keep people safe.
Visit Norfolk started a contest to advocate wearing masks around the community
The State of Virginia requires masks when people spend time indoors. Visit Norfolk is asking the public to help them reinforce this message by "capturing yourself at your favorite Norfolk location with your mask on."
People can enter the contest by tagging the DMO on social media or uploading their photo using CrowdRiff's Collector for a chance to win a gift card to a Norfolk brewery or restaurant.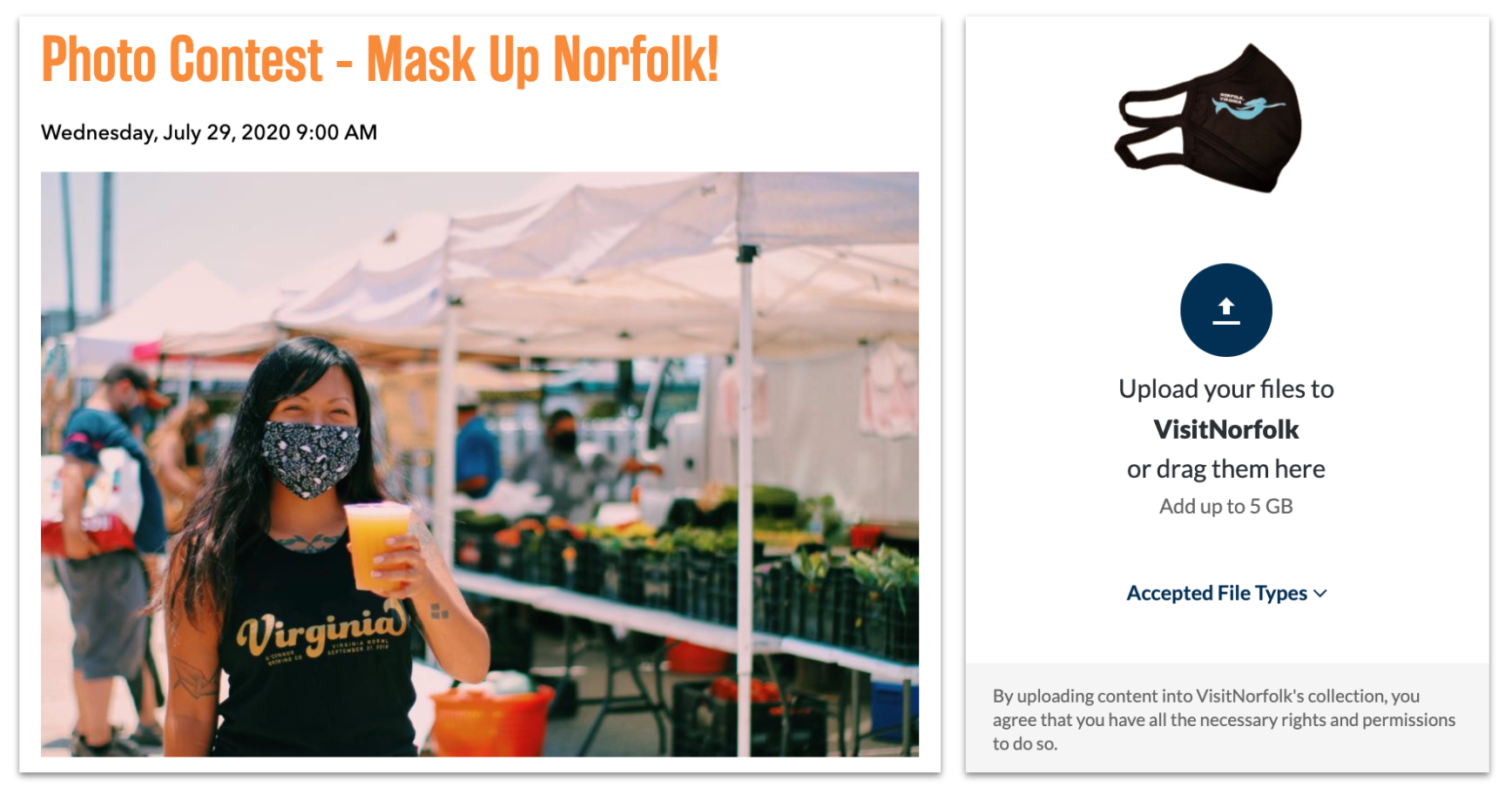 Key takeaway: Contests are a great way to foster local pride, encourage positive behavior like mask-wearing, and generate fresh user-generated content. Speak with your partners to collaborate on prizing.
Yakima Valley Tourism's COVID-19 page shows locals how businesses are keeping them safe
Yakima Valley Tourism has a page dedicated to COVID-19 updates and resources for businesses to help them reopen safely.
On the page, they also share a link to sign their 'Open and Safe Pledge.' By signing, businesses and their employees pledge to follow guidelines set by the Yakima Health District, wear face masks, and reduce occupancy in common spaces to comply with CDC, state, and local social distancing guidelines.
A UGC gallery at the top of the page shows real-time visual proof of how businesses are keeping people safe.

Key takeaway: Community-based pledges like this help ensure a clean, safe, healthy environment for employees, customers, residents, and visitors as destinations reopen. UGC shows locals and visitors social proof of how businesses are meeting these guidelines.
Downtown Knoxville Alliance is reminding people to support local
Downtown Knoxville Alliance, Tennessee, is responsible for attracting and maintaining a community of residents, businesses, and visitors in Downtown Knoxville. As part of their Insider's Guide to Downtown, they have a page reminding residents to support local and thanking them for doing so.
Instead of individually reaching out to their business partners for content, they use CrowdRiff's Connect feature to pull photos and videos to use on their website, like this gallery focused on mask-wearing.
Connect allows you to pull Instagram content from your tourism and business partners. When connected, their Stories, @mentions, and tags flow directly into your CrowdRiff library.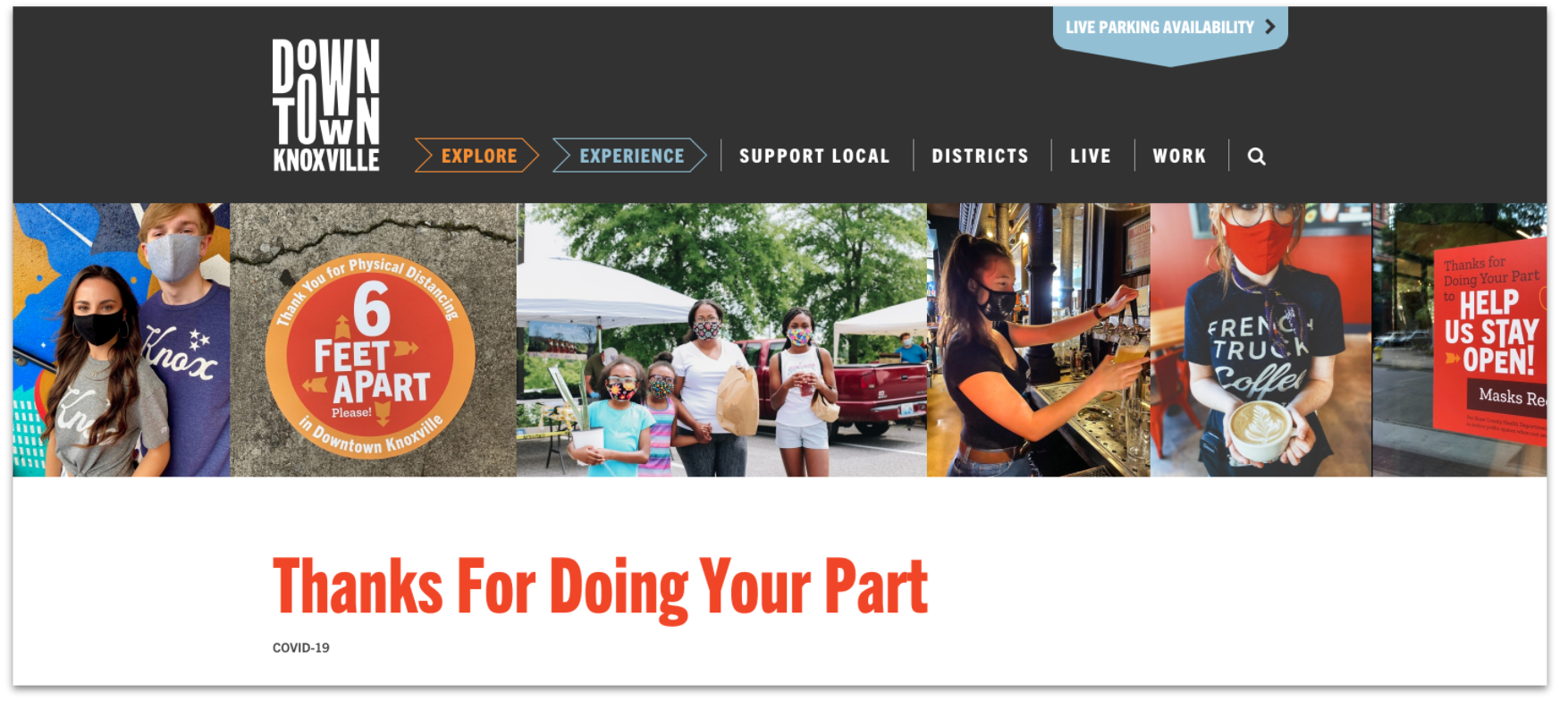 Key takeaway: Especially if local businesses aren't equipped to tell their own stories, help them amplify their messages. Show what's open and available. Share stories of positivity and resilience. And don't just tell people what they're doing around health and safety, show them.
Communicating messages of health and safety to travelers
Vancouver's North Shore Tourism created a visual travel guide using UGC and calls-to-action to promote partners
The DMO designed its visitor page to be highly visual and based on different kinds of interests and itineraries (getting back to nature, open attractions, etc). Instead of a wall of text, they used CrowdRiff galleries with calls-to-action (CTAs) to funnel interest to socially-distant experiences and their partners.
The province of British Columbia is in Phase 3 of its reopening. Responsible travel outside of people's communities is approved. Guides like this help restart the tourism economy by showing travelers what options are available and by making it easy to book with CTAs.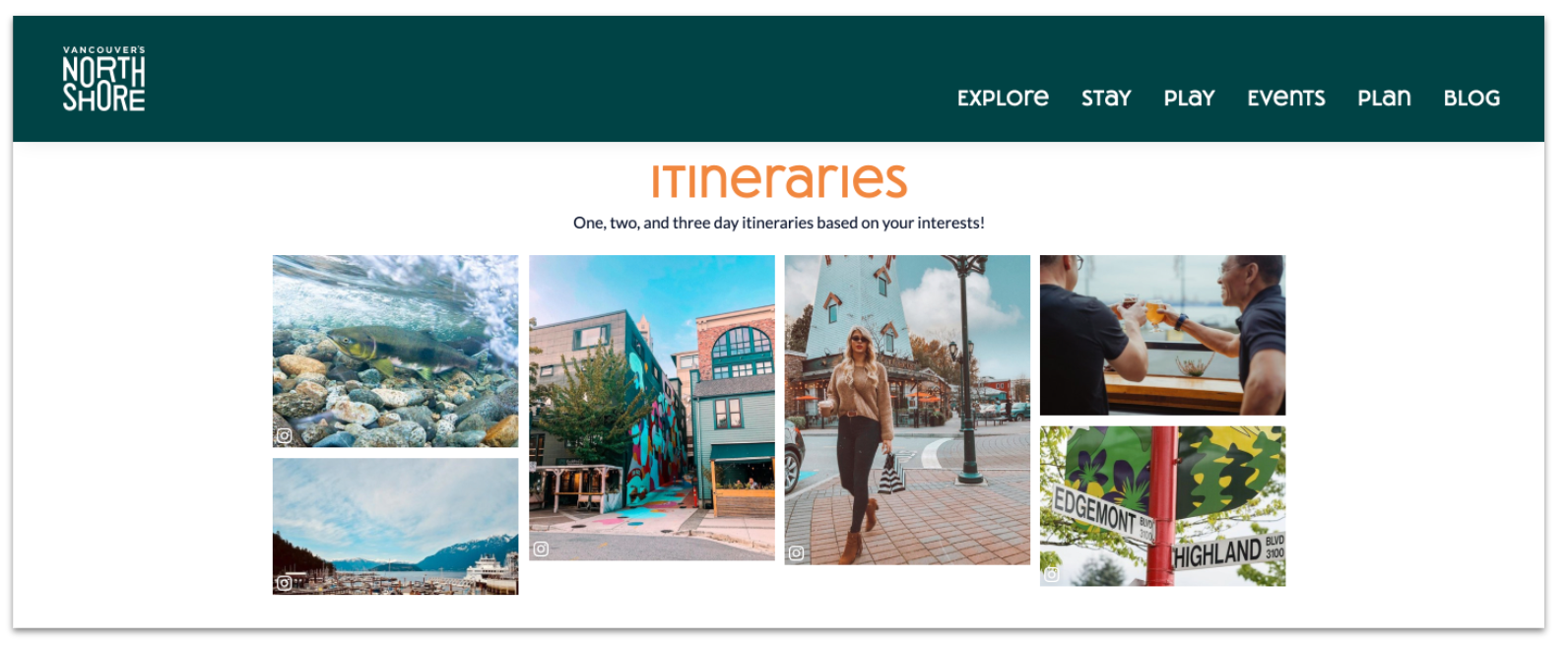 Key takeaway: Even if your destination isn't welcoming outside travelers right now, you can prepare by gathering relevant, real-time content of what the situation is like now. Make a list of partners who are open. Have a conversation about what experiences or offers they'd like to promote and include them in your guide.
Visit Indiana is running a statewide pledge for businesses and visitors
The statewide pledge, called the Hoosier Hospitality Promise, involves both businesses and guests. By signing the pledge, visitors make a promise to abide by safety measures like hand sanitizing, wearing a mask, and social distancing. Businesses also make the promise to go the extra mile for safety. Visitors who sign are eligible for discounts at attractions across the state via an app.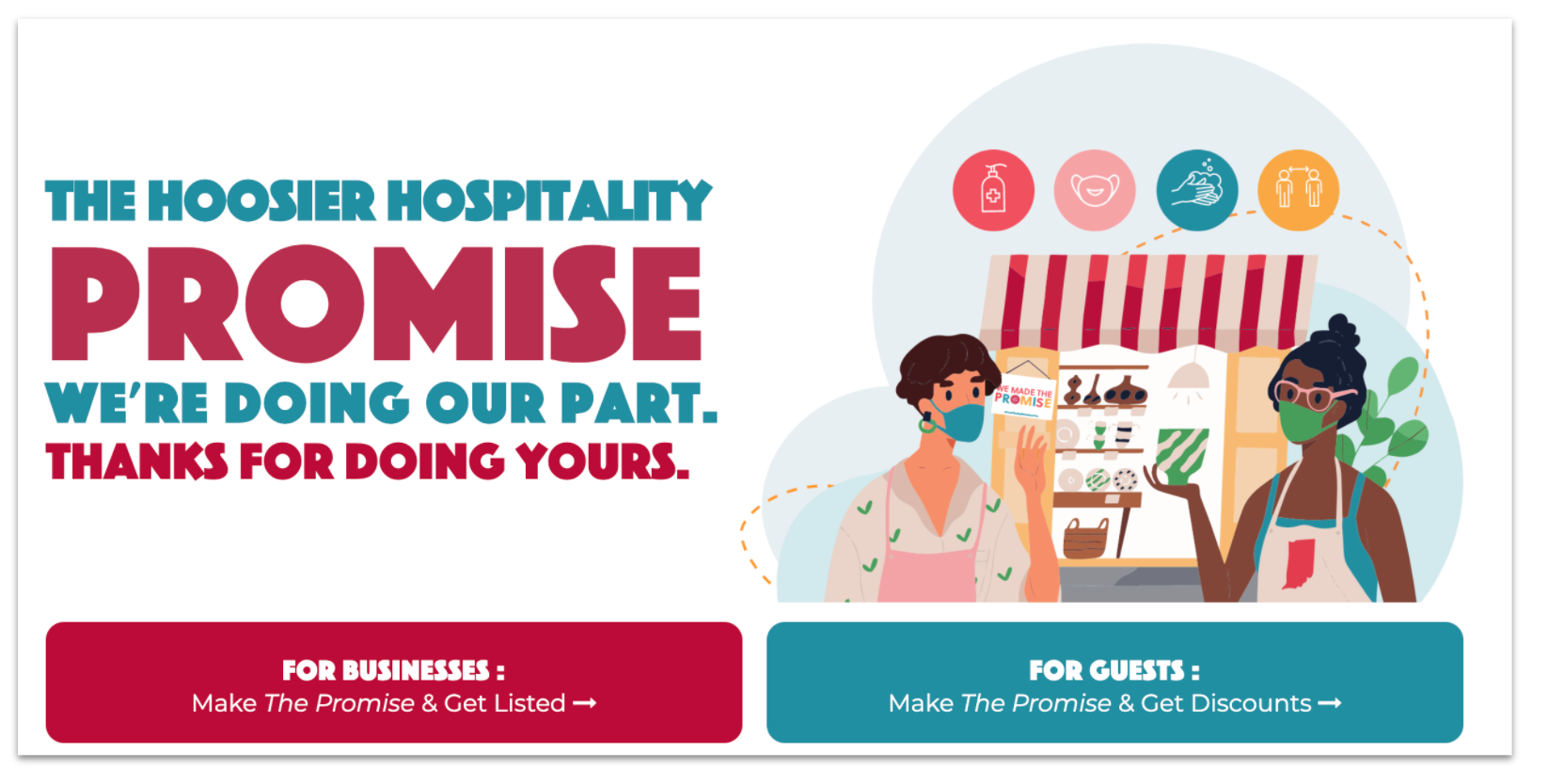 Key takeaway: A rising tide lifts all boats. What's unique about the Hoosier Hospitality Promise is that it encompasses the entire state, rather than just individual communities. This allows for greater collaboration between regions, partners, and goes a long way to build consumer trust both in the short and long term.
Visit High Point created a page reminding visitors of responsible travel expectations
Visit High Point, North Carolina, is currently in Phase 2 of reopening. That means of their hospitality partners (with the exception of movie theatres, bars, and gyms) are open and ready to welcome visitors.
They created a webpage to remind visitors of the expectations when traveling there. The page includes:
A video explaining safety tips in detail
A CrowdRiff gallery featuring repurposed IG stories to promote businesses who have reopened
A CrowdRiff gallery showing pictures of people wearing masks around town, inviting visitors to share their photos using the hashtags #MaskHP and #ShareHowYouWearHP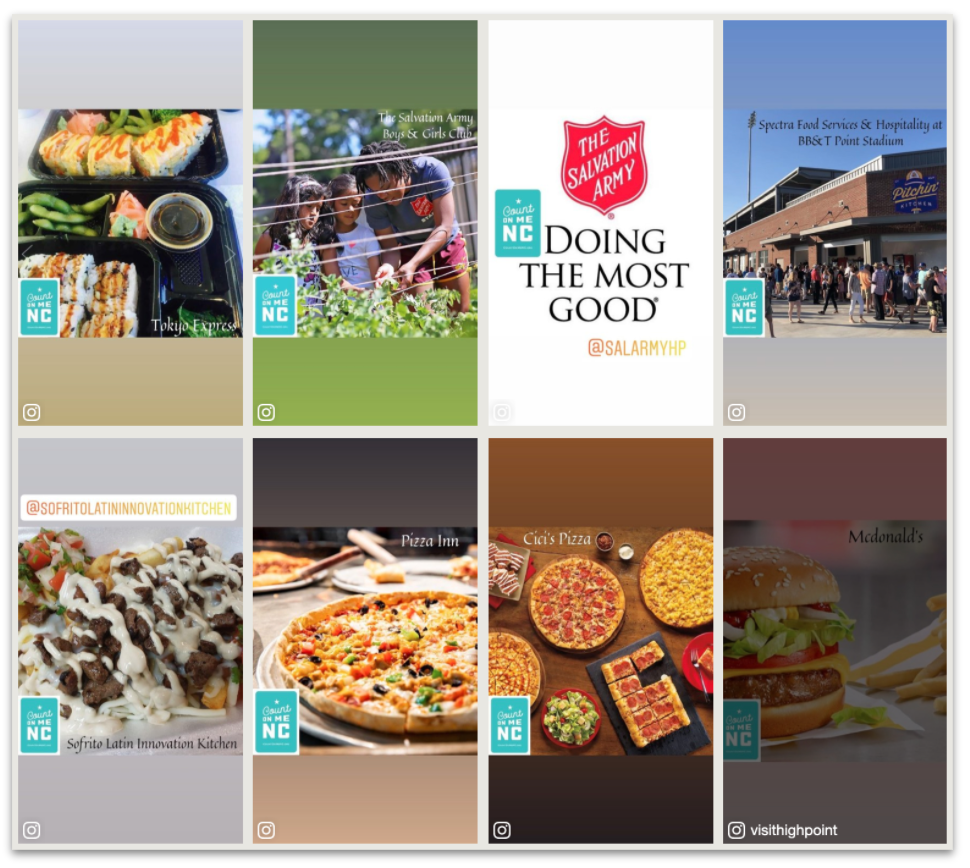 Key takeaway: Keeping your high traffic and/or COVID-19 website pages up-to-date is essential. Videos, UGC, and other multimedia can help drive the message home.
If you are using IG Stories on a regular basis, consider reusing the content on your website. One way to do this is in a UGC gallery. It's a low-cost, low-effort way to cross-promote your offers and drive engagement.
Tourism Squamish manages visitor expectations with clear messaging across owned channels
The most effective way to get a message out is to align communications across your website, social media, and other owned channels. This is exactly what Tourism Squamish is doing with their health and safety messaging.
Like Vancouver's North Shore Tourism, they're welcoming travelers from outside the community. They're promoting a safe and sustainable reopening with the message "Explore Squamish Responsibly" on social media channels like Instagram and on their website.
Take note of how they present this information in an easily digestible way. They also provide local tips for staying safe (like recreating at non-peak hours) on posts they share in their feed.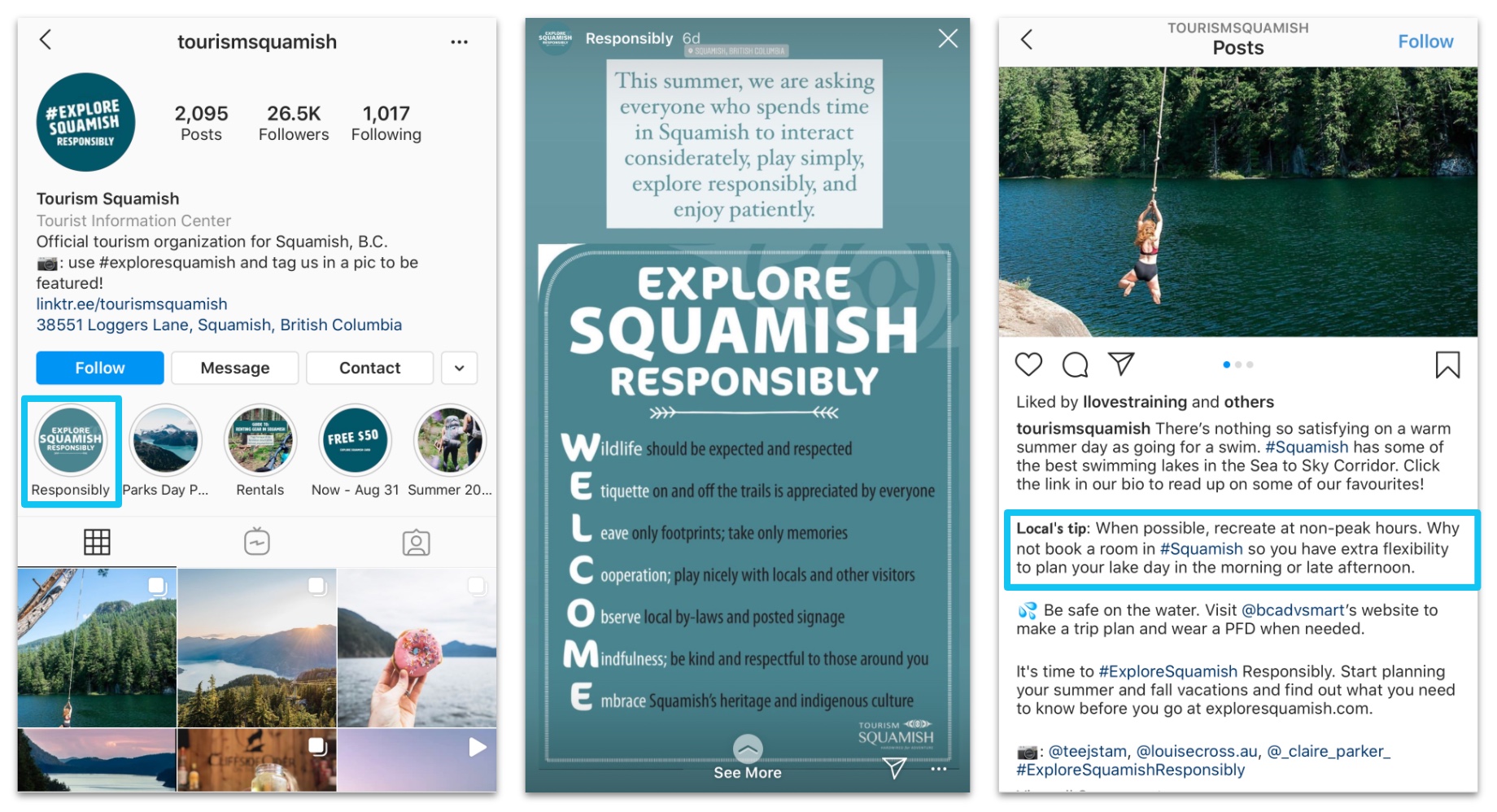 Key takeaway: Align messaging across your website, social media, and other earned channels. When possible, distill complicated messaging in ways that are easy to take in, like Squamish.
The key to rebuilding trust with travelers
Crafting the right message—one that shows what's open and inspires people to visit in a realistic way—is the basis of rebuilding consumer trust.
Get the message right by sharing what's open, collaborating with local health authorities and your partners, and by showing real-time proof of what the reality is like at your destination today.
Header image credit: @maxwbender