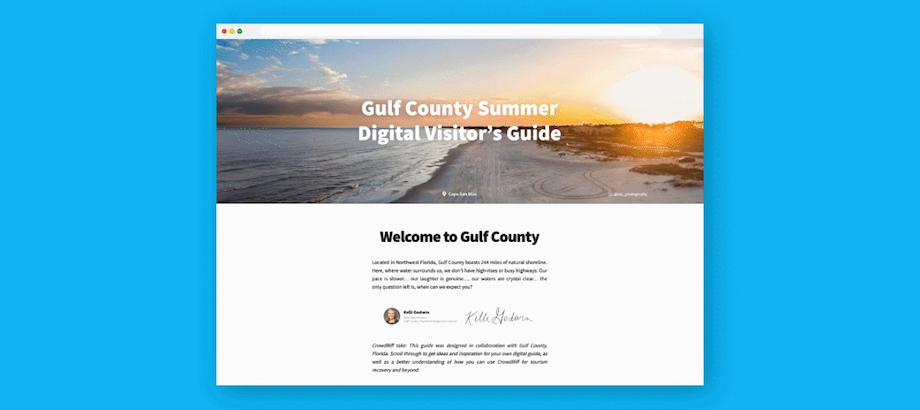 Printed visitor guides published by DMOs are an important resource for trip inspiration and planning. However, with nearly every DMO operating with reduced budgets, physical visitor guides are off the table this year for many.
How can you give visitors and locals a similar experience without the price tag?
A digital visitor guide or brochure keeps your audience dreaming, reintroduces your destination to residents, and amplifies your partners, stakeholders, and local businesses.
With CrowdRiff, you can source timely and affordable visuals to keep your guide up-to-date, tap into digital tools to drive traffic to your partners, and ultimately tell the most accurate, trustworthy story of your destination as it stands today.
In this post, we'll run through how you can use elements of CrowdRiff to build your digital visitor guide. But we recognize words can only take you so far — to see the platform in action, explore our feature with Gulf County for their Summer Digital Visitor Guide.
Laying the groundwork for your digital visitor's guide
Before you start putting together your digital visitor guide, you'll need to decide on a few key details.
1 | What kind of visitor's guide you want to create
Unless you're uploading a PDF of your printed visitor guide, it's unlikely you'll want to translate your entire printed guide into a digital version (this would take a lot of your time!). Instead, consider:
Creating a pared-down digital version using the sections that matter to people right now, such as where to eat, what to do locally, and where to stay if they're planning staycations or overnight trips
Taking one element of your printed visitor guide and expanding on it, such as your foodie, road trip or local guide section
2 | The format of your visitor's guide
This will depend on the resources you have available. A web page will require the assistance of a web developer, while someone on your team can create a series of blog posts in as little as a week. A few options could be:
Webpage as part of your site
Landing page or microsite
Series of blog posts
3 | Have conversations with your partners about their involvement
Just like a physical visitor's guide, use your digital visitor's guide as a way to amplify your partners, stakeholders, and local businesses. If you don't already have an agreement with your partners, you'll want to specify:
Any associated costs to be featured in the guide
How they will supply you with up-to-date, rights-approved content (if you're a CrowdRiff user, Connect makes it easy to ensure your partners' content is always accessible)
What promotions or specials you want to highlight or feature
Other information you can link to or guide people to download
Using CrowdRiff in your digital visitor's guide
What elements of CrowdRiff can you use to build out your digital visitor guide? Here are a few ideas to get you started.
Galleries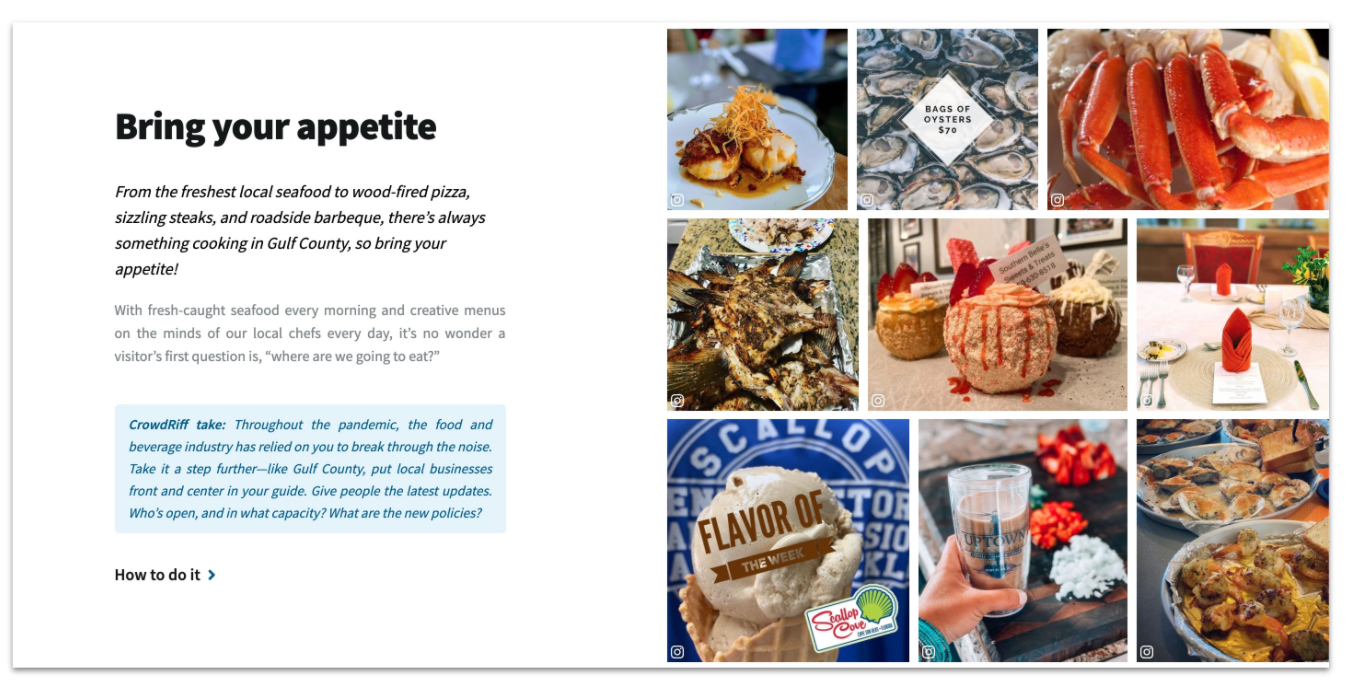 CrowdRiff galleries are an easy way to show locals and future travelers social proof of the latest information around your destination, who's open, and how these businesses are meeting and enforcing current social distancing guidelines.
Use different galleries to what to eat, places to visit, and where to stay.
As your destination reopens, you can swap out images that inspire people to travel, like sweeping vistas, to actionable images, like specific activities or attractions like food pictures, or outdoor activities. Update your galleries as often as you can to keep content fresh for recurring visitors. Just be sure to get the rights to the content you want to use in your guide.
Take your galleries a step further with the following features:
Explore how we're using galleries in our sample visitor guide.
CTAs & Google Locations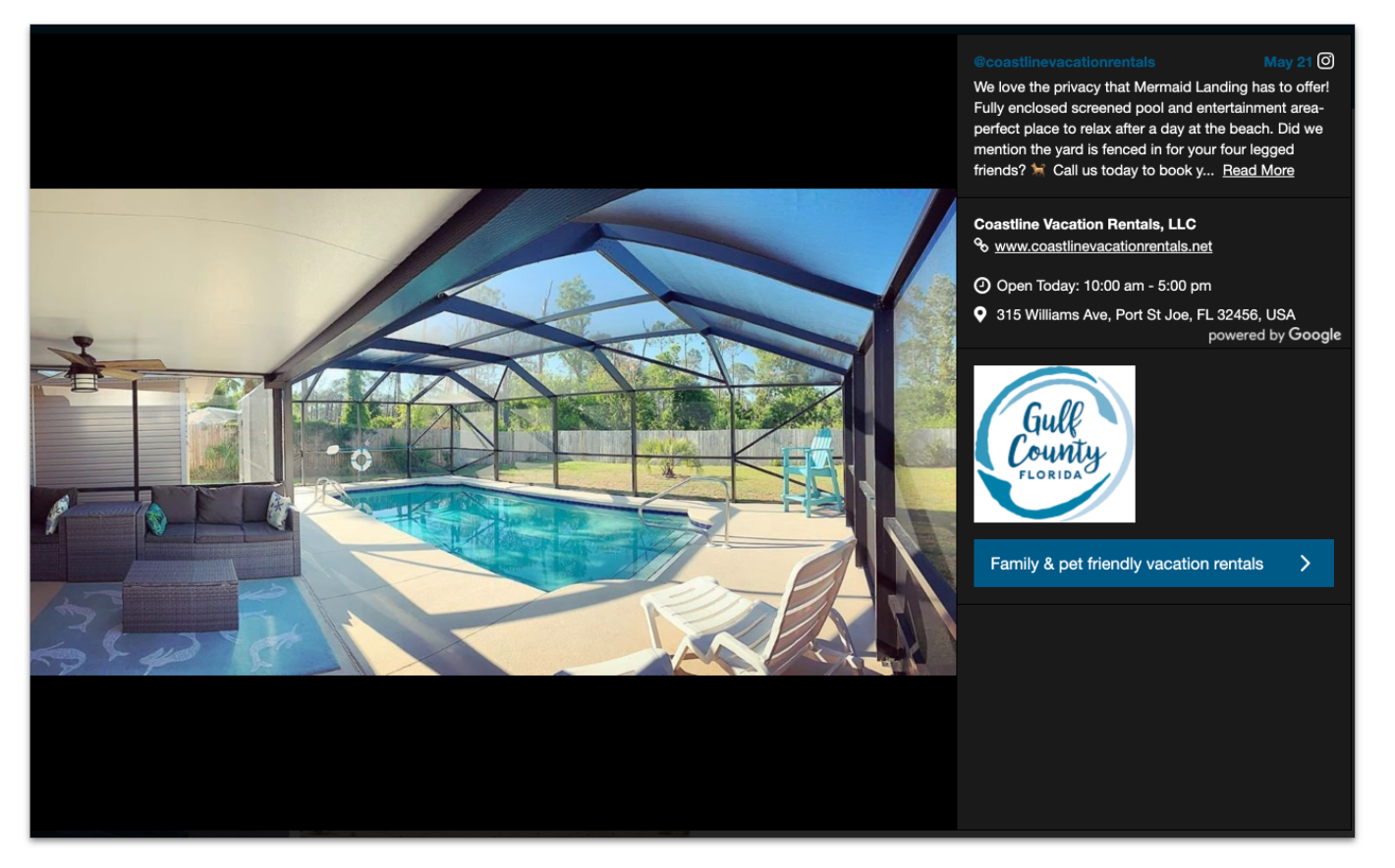 Calls-to-action (CTAs) and Google Locations turn your galleries into visual information directories. This helps capitalize on people's interest when it matters most, driving them to take action on the visuals they see.
CTAs
Use CTAs to promote your partners and drive traffic to them, send people deeper into your site, and/or allow visitors to download something like a map or printable guide.
Learn how to add CTAs to your galleries here.
Google Locations
Use Google Locations to let people know where businesses are located and their operating hours. This information is especially helpful right now, as many businesses have changed their hours due to COVID-19.
Learn how to enable Google Locations here.
Explore how we're using CTAs and Google Locations in our sample visitor guide.
Collector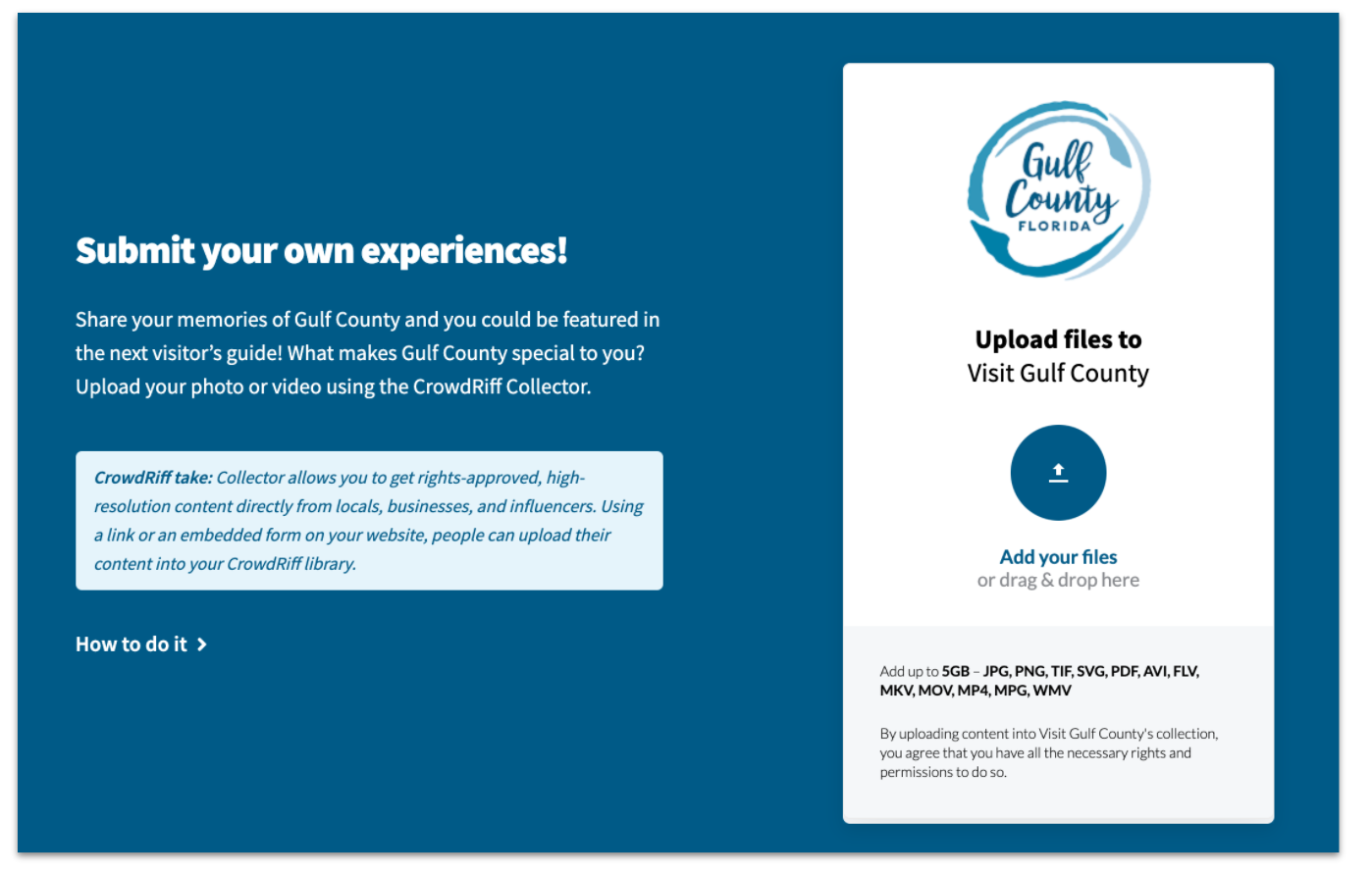 Use a link or embed Collector in your digital visitor guide to engage your audience and increase the numbers of rights-approved visuals in your library. This can be through a contest, but it doesn't have to be. Sometimes simply having photos or videos featured online is enough to incentivize everyday people to share their content with you.
The photos and videos will appear in your CrowdRiff library. We also keyword every photo and video so they're easy to find and use in your marketing later.
Remember, you can create as many unique Collector links as you want, so you can have different asks throughout the guide.
Learn how to set up your Collector portal here.
Explore how we're using Collector in our sample visitor guide.
CrowdRiff Media Hub

Link to your Media Hub in your digital visitor guide to send visitors or locals to download assets like games or activities, road trip itineraries, or printable gift cards to local businesses.
You can also carve out a dedicated section in your digital visitor guide to promote and share assets with journalists, bloggers, and your partners.
Learn how to create and configure your Media Hub here.
Explore how we're using Media Hub in our sample visitor guide.
Want to see CrowdRiff in action?
We created a digital visitor's guide of Gulf County, FL, to give you ideas for your own digital guide, as well as a better understanding of how you can use CrowdRiff in new ways. See the guide here.