Did you know there are multiple ways of getting photos and videos into your CrowdRiff library?
If you're only gathering content from one source, you're missing out on valuable visuals from your partners, community, and future travelers.
In an environment where your marketing needs to change quickly, having the most relevant, up-to-date content is critical for keeping your message trustworthy and supporting your partners.
For example, tracking local hashtags brings you real-time UGC that reflects what's happening in your community right now. Connect lets you monitor and amplify your partners' messages as they come in. And Collector allows you to gather rights-approved, high-resolution content directly from locals, businesses, and influencers.
When you diversify your content sources, you have a steady stream of fresh content coming into your platform even if one source isn't performing well (for example, your hashtags).
Let's take a closer look at how you can use each source to pull in relevant content.
1 | Track local hashtags
These are Instagram, Facebook, or Twitter hashtags you can use to pull content directly into CrowdRiff.
Track hashtags to source real-time UGC to update your website, keep your social media channels current & trustworthy, and supply content for your other marketing activities.
Simply add the hashtag and CrowdRiff will do the rest!
How the Kentucky Derby Museum tracks local hashtags
Make sure you're tracking hashtags that are relevant right now. For example, the Kentucky Derby Museum tracks a variety of hashtags to bring in local content: #ExploreLouisville, #DerbyMuseum, #DerbySeason, among others.
But since the pandemic, they've added two more hashtags: #kyderbyathome and #derbyeveryday.
These hashtags helped them bring in content people were posting around their at-home projects when the museum wasn't open (it recently reopened in early June).
In May, fans even celebrated the Kentucky Derby from home using the #kyderbyathom hashtag.

Tips for tracking local hashtags:
Hashtag trackers only backfill visuals from the past 24 hours, so be sure to add them a week in advance of being able to search, filter, and use that content.
Make sure hashtags are location specific. For example, #museumfromhome will obviously get you photos of people doing art activities at home, but they could be from anywhere in the world. Instead, use something like #kyderbyathome.
You can also exclude keywords, hashtags, or usernames. This helps improve the quality and relevancy of your content. To exclude content, go to "excluded terms" under Social Trackers.
Make sure you're promoting any new hashtags you create. Add them to your social media bios, email newsletter, and your website.
Learn how to add and remove hashtags in the CrowdRiff Knowledge Base.
2 | Track social accounts
Add Instagram business accounts, Facebook business pages, or Twitter usernames to pull partner content directly into CrowdRiff.
These accounts could belong to your partners, stakeholders, or even local photographers or influencers you have a good relationship with. Tracking as much of their social content as possible means you won't risk missing any updates or new posts.
How Luxembourg drives visitors to relevant content with partner assets
Luxembourg tracks almost 100 Instagram business accounts — regional partners like tourist offices throughout the country, to partners, to local businesses like hotels, restaurants, and coffee shops.
They get the rights to much of this content to use throughout their marketing, post on social media, and on themed galleries throughout their website.
The galleries include calls-to-action to direct visitors to learn more about the things they're seeing — hiking, camping, and sightseeing, for example — and Google Locations let visitors know where they can find a certain experience or the operating hours of a local business.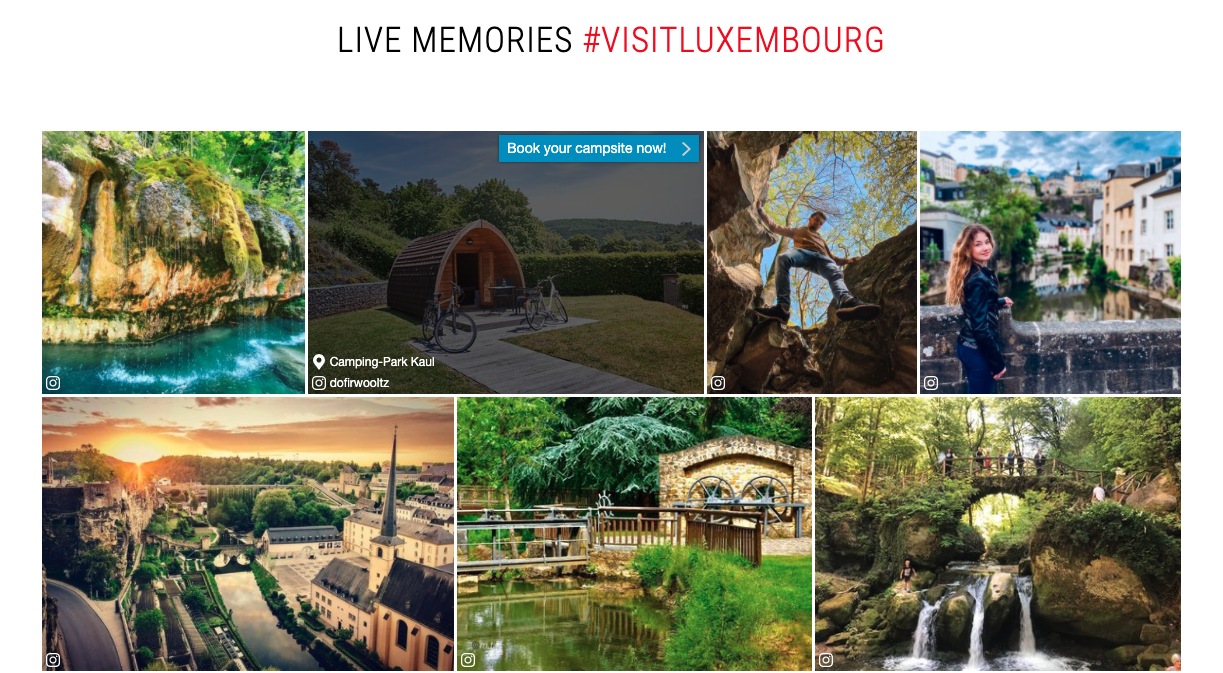 Tips for tracking social accounts:
If you're not currently tracking partner content, start by creating a list of local business usernames and pages you want to track.
You can only connect Instagram business accounts to CrowdRiff. If your partners aren't set up as a business account, provide them this step-by-step guide. It only takes a few clicks to get set up.
Track your top 30 Instagram hashtags and 100 Instagram Business Accounts. While you're reviewing your Instagram trackers, make sure you're prioritizing those that are most important to you and bringing in the most appropriate content right now.
Learn all about tracking social accounts in the CrowdRiff Knowledge Base.
3 | Discover more relevant partner content with Connect
Connect allows you to source Instagram content from your tourism and business partners without adding them as a social tracker. Unlike tracking business accounts, Connect allows your partners' Stories, @mentions, and tags to flow directly into your CrowdRiff library.
The greatest thing about Connect is that it's a win for your partners too since they'll get more exposure. With more of their content flowing into your library, you can more easily promote their businesses throughout your website or other marketing channels.
How Holland uses Connect to surface relevant partner content
Pre-Covid-19, the Netherlands Board of Tourism and Conventions' Holland City initiative focused on getting travelers to explore more of the country beyond the major gateway of Amsterdam.
"Visuals are very important for our marketing strategy because we truly believe that these visuals bring the storylines and the districts to life," says Jasper Broekhuis, Social Media Marketing Manager at NBTC Holland Marketing.
"Visuals are very important for our marketing strategy because we truly believe that these visuals bring the storylines and the districts to life."
To surface relevant content on their website and social media channels, Holland Marketing uses Connect to track a handful of its partners' content. This helps them see Stories, @mentions, and tags that they wouldn't otherwise see by connecting just social accounts.
The country is reopening at the local level, but travel isn't explicitly promoted. Still, Holland encourages its audience to dream about their next vacation to one of its less known areas, helping disperse tourism throughout the region when people travel again.
Tips for using Connect:
Start by reaching out to 3-5 of your top partners and ask them to connect their Instagram Business Accounts to CrowdRiff.
Create a gallery featuring your partners' content and get it up on your website.
Let your partners know where to find the gallery so they can check out how they're being promoted.
Learn all about Connecting your partners in the CrowdRiff Knowledge Base.
4 | Use Collector to gather visuals from your community
Collector allows you to get rights-approved, high-resolution content directly from your community. Using a link or an embedded form on your website, people can upload their content into your CrowdRiff library.
You can use the CrowdRiff Collector to:
Source visuals directly from your locals, businesses, and influencers without going through a social network.
Run a contest by creating a Collector link that you can customize with a logo, brand color, keywords, usage restrictions, and contest terms and conditions.
Use a QR code on physical signage. When visitors scan the QR code at your destination, the Collector will open on their phone so they can upload content on the spot.
How Huntsville uses Collector to gather visuals for a local campaign
In Huntsville, AL, the mayor issued a challenge to residents to encourage people to wear masks. Huntsville Madison County CVB is collaborating with the Mayor's Office to get the word out, using the CrowdRiff Collector to gather photos and videos of people wearing masks around the city.
They host the best submissions in a CrowdRiff gallery on the #ShowYourCoverHsv Challenge contest page.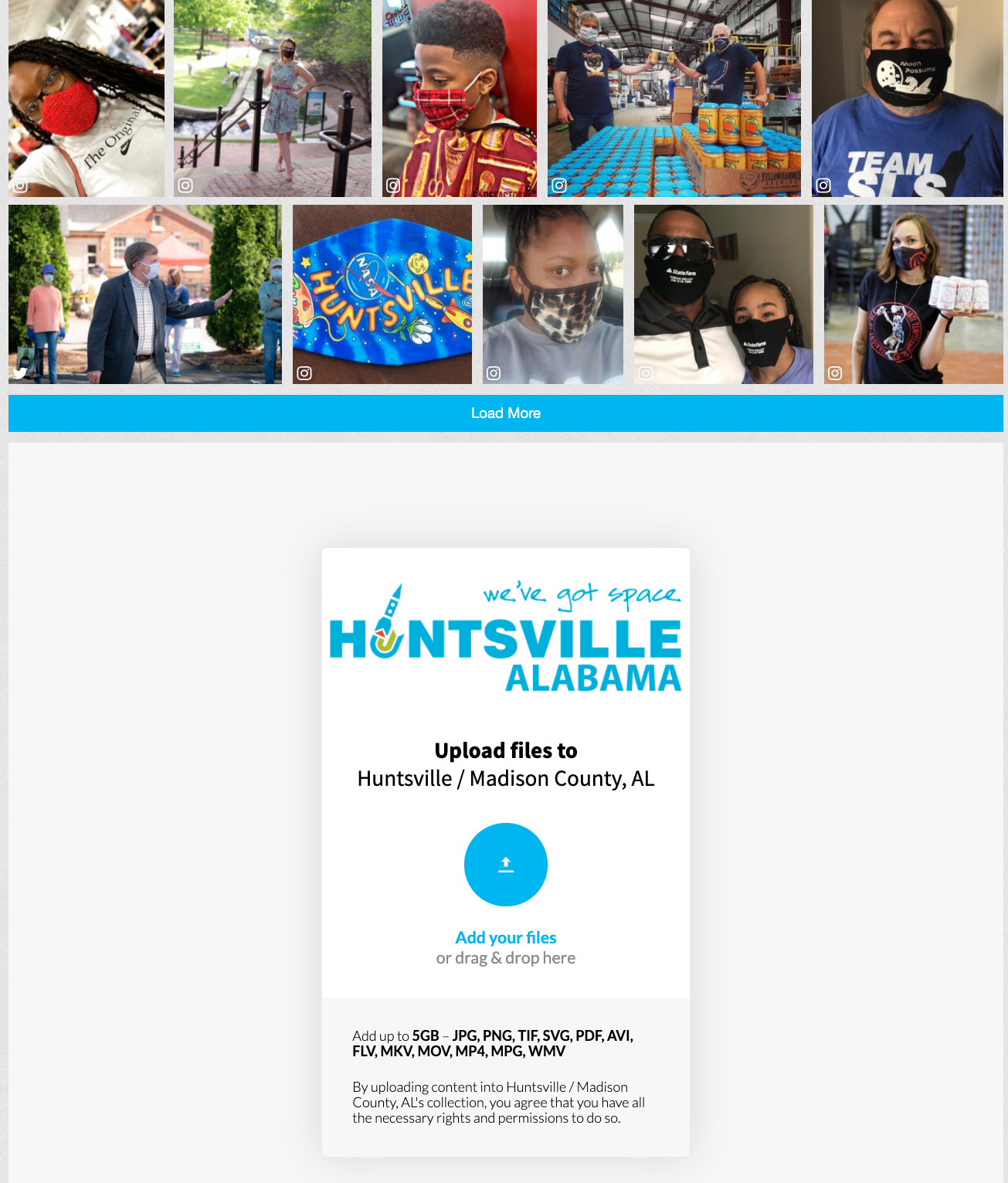 Tips for using Collector:
Add keywords to your Collector so they're easy to find later.
Use multiple Collectors. To maximize the amount of content you're getting, include one in your emails, on your social media bios, and on your website.
Learn all about Collector in the CrowdRiff Knowledge Base.
How are you using CrowdRiff to source and publish content related to tourism recovery? Let us know in our Community Stories Hub.
Image credit: @_deep_in_the_forest_