The last time we talked with the marketing team at VisitDenmark, they were hot on the heels of major website redesign, and they'd just started using CrowdRiff to increase their output of always-on content through UGC.
In March 2022, we caught up with Jasmin König, International Content Manager and Maria Schrøder Bilde, Digital Platform Specialist, to get updated on their strategy, approach to UGC, and how they've built their brand identity in the aftermath of the pandemic.
As it turns out, some things don't change too much — the team still sings the praises of a CrowdRiff as a centralized media hub with their partners and is doubling down on the value and power of UGC for VisitDenmark's upcoming campaigns.
19 DMOs united by a singular mission
"As Denmark's national tourism organization, our mission is to create and strengthen a united brand of Denmark: The Land of Everyday Wonder, " said Jasmin König. For the 19 destinations falling under VisitDenmark's marketing umbrella, centralization of visuals is crucial.
That's why CrowdRiff is an invaluable asset for these destinations. CrowdRiff provides a media hub where DMOs and partners of VisitDenmark can share and distribute content.
Rather than each citywide tourism organization sourcing, uploading, and getting rights to assets, VisitDenmark's wide-reaching CrowdRiff Media Hub seamlessly powers their content engines.
Using CrowdRiff to craft brand identity
CrowdRiff allowed VisitDenmark's content teams to "find local photographers and local content creators that we could actually work with and collaborate with on a bigger scale for campaigns and other photo needs."
Over the past two and a half years of leveraging the platform, CrowdRiff's capabilities "helped shape VisitDenmark's visual identity towards a more user-generated feel," said Jasmin. The team believes its distinct visual identity is a core element of their marketing strategy on social and beyond.
Maria and Jasmin use CrowdRiff daily for two essential purposes:
As their centralized Media Hub for PR, press, and partner content

For easy, intuitive, rights-approved sourcing of UGC for VisitDenmark's social media feeds
"We're really happy that CrowdRiff makes a lot of our processes easier than it was before," said Jasmin.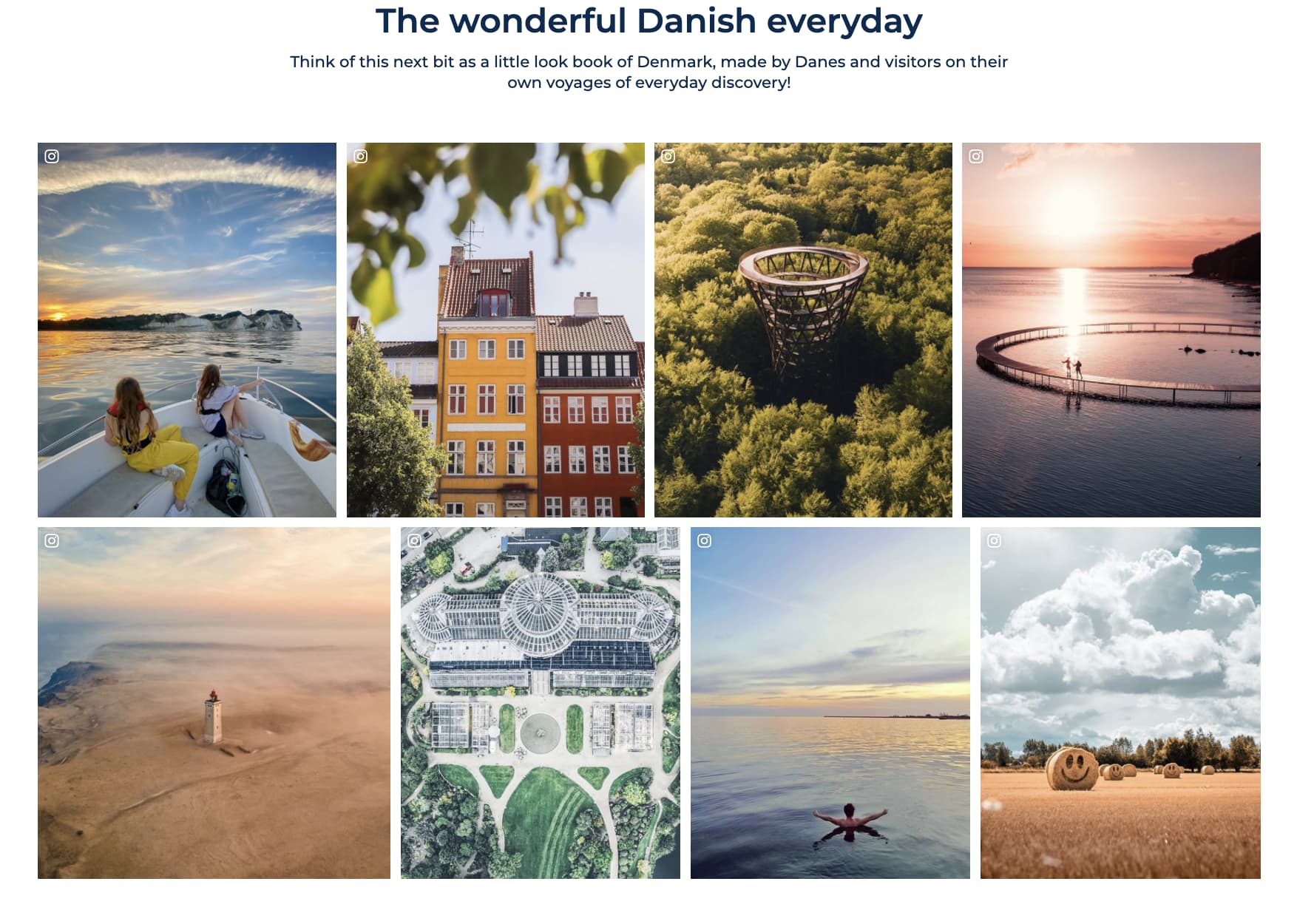 *An example of a UGC Gallery hosted on VisitDenmark's website
Seeking out imagery with that wow factor
As Jasmin and team scroll through social media themselves, they're always asking, "Where's the wow factor?" before choosing imagery to reflect their destination.
"As The Land of Everyday Wonder, it's really every day people sharing everyday moments," said Jasmin, who said they gravitate toward UGC that feels authentic while still retaining a special spark.
With user-generated content at their fingertips, VisitDenmark has pivoted to showcase more surprising angles and perspectives of the country, not just the commonly-known and well-loved tourist sights and attractions.
After the fraught past few years, VisitDenmark focuses on small joys
As part of their mission to be more sustainable and intentional about the travelers they're bringing into the country, the team recognizes that not every trip — especially in the aftermath of COVID-19 — has to be the biggest, bucket-list, go-all-in kind of bash. Sometimes, a beautiful trip filled with everyday wonders is all you need.
Still, despite a pandemic and global conflicts, there's excitement and wonder swirling around VisitDenmark's upcoming campaigns. For example, the 2022 Tour De France starts off in Copenhagen, one of the world's top cycling cities, and the DMO has already begun promotion around this.
VisitDenmark welcomes the opportunity to show Denmark as an incredible cycling destination. They're expecting an influx of travelers from nearby markets like Germany and the Netherlands, as well as cycling fanatics from around the world.
VisitDenmark will use CrowdRiff to change up their social feeds leading up to the "Detour de France," their cleverly-themed campaign that encourages travelers to take the scenic route, go off the beaten track, and ultimately, enjoy all the beauty Denmark has to offer.