Museum attendance across the United States is falling. With pandemic restrictions over the past few years and the sheer number of museums, smaller museums can't compete. 
This is where a strong museum marketing strategy comes in. It helps museum directors and marketers focus their engagement efforts so they can increase awareness, visits, and ultimately revenue.
Luckily, we've tapped into a few of the museum marketing plans of forward-thinking museums and cultural institutions and compiled some key insights below. 
Whether you're focused on driving attendance for public programs or increasing revenue at a private institution, the following examples and strategies will help any museum professional increase the impact of their efforts.
1. Embrace Technology Without Losing Sight of Your Museum's Mission
As a modern museum marketer, you need to incorporate technology into your digital marketing strategy without compromising your museum's mandate and mission. 
Balancing the old with the new can be tough, especially if you specialize in historical exhibits. But tapping into tech can help improve your workflow, stay relevant, and get more people to visit your museum. 
"Directors need to embrace technology as a vehicle for speaking to and attracting audiences to the museum, without undercutting the special experience of the immediate and direct work of art," says Michael E. Shapiro, Director Emeritus of the High Museum of Art in Atlanta. 
User-generated content (UGC) can help you adapt to audience needs. 
But how can you incorporate UGC into your museum experience without jeopardizing your reputation or brand?
Use UGC content to tell a story that reflects the experiences of your visitors. UGC galleries on your website, for example, allow prospective visitors to take a "sneak peek" into your museum's exhibits and will encourage them to buy tickets.

More museums are using UGC, and research shows it has real value.
2. Tell A Diverse, Authentic, and Engaging
Brand Story in your Content Marketing
Building authentic connections with visitors is one of the biggest challenges facing museum marketers today. 
As museum audiences continue to evolve and diversify, so do their expectations and needs. 
For instance, a study found that roughly 40% of millennials and 35% of the general population felt that history and art museums were "not for people like me."
Marketers also need to find the right balance between marketing a museum as an entertainment destination and an educational organization. However, in order to stay relevant, marketers need to connect with prospective visitors from all walks of life.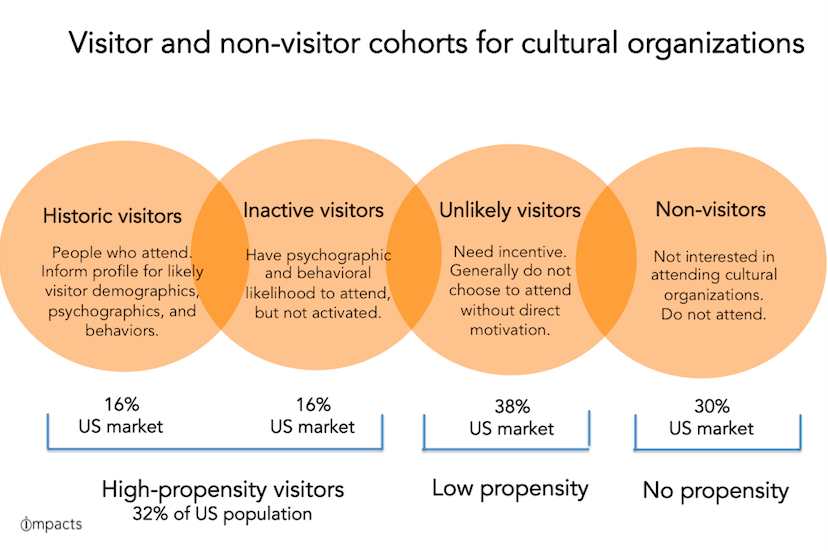 Source: Coleen Dilenschneider
UGC brings authenticity to your brand story by featuring real people your audience can relate to—which makes it easier for them to picture themselves having those experiences, too. 
For many museums, UGC is the ultimate form of social proof. In fact, 90% of consumers trust word-of-mouth marketing and UGC more than traditional forms of advertising.
3. Discover and Promote New Revenue Streams
Thanks to smartphones, your visitors have direct access to information about just about anything. The question is, how can museums leverage their visitors' curiosity and interest in a way that adds to their experience and knowledge?
As technology gets more sophisticated, there are new opportunities for museums to create engaging, interactive exhibits, as well as contests, workshops, and new revenue streams, like offering the space for parties or corporate events. For example, The New Museum in New York averages 30 to 40 event space inquiries a day, a figure that represents roughly 7% of its revenue. And the Metropolitan Museum of Art promotes its gift shop items on social media.
The challenge is determining how to best use technology and social media to reach new audiences, drive sales, and inspire brand advocates to share their experiences.
The great thing about UGC is that your visitors are actively generating content for you, providing your museum with a large, growing resource of UGC that can be used alongside branded visuals. And it's a proven formula—brand engagement increases by an average of 28 percent when UGC is used to supplement branded promotional content.
As competition in the museum space increases, many museums struggle with finances. Embracing the latest technologies and trends like UGC, however, can help you increase engagement while maximizing profits through ticket sales. Making your digital channels more appealing to your target audiences can also increase museum visibility online and drive revenue streams
What Marketing Strategies Will Get Me There?
Build A Community And Invite Participation
As a leader in the evolution of digital museum culture, the Royal Ontario Museum (ROM) uses UGC to shape its visual marketing strategy around its community and visitor experience. The ROM curates UGC for a number of creative uses, including on-site digital displays and photo walls, as well as their online and social presence.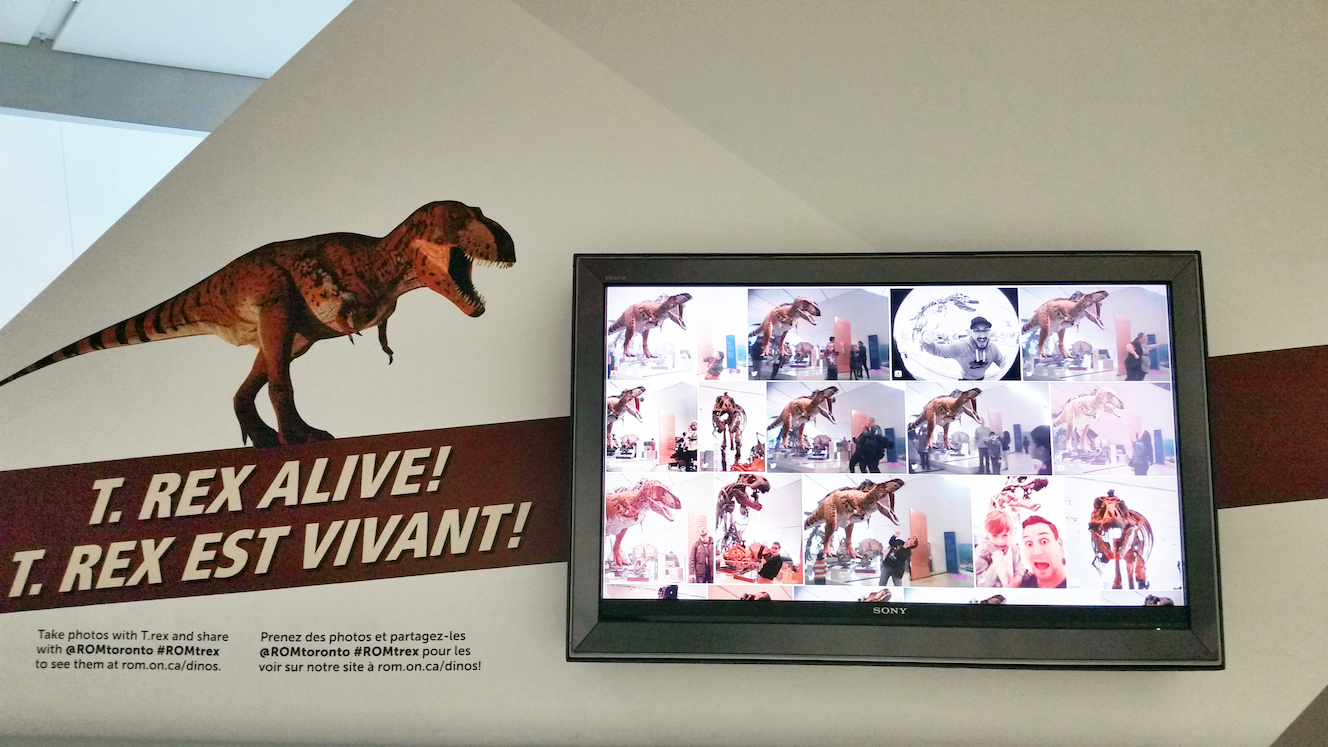 The ROM promotes UGC tagged with #atROM on their website and social channels to drive sales and build excitement leading up to a visit, but they also use UGC to inspire visitors to take (and share!) more photos during their visit.
Pro Tip: Look for creative ways to use UGC to foster a sense of community both online and off. By featuring UGC photos on digital displays near the entrance of your museum, you can set the tone for making each visit a visual, social-friendly experience.
Make Art More Accessible And Promote Shared Experiences with Social Media Marketing
UGC allows upcoming visitors to see what people are excited about at that exact moment – and it also allows museums to see how guests are interacting with exhibits. For instance, monitoring UGC on social media gives the Denver Art Museum (DAM) a deeper understanding of how visitors respond to art.
As Shannon Robb, the Communications and Public Affairs Coordinator for the Denver Art Museum, puts it:
 "It can be more intimidating to walk into an art museum than, say, a zoo, because people can explain to their children what a giraffe is, but when they walk into an art museum, they feel like they need to know everything about who Picasso was."
Connect with The Next Generation of Art Lovers
The Los Angeles County Museum of Art (LACMA) uses social media to make their collections more accessible to everyone. By leveraging the power of modern social media platforms like TikTok and SnapChat, LACMA has found a new way to get young people excited about art.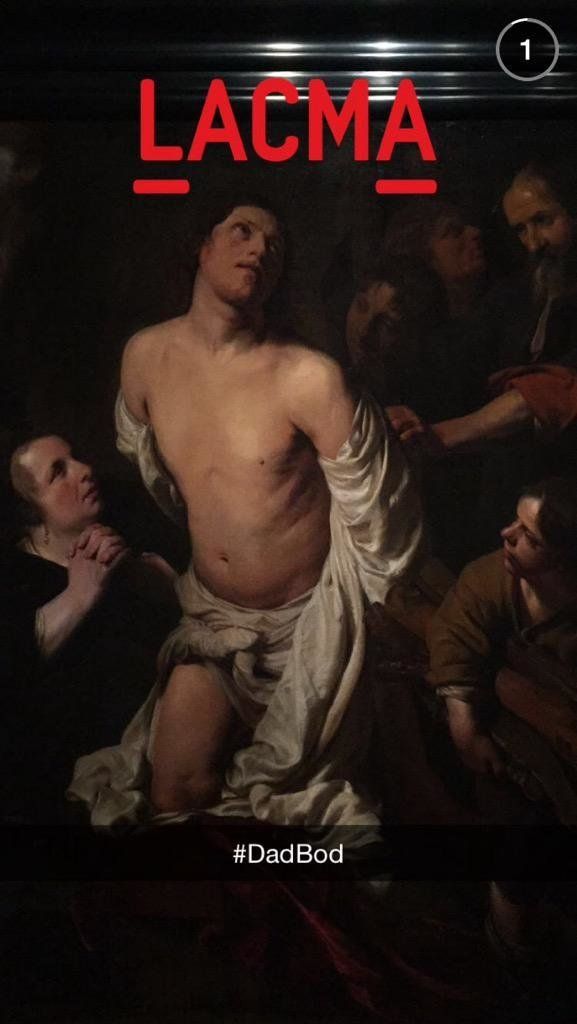 Part of what makes LACMA's social presence so impactful is that they aren't afraid to take risks. For example, many of their SnapChat creations play off timely references to pop culture, mixing classic art with popular memes.
By showcasing exhibits and artwork through a fun, accessible medium like SnapChat, you can make your space and exhibits more familiar and approachable to visitors of all ages. 
Other Strategies to Consider
Increase Your Digital Marketing Budget
While many Baby Boomers still prefer print advertising, consider that 67% of millennials prefer to shop online, and 8/10 never buy anything without reading a review first. That means if your latest exhibit isn't accessible to digital savvy visitors, you're missing out on a big opportunity.
Refresh Your Visual Brand
It's always a good idea to switch up your visual branding every couple of years in order to keep visitors coming back for more. Fresh new flyers, posters, and other visual elements such as a presence on Instagram will increase engagement significantly.
Revamp Offline Marketing Assets With Top Performing Visuals
Traditional marketing is important, and mediums like print, TV, and radio still prove effective. However, you need a new approach to offline marketing — one that encompasses strong visuals, interaction, and engagement. Technologies like QR codes in a newspaper ad can bridge the gap between conventional and digital marketing.
As a museum marketer, are you stuck in the past? Use the latest technology like UGC to turn word of mouth into new visitors and donors, and invest in digital marketing to fuel engagement with visitors and increase ticket sales. If not, the future of your museum could be in jeopardy. 
Ready to learn more about how user-generated content can complement your museum marketing strategy? Download our ebook below to get the inside scoop.
This is a gated content, please fill out the form below to view this content.