What is user-generated content?
As a marketer, you may have heard this term a lot lately.
Here's a simple definition:
User-generated content (UGC) refers to any content that is voluntarily created and shared by individuals, fans or consumers of a brand who are not associated with that brand. This could be anything from social media posts to a review on a third-party website.
As mentioned, UGC is unbiased and created without an agenda. As a result, people perceive this kind of content to be more trustworthy, truthful, and authentic.
Here's everything we'll cover in this guide:
Table of Contents: UGC
Types of User-Generated Content
All user-generated content falls under three categories: text, pictures, or videos. UGC can be any of the following:
Social media content
Reviews and testimonials
Blog posts
Video content (including live streaming and AR lenses/filters)
Q&A Forums (including comments)
Case studies
Let's take a closer look at some common types of UGC.

Social Media Content
When it comes to products, seeing is believing—especially when it's people you know and trust doing the showing. People are taking and sharing thousands of photos and videos daily on social platforms, and a huge portion of those are interacting with some sort of brand, ranging from hotels, destinations, and tour operators. This type of organic visual UGC is taking the online world by storm.
Any time someone posts a social message about you, whether it's a Tweet or an Instagram post, that's UGC.
Reviews & Testimonials
Whether your customers write reviews on a section of your website, or whether they use third-party sites (such as Yelp, TripAdvisor, G2Crowd, Google, etc.) this kind of feedback is also UGC.
Blog Posts
If, for example, you make lipsticks, any time a beauty blogger (that you didn't pay for) uses your product in a tutorial or in a review, whether it's in a blog post or a video, this is UGC.
And while you might think that blog posts are more relevant for B2C companies, that's not actually true! In the B2B world, marketers love reading and writing blog content. If your product or brand is featured as an example in round-up content, or as a key tool in a "how-to" blog post, that counts as user-generated content too.
Video Content
GoPro videos, Instagram Stories, natively shot video—these all qualify as UGC, so long as you're not paying someone to create the content for you. This also includes AR lenses or filters or live video streams on Facebook, Instagram or other platforms.
How Do I Know What Kind of UGC To Use?
Knowing what type of UGC is right for your marketing strategy depends on your audience. Are they active on social media? Do they trust review websites? This will determine the type of content that's best to use.
For instance, it's no secret that visuals are highly influential to potential travelers. In fact, 85 percent of consumers find visual UGC more influential than brand photos or videos. If you want to generate more brand awareness, conversions, and engagement, focus on visual content.
The Benefits of User-Generated Content
There are many advantages to UGC:
UGC Is Social Proof for Your Brand's Message
Every brand has its own story and promises something to its target audience. However, people tend to take branded messages with a grain of salt, wary that companies want their business. When people see that other consumers are confirming your brand message through UGC, it acts as a second opinion reinforcing how your brand delivers on its promises.
UGC Is More Influential On Purchasing Decisions vs Traditional Marketing
Because UGC is produced by individuals who don't have anything to gain by singing your praises, it is perceived as being more authentic and more trustworthy. In fact, it's been found to be 20% more influential than branded content alone.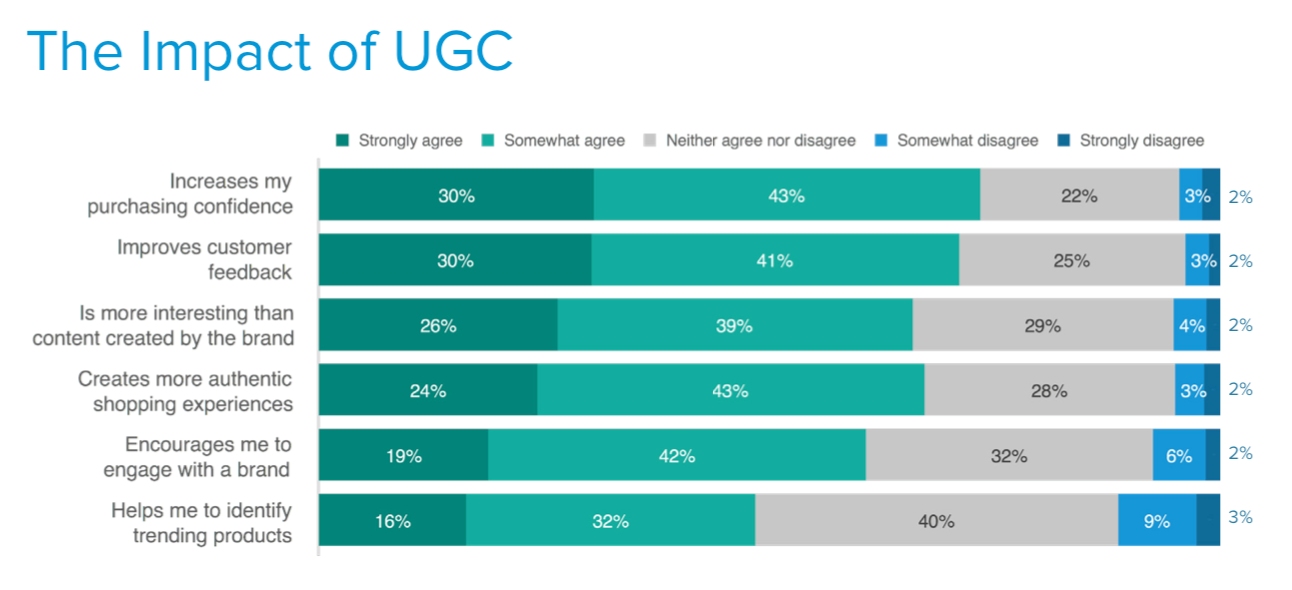 From TurnTo's Consumer Study: Hearing the Voice of the Consumer
UGC Gives You A Larger Pool of Visuals
In addition to commissioned and stock photography, UGC is a whole new source of visuals you can tap into for your marketing. Did you know that almost 100 million posts a day are uploaded to Instagram? Think of all the content being created you haven't tapped into yet!
UGC Helps Stretch Your Budget
According to some estimates, a professional photo shoot can cost anywhere between $500 – $10,000. UGC gives you a cost-effective way of acquiring original and impactful photos that can supplement the owned content you already have. With user-generated visuals, there's no more need for actors, equipment, or waiting for a day with perfect weather to get your shot.
UGC vs Brand And Influencer Generated Content
What's the difference between user-generated, influencer-generated and brand-generated content? Here's a simple way of looking at it.
Brand-Generated Visuals
Owned visuals are visuals that your organization pays to have created for you, whether done internally, or commissioned by an agency, photographer, or videographer. These also include images that you purchase the rights to like stock photography.
Example: You commission a video of your hotel or resort for the homepage header.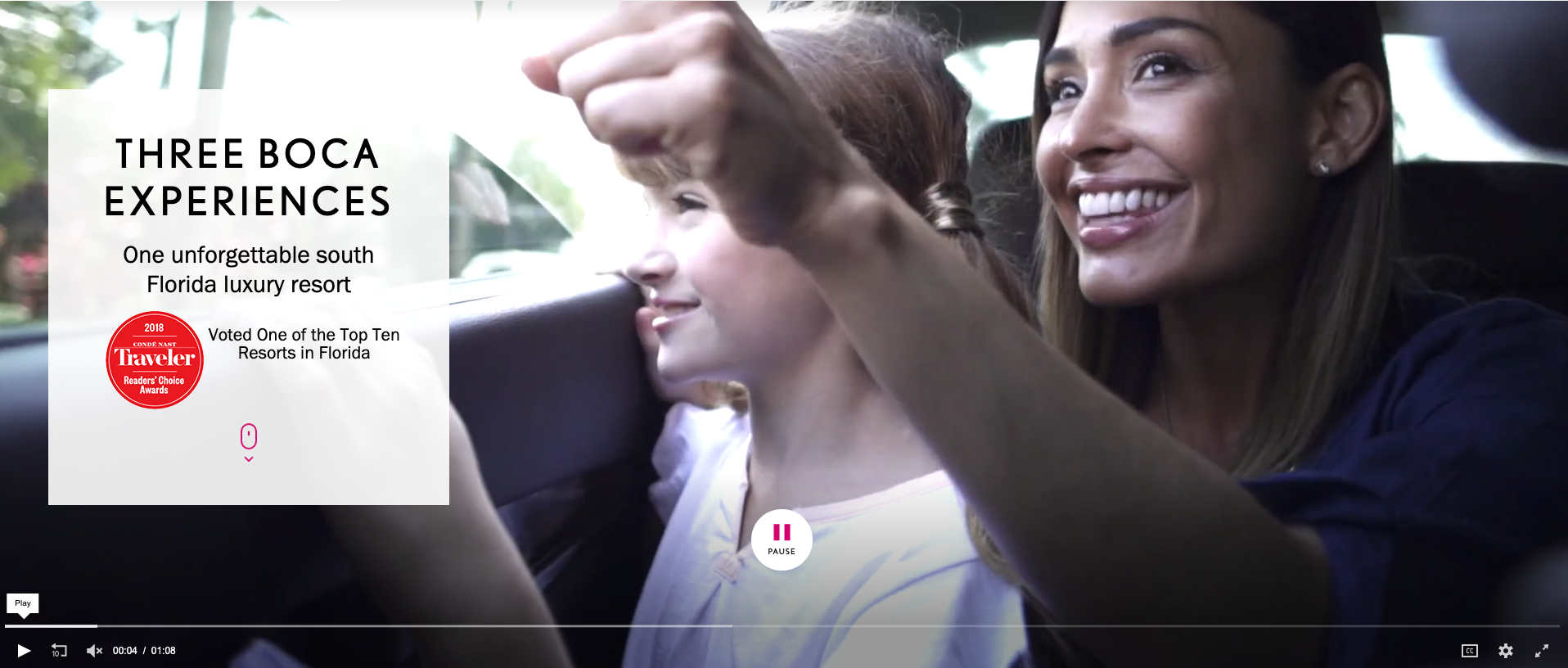 User-Generated Visuals
Are photos and videos that other people— ie, your visitors—are posting online via social media. If you wish to use these visuals in your marketing, you need to get explicit permission from the user.
Example: You tap into already existing content on social media and curate a highlight reel video of guests enjoying your destination, resort or attraction.
Influencer-Generated Visuals
Refer to content where the focus is placed on particular people who others look up to for inspiration and influence. Influencers create their own content based on their experiences with your product or service.
Example: You partner with a popular influencer to drive awareness and ticket sales within a particular audience segment.
3 Examples of User-Generated Content 
Here are 3 great examples of UGC content campaigns:
1| User-Generated Content for Video: Destination Canada's Found in Canada
Destination Canada (the organization charged with promoting Canadian tourism) launched a huge video campaign to target the U.S. travel market. But instead of sending videographers to capture b-roll from all over the country, they decided to tap into the visual content Canadians and international visitors were already sharing online.
Within 2 weeks, they'd acquired rights to over 2500 photos and videos from social media and turned them into a series of short, fun, and exciting videos. These videos went viral, reaching over 3 million views within a week.
2| Showcasing The Authentic Customer Experience: Columbus Museum of Art
The Columbus Museum of Art, located in Ohio, curates more than just fine art—on their digital channels, the Columbus Museum curates the best visitor photos too. They encourage users to take photos while they're there and use the hashtag #myCMA.
They then choose the best photos, asked for the rights, and transformed them into website galleries, such as this one from their homepage: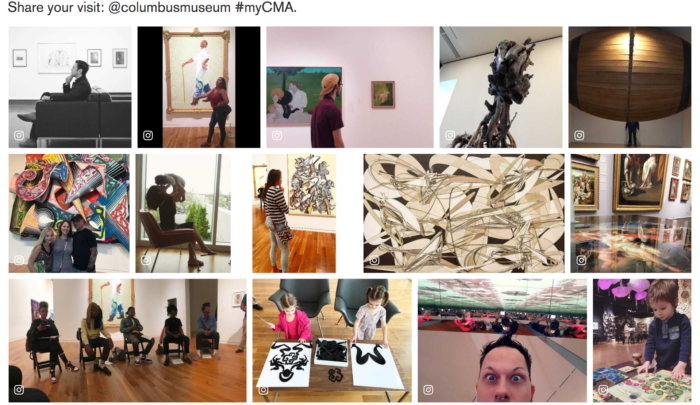 And it doesn't stop there! This museum's Instagram feed is also bursting with tons of great content shared by all their guests.
This user-generated content campaign is a fantastic example of how any brand can let their fans do the talking, and paint an authentic picture of what the experience is actually like.
3| How Dollywood Used Visuals to Drive $90,000 in Ticket Sales within 5 Months
Dollywood needed UGC for the park's variety of activities and personas. Pete Owens, the Vice President of Marketing and Public Relations for The Dollywood Company, explains that not only was it difficult to sum up the experience to potential visitors in a concise manner, but the elevator pitch changed depending on the audience member.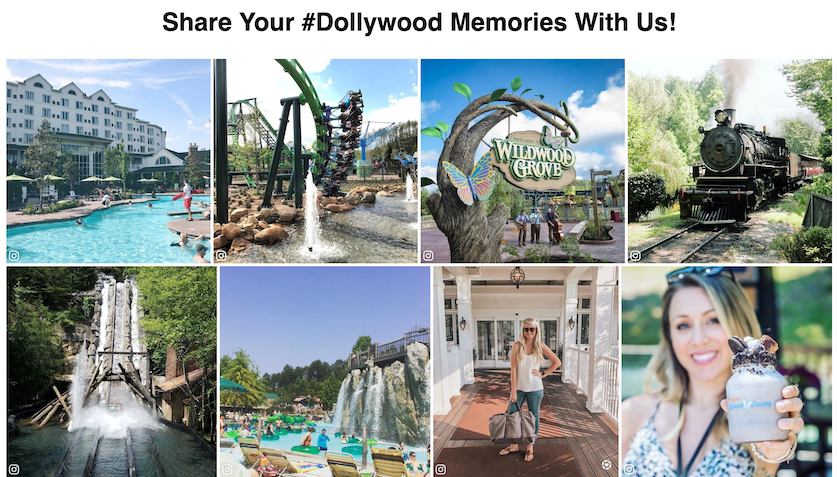 Owens updated Dollywood's website to incorporate more guests' social media photos through CrowdRiff galleries. He explains that the new photo galleries on their website are experiences available, through the eyes of the visitors that enjoy them. Within the first 5 months of adding UGC throughout the site, Dollywood saw:
25% increase in engagement on the homepage
28% increase in engagement on the website's waterpark page
42% increase in views and interactions on the rides and attractions page
The team also used CTAs to embed links over imagery to lead visitors to the ticket sales page.
"Just from our homepage gallery, clicks converted to nearly 100 transactions within a 60-day period. That accounted for almost $30,000 in revenue," said Owens. "It's just by using UGC to push them further down the funnel more quickly."
"I think we'll explore the opportunity to see if we can use UGC in other channels to obtain the same benefits we're seeing in the digital space, just by showing real people doing real things," adds Owens.
How to Inspire More UGC for Your Brand
Here are some quick tips and tricks to get your customers sharing more visual UGC for your product or service:
Key Tactic #1: Encourage People to Share Their Photos
Sometimes all it takes is a little prompting on social networks to show that you're excited to see their creativity and enthusiasm.
Key Tactic #2: Acknowledge People Who Share UGC
People don't expect brands to see their Tweets or messages. Show your audience that you do hear them and what they have to say is valuable. This can be as simple as replying to them or retweeting them.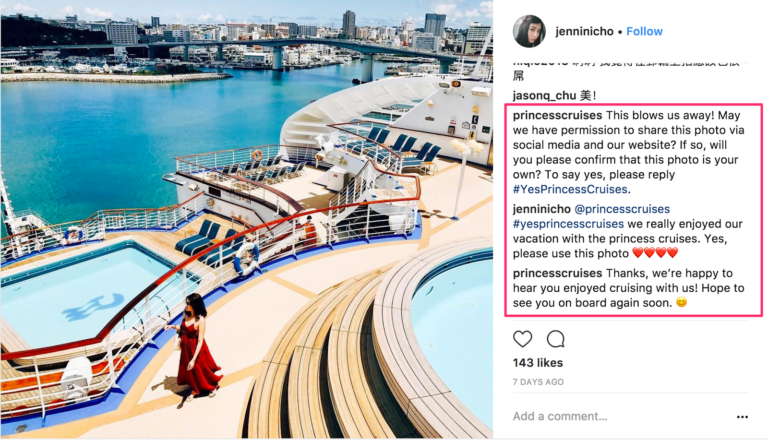 Key Tactic #3: Reward for Sharing Photos
Prizes are a great incentive to share photos—which is why photo contests are such a great way to generate UGC. But on a smaller scale, even just giving someone a little limelight by choosing to feature their image in your marketing is sufficient. It can then spark your other followers to share more, in hopes of getting featured too.
Getting Rights To User-Generated Content
First, let's address when you need to get rights to user-generated content.
You should always get explicit permission from the creator before using UGC in any channel.
This includes:
UGC in CrowdRiff galleries
UGC embeds
Photos or videos in your CrowdRiff Media Hub
UGC photos in print or digital ads
Displaying a modified version of the photo
It is at your, and your organization's discretion to determine the level of risk you are willing to take on.
Keep in mind that once you have the appropriate rights to use an image or video, you can get more out of that visual by repurposing it on your website, social media, email, and beyond.
There's also the potential to sparking new relationships with locals or travelers once you initiate a conversation around using their content in your marketing. Often, you can also get a higher-resolution version of the image once you speak with them.