Like many destination marketers right now, Sarah Pitt is staying agile to adjust to changing conditions.
Pitt, Social Media Manager, Visit Luxembourg, says appealing to both local and international markets is her biggest challenge. The team is working hard to "strike messaging and make sure both audiences are engaged and interested in our content."
Since COVID-19, instead of promoting travel to markets in Italy, the UK, and Spain, the team has sharpened its focus on neighboring countries like Holland, Germany, France, and Belgium. Since Luxembourg isn't very well known as a tourist destination, the team is using inspirational content to target these markets.

Marketing the city to residents
Beyond helping visitors discover Luxembourg, Pitt says a big focus has been helping locals rediscover the country.
"There are a lot of people who live here who don't actually know the country that well. That's another challenge we've always known existed."
Beyond a new website, magazine, and concise travel packages showing off things to do, they incentivized people to get out and explore the country using a photo contest powered by CrowdRiff.
Summer Treasure Hunt and Photo Contest
The Summer Treasure Hunt and Photo Contest encouraged people to discover Luxembourg and share their impressions of traveling and living there.
The team used CrowdRiff to source photos from their community. After the contest ended, they chose the top 15 and hosted them on the contest page.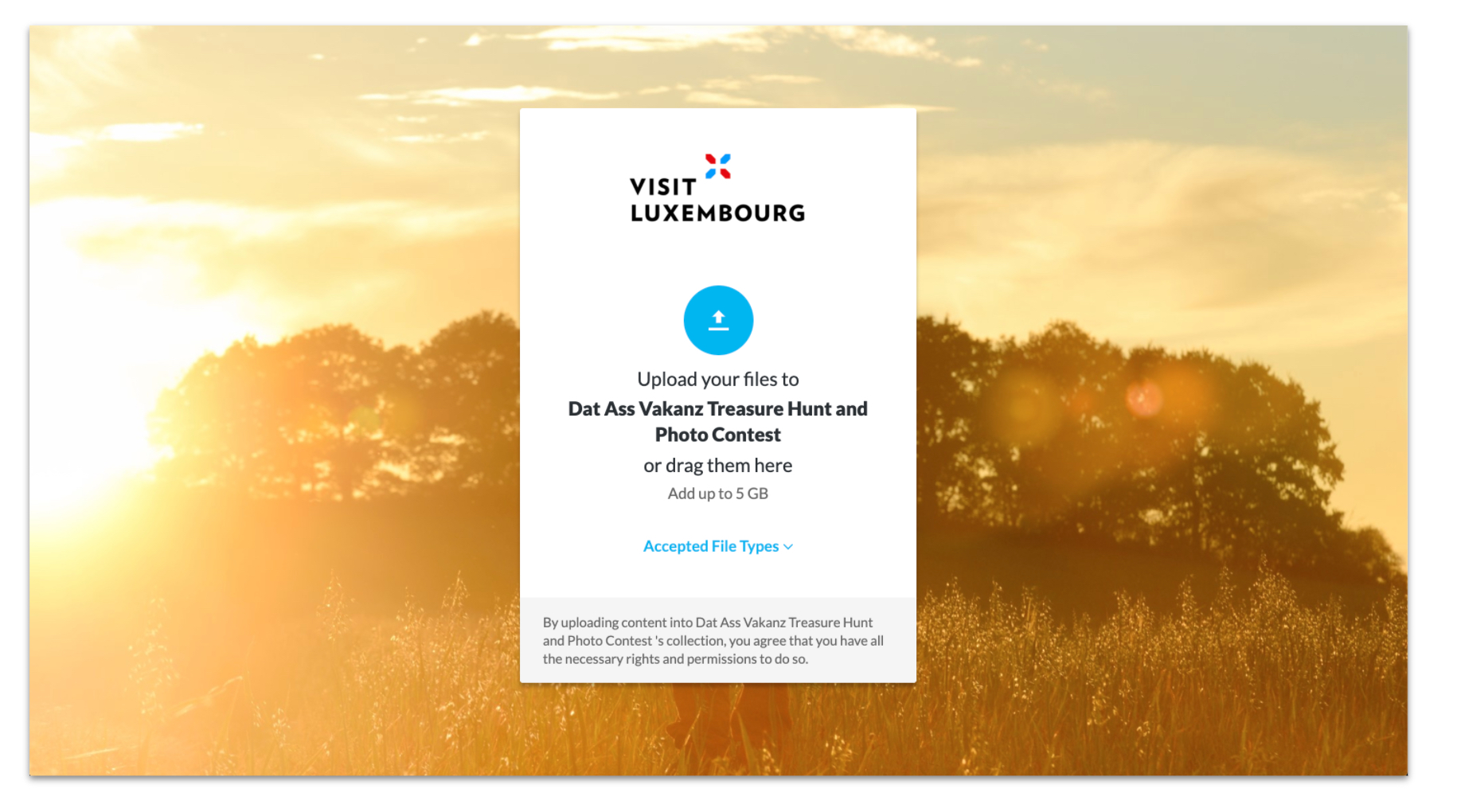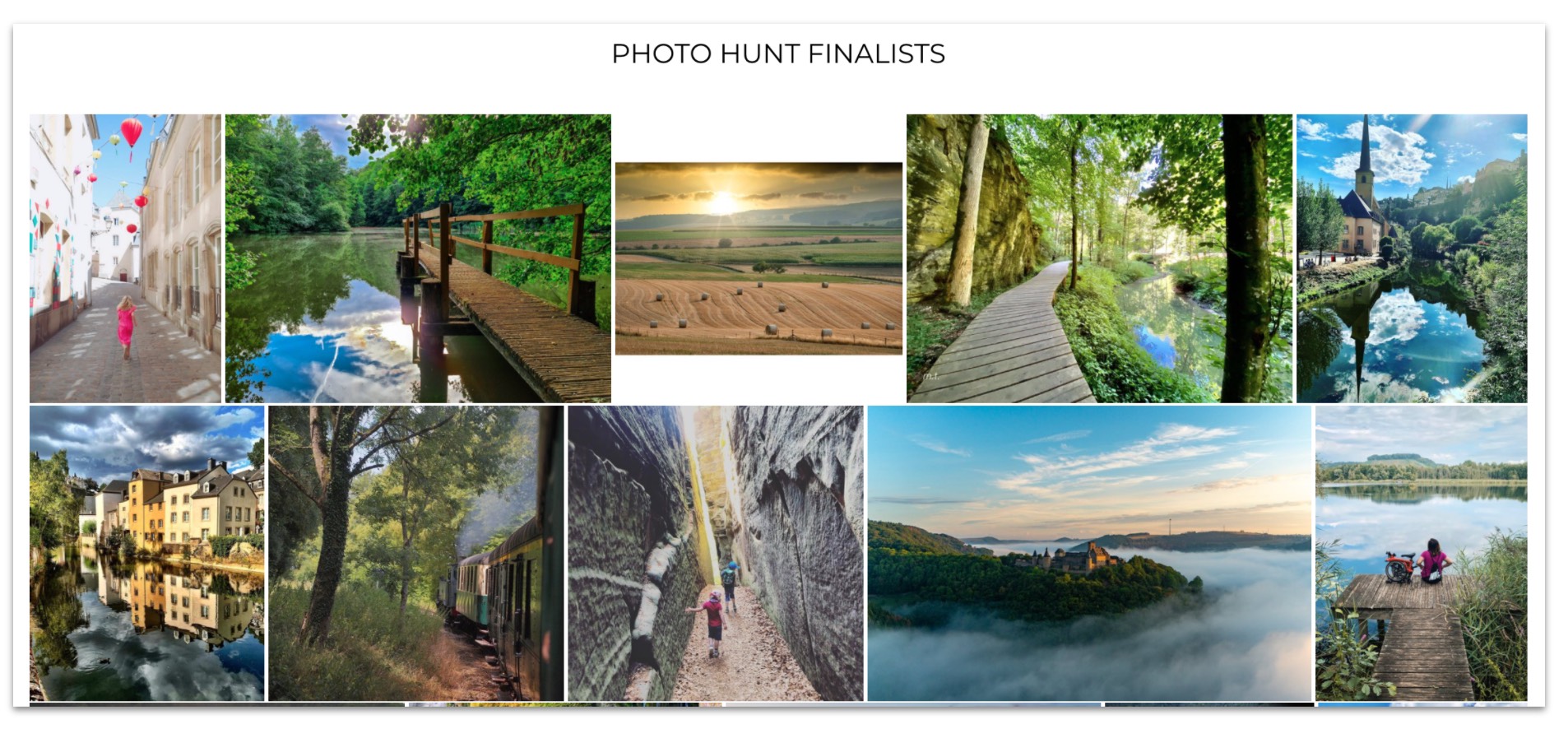 Then their digital agency created a system where everyone, not just people on social media, could vote for the top three.
"That was also why it was great to have CrowdRiff — so people could take part who maybe don't have Facebook or Instagram," says Pitt.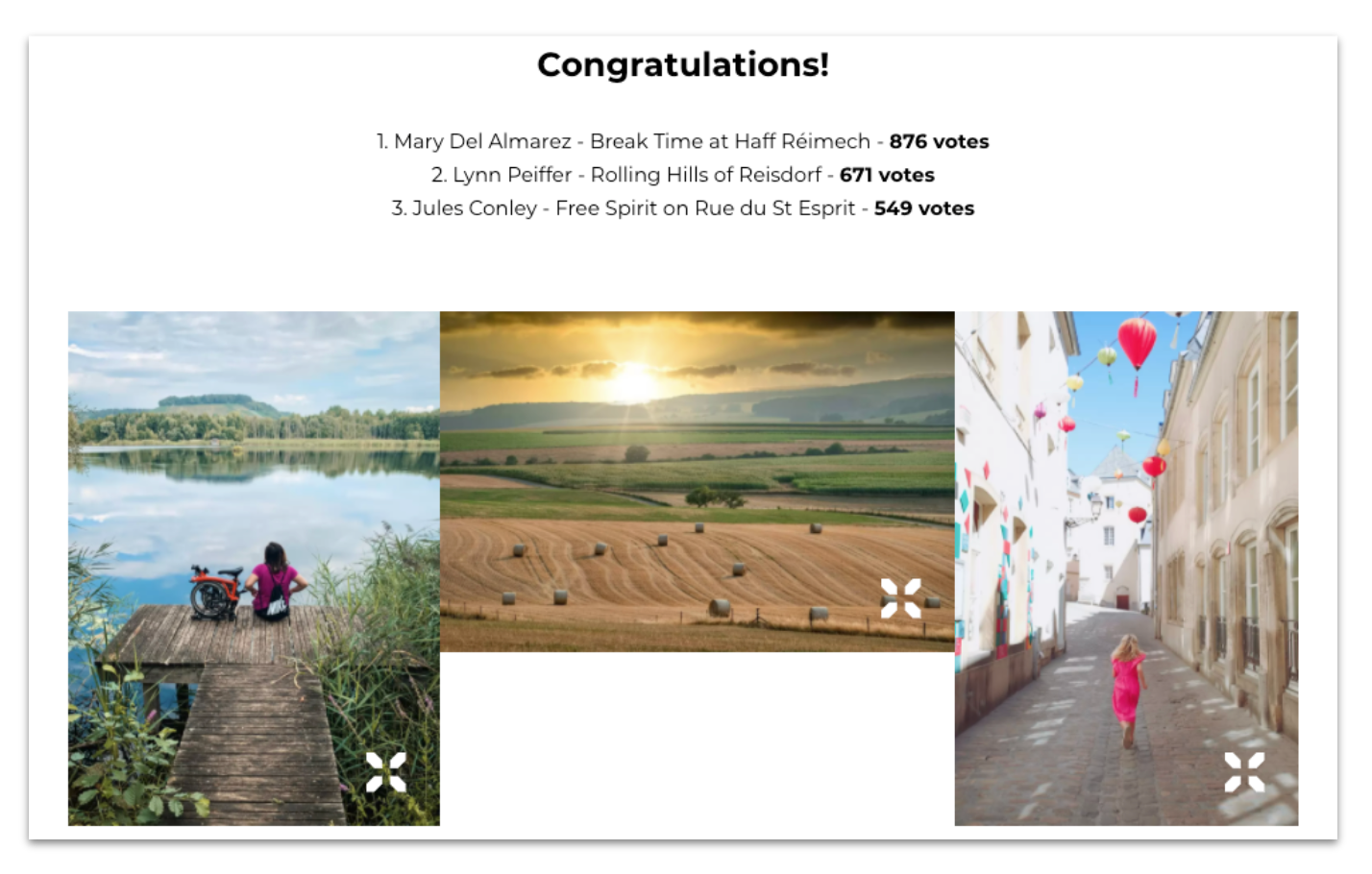 Photo contest details
Duration: July 15, 2020 – September 15, 2020
Visuals collected: 564
Visuals accepted: Photos from the whole year (but most were from the summer)
Hosting: Dedicated webpage with a CrowdRiff Collector
Promotion: Boosted Facebook posts and Instagram Stories
Audience: Mainly focused residents of Luxembourg and neighboring countries, but open to everyone
Unique challenges: Communicating that to enter people had to upload their photo using the CrowdRiff Collector, not just post on social media
"I was away when the contest started," says Pitt. "When I got back, I saw there were maybe 100 pictures. I did an Instagram Story explaining that you needed to upload your photos using the CrowdRiff Collector and not just use the hashtag. We promoted that Story so everyone would see. Within a week, we had 300 more submissions."
An unexpected way of encouraging submissions…
Pitt is also the main power user in CrowdRiff. When she saw stunning visuals in her CrowdRiff library, she reached out to people directly to ask if they'd seen the competition.
It was a way to check in with the keen photographers of the community and encourage them to enter.
"A few people who hadn't heard of it ended up passing it on to their friends as well," she says.
When it comes to repurposing the photos, Pitt says to start the team will promote the winning photos on social media, but there is potential beyond that.
"No doubt we'll be reviewing the pictures with more of a mindset of how else we can use them."
Using CrowdRiff to source fresh content, share photos, and better manage visuals
Beyond photo contests, the team also uses UGC sourced through CrowdRiff in presentations and on their website. Pitt says she's seen a noticeable lift in time-on-page when there is a CrowdRiff Gallery there.
The team also uses Media Hub to share content with the press.
"CrowdRiff has completely enriched our content," says Pitt. "It takes you beyond social media because you're also thinking about how can this [UGC] fit in with other marketing materials."
Before using CrowdRiff, Visit Luxembourg relied on old photos that had been taken for the website. Pitt says it didn't take long for them to look "pretty dated after a while."
CrowdRiff's DAM has also made it easier to manage their visuals. Pitt says the keywords and search options, in particular, have made the team more efficient.
"Instead of contacting someone to get a photo, which is what we used to do, everybody has a CrowdRiff account. They can go and find exactly what they need. They don't have to wait for that person who might be away or on holiday. It just makes people a little more autonomous."
Defining destination marketing success in 2020
Pre-pandemic, the team was looking to expand into international markets further away. But like many DMOs, they've found a renewed focus on their local residents.
"Success has become way closer to home. It's all about capturing our audience nearby," Pitt says.
"Concentrating on that is actually more positive, because how are you supposed to get people interested in visiting if thousands next door don't even know they are nice things to do here?"
"Of course, UGC fits well with that because it shows people's authentic experiences of what they do when they're here."